Top 12 Estonian Foods That You Need to Try Out on Your Next Trip to Tallinn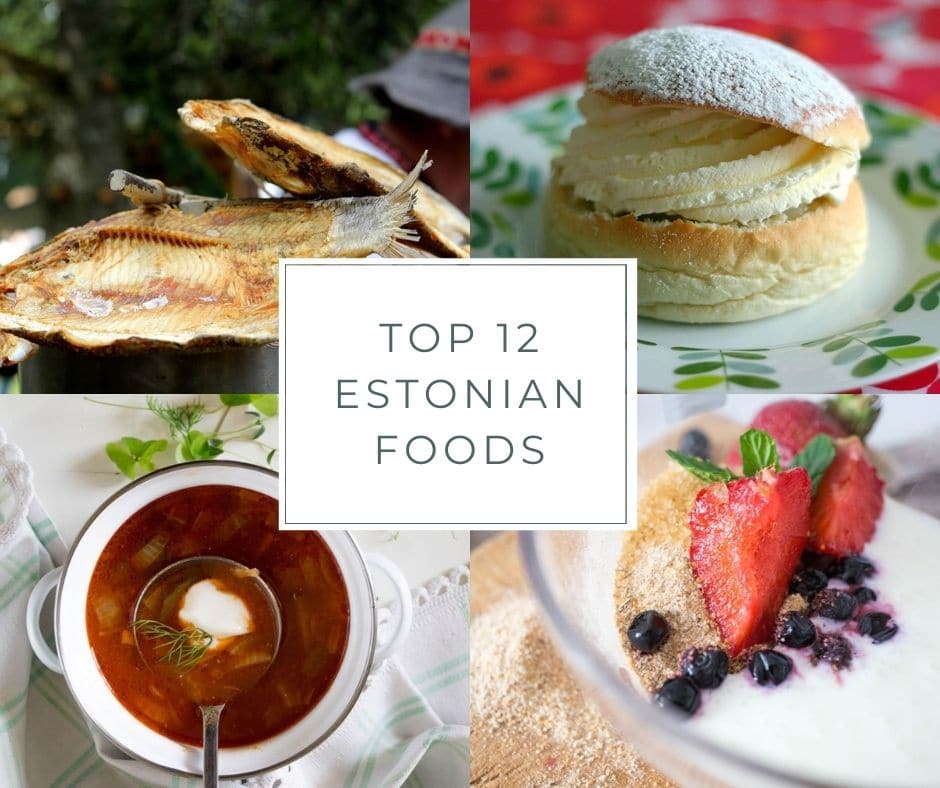 Pinned between Scandinavia, the Baltic Sea, and the Russian Federation, this land with a sweet, Slavic-like sound to its name has a delicious culinary story to tell the world. Spoiled by the bounty of four distinct seasons and pure, clean air – great meteorological features the country takes great pride in, Estonia produces a fine cuisine influenced by those of Russia and Germany.
For centuries existing mostly as poor peasants, Estonians became expert at foraging and preserving food. So the highlight of this cuisine today is finding the best resources nature can provide and making the most of them.
Nowadays, Estonian chefs draw some of their inspiration, as well as their sustainable approach, from neighboring Scandinavian cuisines, which also highlight the seasonal treasures their land has to offer.
Tallinn, the capital, is quite the culinary scene: a delicious playground, for this emerging new talent, which is deeply passionate about cooking locally and seasonally, using farm, sea, and forest-fresh products.
The modern Estonian food ambassadors have traveled the world, studied cuisines and culinary artistry in internationally renowned places such as classical France or newcomer Sweden, then returned home to Estonia, where they are now making culinary history.
So, whether it's a restaurant in the middle of a forest, one with a fusion-zero waste and sustainable approach to cooking, or a refined setting filled with history for luxury dinning – as, for instance, Fotografiska, a restaurant in an internationally recognized museum of photography in Tallinn, where Head Chef Peeter Pihel performs eco-friendly culinary magic – this generation of Estonian chefs is here to make their mark, taking you on an incredibly tasty journey filled with delicious local dishes.
But as well as this new, fusion-like take on cooking and food created by this generation of talented young chefs, Estonia has its share of classic foods and dishes that many have yet to discover.
From dark rye bread, cumin seed cheese, all sorts of sausage, game meat, craft beverages, and traditional dishes that used to be simple peasant get-it-all-together types of food, their delicacies, which are now trade-marked, have made a spectacular entrance onto the gastronomy scene. Estonia is now a hearty spot for all food travelers.
So let's dive into the local must-try-once list ourselves.
1. Dark Rye Bread
Home baked or bought at your favorite bakery, this famous traditional Estonian bread is present on every table, being a quintessential part of the Estonian culinary tradition, according to Chef Ants Uustalu from Ööbiku Gastronomy Farm.
It is also an ode to slow cooking. The ingredients are kept simple – rye flour, water, salt, sugar, and yeast, although added ingredients can be used such as seeds and nuts, dried tomatoes or other fruits, garlic (or pretty much anything for that matter).
The end result, slightly moist and a bit sweet, also known as black bread or leib in Estonian, is a piece of bakery that keeps the heart merry and the belly full. If you don't find yourself traveling to Estonia soon, you could always try baking it yourself. The final product will be totally worth the effort – and it will be a big one as this local speciality takes no less than 12 hours to prepare.
Locals recommend savoring the dark rye bread while it's warm on its own or with your favorite dish. Or even better for a complete local experience, accompanied by some Estonian cheese and jam, as recommended by top Estonian chef, Janno Lepik of Leib, in Tallinn.
2. Kiluvõileib – Sprat Sandwich
A dish of bread and fish that varies a lot in the North, the Estonian Sprat Sandwich is popular in Slavic cuisines, being a natural culinary emanation of a country bordered by so much sea. It may not be a beautiful dish, but it's very tasty and taken damned seriously by Estonians. Kiluvõileib is served for every occasion, from less formal gatherings to birthdays, holidays, weddings, and funerals, and always indulged in with the same pleasure.
For this simple dish you need a good quality marinated sprat fillet, a slice of dark bread (see above), butter or a mayo-like sauce, a boiled or poached egg, maybe topped with some aromatic herbs and… voilà your new favorite sandwich!
3. Mulgipuder – Potato and Groats Porridge
This is a 100% Estonian dish. The locals claim this is a classic of Estonian peasant culinary creativity with no foreign influence, and was served as a part of their important holidays menu. This potato and groats mash – one of Chef Silver Saa's favorites of traditional Estonian cuisine – comes from South Estonia and was traditionally placed on the stove in the morning and left to simmer throughout the day for when the peasants returned home from working the fields.
It can definitely be prepared quicker now and it only has two basic ingredients: potatoes and groats, for the vegan version, or you can try the authentic Estonian version by cooking it with lard, fermented/sour milk, and some pieces of fried onions and bacon. Don't forget the pickles! Yum!
4. Kama Desserts
Another Estonian mixture, Kama or kama flour or, even better, "Estonian muesli", is one of the "foods of the region", as you can also find it in Finland and Russia. Historically a non-perishable and easy-to-carry food, kama is a finely milled flour that was initially mixed with butter or lard for a quick but fulfilling snack. Being already roasted, kama doesn't need any further baking. Kama is technically not a dessert, but a main ingredient in many puddings, and the local chefs incorporate it into many of their trade-marked sweet dishes.
Nowadays Estonians use it for lots of things: salty snacks, cakes and other types of desserts, or simply add sour milk or yogurt, plus sugar, giving the base for what can easily become the famous "Estonian Muesli".
5. Smoked Fish
As a people with the Baltic Sea for a neighbor, the Estonians have an unconcealed passion for fish, preparing it in many delicious ways. But they are masters in smoking and marinading it, two effective methods of preservation. Smoked sprats, herring, salmon… Estonians enjoy these delicacies especially during the summertime, when they often buy their smoked fish from turg (local outdoor markets). It's not expensive and the buyers know exactly where the smoky-flavored merchandise comes from – the nearby sea.
On a more fancy note, you could try lightly pine-smoked wild salmon with roe, tarragon cream, and apple cider jelly – aka Chef Vladislav Djatsuk's posh version of it and signature dish at Mon Repos or Tchaikovsky in Tallinn.
6. Vastlakukkel – Semla
The love child of a bread bun and whipped cream, this dessert is also shared by various other northern countries. The Estonian sweet-roll, cut in the middle and filled first with some almond paste and then with plenty of whipped cream, is called "vastlakukkel" and it is most often served around February and March for the celebration of "Vastlapäev".
This celebration, called "Shrove Tuesday" in English, is a day when Estonians go sledging and then go home to enjoy this delicious piece of pastry. And while not all Estonians go outside for the traditional sledging anymore, all of them will have one or more selma on the day. Fortunately, you can now find "vastlakukkel" at most of the Estonian bakeries all year round.
7. Kvaas/Kali
All that richness on a plate surely deserves something equally tasty and locally produced to drink it down with, whether homemade or supermarket bought. So here we have kvaas (also called kali), which tastes like something between soda and beer, a traditional beverage made from another traditional Estonian food, rye bread. Fermented drinks, a relative of fermented foods, are highly regarded for their immunity-boosting factor, yes, that which is responsible with reinvigorating your colon's gut bacteria population.
Kvaas is known to contain important elements, such as magnesium, phosphorus, vitamins B & C, amino acids, etc. And even though it's considered to be a non-alcoholic drink, due to the fermentation process, it can still have around 1% alcohol. So, drink up!
8. Sült – Aspic
Perhaps not the most appealing dish to the eye, but what this meat aspic lacks in looks it surely makes up for in its deliciousness. Prepared mostly as a part of the Christmas and Easter festive menu, the Estonian aspic is another food directly related to important celebrations.
The foodies of Estonia like their meat jelly filled with vegetables, fruit and pieces of tender meat (usually pork, but also veal, chicken, or fish) which are left to simmer thoroughly for several hours, so that when the whole mix is cooled off, a lovely natural jelly forms. Sült is served cold as an appetizer or as a dish in itself.

9. Seljanka Soup
… or "after party soup", as this liquid dish is known among Estonians. As with so many traditional foods, Siljanka is linked to a holiday of the past. After a long summer party, a correlated celebration of the three most important Estonian holy days: Jaaniõhtu (Midsummer Eve, 23 June), Jaanipäev (Midsummer Day/St John's Day, 24 June), and the celebration of Võidupüha (Victory Day), when the Estonians defeated the German troops on 23 June 1919 in their War of Independence. What's better than a sweet and sour soup to recover and take some of the load off your digestive system?
For making Siljanka you just need some pickled cucumbers – yes, that's right, Estonians thrive on fermented foods and use them as often as possible, and soup is no exception – some grilled/cooked meat (the leftovers from the celebratory party are just perfect), onions and tomato paste. The final taste will be sweet-and-sour, but savory. Happy Midsummer Day!
10. Rosolje – Beetroot Salad
Estonians love beetroot and a good helping of Rosolje will make you love it, too. This crimson colored dish is a beetroot, potatoes, and herring salad, perfect for the cold season or for whenever you feel like it. Add to the mix some boiled eggs, onions, pickles (of course!), some mayonnaise, mustard, sour cream… and you have one yummy starter at a party, or a meal in itself, if you like, for rosolje is hearty enough, and very popular amongst the locals for that matter.
Or you can try the modern version of cooking beetroot, namely that of Chef Silver Saa: beetroot tartar, with wild garlic, shiso and cured egg yolk at ORE restaurant, in Tallinn.
11. Wild Boar Steak
Estonia is a great place if you're into game. With almost 50% of the place covered with forests, this Baltic country is lucky enough to still be blessed with wild nature, hence plenty of game. The locals keep up their wintertime seasonal hunt tradition, which brings in venison and wild boar. Strong but delicious, wild boar meat is used by Estonians in various dishes. At Ööbiku restaurant, for instance, Chef Ants Uustalu is a master at cooking game on charcoal.
Being used largely across the country, you can find and enjoy wild boar meat not only cooked as steak, but in other forms, too. How about some lasagne made with wild boar ragù?
12. Buckwheat
Considered a local super-food, the versatile buckwheat thrives on Estonians' plates, here being more than just a rather boring grain tossed around in porridge.
The locals give plenty of credit to this super-food grain, whether preparing it as a main dish – a creamy "risotto" with vegetables – or as something sweet – a delicious fruit and buckwheat crumble, for instance. Or you can have it in the form of a healthy milkshake with berries and spices, as recommended by Estonian chef, Ranno Paukson, from Kaks Kokka and Ö in the capital, Tallinn.