Mămăligă: Romanian Polenta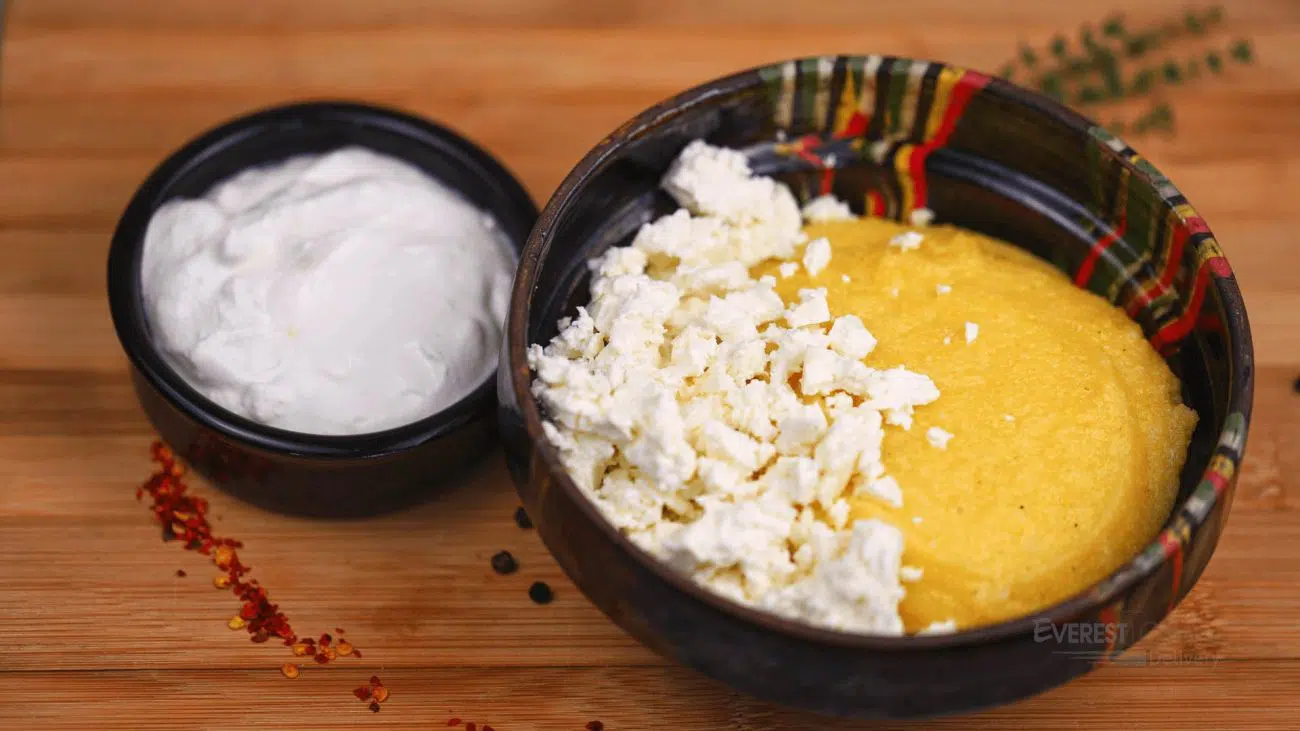 Mămăliga is one of the most popular Romanian foods and its popularity is due to the easiness of preparing the dish and the affordability of its ingredients.
Mămăliga is an easy-to-make cornmeal porridge similar to the Italian polenta and it requires just three basic ingredients: cornmeal, salt and water. That's it!
Mămăliga can be enjoyed as a light, standalone dish when it is mixed with cheese (telemea cheese is a favorite) and/or served with sour cream. Traditional sausages with mămăliga are also a popular pairing.
But most of the time, mămăliga is a popular replacement for bread and consumed as a side dish for cabbage rolls(sarmale), traditional stews, fish and the list goes on. It is such an essential Romanian food that there is even a saying: "one is ready for marriage once you know how to make polenta".
To help you out, we've compiled a list of recipes for the perfect polenta.
Mămăliga: Romanian Polenta
Mămăliga is one of the most popular Romanian foods and it can be enjoyed both as a standalone dish when mixed with cheese and sour cream, or as a side dish for various traditional dishes.
Ingredients
Polenta boiled in water:
250

g

cornmeal

1

l

water

1

teaspoon

salt
Instructions
In a roomy pot of about 3 L (12 ½ cups), put boiling water, salt and add the cornmeal. Use 4 cups of water to a cup of cornmeal.

First, mix it with a whisk to make sure that no lumps form.

When the polenta starts to boil (attention! It bubbles!) switch to a wooden spoon. The polenta should be stirred continuously during cooking. It thickens and spits like a volcano.

Boil the polenta for about 10-12 minutes. Taste it to check it is done, which is when it doesn't feel gritty to the teeth. If necessary, add more salt so that it is not bland.

Theoretically, the polenta is now ready and can be served…. but there is one more step. Another procedure is needed.

Take the pot off the heat and scrape all the polenta from the sides of the pot and press it down with the back of a spoon.

Cover the pot with a lid and leave the polenta to steam for 3-4 minutes.

Then return to the heat (low to medium) and wait until you hear a rumble erupt from under the lid. It only takes 1 minute.

This is the trick to get the polenta to detach itself from the sides of the pot, helped by the force of the steam coming out of it.

Immediately replace the lid with a plate (or with a clean wooden board) and overturn the whole thing so the polenta is turned out onto the plate. Ta-daa !!
Related: Romanian Beef Salad (Salata de Boeuf)
Related: Romanian Lamb Haggis (Drob de Miel)
Related: Sarmale (Romanian Cabbage Rolls)
Related: Best Foods in Transylvania
Related: Most Popular Romanian Cheeses
Related: Chicken Soup with Semolina Dumplings