Top 15 Popular Hungarian Foods
A Brief Hungarian Culinary History
Paprika anyone? Whenever you hear paprika, Hungarian food probably comes to mind first as it's the Hungarian cuisine quintessential spice. But Hungarian food is so much more than paprika and…gulyas, the dish that makes heavy use of paprika and which is Hungarian cuisine's most popular export.
Let's take a quick lesson in Hungarian history and geography. Hungary lies in Central Europe, surrounded by Poland, Czech Republic, Slovakia, Austria, Serbia and Romania. As in most cases in Europe, neighboring countries and minority groups have profound influences on the development of national cuisines. Expect the same with Hungarian cuisine – you'll find many foods that you can trace back to neighboring countries or have been influenced by them.
But that doesn't mean that Hungarian food doesn't have its own identity – it definitely has. It all goes back to their ancestors – the Magyar's – a nomadic people that settled in the Pannonia steps. Livestock was very important to the Magyar's and this is reflected in their many traditional meat dishes cooked over an open fire.
Hungarian cuisine evolved over the years. In the 15th century in the time of King Mathias and his Neapolitan wife Beatrice, new ingredients and cooking techniques were introduced such as sweet chestnut, garlic, ginger, mace, saffron, nutmeg, and onion, the use of fruit for cooking with meat and in stuffing, and pasta making.
In the last couple of centuries, food preparation methods were borrowed from Ottoman and Austrian cuisine, and vice versa, in particular for some cakes and sweets that show a strong German-Austrian influence.
Hungarian Food particularities
Some dishes come with a customary side dish like the csirkepaprikás (paprika chicken) that is always eaten with nokedli (noodles), for some mains bread is almost mandatory while others can be served as pleased.
A wide range of smoked pork products are staples in Hungarian households such as smoked sausages, smoked lard, and smoked ham that are the star of "cold dishes". Alongside bread and fresh vegetables, these are consumed as they come for breakfast and dinner, and in restaurants they are sometimes offered as starters. Although one of the main ingredients in the Hungarian kitchen is lard, it is often substituted with goose-fat, duck-fat, or vegetable oil. Goose fat is a perfect cooking medium, even in desserts, being practical and cheap, and preferred by some for it distinctive taste.
Winter salami is a Hungarian salami made from Mangalitsa pork and spices produced according to a centuries-old tradition. Cured in cold air and slowly smoked, it develops a noble-mold on the surface during the ripening process.
The main pickled product is savanyú káposzta (sauerkraut), which was traditionally consumed in winter as a source of vitamin C. For summer time, there is an interesting dish of cold fruit soup, for example, hideg meggyleves (sour cherry soup), that takes the heat off.
1. Gulyás (Goulash)
Goulash, the famous Hungarian food ambassador, was first prepared by shepherds who slow cooked cubed meat with onions and other flavorings over an open fire until all the liquid was absorbed. The meat was then dried in the sun so the shepherds could pack it into bags made of a sheep's stomach. This was their packed lunch, prepared before setting out with their flocks. When it was time to eat, they added water to a portion of the meat to reconstitute it into a soup or stew.
The classic "kettle goulash" is prepared by frying cubes of beef or mutton with onions in lard. Additional garlic, caraway seeds, tomatoes, green peppers, and potatoes are added to complete the stew.
Over time goulash became the national dish and this delicious stew, with tender cubes of beef, is now enjoyed at home. The recipe features potatoes, carrots, onions, celery, peppers, and tomatoes with lots of paprika and is particularly popular with cooks who prefer to use inexpensive cuts for their rich flavor. Thanks to the slow cooking technique, the cheap and tough cuts of meat soften into fork-tender chunks.
This dish can also be made with chicken or pork like the Székely gulyás, a stew of pork and sauerkraut flavored with tomatoes, onions, caraway seeds, and sour cream.
2. Lángos (Deep-fried Flat Bread)
The popular street food lángos is known as the "Hungarian pizza" as it uses the same ingredients for the pizza crust (wheat, yeast, salt, and water). It was introduced by the Turks during their occupation centuries ago and now this insane indulgence can be found at most fairs across all the borders of Eastern European countries during local celebrations.
First fried in vegetable oil, the crusty golden flat bread is then brushed with minced garlic, topped with sour cream and shredded cheese, which melts deliciously on the hot surface. "Láng" in Hungarian means flame and is so called because, on bread baking days, it was traditionally baked at the front of brick ovens close to the flames. But because nowadays people don't have brick ovens, and nor do they do much bread baking at home, lángos is deep-fried in oil and sold as a hearty fast-food.
3. Töltött Paprika (Stuffed Peppers)
Another delicious Ottoman culinary influence is stuffed peppers, which make a great appetizer or side dish. Made with Hungarian wax peppers, preferred for their thinner skin and aroma, the two common Hungarian ingredients of paprika and tomato sauce and the ever-present sour cream to garnish the dish qualifies töltött paprika as an adopted dish imprinted with a strong Hungarian character. The stuffing is a mix of ground beef and pork, rice, chopped onions, minced garlic, parsley, Hungarian paprika, beaten eggs, salt and pepper.
Töltött paprika are cooked in the oven standing up and topped with tomato sauce sweetened with a pinch of sugar. When they're done, a scoop of sour crème is placed on top and they are served hot.
4. Csirke Paprikás (Chicken Paprikash)
The most famous variation of the paprika dish, common to Hungarian tables, is chicken paprika. So famous is it that even my half-Hungarian grandmother living in Romania cooks it; it is a big part of my childhood memories living in the countryside.
This staple food derives his name from the ample use of paprika. The cut up chicken is simmered for a while in a sauce based on a paprika-infused roux. To make roux you need equal parts flour and fat (duck or goose fat is good but any kind of fat will do). After melting the fat in the pan, blend in and stir the flour until smooth and gets a brown shade. This base is colored with paprika and used as a thickening agent for the chicken paprika, which is prepared with onions, sweet peppers, and garlic and is finished with sour cream. The cooked chicken meat is so tender that is actually drops off the bone on its own.
Csirkepaprikásis typically served with dumpling-like boiled egg noodles. Other side dishes that it might be served include millet, rice, or tagliatelle, but my grandmother always paired it with polenta and it was just perfection, despite the "nokedli rule".
5. Gyümölcsleves (Fruit Soup)
A summer delicacy that you are probably unfamiliar with but was enthusiastically adopted by the Austrians, Poles, Slovaks, and Germans is this refreshing fruit soup. Contrary to expectations, it's not eaten as a dessert but as a soup and Hungarians prefer it hot. It has many variations depending on the seasonal fruits and is cooked with cream or whole milk, cloves, cinnamon, and sugar. Traditionally it's served as a dinner course but it can also be turned into a dessert or appetizer if a small amount of sweet white or red wine along with crème fraîche is added before serving. Other Europe palates like it straight from the refrigerator for refreshment on hot summer days.
Gyümölcsleves can be made from redcurrants, blackberries, apple, pear, or quincebut the most popular fruit soup recipe is meggyleves, sour cherry soup. This dish can be prepared even in the winter using oranges, clementines, or any sweet fruit available – fresh is best but frozen can be used.
6. Halászlé (Fisherman's Soup)
One of the hottest dishes native to the European continent is halászlé, a bright red spicy paprika-based fish soup that wins cooking contests and has a place on the Hungarian Christmas menu. Traditionally cooked over an open fire in a bogrács (or cauldron), the fisherman's soup is prepared differently on the banks of Hungary's two main rivers: the Danube and the Tisza. Although the recipe is quite simple, the ratio of ingredients and timing determines the soup's taste.
The significant flavor is given by the cauldron-bouillon made from fresh fish trimmings like carp heads, bones, skin, and fins that are boiled in water with red onions, tomatoes, and green peppers for two hours. Then the base soup is strained and 10 minutes before serving, hot paprika, thick carp fillets and roe are added to the boiling soup.
7. Főzelék (Vegetable Stew)
This is a thin vegetable stew made from a variety of ingredients like potatoes, spinach, kidney beans, bell peppers, cabbage, squash, lentils, peas, tomatoes in any preferred combination, resulting in a thicker-than-a-soup dish. Although it's not cooked with meat, it's topped with meatballs, spicy sausage, bacon, or hard-boiled eggs for additional flavor.
It is eaten in households more often than in restaurants, which only rarely include it on the menu. It is also thickened with roux or sour cream, and additional ingredients may be added: dill, paprika, onions, black peppercorn, garlic, parsley, carraway seeds, and lemon juice or vinegar.
The word főzelék kind of means "something created by cooking" and the main ingredient is put in front to name the dish, for example zöldborsó főzelék that means "made of green peas".
8. Somlói Galuska (Spongecake)
This opulent dessert is Hungarians' favorite and can be found everywhere from gas stations snack bars to restaurants and it's a must try when visiting the country. The misleading name of galuska has nothing to do with the dumpling it translates as, besides the spherical shape.
Somlói Galuska is a trifle-like cake made from layers of different sponge cake (chocolate, vanilla, and walnut) alternated with custard cream and rum soaked raisins. Three scoops from this sweet architecture are plated and smothered in vanilla and orange syrup and chocolate sauce, topped with whipped cream, and sprinkled with roasted ground walnuts.
This 1958 Brussels World's Fair award-winning cake was invented by the headwaiter of a Budapest restaurant who dreamt it up and the master pastry chef József Béla Szőcs who actually baked it. Over time it has been recreated in many ways and is usually served in small bowls. Some bakers even make Somlói Galuska to look like a normal cake, keeping the original recipe a secret.
9. Pörkölt (Boneless Meat Stew)
Another national dish, pörkölt, is not to be confused with Goulash, which has more gravy and bones to the meat. Rather, this stew is similar to ragù and the basic recipe calls for boneless meat, sweet paprika, onions, yellow Hungarian wax peppers, tomatoes (or tomato paste), garlic, green pepper, and marjoram. The Hungarian yellow wax peppers are a key ingredient as the red bell pepper is too sweet while the green one is too bitter. To make a good pörkölt, you must first fry the onions in lard before doing anything else.
There are some variations on the dish from region to region, usually using beef or pork, but also lamb, chicken, tripe, or liver. A famous variation made with tripe and is quite often spicy is pacalpörkölt. Some other variations are kakaspörkölt, made with rooster, kakashere pörkölt, made with rooster testicles, sertésmáj pörkölt and csirkemáj pörkölt, using pork or chicken liver respectively. If you are wondering what pörkölt means, well it's the verb "roast".
10. Dobos Torte (Multi-Layered Sponge Cake)
The best Hungarian cake, as some call it, was created by the most outstanding master confectioner of the 19th century Austro-Hungarian monarchy József Dobos. Coming from a long generation of confectioners, he had the urge to try new things by combining unique Hungarian flavors with delicacies of the French cuisine. His father taught him to produce new flavors and set new fashions while following tradition, and he created the Dobos Cake, the pinnacle of his life-time work specially concocted for the 1885 National Exhibition.
One legend says that Emperor Franz Joseph and his wife Queen Elizabeth were the first to try it. But another legend says the soul of the cake, the butter cream, was an accident. The apprentice poured powdered loaf-sugar on to the salted butter, as butter was preserved in those times, József Dobos didn't threw it away, instead he added cocoa, coffee, and fruit. His search for a dessert that would last longer than the whipped cream desserts and remain edible for several days seemed to be over.

The recipe for this multi layered sponge cake, with chocolate buttercream filling and topped with a thin layer of crunchy caramel, was a secret for a long time and the Dobos Cakes sold in many confectioneries are not made with the original recipe.
"You need 6 sponge layers for a 22 cm cake. For the sponge layers: you mix 6 egg yolks well with 3 lat (lat=half an ounce, 50 g) powdered sugar, whip up 6 egg whites to a hard mousse with 3 lat (50 g) powdered sugar, then mix the egg yolks with 6 lat (100 g) flour and 2 lat (35 g) melted butter. For the cream you need: 4 eggs, 12 lat (200 g) powdered sugar, 14 lat (235 g) butter, 2 lat (35 g) cocoa powder, 1 lat (17 g) vanilla sugar, 2 lat (35 g) cocoa butter and 1 bar (200 g) of chocolate. You beat the eggs with the sugar over gas until it heats up, you take it off the stove and mix it until it cools down. You cream the butter, add the vanilla sugar, the melted cocoa butter and the slightly heated, soft chocolate. Then you mix it with the cooled eggy mousse, fill in five sponge layers, pour caramelized sugar over the sixth layer and cut it into 20 pieces."


The original recipe of Dobos Torte
11. Töltött Káposzta (Stuffed Cabbage Leaves)
The long evolution of Hungarian cuisine is best embodied by töltött káposzta, which has its origins in Ottoman-Turkish culture from where the stuffed leaf-wrap method of cooking is inspired. The Hungarian addition was paprika and rice. Hungary's first opera diva Róza Széppataki was a big fan of this iconic food and proclaimed it "the coat of arms of Hungary", back in the 19th century.
Minced light pork meat mixed with onions, spices, and rice is rolled up in fermented cabbage leaves, fresh cabbage leaves, or vine leaves, depending on the region. The veggies added to the stuffing vary too in other countries. Traditionally töltött káposzta is slowly cooked in the oven or on the stove top with tomato sauce and smoked bacon is added to the pot for additional flavoring. They are served with sour cream and bread, and are cooked on special occasions such as Christmas and weddings.
12. Kürtőskalács ( Sweet Bread)
Another street food star that can be easily found at fairs is the kürtőskalács, a typical sweet bread specialty popular in all Hungarian speaking regions. The spit cake is cooked on an open fire, which might explain its name, "kürtő", which translates as "chimney". "Kalács" means "cake", thus we can call it "chimney cake." A strip of sweet dough is spun and wrapped around a cone-shaped baking spit and left to roast over charcoals until the surface is brownish-red in color.
Granulated sugar sprinkled over it forms a shiny crispy crust during caramelization, enhancing the red color of the surface. The cake can be topped with additional ingredients such as cinnamon powder, chopped walnuts, almonds, or coconut flakes. Kids and parents alike love this sweet bread because it makes a great snack when enjoying special events.
The legend has it that a Szeklers' village was attacked by Tatars and the villagers flew and hid in a cavern of Les Mountain, where they were later discovered. The Tatars were planning to starve them to death but the Szekler leader's wife had the idea of making a giant flue-shaped milk-loaf to show the Tartars they still had enough food to endure the siege.
13. Túrós Csusza (Cheese Pasta)
Túrós Csusza is the Hungarian version of the American "mac and cheese" and is made mainly from cottage cheese and pasta. What is unique about this dish is the combination of hot and cold layers: the hot bottom layer of cooked pasta and cottage cheese gets covered with an extra portion of cold cottage cheese. And now the best part kicks in: hot and juicy bacon gets in the mix before being finished with cold sour cream.
The mixture can also be heated in the oven for a few minutes before serving. Traditionally this dish is made with home made pasta from an eggs and flour dough torn by hand in flat small pieces that are then boiled in water. A very good comfort food and you'll be grateful to have leftovers.
The name of the restaurant staple dish and budget friendly homemade meal refers to the fact that the pasta is slippery due to the sour cream.
14. Szilvásgombóc (Sweet Plum Dumplings)
Hungary is a major plum producer so dumplings filled with plums is no surprise. Very popular in Central and East European countries, this dessert is a family favorite and recipes are passed down from grandmother to daughters or nieces. Mashed potatoes, flour, salt, butter, and optional eggs form the dough that is flattened with a rolling pin to prepare the bed for the dark, juicy plums that are stoned and placed on cut out round shapes of dough.
The dough is then wrapped around the plums and the whole thing is boiled in water. For a finishing touch Szilvásgombóc are rolled over a streusel made of sugar, cinnamon, and bread crumbs previously goldened in a skillet. Another variation that my grandma used is to fry them in a pan before rolling them through sugar. I can't say which way I like best, but you can make them at home and tell us.
15. Rakott Krumpli (Potato Casserole)
This is a Jewish take on a Hungarian peasant classic where ingredients like potatoes, hardboiled eggs, sour cream, and csabai or kielbasa as a substitute (both are smoked Hungarian sausages) come together in separate layers to form a casserole bursting with flavors that is the ultimate comfort food.
This meatless version traditionally calls for trappista, a semi-hard cheese that was brought to Hungary by French monks in the 18th century. Rakottkrumpli is served on its own for dinner or as a second course after a light soup. As the casserole that leaves out the sausages, it is a traditional meal for Hungarian Jews eaten during the "nine days" when orthodox Jews refrain from eating meat in remembrance of the destruction of the Temple. The literal translation of rakott krumpli is "layereded potatoes", simple and hearty and pairs well with pickled salads.
---
Related: Popular Hungarian Desserts
Related: Most Popular Hungarian Cheeses
Related: Popular Hungarian Cookies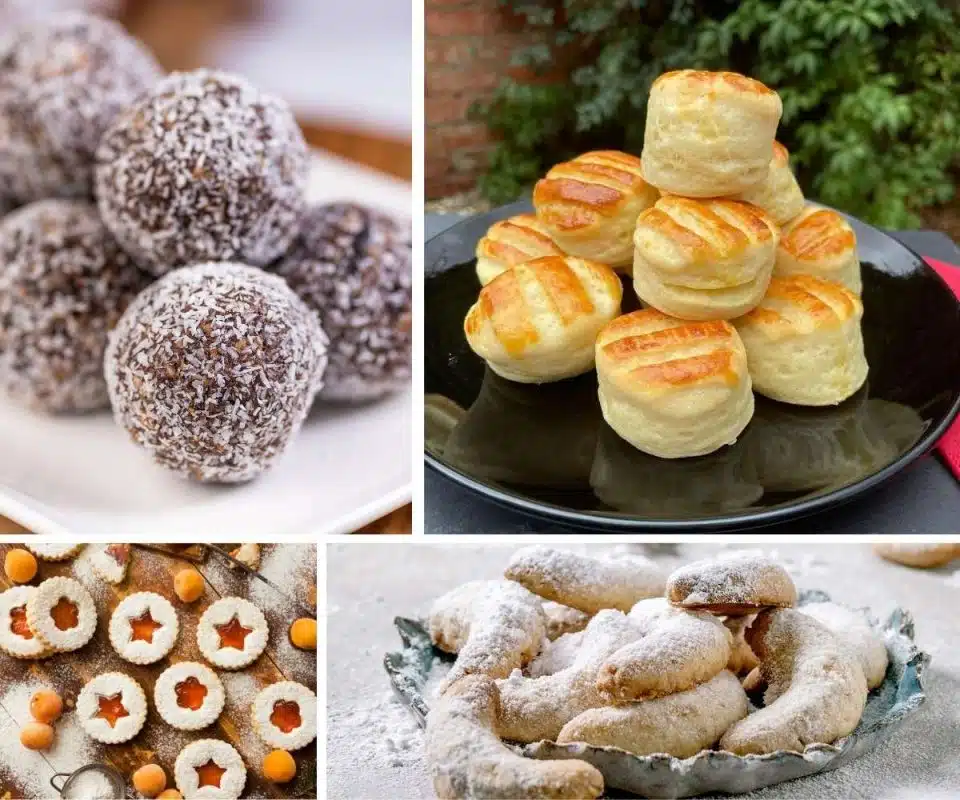 Check out our list of most popular foods in neighboring countries: