Top 20 Traditional Norwegian Foods & Dishes
Traditional Norwegian food has a lot of similarities with that of Sweden and Denmark, but there are a few notable differences. The biggest one being that Norway has a long coast, thus fish and salt are used more here than in our neighboring countries.
While Norwegian cuisine hasn't garnered much international recognition, this has started to change in the past decade or so. Norway was voted one the most underrated foodie destinations in the world and the country is developing into a gastronomic powerhouse.
Today the vibrant food scene is based mostly on the raw and high-quality ingredients readily available on the mountains, wilderness, and the coast. Game, including moose, reindeer, mountain hare, and rock ptarmigan, and fish, most famously smoked salmon, are key ingredients for high cuisine.
Norway's fine dining has also developed rapidly and the country is now the host of 11 Michelin rated restaurants. No small feat for a country of just 5 million.
Let's take a look at the most popular Norwegian foods.
1. Fårikål
This is a classic dish in Norway and is surprisingly easy to make. It is commonly eaten during the cold winter months following the slaughtering of sheep. Fårikål" means lamb in cabbage, which pretty much describes the dish.
All you need to do is to put cabbage and lamb into a big pot and let it simmer for a few hours until it's ready. It's commonly eaten with potatoes (which are a staple of Norwegian cuisine). To add extra flavor, some people use beer instead of water, but it's not necessary.
2. Sursild
It is often joked that the Norwegian population would not be able to survive without fish and potatoes. Sursild, meaning pickled fish, is commonly eaten during the winter season, especially during the Christmas period.
There are many ways to prepare this dish, but it's most commonly made with slices of herring, onion, and spices such as peppercorns and mustard seeds. It's served with fresh bread and butter, slices of onion, and potatoes.
3. Lefse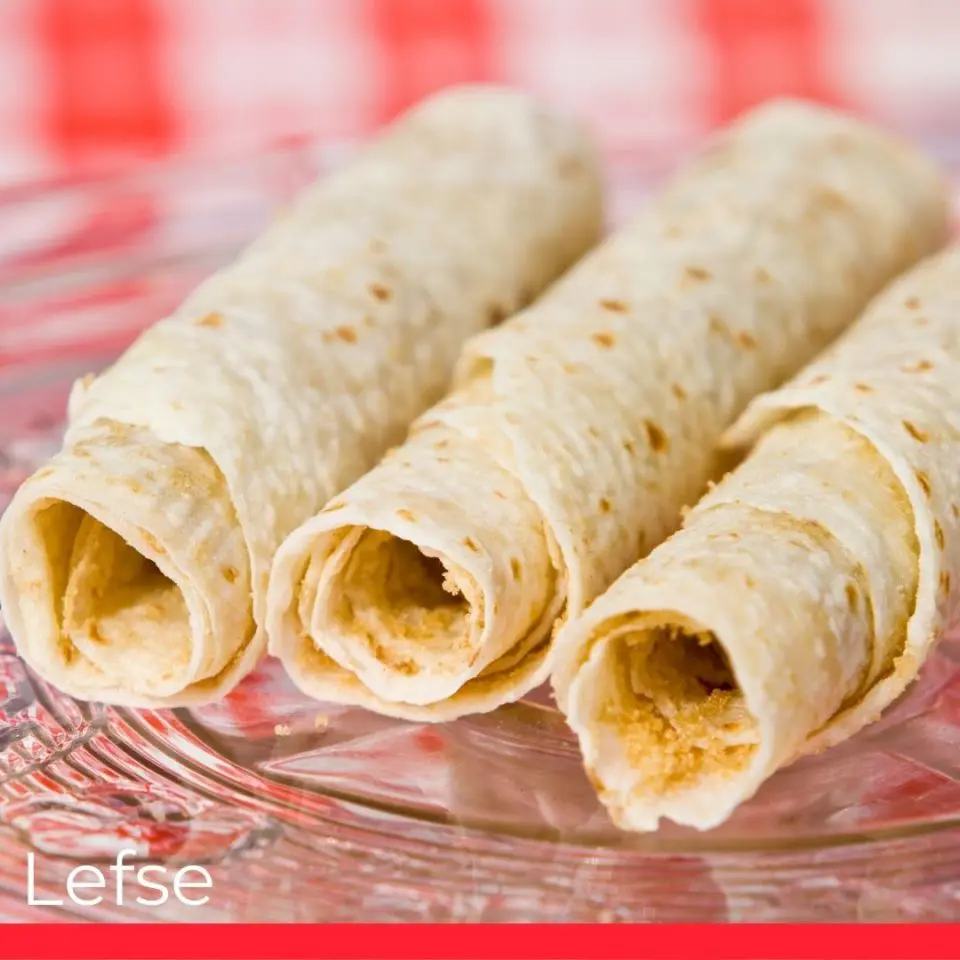 This is another classic in Norwegian cuisine and is made with potatoes, butter, flour, and cream. You can look at it as the Norwegian version of a tortilla, the difference being that it's made of potatoes not corn. There are almost as many variations of this dish as there are people in Norway; some prefer them thick and sweet while others prefer them thin and plain. They are commonly eaten as an appetizer with fish, meat, and cheese.
Nowadays, most people buy them from the store as they're widely available in all supermarkets, but they are also one of the easiest dishes on this list to make yourself. All you need is flour, cream, potatoes, and butter.
4. Lutefisk
This is a very common dish for Christmas, second only to pinnekjøtt. It is made with white fish treated with lye, which makes the consistency of the fish gelatinous. Traditionally this was done to preserve the fish during the winter months when there were no refrigerators or electricity.
To properly serve lutefisk, it needs to be accompanied by side dishes of boiled potatoes, melted butter and fried bacon, mashed green potatoes, and brown cheese. One of the reasons why so many Norwegians associate this dish with Christmas is that traditionally people fasted from 1 December until Christmas Eve. Not being allowed to eat meat for three weeks, this was a welcome treat at Christmas.
5. Pinnekjøtt
This main dish is served on Christmas Eve all over the country and is probably the dish that most encapsulates Norwegian cuisine. Pinnekjøtt means stick-meat, which refers to the meat being dried on sticks before being eaten. Similar to lutefisk, in ancient times pinnekjøtt was an important way of sustainably conserving meat during the winter months. This was most commonly done by either drying or salting the meat.
The ribs either come from lamb or pork and are steamed on birch branches until the meat is tender and juicy. It's most commonly served with potatoes and various salads.
6. Ribbe
Another Christmas classic is ribbe. Seen from a historic perspective, this dish was a celebratory dish, only eaten on celebrations and for feasts. The ribs are pork with the fat and skin left on the ribs because it is important to make sure the skin is crispy. If the skin is not crispy when the dish is served, it is considered a chef failure!
This dish is commonly served with potatoes, stewed cabbage, sausages, and lingonberry jam (a special berry found in Scandinavian forests). This dish is most commonly served in the eastern parts of Norway. The country as a whole consumes approximately 3 million kg of ribbe each Christmas, that is more than 0.5kg per person!
7. Fiskeboller i Hvit Saus (Fish Balls)
Another classic dish that emphasizes the importance of fish in Norwegian cuisine. Fish balls are easily made from white fish, milk, eggs, and flour. A staple in Norwegian culture, it is served all year round, usually with white sauce, boiled potatoes, and steamed vegetables.
Cod, pollock, and haddock are most often used for their flavor and consistency. When eaten alone the fish balls are quite bland, which is why they are always served with white sauce, vegetables, and potatoes. Combining them with the sauce creates a great harmony of tastes.
8. Lapskaus
This classic Norwegian stew consists of potatoes, onion, carrots, celery, meat (either lamb or beef). The pieces are diced up and cooked for a long time until all the ingredients meld into each other becoming a stew. People believe that this dish has been eaten in Norway since the Viking age, due to a similar dish being found in English cuisine called European sailorstew, a common dish among sailors.
What makes it so common is that it is so easy to make. All you have to do is to put the ingredients in the pot, turn on the heat, and wait. It's commonly served with fresh bread for dipping, which makes this a nourishing meal. It's most common during the colder periods from October to February, but it's sold in supermarkets all year round.
9. Tørrfisk
Norwegians consider this a delicacy, but for foreigners, it takes a while to get used to it. Directly translated, tørrfisk means dried fish, which perfectly describes the dish. It is most popular along the coast in the north and has been a popular way of conserving the fish for years. Cod is hung upon pillars along the coast and is dried by the wind for between two to four months.
Since it's conserved without using any preservatives or chemicals, it's a very healthy food with a lot of minerals such as magnesium and calcium and vitamins D and B12. It's usually served with butter, green peas, and bacon, but a lot of people also eat it as a snack. You can think of it as the Norwegian version of Beef Jerky.
10. Sodd
This traditional Norwegian soup is often compared to lapskaus due to its similarities. The soup is made with lamb, potatoes, carrots, and several spices. The vegetables are normally cooked separately and added to the broth later to ensure they don't lose their texture.
This dish has been eaten in Norway since the 13th century and is commonly eaten during celebrations and festivities, when it is served with Norwegian flatbread as a side to enhance the flavor of the soup. It's most popular in the Trøndelag region in the middle of the country.
11. Brunost
Brunost is a very traditional food that a lot of Norwegians miss when they travel abroad. Some people miss it so much that they bring this cheese with them during the summer holidays. Directly translated, the word means brown cheese.
It has a very distinctive taste and is made by boiling milk, cream, and whey for several hours until the water evaporates. By exposing the milk to heat, the milk sugars slowly turn into caramel, giving the cheese its sweetness and color. This is one of the most common fillings for sandwiches and for eating on biscuits. It's also widely used in sauces for meat or in soups.
12. Surkål
Surkål is another traditional dish that was created due to the need to conserve food. The word surkål means pickled cabbage and is the Norwegian version of the widely known sauerkraut. The sour taste comes from the fermentation process as the cabbage sits in the jar.
Surkål is rarely eaten on its own but is usually an important side dish or ingredient to many of the most common traditional dishes such as sodd, ribbe, and pinnekjøtt. It also comes in numerous variations. Some people prefer just white cabbage, while others prefer adding red cabbage, apple, sugar, or caraway seeds.
13. Kjøttboller/Kjøttkaker.
Directly translated, these are meatballs, which describes the dish nicely. They have many similarities with the Swedish version which has been popularized by IKEA, although there are some differences. The biggest difference is the Norwegian version uses coarser lamb and beef, making Norwegian meatballs bigger, more like meat cakes.
It is common to prepare the meatballs by frying them on a high heat in a fat gravy and serving them with mashed potatoes, lingonberry jam, and creamed cabbage. Similar to surkål, there are also many different variations. Some people use a lot of spices such as ginger and nutmeg, while others combine them with onions, oats, and eggs.
14. Smalahove
This Norwegian specialty is usually served during Christmas in the western parts of the country. The main ingredient is the whole head of sheep, which is soaked in water for 24 hours. Then spices such as salt, saltpeter, and sugar are added and it soaks for another 24 hours. After all this, the head is boiled. Traditionally, this is done on the Sunday before Christmas and it is served with mashed potatoes and butter. If you look back in history it reflects the importance of using all of the animal as food was usually scarce.
15. Tilslørte Bondepiker
This is one of the most common desserts eaten in Norway and is simple and delicious. It's made by combining just three ingredients: apples, whipped cream, and breadcrumbs. Translated, it means farmer girls dressed in veils, and although most Norwegians do not know where the name comes from, it has stuck. Normally, this dessert is served in glass and bowls. The most common flavorings for this dish are cinnamon and flaked almonds.
16. Kransekake
This is another favorite for Norwegians with a sweet tooth. Kransekake means wreath cake or tower cake and reflects how the cake is built as a tower.
It is normally prepared to celebrate special occasions such as weddings, baptisms, constitution day, Christmas, etc.
The cake has been traced back to Copenhagen but has been eaten in Norway since the 18th century. An informal rule is that the cake have at least 18 layers, consisting of concentric rings creating the tower.
17. Pølse Med Brød
Another classic eaten in Norway is pølse med brød, which means sausage in bread. Traditionally the dish is created using lamb's offal together with lefse (the Norwegian version of tortilla). In the past, it was also common to add surkål, and cream to the sausage. Nowadays it is a fast food served in gas stations all over the country.
18. Norwegian Waffles
Although Belgian waffles are the most well-known, many argue that the heart-shaped waffles from Norway are at least as good.
A Norwegian waffle has to be heart shaped, thin and soft, softer than the Belgian version. They are made with sugar, flour, eggs, and milk. To create the heart-shaped waffle, you need a hearth iron of the correct shape. Traditionally the waffle is served with cream and strawberry jam.
19. Rømmegrøt
This is another classic in the Norwegian kitchen. Traditionally served the day after Christmas, this dessert is a favorite for many Norwegians. Rømmegrøt is a porridge made from sour cream, milk, sugar, and flour. It is usually served with melted butter, cinnamon, and sugar.
20. Røkalaks
Throughout the world, Norway is known for its high-quality salmon. It should not be surprising therefore that salmon is among the top 20 traditional dishes in Norway. The name of thıs dish consists of two words: røk, which means smoke, and laks, which means salmon. Smoked salmon is commonly served with pickled cabbage, sour cream, and fresh chives. If you ever visit a Norwegian restaurant, you will find this on the appetizer or starter menu.
So there you have it, the top 20 traditional dishes from Norway. If you're interested in trying any of them out, I'd recommend you google the name + recipe and you'll find a lot of good sources. Let me know in the comment section how it goes!
---
Related: 15 Popular Norwegian Desserts
Related: 12 Famous Norwegian Cheeses
Related: Most Popular Norwegian Christmas Cookies