Top 15 Traditional Luxembourgish Foods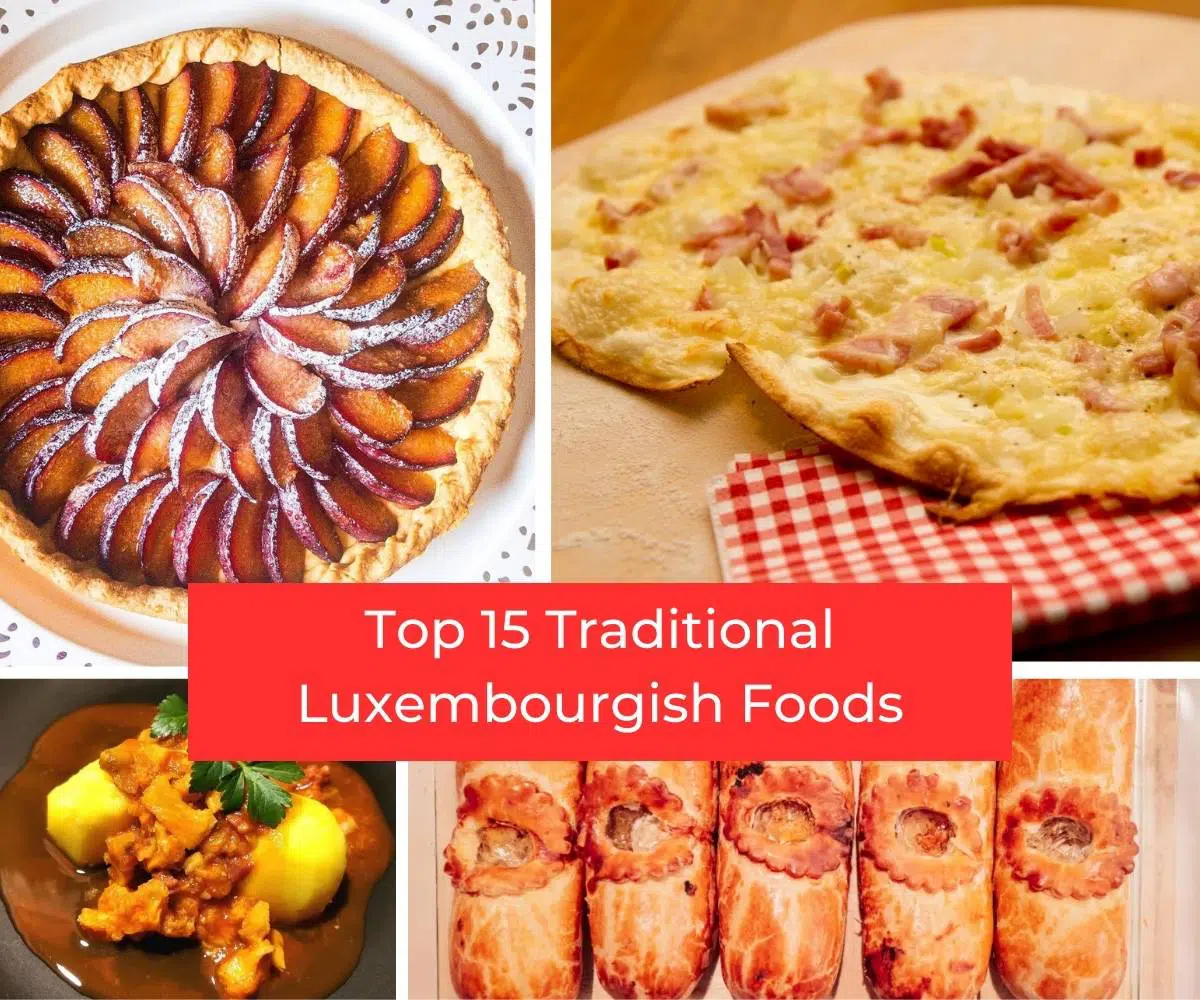 Luxembourg is a small country at the heart of Europe between France, Germany, and Belgium and has lovely traditional dishes it loves to share with everyone. Luxembourg is now a very international country, as over the years people have moved here from all areas of the world.
With a wonderful history and heritage, Luxembourg cuisine is a mix of French, German, and Belgian cuisines. Other countries also share their cuisine in restaurants across the country.
Traditional Luxembourgish cuisine is deeply rooted in local farming and produce such as meats, sausages, cheeses, potatoes, cabbage, beans, and other seasonal produce that are some of the best.
Other products Luxembourg is very well known for are wine, sausage, honey, cheese, and mustard, all of which are traditionally made throughout the country.
The Moselle Valley in the southeast is home to many grapes and wine varieties, which are well known for their quality. Crémant de Luxembourg is the most popular and top quality sparkling wine.
Luxembourg produces Auxerrois, Pinot Gris, Riesling, Pinot Blanc, Elbling, Pinot Noir, Gewürztraminer, and Chardonnay, but almost a third of it's wine is Rivaner – a cross between Riesling and Sylvaner grapes.
Let's take a look at the 15 most popular foods in Luxembourg.
1. Bouneschlupp and Gromperenzopp (Green Bean and Potato Soup)
Bouneschlupp is a highly prized, traditional Luxembourgish soup made with green beans, potatoes, vegetable stock, onions, and smoked bacon or Metworst, and other spiced sausages.
Although shared with the German state of Saarland, Lorraine (France), and the historical regions of Gaume and Arelerland in Belgium, Bouneschlupp is considered a national dish and is very popular. It is traditionally served hot with Gromperekichelcher and a dollop of sour cream on the side. Most restaurants serve this wonderful soup.
Another traditional potato-based soup is Gromperenzopp, made from leeks and potatoes and topped with slices of sausage or bacon, fresh parsley or fried onion.
2. Gromperekichelcher (Potato Pancakes)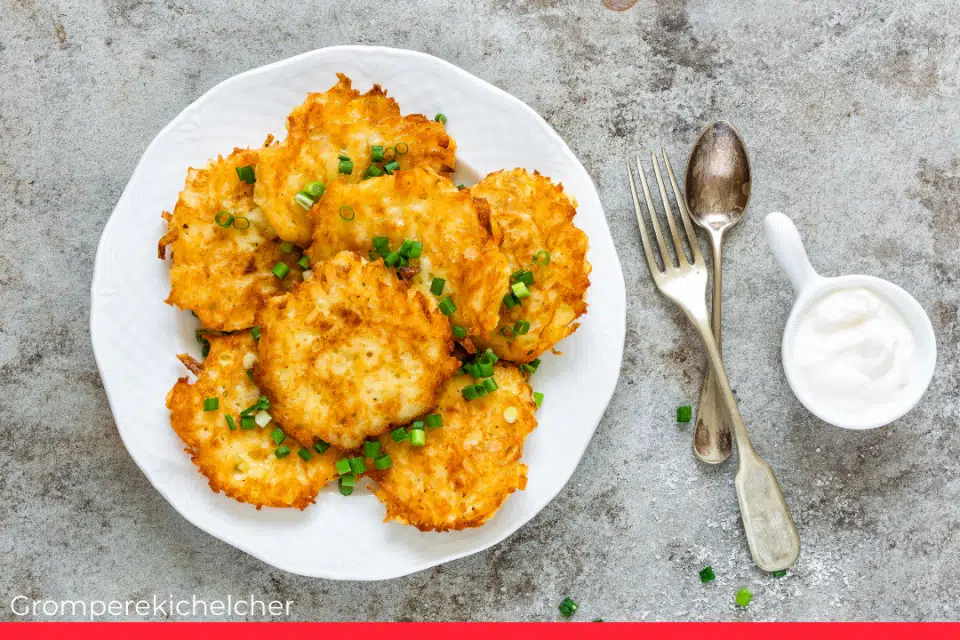 Gromperekichelcher is a version of potato pancake that is one of Luxembourg's most beloved dishes. It is very popular at festivals and fairs across Luxembourg, such as local festivals and markets as well as National Day and Schueberfouer, a huge fun fair, and Christmas Markets.
These potato pancakes are eaten warm and usually served with apple sauce and a sprinkling of salt or with Luxembourgish mustard. Gromperekichelcher are very popular in restaurants. They consist of grated potatoes, shallots, garlic, parsley, eggs, and flour. They are flavored with salt, pepper, and a pinch of nutmeg, flattened into a small pancake, then fried in hot oil.
Gromperekichelcher Cordon Bleu is another variety, consisting of special Luxembourg cheese and smoky ham between two Gromperekichelcher. These crispy potato pancakes can be eaten on their own or served as a side dish accompanying a variety of savory dishes.
3. Bouchée à la Reine (Queen's Morsel or Filled Puff Pastry)
Bouchée à la Reine is very popular in Luxembourg. It is a traditional French appetizer named after the Queen of France and in Luxembourg it has its own traditional recipe. It is very popular in restaurants as a main dish. Bouchée à la Reine is a buttery vol-au-vent puff pastry filled with chicken and mushrooms mixed together in a creamy or béchamel sauce.
It can also be filled with a traditional Luxembourgish creamy veal sauce. The pastry is made by cutting two circles in rolled out puff pastry, cutting a hole in one of them, then stacking the ring-shaped piece on top of the disc-shaped piece.
You then bake it and fill it with the creamy chicken and mushroom or other fillings, before popping a little pastry lid on top. It is nice to eat with a salad and wine.
4. Letzeburger Kniddlelen (Luxembourg Dumplings)
The traditional Letzeburger Kniddlelen, a dumpling, is very popular. They are boiled with a creamy white sauce and smoked bacon (lardon). Kniddlelen are made with a combination of flour, eggs, and milk.
The thick batter is dropped into boiling water and when the dumplings rise to the top they are done. Kniddelen can be served on their own or in soups, as accompaniments to stews and casseroles, or more traditionally, combined with bacon. There are other variations where smoked pork and broad beans are added to the savory sauce with bacon.
Kniddelen are often served with a side of apple compote and goes well with a glass of white Luxembourg wine.
5. Judd mat Gaardebounen (Smoked Pork and Broad Beans)
Judd mat Gaardebounen is a national dish made of Judd (smoked pork collar) and broad beans (special Luxembourg beans) in a creamy sauce. It can also be made with smoked pork or sliced ham.
The dish is made by cooking a pork collar in water with vegetables and herbs such as leeks, carrots, onions, celery, bay leaves, cloves, savory, peppercorns, and wine. Once cooked, it is cut into slices and combined with a creamy sauce based of fresh cream, dry white wine, stock or water, blanched broad beans, bacon, and herbs and is enjoyed with a side of boiled or fried potatoes and Luxembourgish mustard.
This specialty is traditionally prepared in early summer because then the broad beans are young, tender, and fresh.
6. Flammkuchen (Tarte Flambée or Pizza)
Flammkuchen is a Luxembourg classic based on the Alsatian tarte flambée with crème fraîche (sour cream), onions, and bacon. It is very popular in restaurants.
There are very many variations of Flammkuchen that you can enjoy with additions such as feta cheese, mozzarella, tomatoes, minced beef, beans, salmon, scampi, spinach, garlic, eggs, ham, chili, and other ingredients.
7. Quetschentaart (Plum Tart)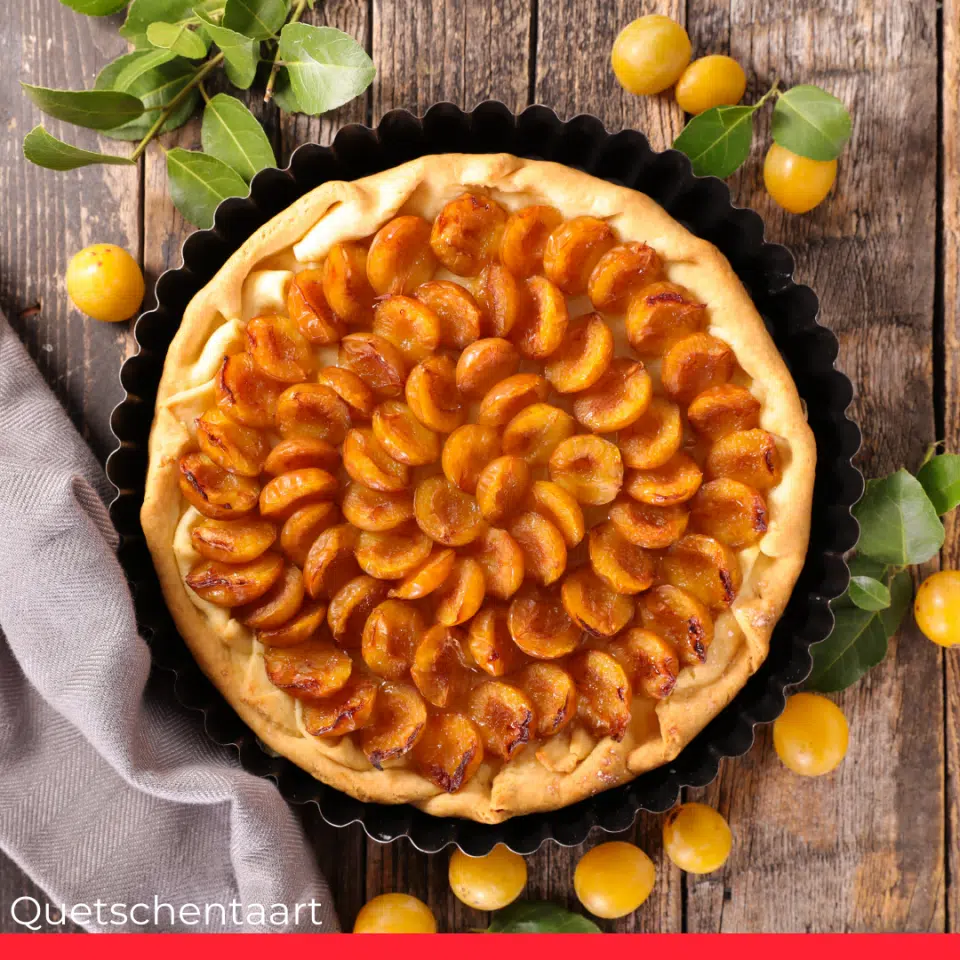 Quetschentaart is a delicious plum tart made all over the country. You can find quetschentaart in bakeries in the autumn once the fruit has ripened and been harvested. The quetsch is celebrated in late summer in honor of the damson season.
Questsh/plums (also called damsons) are stoned, halved, and then put into a sweet pastry dough and baked. Then the tart is covered with halved quetsch, arranged in circles, and served with sugar sprinkled on top. There are many varieties, such as quetschentaart and quetschentaart crumble. Quetschentaart crumble is spread with quetschekraut (plum/damson jam) to make it moist and a topping of cinnamon crumble.
There are damsons aplenty in Luxembourg, and a good thing too as we make a very special damson schnapps (plum liquor).
8. Wäinzoossiss mat Moschterzooss (Sausage with Mustard and Wine Sauce)
Wäinzoossiss mat Moschterzooss is a very traditional Luxembourgish dish. The wäinzoossiss (sausages) are made from grilled veal or pork cooked with wine and then served pan fried with moschterzoos (a creamy Luxembourg mustard sauce with Riesling) and mashed potatoes or kniddlelen and green vegetables or a salad.
Wäinzoossiss can also be made into meatballs and served with a creamy risotto. It is a very popular dish served in restaurants and can be cooked at home.
9. Friture de la Moselle (Fried Fish)
Friture de la Moselle is a traditional fried fish dish that comes from the wine-growing Moselle region of Luxembourg. It is a very popular dish and consists of various species of small freshwater fish that are battered and fried til golden and crisp.
After seasoning the fish with salt and pepper, they soaked in lemon juice, then coated with a batter, and deep-fried. Friture de la Moselle is served in many restaurants, typically with lemon wedges on the side.
The dish is often accompanied by a side of fries and a glass of fine Luxembourg Riesling, really setting off this fish delicacy.
10. Äppelklatzen and Äppelkuch (Apple Tart and Dainty Apple Cake)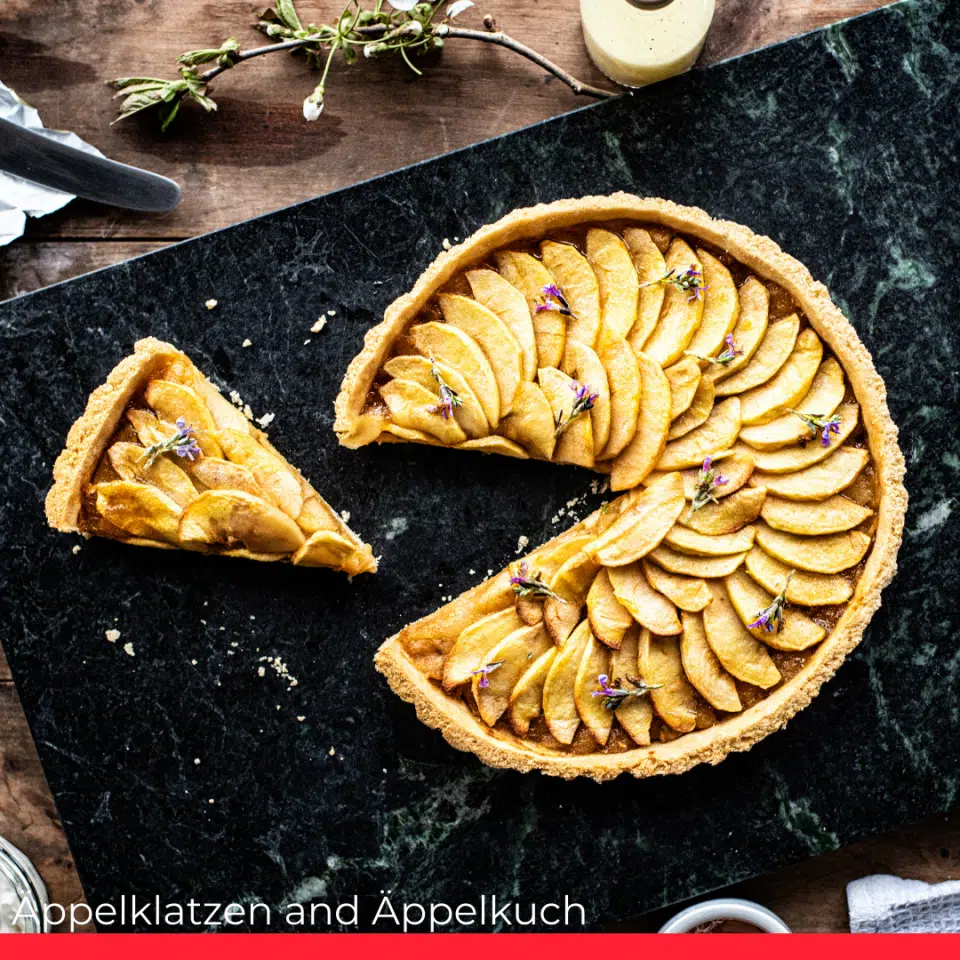 Äppelklatzen (apple tart) is a lovely and comforting Luxembourgish dessert. It consists of apples lightly cooked with cinnamon, nutmeg, and sugar. Once done, the apples are wrapped in pastry, then baked until golden-brown. They can also be topped with a tasty syrup and a side of ice cream.
This delicious dessert is very popular during the festive Christmas season. Äppelkuch (dainty apple cake) is made with a buttery dough and custard; the two layers literally combine in the oven, creating a moist, incredibly delicious cake, which is then topped with a dusting of cinnamon and confectioner's sugar.
Much of the fruit comes from orchards in the south of Luxembourg.
11. Huesenziwwi (Rabbit/Hare Casserole)
Huesenziwwi is a dish consisting of marinated rabbit or hare cooked with wine and onions in a thickened sauce made from hare or calf's blood, red wine, and cognac. Other things that can be added are sour cream, mushrooms, carrots, onions, and herbs, such as sage, bay leaves, and thyme.
It is paired with noodles, cabbage, potatoes, and a glass of local wine. During the game season in Luxembourg, October through December, it can be found on the menu of many restaurants.
12. Rieslingspaschteit or Pâté au Riesling (Riesling Pork Pies and Riesling Pâté)
This is a delicious and hearty meat pie which is considered a culinary treasure. Pâté au Riesling is a common meat pâté often eaten simply spread over bread.
Rieslingspaschteit is made by encasing a coarse pork pâté or terrine and vegetables in a Riesling-flavored aspic, Riesling gel, and then baked in pastry to create a log-shaped meat pie. Rieslingspaschteit is seen as the queen of pies in Luxembourg and is a popular culinary tradition.
You can find them in practically every bakery and butchers across the country. People usually serve the pie cold and sliced, preferably with a glass of Riesling.
13. Verwurelter (Luxembourgish Donuts)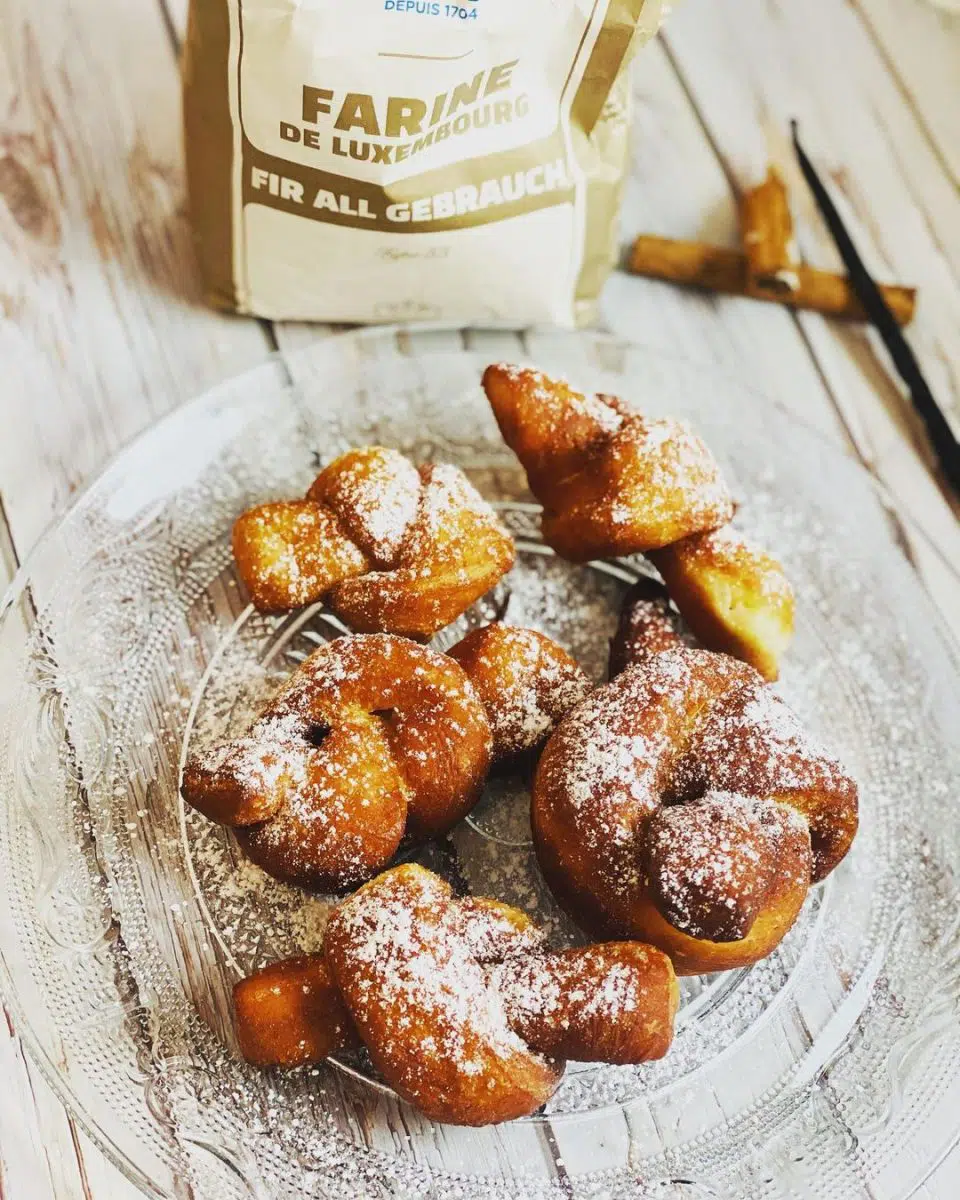 Verwurelter are traditional Luxembourgish donuts made with a combination of flour, butter, yeast, warm milk, sugar, eggs, and salt. The dough mixture is shaped into knots and then deep-fried until golden brown. Light and fluffy, these donuts are typically dusted with powdered or granulated sugar, and they can be enjoyed warm or cold.
In Luxembourg, Verwurelter is a festival food that is traditionally prepared for Fuesecht, a festival similar to the Mardi Gras, and the carnival season. They are available in bakeries and stores.
14. Träipen (Luxembourg Blood Sausage)
Träipen (Luxembourg blood sausage) is typically enjoyed during the winter season when it is traditionally prepared. It is usually fried or baked and eaten with boiled potatoes and apple sauce. This dish is traditionally eaten on Christmas eve, right after Midnight Mass.
However, it can also be prepared on All Saints' Day and the first Sunday of the Lenten season. Träipen is black pudding, or blood sausage, made by combining ground meat from the pig's head, lungs, kidney, and tongue with pork blood, cabbage, onions, and bread.
The sausage mixture is then seasoned with salt, pepper and a special variety of summer savory, called bounekräitchen, which imparts a unique flavor. After the meat mixture is seasoned, it is stuffed into casings, shaped into sausages, and cooked.
15. Kuddelfleck (Breaded Luxembourgish Tripe)
Kuddelfleck is an old traditional Luxembourgish dish made with tripe coated in breadcrumbs, fried, then served with one of two sauces: white wine sauce or spicy tomato sauce. It is often served with boiled potatoes on the side. It is very popular in restaurants all over the country.
---