Traditional Finnish Christmas Foods
Ask any Finn the question Where is Santa Claus from? and you will get a quick reply: Well from Lapland of course! He lives in Korvatunturi! This is something we are proud of, and it brings in large sums of money as well. Planes fly tourists from all over the world to see Santa Claus Village amusement park, and thousands of families travel to Lapland, where snow is guaranteed (unlike in Southern Finland), to visit the man himself.
We also have a television show, where kids can call Santa Claus, and talk to him live. If that's not enough, in Finland you can even write Santa a letter, and you'll receive a reply with the "official" Santa Claus stamp on it.
Before Halloween is even over, you'll be tripping over Christmas ornaments and decorations, and humming along to the Christmas songs that play in the supermarket. But more than anything, Christmas to us is a celebration for the children, and a season to quiet down and spend time with your loved ones.
In Finland Christmas celebrations last about a month, starting with Advent. Each Advent Sunday we light up candles, the number of which is determined by which day of advent it is. During Christmas week we light up all four candles. Advent, or Christmas, calendars are a big thing, even though they only arrived in Finland as late as the 1930s.
They were brought here by the Scout movement, first to Sweden, and then here. You can buy one, or make one yourself, but you must have one! Every school has a Christmas celebration, and every company will have a Christmas party, or pikkujoulut (little Christmas) as we call them.
Christmas time ends on Epiphany, January 6, which is when we usually throw out the Christmas tree and take down the decorations. In some parts of the country, Christmas time ends on Saint Knut's Day, which was moved to January 13 in 1708. Traditionally this was the day when young men and women wore sheepskin turned inside out, different kinds of masks and horns, and went around from house to house asking for food and beer leftover from Christmas. These days the tradition has changed, and children dress up as whatever they like, and go around from house to house asking if they can come in and sing. In return, they get a small offering, like a coin or two, candy, or fruit.
The Christmas tree is also an important tradition, although actually a recent one, arriving in the Nordic countries in the 18th Century. The first Christmas tree found its way to a Finnish home in 1829, and the custom became widely popular in the 20th Century. Some get their tree a few days in advance, some go and pick one out on Christmas Eve. The whole family joins in the decorating. In many families, you will have decorations that might have been in the family for a couple of generations.
In Finland, Christmas Eve is when the magic happens. The day starts with… rice porridge! Traditionally, an almond is hidden in the porridge, and whoever gets it on their plate has good fortune for the next year. Christmas Eve porridge is served either with sugar and cinnamon, or with raisin fool, or a fool with dried fruits. Afterward, some folk go to church, some go to the cemetery, others just enjoy preparing the upcoming meal.
One tradition that we have had since the 1600s is the proclamation of Christmas peace. Many cities hold their own events for this, but the most famous one is the one that takes place in Turku, in the old grand market square at 12 o'clock. You can watch this live on tv or listen to it on the radio. This proclamation encourages people to celebrate Christmas peacefully and respectfully.
Another unmissable part of Christmas Eve is the sauna, for everyone will go to the sauna at some point of the day. In olden times, people would also take candles, food, and fruits to the sauna for the sauna elf!
Christmas dinner is usually served in the afternoon or early evening, and enjoyed even for hours. First, it kicks off with a vast table of appetizers such as herring or other fish prepared in numerous ways, salads, cheeses, cold cuts, and more. Then it is time for the high point of the meal, the Christmas ham. We have never gone for turkey much, and I doubt there is any other time in the year where stores sell out of ham! After the feast, it's usually time for Santa Claus to show up and bring presents, which we open in the evening. Food used to be left on the table for the house-elf to enjoy, but these days we just leave it there for us to enjoy. After the kids go to bed, it's time for the adults to go for seconds!
Top 20 Christmas Foods in Finland
1. Rosolli – Herring and Beetroot Salad
This is a dish you can see everywhere, and it carries a long Finnish tradition. It was first eaten in 18th century in upper-class homes, spreading to the common people in the 19th century.
Early on it was made just with potatoes, minced onion, and salted Baltic herring. Nowadays it is made also with pickles, beetroot, carrots, and apples and garnished with whipped cream colored with beetroot juice.
2. Herring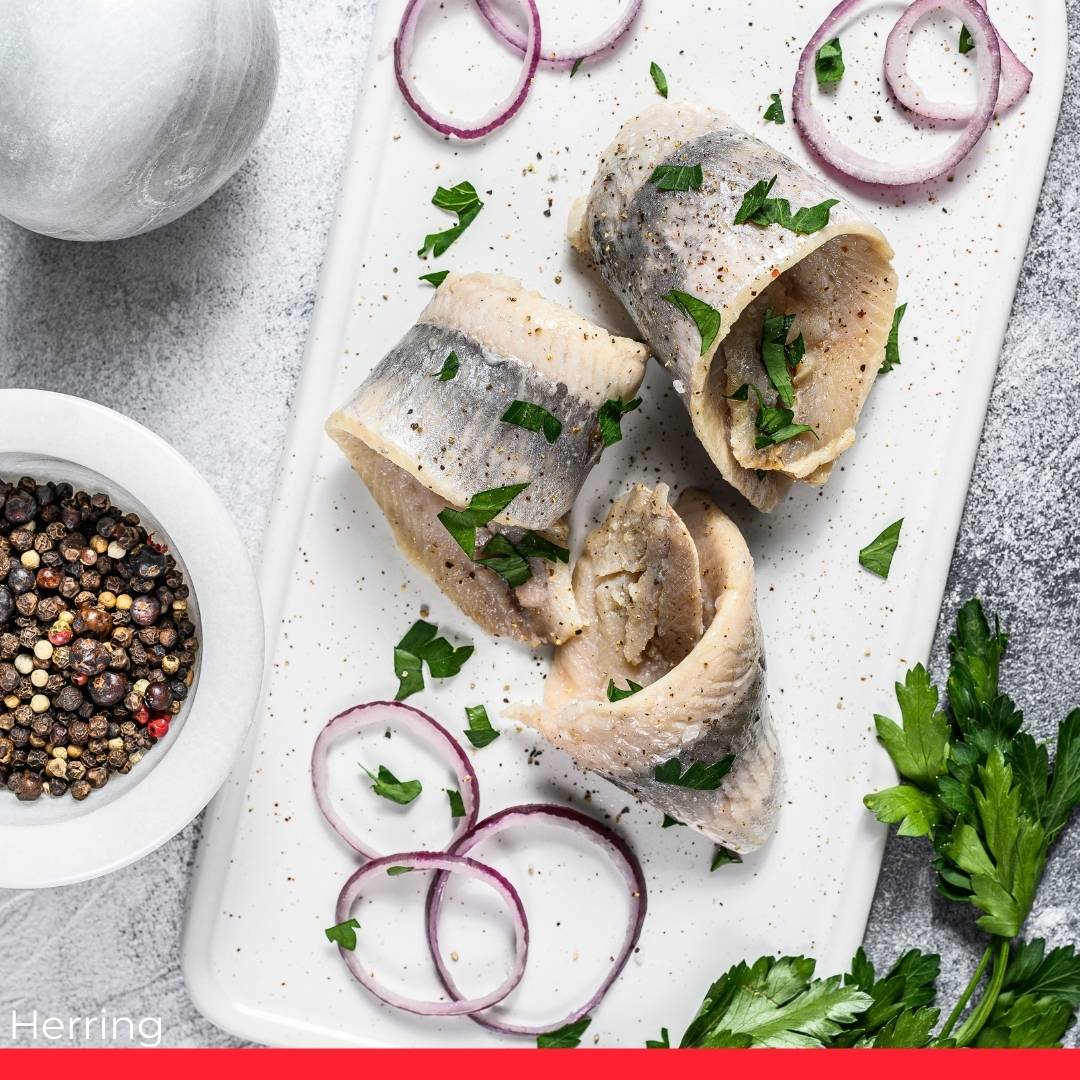 Always pickled, Herring can be found in Finland in numerous different flavors and sauces. The most common are mustard, onion, and dill, and a pickle sauce flavored with white pepper, bay leaves, carrots, and red onions.
Salmon is found on Christmas tables in a variety of forms: smoked, cold-smoked, oven-cooked, or dry-salted. Whichever way, it is always delicious!
Related: What Does Salmon Taste Like?
4. Lutefisk
Lutefisk is dried whitefish. It is made from aged stockfish or dried and salted cod, pickled in lye. It is gelatinous in texture after being rehydrated for days prior to eating. This is something of a divider – you either love it or hate it.
Traditionally, Christmas porridge has always been made from oat or barley. Then, in the 19th century, rice was imported to Finland, and it quickly replaced oat and barley at Christmas, since it was expensive and thus considered a festive ingredient. Despite rice becoming commonplace and less exotic over the 20th century, this version of porridge is still going strong at the Christmas table.
6. Raisin / Fruit Soup
In the late 1880s, colonial products became cheaper, and even poorer households were able to buy nuts, almonds, dried fruits, and raisins. Soups made from raisins, dried plums, or dried fruits were at first luxury for the upper class, but became available and spread more widely in the 1920s and 1930s.
7. Casseroles
Regardless of the type, casseroles are served in every household. The most casseroles are potato, sweetened potato, swede, carrot, and liver. Nowadays there are also new flavors, such as beetroot and sweet potato.
Related: Janssons Frestelse
8. Pâté
Pâtés are usually made from liver, but recent trends have led to them being made also from fish or even vegetables. Finns really enjoy spreading some pâté at Christmastime.
9. Ham
The Christmas ham is the crown jewel of the Christmas meal in almost all the Nordic countries. This meal does not have a long tradition, however. In the 1800s pork, beef, or lamb, was eaten at the Christmas table, either dried, smoked, or fried.
Pork took over as main meat in the 1900s, and, to most Finnish folk, is a tradition that just cannot be skipped. The meat is usually salted and prepared in the oven. Some people like to crust it afterward with mustard and breadcrumbs. Every year, around 6-7 million hams are sold during Christmas time.
Ham is basically the backside of pork, consisting of sirloin, silverside, and knuckle. It is sold without the bone and can be bought fresh or frozen.
10. Gingerbread
Christmas is not Christmas without gingerbread cookies. We bake them weeks before Christmas, and usually end up baking another batch before Christmas.
We decorate them with icing, candy, build gingerbread houses, sleighs, churches, castles, you name it. The gingerbread house gets its model from the old German fairytale Hansel and Gretel.
Related: 22 Amazing Gingerbread Houses
A sweet treat made from puff pastry and prune jam. Delish! Traditionally, the pastry is cut out to look like a star, and a dollop of jam is slapped on top. Paste it with egg, put in the oven, and dust with confectioner's sugar. Perfect.
If you are like me, prune jam is the only way to go, but there are other options, such as apple, apple-cinnamon, blueberry, cranberry, and marmalade, to name a few.
12. Christmas Ale
Drinking ale on Christmas is a tradition in Nordic countries. Even the Vikings were known to "drink Christmas". These days you can find varieties in flavor and style, from pale ales to porters.
Mulled wine has been around in the Finland–Sweden region since the middle ages. It was created when a poor-quality wine was seasoned with cinnamon, cloves, cardamom, and orange zest. Today it is enjoyed everywhere, and often enjoyed in its basic, non-alcoholic version. It is made usually from blackcurrant juice, but you can also use lingonberry, cranberry, or red currant juice.
Lighter-colored versions can be made using apple juice or sea buckthorn juice, for example. The spices are more or less the same: cinnamon, cloves, cardamom, and star anise. To this flavorful concotion, add hard liquor or red wine and serve often with almonds and raisins. The perfect thing to warm you up on a cold winter day.
If Finns can lay claim to a wide variety of savory dishes, the same can be said of sweet ones. In every household different kinds of fruit cakes and spiced cakes are a must. Finnish Christmas cakes are usually made with dates, nuts candied peel, or spices.
15. Chocolates
There is a multitude of chocolates available during Christmas, with numerous fillings: liqueur, truffle, fudge, caramel, you name it. We also have our own chocolate brand, Fazer, which is delicious.
16. Salad
Different kinds of salads are also served at Christmas. Green salads, Waldorf salad, mushroom salad. The sky's the limit here, really.
17. Buns
Buns are also an essential part of the dessert table. In addition to the buns and cinnamon rolls we traditionally make, new variations have been introduced. One of the most popular ones is a bun baked with Nutella, a delicious chocolate and hazelnut spread.
Related: Fat Tuesday-Buns
These are traditional Finnish pastries eaten all year round, but at Christmas as well. They feature a pastry made from rye dough, and are filled with either mashed potato or rice, rice being the more traditional choice.
19. Coffee
Even though mulled wine has surpassed coffee at the Christmas table, make no mistake; we still have coffee with our Christmas meal. It makes sense, since Finland has long been the biggest consumer of roasted coffee in the world. Each year one Finnish person consumes 10 kilos of roasted coffee!
20. Finnish Bread
Bread is a big part of the meal as well. We have loaves that are made with sour milk and dark syrup, rye bread, and something that's called "Islanders bread". It is also a loaf baked with sour milk, dark syrup, rye malt, and flour.
With that, we come to the end of our tour of Finnish Christmas foods. Even if you're not fortunate enough to have Lapland on your doorstep, we hope that you can give some of these delicious dishes a try. Merry Christmas, or, as we say, Hyvää Joulua!
---
Related: Most Popular Finnish Foods & Desserts