25 Must-Try Australian Foods and Drinks
When thinking of typical Australian cuisine, your mind might immediately jump to plates of crocodile or kangaroo. But, thanks to migrant influences -mainly Mediterranean and Asian- Australia has absorbed a variety of culinary tastes from around the world. It's not all bush tucker and shrimps on the barbie!
Whether you're a local looking to expand your horizons, or on holiday for the first time in the land down under, we've created a list of the most popular Aussie foods, snacks, and drinks you need to try.
WARNING: Don't read this when hungry!
1. Fish and Chips
As if we could have chosen anything else to take the top spot! If you're not eating fish and chips by the beach at least once a week, are you even Australian?!
Australia has some of the best seafood in the world, so you're guaranteed beautifully fresh battered fish served with heaps of piping hot chips. Don't forget to add chicken salt!
Don't fancy fish and chips? Try our famous salt and pepper calamari!
2. Chicken Parma
At a very close second is a chicken parma. This classic Aussie chicken dish is a firm favorite and can be found on most pub menus around the country. Parmigiana was initially made with eggplant but evolved to become the breaded chicken dish we all know and love.
This Italian classic consists of chicken schnitzel topped with a rich tomato sauce, ham, and melted cheese. Typically served with chips and salad, what's not to love?
Despite the ownership rivalry between Australia and New Zealand (who both claim to have invented the pavlova), you can't attend any Australian Christmas, birthday, or summer party without finding a pavlova center stage on the buffet table.
Made up of crunchy meringue with a soft center, whipped cream, and piles of fresh fruit, it's no surprise that pavlova is Australia's national dessert. It is even better with passionfruit pulp poured over before serving.
4. Roast Lamb
Recently declared Australia's National Dish in a poll conducted by News Ltd, roast lamb was sure to make it into our top 5.
There's no better way to get the family gathered around the table than a roast leg of lamb on a Sunday. Traditionally cooked in rosemary and garlic and served with lashings of gravy and enough potatoes to feed an army, roast lamb is a definite family favorite.
Claiming the last space in our top 5 has to be barramundi. Arguably the most Australian of fish varieties, barramundi gets its name from the Aboriginal meaning of "large-scaled river fish." If you're looking for a slightly healthier alternative to battered fish and chips, barramundi is a perfect choice.
This Asian seabass is a beautifully flaky white fish with a sweet, buttery flavor, delicious with a salad on a summer's evening.
Tip: Head up to Queensland for some of the best barramundi in the country.
6. Vegemite
Found in most Australian pantries, Vegemite can be a bit of a love-it-or-hate-it situation. If you're a true Aussie, you'll definitely be a lover. Often compared to Britain's Marmite (although entirely different), this gooey yeast-based spread can be enjoyed for breakfast, lunch, or as a snack.
It is spread over butter on toast or on a Salada Cracker. If you're feeling extra fancy, why not add it to your avocado toast for a weekend treat.
7. Meat Pies
No "Top Australian Foods" list would be complete without giving meat pies an honorary mention. Flaky pastry filled with gravy and mincemeat is a service station staple and must be eaten with a squeeze of ketchup on top.
Acceptable as a midday snack or even for breakfast after a big night out, the Aussie meat pie is always a winning choice. There's no way you can visit Australia without giving it a go.
8. Fairy Bread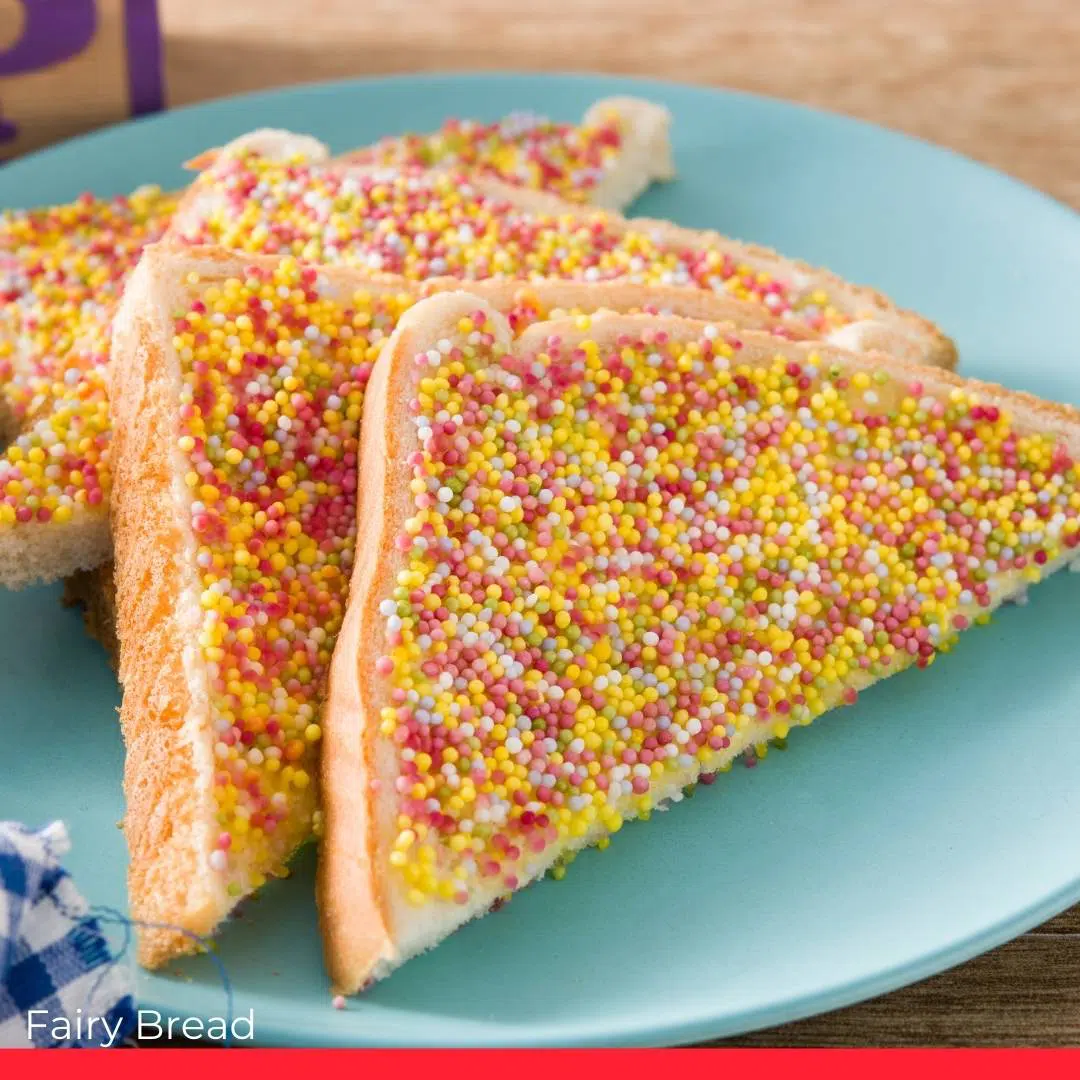 This simple three-ingredient snack is always the star of the show at every kid's party (and a not-so-secret favorite among the adults).
Fairy bread is arguably the queen of party snacks -cheap, quick, easy to make, and delicious to eat. White bread is spread with butter, topped with brightly colored rainbow sprinkles, and cut into triangles to create an unbeatable treat.
9. BBQ Snags
Nothing is more Australian than a barbie, and no good barbeque is complete without a decent sausage. Whether doing it yourself or grabbing a sausage sizzle from the local Bunnings, barbecued snag should always be wrapped in a slice of white bread covered in fried onions and sauce.
Pork or beef are the more traditional choice, however, today there are a variety of gourmet flavors such as chicken and cheese, or lamb and rosemary.
Snags are a true barbecue staple!
10. Timtams
From kids to grandparents and everyone in between, Timtams are a household favorite. So much so that Australians are rumored eat around 400 million Timtam biscuits each year! What exactly is a Timtam? Well, it's a chocolate biscuit made of two layers, with a chocolate filling and covered in melted chocolate.
If simply eating one isn't enough for you, why not try the proper Australian way to eat a Timtam by doing the 'Timtam Slam'. Prepare a coffee, tea, or hot chocolate, bite of both ends of the Timtam, dunk the biscuit into your drink, and use it as a straw to suck up the liquid! You are now a true Aussie.
11. Milo
Our first drink on the list, and it's a classic. A delicious malt drink powder that, once added to milk, becomes a sweet chocolatey beverage. Don't listen to the recommended serving of only one scoop; add as much as you can and keep stirring! Why not try making it with hot milk in the winter for a warming treat.
12. Cheesymite Scroll
Think savory pain au raisin but made with cheese and vegemite, twisted into a baked bread scroll. Salivating yet? Initially created by Baker's Delight, cheesymite scrolls can now be found in most bakeries and supermarkets, making it easier than ever to feed your craving. A true Australian icon.
13. Lamingtons
Often referred to as the 'National Cake of Australia', this culinary icon consists of a square-shaped sponge cake, often filled with jam and cream, dipped in chocolate and finished with a dusting of desiccated coconut. Available in all good bakeries and cafe's, Lamingtons are the perfect afternoon treat.
14. Flat White
Our second beverage shout out goes to the world-famous Flat White. Said to have been first created in Australia in the '80s, this well-loved coffee is made by topping a double shot of espresso with steamed milk and is now enjoyed worldwide.
Smaller and stronger than a latte, a Flat White is the perfect midday pick-me-up. Why not try it with a Timtam or Lamington. Delicious!
Tip: Head to Melbourne, the coffee capital of Australia, for some of the best coffee in the country.
15. Chiko Roll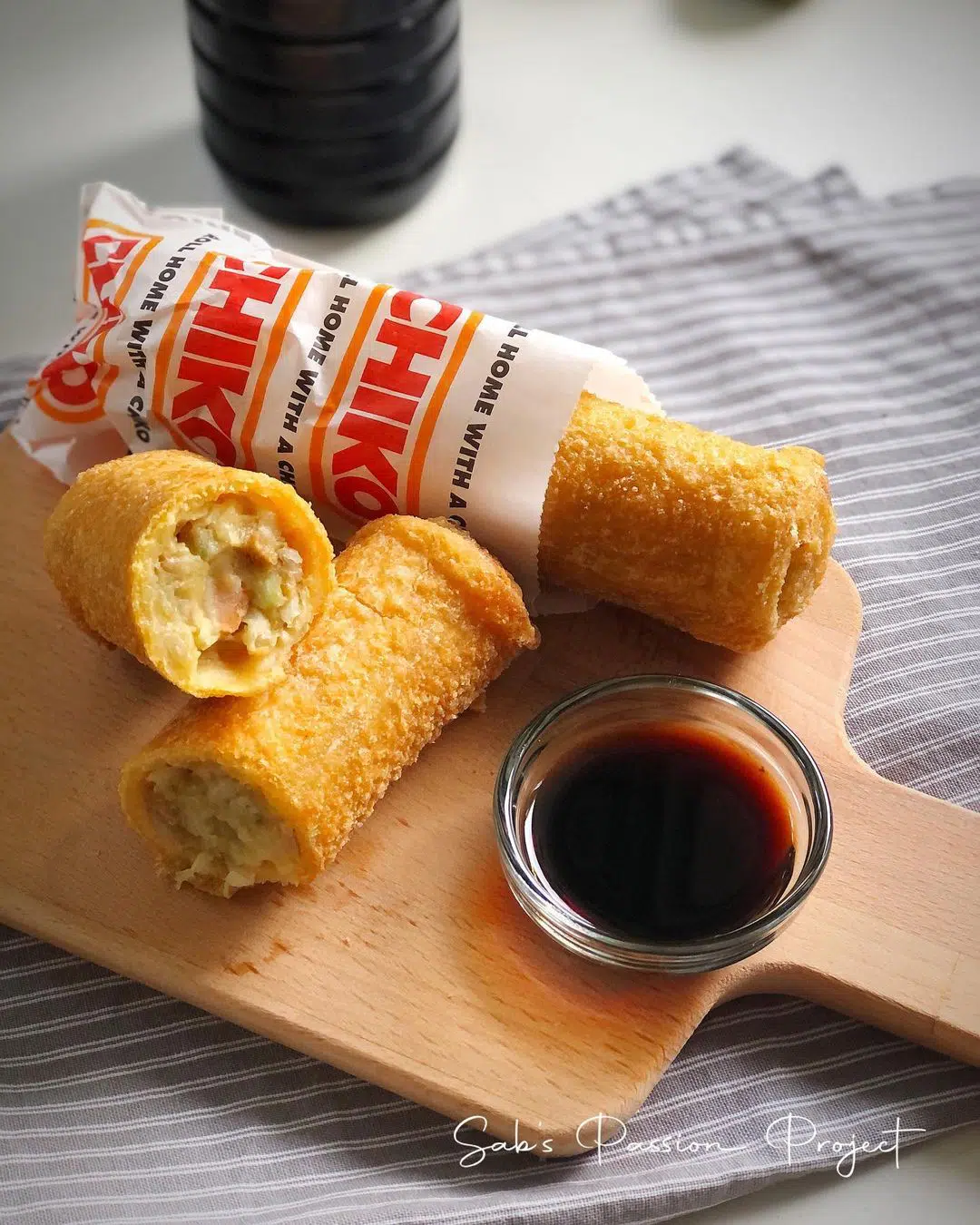 Inspired by a classic Asian spring roll, Chiko rolls are deep-fried egg rolls filled with beef, cabbage, celery, spices and veg. Designed to be a no-fuss snack eaten on the go, Chiko Rolls are commonly found in fish and chip shops or street vendors, and are a popular snack at sporting events.
16. Anzac Biscuits
Associated with Anzac day, which falls on April 25th, these biscuits are traditionally served to commemorate the Australian and New Zealand Army Corps (ANZAC) members that fought in World War I. Due to food shortages and lack of eggs at the time, these oaty biscuits were created using simple ingredients that didn't spoil and could be kept for months.
It is said that the original Anzac biscuit was savory and didn't become a sweetened recipe until 1920. They are still enjoyed by families all over the country.
17. Kangaroo Meat
Alright, we know we said that Australians don't always eat outback meats, but some are too good to miss. As a healthy alternative to beef, Kangaroo meat is best cooked rare to medium with garlic, pepper, and rosemary. High in protein and low in fat, kangaroo meat is ideal if you're on a health kick!
Alternatively, if you aren't keen on a whole kangaroo steak, why not try a Kanga Banga! Kangaroo sausages have become an increasingly popular 98% fat-free alternative to their porky counterpart, and are delicious thrown on the barbie!
18. Chocolate Crackles
I know it seems like kids' party snacks are getting a lot of mentions, but honestly, a good buffet table is unbeatable. Chocolate crackles are a reason to accept a children's party invite alone. This retro favorite is made from rice cereal mixed with chocolate, coconut, icing sugar, and copha to create a quick and easy, irresistible treat.
19. Cheese and Bacon Roll
Extremely popular amongst all Aussies, cheese and bacon rolls are straightforward but delicious. Great for an on-the-go snack or lunchtime treat, cheese and bacon rolls are commonly found in bakeries or supermarkets. A white bread roll is topped with cheese and bacon and then grilled -simplicity at its finest.
20. Emu
If you're expanding your culinary horizons, the emu is the perfect place to start. Emu has been eaten for thousands of years by indigenous Australians, and has now found its way onto many menus across the country.
Although it is a bird, emu meat is surprisingly comparable to beef in color and texture. Similar to kangaroo meat, it is also virtually fat-free. Australians enjoy it in a sausage (of course) or on top of a pizza.
21. Crumbed Lamb Cutlets
If it isn't clear by now, Aussies certainly like their meat. Lamb cutlets are super versatile and can be served in several ways, but the key is in the crumb.
How about crumbing your lamb with mustard, rosemary, and garlic, and serving with potatoes and vegetables? Or, for a more summery feel, try a parmesan-crumbed cutlet served with refreshing mint yogurt and salad. Whatever your preference, make sure to give crumbed lamb cutlets a try.
22. An Aussie Burger with all the Extras
Now, we know what you're thinking, and yes, you can get a burger anywhere in the world, but, if you want a classic hearty meal with an Aussie twist, you must try a burger with all the fillings. First of all, nothing can beat a burger made with Australian beef, and if tomato, lettuce, and onion just don't cut it for you, shake it up with our favourite fillings of pineapple, pickled beetroot and a fried egg. Delish!
Perfect after a long day of exploring or spending hours out in the surf.
23. Crocodile
Whilst this is more of a delicacy than a common find, it's definitely still a must-try. Crocodile meat is often described as chicken-like with a slightly sweeter taste.
As with similar native Aussie meats, crocodile meat is low in fat and cholesterol, and very high in protein, making it increasingly popular with athletes and the health-conscious. The simplest way to try it is as a steak with some salt and black pepper.
24. Macadamia Nuts
We can't make a "Top Australian Foods" list and not include macadamia nuts. Indigenous to Australia and originally known as gyndl or jindilli by indigenous Australians, the term macadamia didn't come along until 1857. Their taste is reminiscent of hazelnut, with a smooth and almost buttery texture. Enjoy raw or roasted with spices.
25. Flake
A sometimes controversial choice, "flake" is a term used in Australia to refer to shark meat. Usually this meat comes from the gummy shark, and it is a standard in Australian fish and chip shops. Flake is a white fish with a mild flavor and a soft texture, perfect for covering in batter and throwing in the fryer to serve with your chips. The best part about flake is that it is thick, juicy, and boneless. Give it a go!
While it may not be particularly famous for its cuisine, we have hopefully shown here that Australia has a massive variety of unique iconic foods, snacks, and beverages, with a number of cultures and nationalities having influenced and shaped Australian tastebuds. Whether you're a first-time tourist, or a local showing visitors around, make sure to give some of these mouthwatering dishes a try.
Use our list and see how many you can tick off!
---
Related: 20 Most Popular Australian Desserts