Gross Drinks: 13 Most Disgusting Drinks Ever Made
This time we'll take a world's tour in an oozing adventure that will take your tasting buds for a spin. We will discover the man obsession for brewing masculine parts of animals in beer and that poop coffee is not the only poop beverage invented.
1. Stag Semen Beer – New Zealand
Wellington is well known for the craft beer so why not go the extra mile with a new star beer on the menu? Stag Semen Stout local was very demanded during local craft beer fest Beervana.
Just like the name says, the beer is protein-packed with semen stout. What you can expect while tasting it is a big chocolate and roasty character.
To preserve the stout's uniquely creamy qualities the beer is served by hand pump rather than force carbonation. But this isn't a premiere for the pub; they have served apple-infused horse semen or just simple semen shots that were very popular with women, back in 2011. The brew's label says that the taste is sweet and creamy with coffee and chocolate notes.
Every chocolate and beer lover should be delighted by this combo. Or maybe not.
2. Baby Mice Wine – China, Korea
If you wonder how gasoline tastes than you can take a quick trip to South China or Korea and try the baby mice wine.
This said health tonic is made by drowning infant mice in rice wine and then let in to ferment and absorb the rodent flavor.
In ancient times when villagers did run out of money to buy medicine for their ailments they turned to this traditional wine to deal with diseases. The strange concoction has many healing properties that include curing hepatic and liver disease as well as asthma.
Still not convinced yet? We assure you that only the best ingredients are used which are mice that are no older than 72 hours, not have opened their eyes yet and not a single hair on their bodies. At least a dozen of these babies are let to ferment in the bottle for 12-14 months.
You can get drunk very fast from this wine which it's preferred after this experience.
3. The Sourtoe Cocktail – Canada
Watch out for the toe when you get your hand on this cocktail that's been proudly serving since 1973.
The Sourtoe Cocktail Club is an exclusive bar in Yukon that requires membership. In order to achieve it you have to drink a shot of Sourtoe Cocktail that has, good guess, a human mummified toe. You can drink as slow or fast as you desire but the one rule is that your lips need to touch the toe. Who's in for the challenge?
And here comes the story behind this shot: it all started in 1920 when the rum-running Linken brothers, Louie and Otto got caught in the blizzard. Louise stepped through a patch of ice and immersed his foot into the cold water which got him a nasty froze bite. To prevent gangrene Otto used his axe to chop off Louise's toe when they got back to the cabin. Then he put it into a jar with alcohol to commemorate the event.
In 1973 legend has it that Captain Dick Stevenson found the jar and came up with the idea of the Sourtoe Cocktail Club. Funny thing is that in 2013 a man swallowed the toe, on purpose and got ran out of town. He came back though seeking forgiveness from the people of Dawson City.
So, if you want to indulge yourself and swallow the toe you can buy your exoneration by $2500.
4. Kopi Luwak – Indonesia
If you taste a cup of coffee and think that it tastes like crap you could be getting on the bottom of something. Maybe not the most expensive coffee in the world but I will tell you all about kopi luwak.
The uncommon production method defines the value of cat poop coffee. The palm civet or civet cats feed on coffee cherries, picking only the best ripped ones, which are then being processed in their stomach by the digestive enzymes. This is the most important part because these enzymes change the structure of proteins in the coffee beans that removes some of the acidity making the taste of the cup of coffee much smoother.
The legend says that kopi luwak was discovered in Indonesia under the Dutch rule when native farmers weren't allowed to harvest coffee for themselves. The plantation workers discovered the undigested beans in the feces of the chivet cat and after brewing them liked the taste even more than the conventional one.
Increased demand for this Indonesian specialty has changed the industry for the worse: 80% of the coffee sold as kopi lukaw on the market is fake.
Different caged animals are used to try and recreate the digestion process and the ones that really passed through a cive cat are still coming from forced-fed farms. The living conditions for the sole purpose of harvesting their money maker poop are just not worth for sipping on a luxuriant cup of coffee.
Search for a certified real kopi luwak and cage free given by WSPA, Rainforest Alliance or UTZ certification.
5. Dung-smoked Whale Testicle Beer – Iceland
Rising from the Dark Age of Iceland, this medieval beer is brought to life every year for the Thorri festival when locals celebrate ancient gods like Odin and Thor from Vallhalla.
Hvalur is enjoyed alongside other traditional dishes that the ancestors feast on. The controversial beer has a time consuming brewing method as it has to follow the quality assurance handbook that was created in order for the health department to approve the beverage.
It's made from giant whale testicles that weight around 15 to 18 pounds and then smoked for an extended period with dried sheep dung for there are no threes in this volcanic island.
This is how the beer gets the unique smoky taste. Hops and malted barley are being added to the mix and not least some of the world's purest water. This comes from a spring that runs from a near glacier for over 600 years and we can only imagine how it must tastes.
But regarding the hvalur flavor people say it's like a porter with the hints of caramel and smoke; almost meaty aftertaste.
6. Seagull Wine – Arctic Circle
Now that you gained certain experience with some of the methods of flavoring the wines you know that Seagull wine has to have a dead Seagull trapped inside a bottle of wine.
What did ever happened with message bottles on the beach? Anyways, only the bottle can carry the name of the wine because Arctic Circle can't provide the grapes but it sure has a lot of water and seagulls and this is what the beverage is really all about.
The inventive Inuit came up with the idea of letting the bird ferment under the sun inside a bottle of water, in their desperate need of having something to drink on those cold nights.
The taste is far from average but gets people inebriated in a hurry and the hangover is something that you don't wish it upon even your enemies. On the other hand one tourist that had a sip without being told first the name said that is was not bad.
That's the best review that this so called wine can get.
7. Panda Dung Tea – China
The Chinese passion for out of this world inventions and love for Panda got them a winning idea of the most expensive tea in the world.
The green tea grows in the mountains of Sichuan and being fertilized with tons of excrements from panda bears living at nearby breeding center.
The wildlife expert An Yanshi prefers this type of fertilization because it's rich in fibers and nutrients from the bamboo, their main food. The poor digestive system of this much loved bear leaves the poo with high amounts of vitamins and minerals as the body absorbs only about 30% of what they are eating.
The important nutrients, like an element that fights cancer, end up in green tea enriching it. After brewing the tea, An Yanshi described it as fragrant and smooth but with a mature and nutty taste.
The Chinese entrepreneur is hoping that his Panda poo tea will be included in the Guinness Book of World Records for the most expensive tea with the asked price of £125 a cup and £46,000 per kg.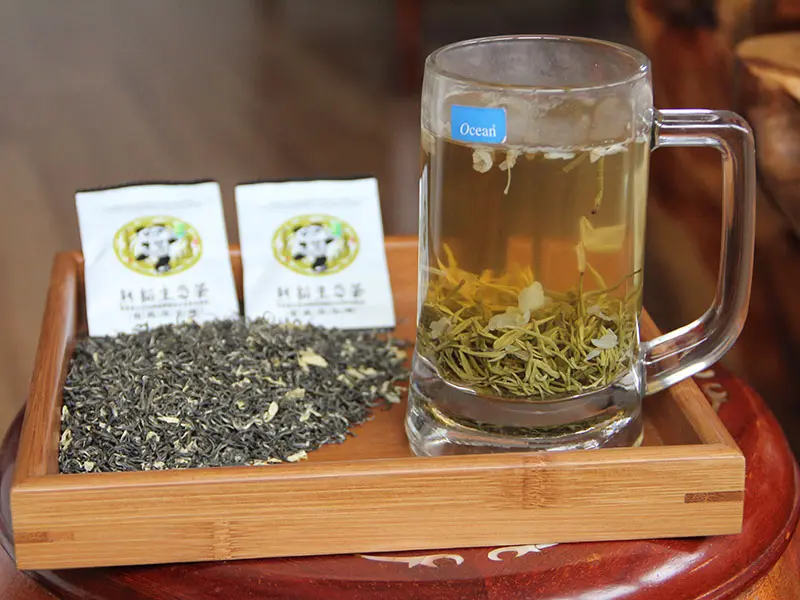 8. Cow Urine Soda – India
On the attempt of replacing the American Coke with something healthier and more traditional Gaul Jal took place in 2011.
Gau Jal is a soft drink containing cow urine. This is nothing like uncommon in the Hindu culture as they have been using this ingredient as a traditional remedy for centuries due to the sacred nature of cows.
A man said that since he started drinking cow urine he had seen improvement in his blood sugar levels and others have treated their stomach problems with it.
We don't know yet the success of this golden soda and if it did surpass other refreshments choices.
9. Placenta 10000 – Japan
Tender peaches taste sounds appealing, or at least this is how it is said for the popular drink in Japan: Placenta 10000.
The number comes from the 10,000 mg of pig placenta and is more jelly like.
It's sold for the supposed regenerative properties and concerning beauty. If the animals eat their placenta in the wilderness, for safety purpose, why not we drink it for a fabulous skin? If one is not satisfied with the first presented option there is also Placenta 40,000 to meet every need.
10. Civet Poo Beer – Denmark
After luwak coffe and Panda poop tea there was only a manner of time for the beer equivalent to appear.
The founder of Mikkeller Brewery in Copenhagen was so impressed by the luwak coffee he had tasted in Vietnam that he wanted to include the chocolate notes to his dark beer.
To escape the bitter taste of hops he changed it with an imperial oatmeal stout that has a roasted chocolaty flavor thanks to the addition of Vietnamese cap he con, that's the same as Indonesian kopi luwak. Mikkel Borg Bjergsø was very pleased of his result Beer Geek Brunch.
As the name suggest it's better to enjoy it later in the day, for brunch, as it has a stronger, wilder and heavier taste. Beer Geek Breakfast is more suitable for a less adventurous drinker and it's made with regular French press coffee.
11. Kumis – Central Asia
Kumis is the ancient Turkic word for fermented horse milk. The drink is similar with kefir but because it's made from raw mare's raw milk it has more sugar and therefore a higher level of alcohol when fermented.
If it's distilled into the spirit kumis becomes araka or arkhi, with a light body and a slighty sour flavor with an aftertaste reminiscent of almonds.
Its origins come from ancient Mongolia but it has spread throughout Central Asia overtime.
The closest relationship that our ancestors had with horses were the Kazakhs who were born, lived and died on horseback. Therefore using their milk for human consumption appeared naturally.
Kumis was nomads' main drink and medicine for a large number of diseases like: tuberculosis, anemia, typhoid, neurasthenia; pancreatic, stomach and cardiovascular disease. It's know that famous Russian writers like Anton Cekhov and Lev Tolstoi had benefit from the healing powers of kumis which is packed with vitamins C, B1, B2, B12, C, biotin, Pantothenic and Folic acid.
In ancient times they stored the mare's milk in leather bags that helped the fermentation progress but nowadays they still use some of the traditional utensils made from wood and piyala, special designed dishes only for drinking kumis.
12. Tuna Tears – South Korea
If we previous had a look at tuna eyeballs dish it's only normal to go next for the tuna tears shot.
Especially when this jelly-like consistency drink has anti-aging and anti-wrinkle effects due to the vitamin E and other nutrients containing like collagen and gelatin. Chamchi nunmulju, in Korean, can be found in Japanese style restaurants also known as "tuna houses."
The glass contains soju (that's rice wine) and mashed raw tuna eye lens. The advice is not to smell it but to drink it straight up. It has a salty taste, as expected from the fish, and has a mild effect on the alcohol.
13. Three Penis Liquor – China
For the meanings of another virility drink that came from ancient Chinese medicine recipes we present to you not one, or two but three different types of penises liquor or sometimes wine.
It contains seal, deer and Cantonese dog masculine parts that have been brewed into rice wine. This can be found in selected Chinese grocers and comes with warnings: young boys shouldn't drink it and adult men shouldn't have too much.
If you are curious on the taste it has been reported to resemble like an expired port, pungent vinegar taste and prune juice.
I'm on the verge of considering this over the t-shirt souvenir from China, but the t-shirt is a safer bet.
I'm convinced that from now on you will carefully read the wine label before planning a romantic evening.
---
Yum tour anyone? Check our list of the most disgusting foods around the world.