21 Most Popular Foods in Namibia
Inspired by South-African and German influences with a few traditional cultural twists, Namibian cuisine is rich in flavors, with meat and carbohydrates being a staple for this arid land.
As you will see, many typical dishes comprise a simple pairing, like brötchens and rohack, or eisbein and sauerkraut. This simplicity arises because Namibians love strong flavors that complement and provide protein in almost every meal. Let's take a look at the top 20 Namibian foods.
1. Bratwurst
Bratwurst is a German pork sausage (sometimes made with veal or beef) filled with seasonings such as coriander, nutmeg, and caraway. It is traditionally broiled or grilled, and served with Inglehoffer Original Stone Ground Mustard, accompanied by sauerkraut or potato salad.
For a perfect Namibian twist on the classic hotdog, put together a bratwurst sausage, a brötchen (bread roll), pickles, and some of that spicy mustard.
2. Brötchen – A Roll Like No Other
Brötchen are traditional German bread rolls that you can get at almost any cafe in Namibia, but don't hang around; they sell out fast! These bread rolls have a soft and airy interior with a crispy exterior.
Brötchen are a household staple, perfect for any meal. Typical fillings include rohack (see 4), fleischsalat (cold meat salad), eiersalat (egg salad), cold-cuts, or a classic BLT.
3. Biltong
Biltong is dried, spiced, and cured rump strips, sliced into thin strips. Also a popular food in South Africa, Namibians see biltong and droëwors (see 13) as a must-have for any social get-together, particularly during rugby season. Biltongand can be enjoyed as is, or as part of a cheese platter.
Providing it is kept in a cool dry environment, biltong can be stored for months once cured, making it a perfect nutritious snack for the arid land.
4. Rohack
A Namibian deli dish, rohack is made of raw minced meat (usually a game steak), which is lightly smoked and served in our favorite carb- brötchen rolls, along with loads of pickled gherkins, thinly sliced onion, and lots of pepper. It's salty, delicious, and made fresh several times a day.
It might seem odd eating raw meat on a roll, but trust us, it's addictively delicious! If you like beef tartar, this will be your new favorite!
5. Omajowa Mushrooms
These wild mushrooms are so special to Namibia, as omajowa only grow on termite hills after the first big rainfall of the season shower in the savannahs. They grow up to 28cm in four days and can easily weigh up to 1kg. These wild mushrooms are prepared by cutting them into bite-size chunks (the size of small potatoes) and fried with garlic, loads of butter, and a touch of salt.
A true seasonal delicacy and an absolute delight, you can find omajowas sold by the local community on the roadsides, or at farm stalls.
6. Potjiekos
Potjiekos is a traditional Afrikaaner dish similar to stew, cooked over a large open fire in a cast iron, four-legged pot. If you're wondering what makes potjiekos different from a stew, it's the fact that it's never stirred.
The ingredients -usually a mix of potatoes, onions, and other complementary vegetables- are stewed with meat, chicken or even seafood, and are cooked for hours over the hot coals as you keep adding to the pot. Potjiekos is usually served with rice and should be eaten in good company!
7. Pap en Wors "porridge and sausage"
You might think this is another version of bangers and mash, but Namibians do it differently.
We serve stiff, crumbed porridge made by steaming mealie (corn flour) with a bit of water, which is served with butter and a tomato-and-onion braai relish, along with traditional game/beef boerewors (local sausage), which has either been grilled over an open flame or fried in a pan.
8. Vetkoeke
Loosely translated as "fat cakes", vetkoeke are deep-fried, unsweetened dough balls. They are best served hot with either minced meat, cheese, or butter and honey/syrup. A vetkoek's taste can be described as an unsweetened donut, but so much better, especially when you combine it with such delicious flavors and fillings!
9. Namibian Oysters
Namibian oysters are cultivated in the cold Benguela Current, which runs past Walvis Bay and is rich in oxygen and plankton. This allows for super growth, allowing harvesting after just eight months! Because of this, the oysters are meatier than typical French oysters.
These local delicacies are best enjoyed raw, with lemon, pepper, or a few drops of Tabasco sauce. Serve them up on a boat, a jetty, or during a romantic sunset meal right by the ocean to fully enjoy the subtle marine flavor.
10. Melktert
Melktert (milk tart) is a sweet dessert favorite around any Namibian table. It comprises a sweet pastry crust filled with a creamy custard made from eggs, flour, milk, and sugar, all topped off with a thin layer of cinnamon.
Namibians always have a melkert in their fridge for uninvited guests, impromptu braais (barbecues), as a go-to dessert for Sunday lunch, or for your daily tea time snack!
11. Schnitzel
Oh how Namibians love schnitzel! Whether it's chicken, wiener schnitzel (schnitzel made of a thin, breaded, pan-fried veal cutlet), or jägerschnitzel (hunter's schnitzel served with mushroom sauce), you can find this at almost every authentic Namibian restaurant.
Thic classic dish is made from a thinly pounded cutlet which is dipped in flour, egg wash, and breadcrumbs, then fried in butter or oil until golden. It is usually served as a main with sauerkraut, spaetzle (egg noodle), or rotkohl (red cabbage), or served on a brötchen with mayonnaise and lettuce. Schnitzels are a must-try, and will even win over the pickiest of eaters in your family.
12. Sauerkraut
Sauerkraut is a staple side-dish in Namibia, and is great for your gut! Similar to kimchi (but a bit more acidic and less salty), it's delicious with almost anything. It is usually served as a side dish with pork, beef, noodles, potatoes, dumplings, and especially eisbein (see 15), or even as a condiment with sausages and wieners. You can make it fresh, or buy it in a jar from the grocery store.
13. Droëwors
For a country like Namibia, where meat is a part of your daily dietary intake for most people, droëworsis is a delicious fried meat delicacy with a variety of textures and flavors, depending on the spices used for seasoning.
Directly translated as "dried sausage", this is a meat snack is traditionally made from roughly ground beef or venison meat, and beef fat, which has been spiced with coriander seed, cloves, and nutmeg. This is then cured similarly to biltong. Serving droëwors and biltong at any social gathering is a surefire way to capture any Namibian's heart.
14. The Famous Fried Mopane Worms
This isn't everyone's first choice, and it's an odd one we'll admit, but if you're looking for something adventurous and unique to Namibia, this one's for you! Mopane worms are best served deep-fried. They have a fresh crunchy bite to them, almost like peanuts. Some love 'em, some hate 'em. There is only one way to find out.
15. Eisbein / Grillhaxe
Pickled ham hock (pork shank/knuckle), usually cured and slightly boiled, is a must when visiting Namibia! Typically served with sauerkraut and spaetzle (egg noodle), eisbein is as good as it looks.
The best part is when they bring you an extra-fried piece with an extra-crunchy layer of crackling on top. Make sure to try this one on an empty stomach as the portions only come in one size: absolutely huge!
16. Kapana
Kapana is grilled meat, usually cooked on an open fire and sold at the roadside, in villages, or in local restaurants. The Kapana men often compete for your attention, claiming they make the best in the street. "Kapana corners" are usually areas for loud and social gatherings, and are a great way to experience the community.
The process of making Kapana involves cutting a mixed variety of red meat with a machete and preparing it with chili sauce, onions, tomatoes and spices, which is slowly cooked over warm coals for several hours.
17. Roosterkoek / Stokbrood
If you decide to go camping, make sure to have roosterkoek or stokbrood -delicious dough wrapped around a wooden stick, or made into a ball-shaped bun and baked over an open fire. It's best served with cheese and tomato, or with cheese and honey! Pick your poison, but this delicious treat is something you will definitely want to show the family back home.
18. Fire-Grilled Karoo lamb
Nothing tastes like home to Namibians quite like grilling meat over an open fire. Braai chops, steaks, and ribs are all standard additions to a South-African and Namibian braai (a braai is like a barbeque, but roasting takes place over an open fire).
However, the Karoo lamb is something special. With tender meat that has a unique flavor as a result of the fauna and flora the animals feed on, Karoo lamb has a distinct smokey sweet flavor when grilled over an open flame. If you have the opportunity to try these lamb ribs, be sure to combine them with the above-mentioned pap (7) to balance out the fattiness.
19. Apfelstrudel
Literally "apple strudel", this delicious, festive dessert is filled with sweet, spiced apples and raisins in a flaky, sticky crust, with an apricot jam glaze that everyone will love. It is usually served with a scoop of vanilla ice cream or whipped cream.
If you are looking for the best Apfelstrudel in Namibia head to Solitaire Bakery, situated in the middle of the Namib-Naukluft National Park, about an hour's drive from Swakopmund.
This place is renowned for its strudel, often referred to as an "oasis in the middle of a dessert". Tourists come from far and wide to try this small Khomas region settlement's most-loved attraction.
20. Landjäger
Landjäger is a famous salami snack stick, which has been fermented, smoked and air-dried for a very long time, giving it a particularly spicy and smokey flavor. Made of beef and pork, it's smaller than a regular salami stick, with a bit more of a bite to it, perfect for satisfying that salty craving.
21. Geelrys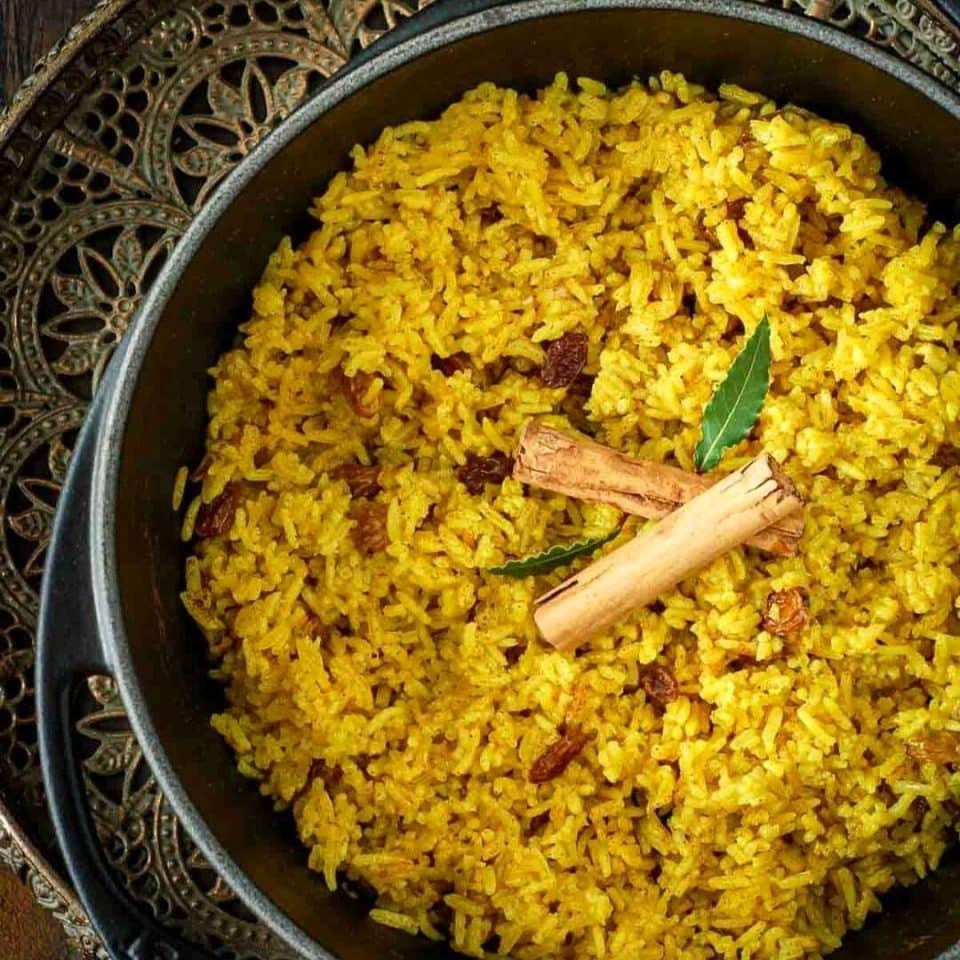 Geelrys is a delicious sweet and savory rice seasoned with turmeric, lemon rind, raisins, and cinnamon. While the recipes comes from South Africa, geelrys has become a very popular dish in Namibia as well.
---
Namibia is full of delicious wonders, yes we are quite a carb- and meat-heavy country, but here you will enjoy the basics in a way you have never experienced before, with new flavors, local secrets, and even the social spirit that comes with every meal! Take the time to enjoy it, and make sure to have an empty belly, because Namibia does nothing small!