Top 21 Most Popular Foods in Zimbabwe
Zimbabwe is a small country by African standards (i.e. it's larger than Germany), but home to many ethnic groups and cultures. As in many ethnically diverse countries, popular foods in Zimbabwe vary based on ethnicity and region.
As a land-locked country, most of Zimbabwe's top dishes are based on local agricultural products. Since climatic conditions differ across the country's regions, so do the agricultural products and locally sourced ingredients. Therefore, many different dishes and recipe variations can be found across the country's ten major provinces.
Let's take a look at some of the most popular foods in Zimbabwe, though note that some may be more popular in certain regions than others.
The mopane is a worm considered a delicacy in Zimbabwe and other African countries. It is found in mopane trees that grow in the Matabeleland region and parts of the Midlands.
It is a green or black and whitish-stained worm with spikes on its body. The worm is squeezed clean of all its internal fluid so that only a yellowish fleshy part remains. Boiling them or simply salting and drying them out in the sun are some of the ways that mopane worms can be prepared for the pot.
The actual preparation takes only 20 minutes in which the worms are boiled, drained of water, and then left to simmer in a bit of oil with tomato, onion, and a mixture of spices. They go down quite well with sadza, a porridge made of ground maize.
This is the richly scrumptious product of Zimbabwe's staple crop, maize.
First, corn is ground into a powdery cornmeal. Then Sadza is made from boiling water and mixing it with a paste of cornmeal, letting it simmer for a while before finally adding more of the meal to make it thicker. The end result is a hot steaming mountain that can be accompanied by beef or chicken stew and a side of any leafy vegetable. It can also be combined with mopane worms. The result is utter satisfaction when washed down with a glass of ice-cold water.
A variation of Sadza can be made with millet or Rapoko meal. The final result is a dark brownish porridge known as Pap, which can be molded and eaten with tripe, roasted pork, or any of the stews popular in Zimbabwe, such as beef or chicken.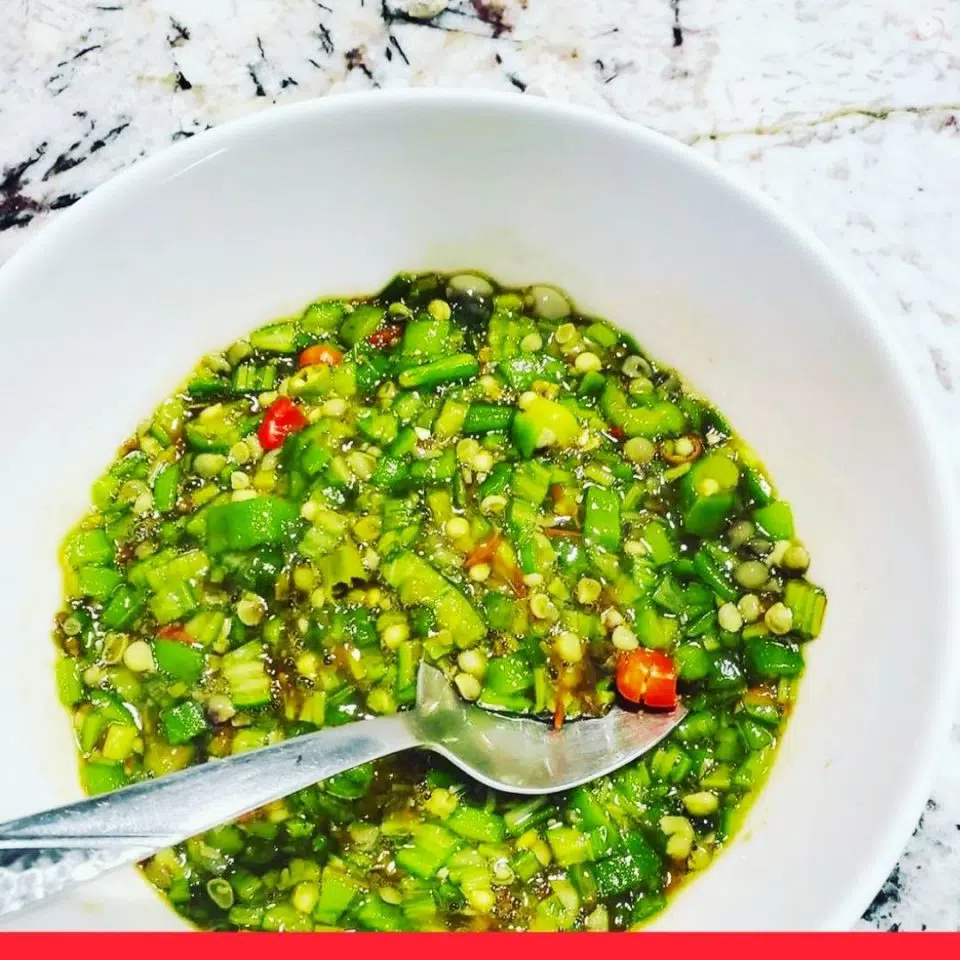 The name itself is some kind of onomatopoeia in the Shona language. Derere is a special meal made from okra that is highly recommended in medical circles. Both rich in protein and acting as an appetizer, it is a great meal for those who are not feeling well.
It can come in a leafy form or cut up into tiny rings from the okra pod. When cooked, okra will be very appealing to the eye and richly delicious to the palate.
4. Mutakura/ Grains Mixture
Ever wondered how it would be to combine two fine wines in one bottle? Can you imagine the explosiveness in your mouth? That is how this combination of a meal goes down.
Mutakura is made out of a mixture of grains from maize, groundnuts, and cow-peas, and occasionally even nuts. The ingredients are boiled and seasoned. Mutakura makes an awesome meal to give to visitors as a complete dish with just a glass of water to polish it all off.
Mutakura is a rich, starchy meal and excellent for those seeking nourishment when trekking the high Rocky Mountains around Zimbabwe.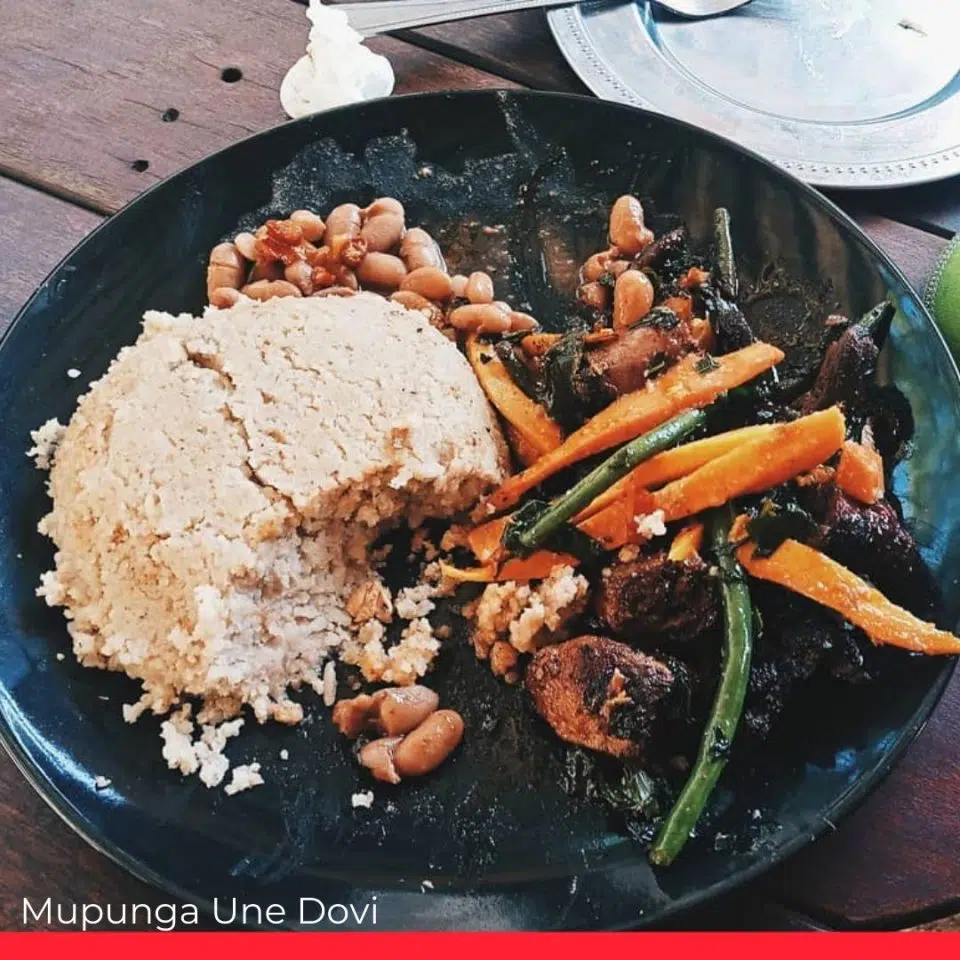 Rice mixed with peanut butter is an age-old treat among most ethnic groups in Zimbabwe. Even better is when the rice comes directly from the field without much processing and still has all of its natural flavors.
Rice with peanut butter is accompanied by a beef or chicken stew, a salad, or just as at tea time. It must be made compact but moist and well-seasoned.
6. Mhandire
An innovative snack that takes only fifteen minutes to prepare, Mhandire is simply roasted corn with some groundnuts that are salted with a bit of oil or butter to make them softer.
Optionally, one can add water and salt. In the past, it was made for times of fireside storytelling under the full moon at night. It is a savory snack that can be shared as a family or group, as usually Mhandire is eaten from the same metallic or plastic bowl by everyone around.
A meaty dish, Gango can best be expressed as a way to combine the best of all meat worlds. The selection can be either a collection of chicken innards such as intestines, liver, and chicken gizzards, or a combination of beef and pork with some vegetables.
A hot, large flat pan is oiled well over a huge fire, and bits of meat are added to the pan at different stages depending on cooking time. Gango is usually an outdoor treat that brings together the family on a happy Sunday afternoon.
Usually made by grandparents for their grandchildren on school holidays in rural areas, Nhopi has always been associated with warmth and affection.
It's a very simple recipe by boiling peeled pumpkin until tender then adding a bit of milk and some peanut butter for that nutty taste. It gives the word "traditional" a whole new meaning in Zimbabwe.
A personal favorite filled with much nostalgia, this baked delicacy was my grandmother's specialty. Early morning when we woke up while visiting her in the rural area, gogo's kitchen would be filled with the sweet aroma of her baking. It is a mixture of flour, a bit of corn flour mixed with sugar, salt, and some butter if the family could afford it.
The dough is then placed in a pot (my grandmother's pot was a black one without a handle) with charcoal beneath it. The bread rises to form a delicious golden crust on top with a huge crack in the middle that we all fought over as children.
10. Mufushwa
Dried foods are not exactly anything new, but Zimbabwean sun-dried leafy vegetables have a tang to them that's unique.
The leaves can be sweet potato leaves, a variety of leafy green vegetables called covo, cabbage, or black jack leaves, as well as pumpkin leaves. After they are dried to a crunchy texture, they are then boiled and fried with tomatoes and onion. Mufushwa is ideal for eating with sadza.
11. Muboora/ Pumpkin Leaves
Highly recommended for its nutritional value, this dish is a very tasty one. Interestingly enough, it is cooked either with the addition of baking soda or ash residue. As to why, the best answer I got was that it would be too hard on the teeth, so the soda helps break it down to a soft mash.
It has a yellowy-green tinge that is so pleasant to the eye. It can be cooked with little butter or peanut butter, or even with the addition of fresh cream for an extra oomph!
12. Guru/Tripe
Guru is a butcher's favorite product because it sells really fast. From the inner recesses of a cow's stomach are the intestines and these bushy-looking delicious treats called tripe. They take time to cook, so the dish is prepared over a large fire with lots of water added to the pot at intervals. When almost ready the rest of the stew ingredients such as tomatoes and onions are then added and left to simmer.
13. Mbambaira/ Sweet Potatoes
Best served with very hot tea with milk, sweet potatoes are a regular breakfast food in many homes during winter.
Sweet potatoes are usually cooked by simply boiling them with a pinch of salt. They can also be deep-fried like French fries. A healthier recipe for sweet potatoes is to grind them into powder and make porridge. Thus, one crop has many variations in cooking, but all come together into a rich and delicate meal.
14. Maheu/ Traditional Brew
If ever there was a farmer-centric favorite drink, this would be it. Maheu would be brewed and taken to the fields for those working to take a sip any time they felt thirsty – or even hungry because it is actually quite filling.
The brew was traditionally made by crushing the remaining Sadza into tiny porridge-like particles, adding sugar, and leaving it to ferment in a tightly sealed container. The modern version is made with instant powder that is mixed with water and ready to drink.
15. Chimukuyu
While meat is commonly eaten across the country, what sets it apart are the various recipes from culture to culture.
Chimukuyu (or biltong) is made by smoking it over an open fire in a traditional thatched kitchen where it will be kept for days on end. Typically, in most households by the end of these few days there are only a few strips remaining with people cutting off bits just to taste!
16. Kariba Kapenta (Small fish)
Surprisingly expensive, fresh, or dried Kariba Kapenta has saved many families from the boredom of eating sadza and green leafy veggies alone. An alternative to meat and very rich in protein, this type of fish grows only up to a couple of inches.
However, it is a very unpopular meal for many children who see the small, fish eyes and feel they are eating a live animal. Kariba bream can be made with tomato and onion soup, or simply fried to a golden crispy snack. Other modern versions include dipping the small fish into egg and flour and frying in oil on medium heat.
17. Zondo
Cow trotters are a traditionally highly esteemed cow by-product. They take a long time to cook, and when done they form a thick savory soup that is a treat for most in Zimbabwe. It is believed to have several health benefits, including strengthening the backbone.
18. Chidhudhu/ Baked Ground Corn
Of course, corn is a staple crop, and so it forms the basis of ingredients for many dishes in Zimbabwe. Alternatively cooked by steaming or roasting over a fire, one simply grates the fresh corn, mixes it with flour, and adds sugar and salt. The mixture is then wrapped in mealie cob leaves and placed in a pot of steaming water for a few minutes after which it is ready to eat.
Optionally, one can simply wrap up the mixture and place it over hot coals of fire. Other variations may include adding baking soda, butter, and some milk when mixing to give it a buttery taste.
19. Mxan'a
Originally from Matabeleland, Zimbabwe, Mxan'a makes a soupy sweet dish that can be filled all on its own or combined with other harvested vegetables such as sweet potatoes and boiled pumpkins. The dish is made from boiling maize grains together with cantaloupe and adding sugar to make it thick and soupy.
20. Sour Porridge
One of the predominant foods for infants, sour porridge is an appetizer because of its tanginess. Preparation is by simply soaking cornmeal in water with a pinch of sugar for at least three days during which the mixture ferments. It is then used to make porridge by simply adding to a pot of boiling water and sugar to taste.
There are several dishes in Zimbabwe that one can look forward to and enjoy. For a richer experience, it is advisable to learn the different methods of preparation from each ethnic group around Zimbabwe, since various dishes are prepared in different ways across the country.
21. Boerewors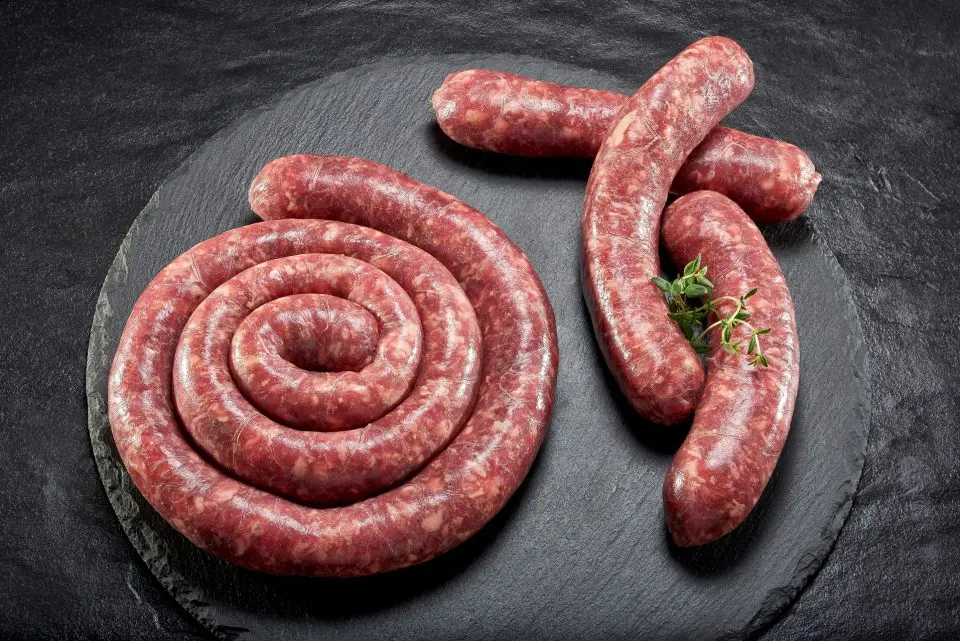 These high-quality sausages are a delicacy in Zimbabwe and are a favorite for a stir-up or braai (Africa's answer to a BBQ). Boerewors need to contain at least 90% meat or fat and are usually made with beef or pork. Lamb or goat meat can be added for extra flavor.
Boerewors are also a staple food in Namibia, Botswana, and South Africa