The 20 Favorite Swedish Foods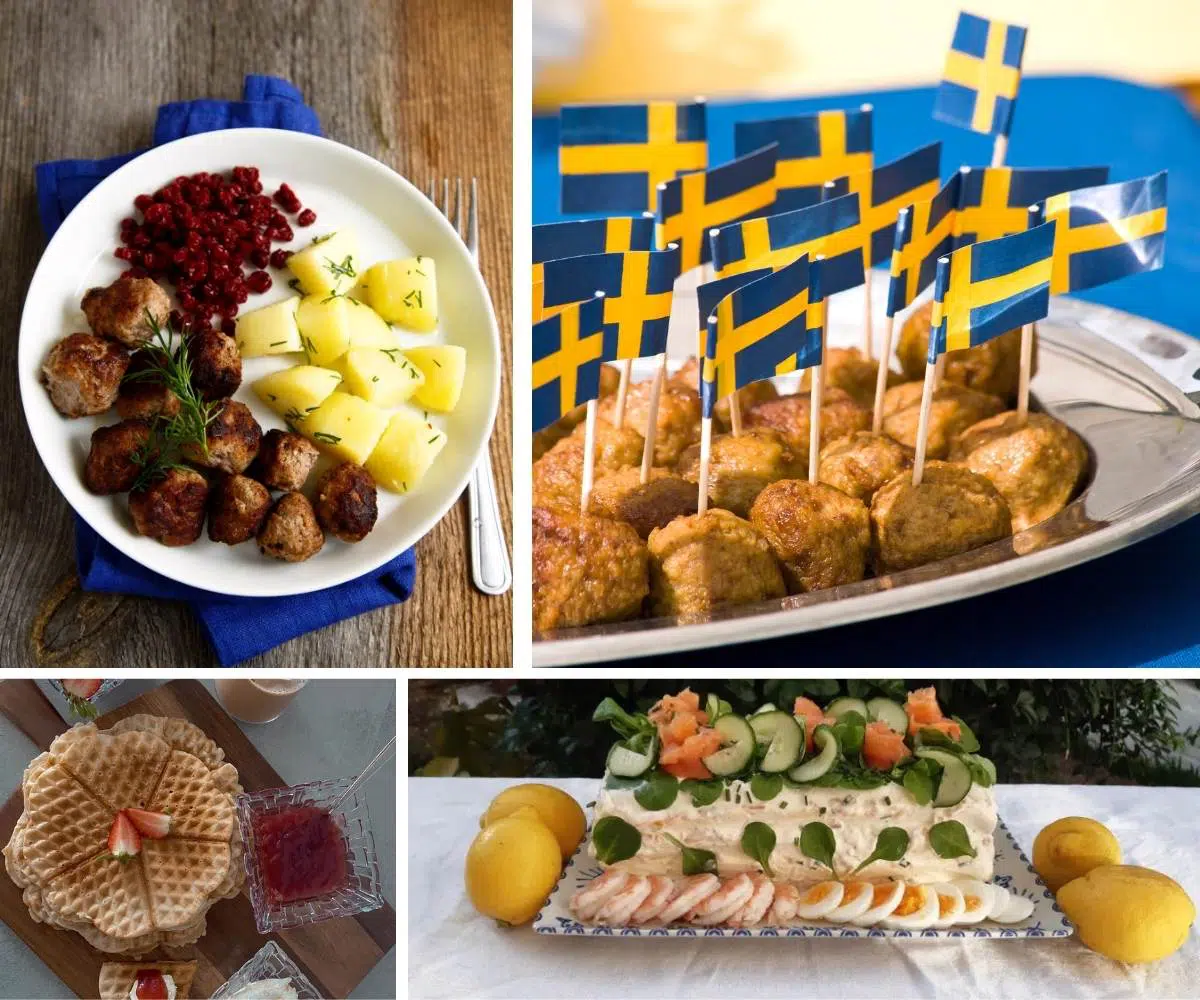 Swedish food is mild and flavorful soul food in which all the ingredients speak for themselves. While trade is a part of modern life, we still enjoy seasonal food.
The spring and summer are full of vegetables, fruits, and seafood. In the autumn we enjoy lots of berries and mushrooms, and through the cold winter months, we enjoy warming stews, cabbage, kale, preserved meats, and fish.
Sweden's thick forests and waters make game and fish a big part of our food culture and are eaten year round in different ways.
Due to the cold weather, sitting inside with friends and family over a warm dinner is a part of life, and all Swedish holidays are celebrated with an abundance of food.
Our food culture is a love that all Swedish people share, and due to immigration and a rich mix of cultures, we have embraced imported dishes and made them some of our top favorites.
Here is a list of the top 20 Swedish dishes to enjoy.
This is without a doubt the highly prized Swedish dish.
Every family has their own recipe and everyone thinks their grandmother makes the best. The typically Swedish gravy, brunsås, or brown sauce, is a thick creamy gravy made from broth and cream or milk. Brunsås is so deeply rooted in our culture that we say "Brunsås runs through our veins".
The meatballs are served with a heavy portion of gravy and mashed potatoes and a big serving of lingonsylt (lingonberry jam).
The Swedish meatball is about half the size of an Italian meatball and is fried separately rather than boiled in the sauce.
It is a must to try meatballs if you visit Sweden and are looking for good soul food. Meatballs are eaten for every Swedish holiday in various ways and are an every-week favorite.
2. Smörgåstårta
Smörgåstårta is a holiday and celebration cake made from bread layered with different kinds of creamy fillings. The most typical is either smoked salmon and shrimp or smoked ham and liver pâte chopped and mixed with onions, herbs, mayonnaise, and crème fraîche.
The cake is decorated depending on the occasion, often with roses of salmon or ham. It is eaten for all types of social gatherings, from birthdays and graduations to funerals and weddings.
3. Tacos
The Swedish taco is a great example of how imported food became a favorite in Sweden. The spice blend differs from Mexican tacos, with a very strong cumin flavor, but are otherwise similar.
The tacos are stuffed with meats, cheeses, vegetables, salsas, and guacamole. This imported dish has become a Swedish top favorite that is eaten almost every Friday in Swedish homes.
4. Swedish Barbeque and Potato Salad
Despite the cold climate, we are barbeque fanatics. In sun, rain, or snow we light up our barbeques in backyards or public places.
Vegetables, pork, steak, fish, and chicken are enjoyed with a typical potato salad made with onions, herbs, crème fraîche and mustard.

Hunting and fishing is a big thing in Sweden, and we especially enjoy putting our catch on the barbeque. Typical favorites are moose or wild boar burgers, deer saddle, and freshly caught fish, such as salmon and mackerel.
5. Kebabpizza
With a rich variation of nationalities in Sweden comes fusion foods. Kebabpizza is a mix of Italian pizza and Turkish kebab salad.
The pizza is topped with tomato sauce, herbs, and cheese before being baked. Once done, it is topped with long ribbons of meat, salad, tomatoes, onions, pickled pepperoni, a cold white garlic sauce, and spicy chili sauce.
This dish comes in great American sizes, sometimes topped with French fries, which divides the country in two camps: for and against topping the pizza with French fries.
All Swedish pizzas are eaten with a cold cabbage, vinegar, and black pepper salad on the side, called Pizzasallad.
6. Falukorv with Stewed Macaroni
Falukorv is a pork, ham, or horse sausage from the region of Falun. This thick sausage is eaten in various ways, sliced and fried or baked whole in the oven with mustard and apples.
A Falukorv weighs around 800 grams and is enough to feed a family of four. Falukorv is often eaten with a side dish of stewed macaroni, made by boiling the macaroni in milk until it becomes a thick stew.
7. Bacon-wrapped Meatloaf
The Swedish meatloaf is minced meat mixed with breadcrumbs, eggs, onions, capers, spices, and milk or cream and wrapped in bacon before being baked in the oven until the bacon is crispy and dark.
It is served with brunsås and boiled potatoes. This dish is loved by young and old alike and has become a typical midweek meal.
8. Pickled Herring and Potatoes
Preserved fish and meats are popular in Sweden, such as fermented or pickled fish and vegetables, or dried and smoked meats.
Pickled herring is an absolute favorite and is eaten on all Swedish holidays, Christmas, Easter, and Midsummer's eve. The pickled herring is served with boiled potatoes, a Swedish sour cream called gräddfil, and finely chopped chives.
This dish is always served with Swedish schnapps on the side.
Besides Scandinavia, pickled herring is also very popular in the Baltics (Estonia, Lithuania and Latvia).
9. Waffles
The Swedish love their savory and sweet waffles, and they are eaten both as a full meal and as an afternoon snack.
The Christian holiday, Annunciation of the Lord, Vårfrudagen as it is called in Swedish, was mispronounced to sound like "the day of the waffles". This strange event made the calendar and is still celebrated on 25 March as the nation's official waffle day.
The waffles are typically eaten with whipped cream and strawberry or cloudberry jam and can be found across Sweden in cafes and restaurants.
10. Shrimp Toast
Due to Sweden being surrounded by sea, shrimp is a very common and popular ingredient. Boiled and peeled shrimps are placed on lightly toasted bread with mayonnaise, salad, cucumber, boiled eggs, and caviar.
The toast is preferably eaten with a cold beer and spicy Swedish schnapps, sitting by the coast in the sunny summer months.
Gravad lax, or buried salmon, comes from the traditional way of preparing fish in a hole in the ground. But nowadays it is normally made in the refrigerator.
White pepper, dill, sugar, and salt are mixed and added to a boneless fillet of salmon. The salmon is placed in the refrigerator with a heavy item on top for 2-3 days and turned twice a day to cure it.
When the salmon is cured, it is enjoyed on sandwiches, with potato or by itself. Gravad lax is a must for all Swedish holidays.

12. Crayfish with Swedish Schnapps
Crayfish are eaten as a Swedish tradition, with a big party celebrating the start of the crayfish season on 7 August and the end of the summer months. Nowadays it is celebrated with Swedish 38% schnapps.
A crayfish party, called Kräftskiva, may be our strangest Swedish celebration of the year. We dress up in silly hats and set tables in our gardens with flowers and flags, and hang red Chinese lanterns and ornaments with pictures of crayfish from the ceiling. The celebration ends with silly walks and a hangover the next day—but we blame that on badly cooked crayfish.
Traditionally when eating crayfish, one after the other we either sing a schnapps song or recite a rhyme before the schnapps is consumed. The songs are funny, cheeky, short, and not suitable for children.
The crayfish are cleaned, boiled, and added to a flavorful broth made from dill, water, beer, salt, and sugar and then chilled overnight. The schnapps comes in all colors and flavors and some families buy clear vodka and add the spices themselves, making their own recipes.
13. Jansson's Frestelse
Jansson's frestelse is a potato gratin with either anchovies or pickled herring. It is named after Chef Jansson, who created the dish in the late 1900s. The word frestelse means temptation, and that is the best way to describe this delicious dish.
Juliennes of potatoes, onions, and anchovies are mixed in an ovenproof dish with salt and pepper, milk and cream, and finally topped with breadcrumbs before being baked to golden in the oven.
This dish is often served as a complement on holidays and is a must for Christmas dinner.
14. Fläskpannkaka
Fläskpannkaka is an oven pancake with bacon and pancetta or smoked strips of cured pork belly. It is simple and delicious and is a very popular midweek meal.
The pork is diced and fried and added to the pancake mix before being transferred to a baking sheet and baked in the oven until golden. It is traditionally eaten with lingonberry jam and sugar, which are the children's favorite.
15. Pan-fried Pork Belly with Onion Sauce
Pan-fried pork belly with onion sauce is a true Swedish classic and a true autumn and winter favorite. This is a very old dish, passed down through generations and is warming and loved by most.
The salty, cured, and slightly smoked pork belly is cut into strips and pan-fried on low heat in butter until dark and crispy.
Onions are sliced and sweated down in butter until translucent. Milk, cream, pepper, and soy sauce are added to give the sauce a rich and creamy flavor.
The pan-fried pork is eaten with boiled or strained potatoes and sometimes with lingonberry jam. This is real Swedish soul food that is hard to resist and can be found in every household in Sweden.
16. Ärtsoppa with Pancakes
Ärtsoppa is directly translated as pea soup and is made with yellow peas that have been slowly boiled, often with pork, for hours.
This soup is served every Thursday year around. This is historic, coming from the Catholic era, when Swedes would observe Friday fasts, so that they needed to load on a hearty meal on the Thursdays before. When Sweden switched to Protestantism in the 16th century, fasting Fridays disappeared, but the dish stuck and is still served on Thursdays in restaurants, schools, and military canteens.
Dried yellow peas are put in water overnight to soften before being added to a pot with onions and sometimes carrots. The pork is either cooked together with the peas or placed on top of the soup before serving. This soup is classically topped with mustard and eaten with thin Swedish pancakes on the side.
17. Pan Fried Herring with Mashed Potatoes
This dish is an old favorite from times when resources were scarce. But today, herring is more expensive and is seen as a treat. Pan-fried herring is for many a dish full of memories, and is a real comfort food.
Fillets of herring are coated with eggs, flour, and breadcrumbs and pan-fried in lots of butter until crispy and golden. After being fried, they are topped with dill and served with mashed potatoes.
18. Kåldolmar with Syrup Sauce
Kåldolmar is the Swedish version of cabbage dolma made with white cabbage leaves rather than grape leaves, as these do not grow in Sweden but there is cabbage aplenty. It is believed that the Swedish king Karl XII brought the dish to Sweden from Turkey in the mid-1600s, and the recipe was published by the great cookbook author Cajsa Warg in the year 1765.
This dish is one of our oldest and most beloved recipes, but it is sadly declining in popularity due to its unappealing name and the time it takes to cook. Milk is added to a mix of cold rice, breadcrumbs, fried onions, and minced pork and set to rest before being rolled up in large partly boiled cabbage leaves, which are then baked in the oven with syrup on top.
The sauce is made from the offcuts of the cabbage, fried onions, syrup and veal broth and is added to the kåldolmar once it is cooked. They are typically served with mashed or boiled potatoes and lingonberry jam.
Raggmunkar is a pancake with grated potatoes. It is a very easy dish and a typical midweek meal in Sweden. Raw potatoes are grated into a pancake mix and fried on a medium-high heat in lots of butter until the potatoes are cooked all the way through and the pancake is golden.
Raggmunkar is typically served with fried bacon or smoked pork belly and lingonberry jam.
20. Kalops
Kalops is a Swedish and Finnish meat stew that is very popular and is a truly heartwarming winter meal. The recipe was published by Cajsa Warg and is a real classic.
Big cubes of beef and bone marrow or veal broth are cooked for 2 hours with onions, carrots, herbs, and spices until tender and juicy, and sometimes thickened with flour.
The meat is served with boiled potatoes and pickled beetroot. This stew is guaranteed to warm you up even on the coldest of Swedish winter nights.

---
Photo credit for featured image: Magnus Carlsson/imagebank.sweden.se.
---
Related: Most Popular Desserts in Sweden
Related: Most Popular Swedish Christmas Foods
Related: Most Popular Swedish Cookies