The 20 Most Vegan Countries in Europe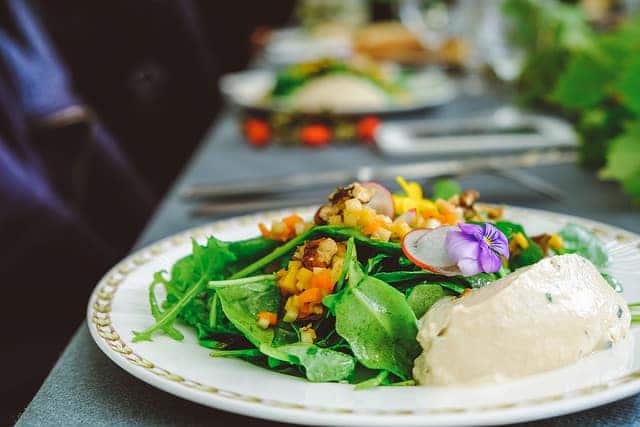 Unlike many other trendy diets and food trends, veganism is not a fad – it is here to stay. The popularity of veganism has shot through the roof over the past few years, so much so that the plant-based lifestyle is now considered to have gone mainstream.
Chef's Pencil has analyzed the rise of veganism world-wide through the lens of Google Trends, a reliable big data provider. Google Trends lets you analyze the popularity of various search categories around the world such as veganism, which comprises vegan-related searches made in any language (e.g. "veganism", "vegan restaurants", "vegane rezepte", "vegan essen").
While some of these searches are made out of curiosity, a high volume of vegan-related searches, such as vegan recipes or vegan restaurants near me, show a clear adoption or intent to adopt a vegan lifestyle.
Google Trends data confirms that veganism is growing fast. 2018 was a record year for veganism searches, up 11% on 2017, and 35% on 2016.
Google allocates an interest score to each location, showing the level of interest in the topic at that location. For example, if Sweden holds an 84 score for veganism and Germany holds a 60 score, it means that a higher percentage of people in Sweden have made vegan-related searches compared to Germany.
We're going to take a look at the most popular places for veganism in Europe in 2018, and surprisingly the top ten is dominated by countries in the North.
Most Vegan European Countries in 2018
1. United Kingdom
Vegan Popularity Score: 98

The United Kingdom is the proud home of as many as 3.5 million new vegans, according to a survey carried out by comparethemarket.com. The people of the UK have so embraced veganism that UK cities dominate the European top 10, with six cities taking the prime spots.
The media has played a big role in spreading the popularity of veganism among Brits, and the Veganuary campaign, which invited people to try out the vegan lifestyle for the first month of this year, had a huge impact.
2. Sweden
Vegan Popularity Score: 84
Sweden is one of the leading countries in vegan popularity as about 20% of younger Swedes think of themselves as being vegetarian or vegan.
A report published by the Nordic Council of Ministers shows an even more promising future for veganism in Sweden as half the population say veganism is something they would like to try out. And just to confirm Sweden's commitment to all things non-animal, food producers are taking a lead in vegan food innovation.
3. Ireland
Vegan Popularity Score: 62

''The Vegans Have Landed'' claimed the Irish Times in 2018. Their article showed that more and more people are choosing a plant-based lifestyle, and the major cities are responding with more vegan choices when it comes to food and produce.
In addition, Irish food and lifestyle magazines abound in vegan and vegetarian recipes so there are plenty of sources of inspiration for vegetarians home cooks.
However, locals believe there is still a long way to go for the country to be considered a world centre for veganism, but are catching up fast.
4. Austria
Vegan Popularity Score: 60
Thousands of Austrians are taking their distaste of intensive animal farming to heart, according to a survey by Marketagent.com, and turning to the plant-based lifestyle.
The Veganmania Summer Festival is one of the largest vegan festivals in Europe, and while the Vegan Society of Austria says the number of vegans is unclear, the combined number of vegans and vegetarians is around 5.7%, according to the survey.
5. Germany
Vegan Popularity Score: 59

Germany is becoming more and more vegan-friendly. A new study from Mintel finds that Germany accounted for 18% of those who took up veganism in Europe in the past year, taking the total to an impressive 1.2 million vegans, according to vebu.de, and the number is rising daily. And to prove how serious they are, German vegan products now outstrip those with a vegetarian label.
6. Finland
Vegan Popularity Score: 57
A public health crisis shocked the Finns out of their love affair with meat, and veganism has taken a grip. New restaurants are opening up – especially in the larger cities, most supermarkets now stock vegan choices and there is even a speciality store, the Vegekauppa, operating in Helsinki, Tampere and Turku.
So serious is the shift, McDonald's even tested out a McVegan burger in its Tampere branch.
7. Denmark
Vegan Popularity Score: 55
A bit of a surprise entry at number 7, Denmark is hardly a land of plenty for plant-based seekers. Happycow says eating vegan is a constant challenge in this Nordic world and with a population of 5.77 million, it supports just 499 vegan restaurants.
It's likely Denmark got so high up the charts because of the lively vegan scene in Copenhagen. But that might all be soon to change with the new "Quit Meat" helpline, helping to ease meat lovers into a healthier diet.
8. Switzerland
Vegan Popularity Score: 53
It's not easy to be a vegan in Switzerland where milk and farming traditional are considered a national pride. A Dutch woman has learned this the hard way as her request for citizenship was denied after being very vocal about animal rights (see independent link below). However, 13% of the Swiss population is vegetarian and 3% vegan, according to https://www.swissveg.ch/veg-umfrage.
But, in an interview for Tages Anzeiger, a spokesperson for the Swiss Vegan Society said the vegan movement lost a bit of a momentum in 2018. However, with improved vegan products and recognition of veganism's contribution to sustainability, the trend is likely to rise again in the near future.
9. Norway
Vegan Popularity Score: 47
According to Vegan Norway there are over 200,000 people in Norway that do not eat meat, that's almost 4% of the total population. This is quite an achievement in a climate and terrain that makes it difficult to grow vegetables.
But while more people seem to be turning to veganism, it can be still quite difficult to find vegan and vegetarian options outside the main cities, both in supermarkets and restaurants. And because so much is imported, it is not cheap.
10. Netherlands
Vegan Popularity Score: 46
Traditional Dutch food is not very vegan friendly but, the Netherlands has leapt, over the last few years, from indifferent to full blown enthusiastic about veganism, with a whole host of eateries to choose from.
Recognizing the environmental benefits of this movement from below, the government has incorporated plant-based living into its plans to become a world leader in sustainability. And with the government advising a plant-based diet, the 119,000 vegans, as of end 2018 according to the Nederlandse Vereniging voor Veganisme, will soon be joined by many more.
Related Research by Chef's Pencil
Vegan Recipes
For some amazing vegan recipes check out our white asparagus recipe, grilled capsicum, marinated mushrooms balsamic or our guide to edible flowers.
Credit for the featured image goes to Ella Olsson.