Top 25 Most Popular Portuguese Foods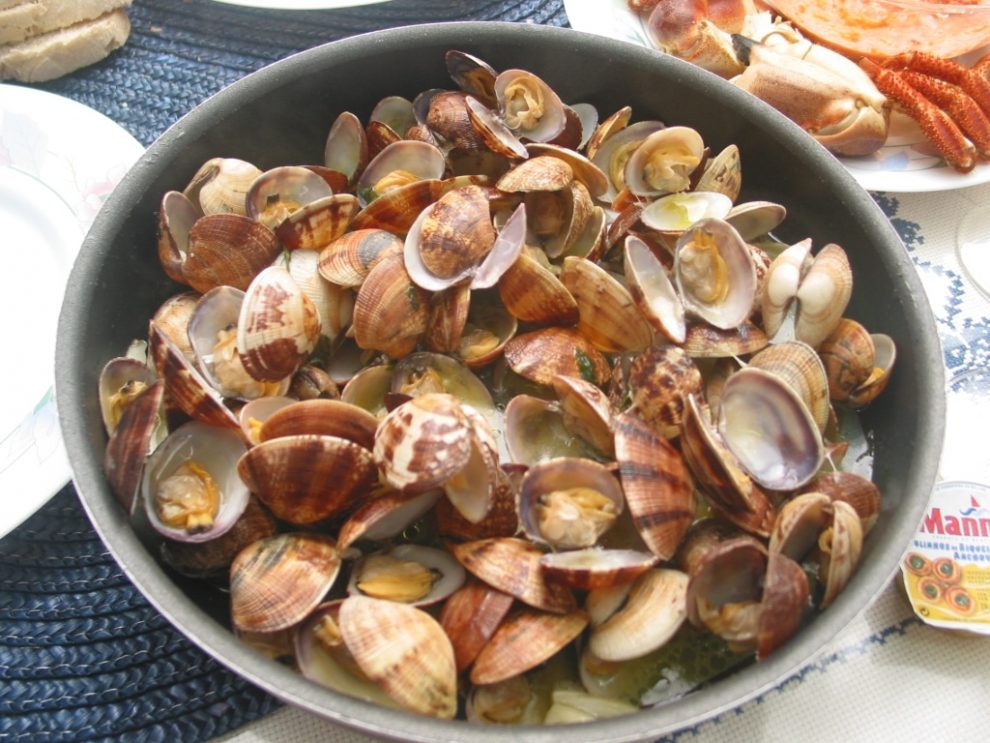 Located on the Iberian Peninsula, Portugal is a small country with much more to offer than its size may suggest. A country where the sun shines 300 days a year, it boasts of a fascinating history, an extraordinary culture, magnificent landscape, and, very importantly, delicious food.
With dozens of dishes based on cod, seafood, charcuterie, and cheese, delicious bread, and an infinity of regional sweets, Portuguese cuisine is among the best in Europe. Portugal has a very rich and diverse gastronomy, chock-full of Mediterranean ingredients and flavors, as well as being famous for producing great wines, olive oil, and olives.
But what are the best typical foods in Portugal? What is worth trying? To help you, we present a selection of 25 typical dishes that you shouldn't miss out on during your next visit to Portugal.
1. Queijo da Serra da Estrela
With a crust on the outside and a creamy texture on the inside, it is the oldest cheese in the country. It is also considered one of the 7 Wonders of Gastronomy in Portugal.
Creamy and made with sheep's milk, this traditional cheese comes from the Serra da Estrela mountainous region. The taste is strong, but it does not scare the unfamiliar palate if eaten in the right way: on bread, as if it were a paste. It is usually served before the main course.
Queijo Serra da Estrela is a delight for cheese lovers and connoisseurs of Portuguese cuisine.
2. Sardinhas (Sardines)
A fantastic combination of fresh fish and smoked flavor from the grill, these charcoal-roasted sardines are the most typical dish in Lisbon. They can be found both in restaurants and on street stalls during the festivities of Santo António in June.
Whether served on top of a slice of cornbread, with a salad of roasted peppers, or cooked vegetables, don't forget to cover them with a generous amount of olive oil.
Portugal is also on the leading producers of canned sardines and is home to some of the best canned sardines brands in the world.
3. Broa de Milho
A typical food from Portugal, Broa de Milho is bread made with corn and rye. It is usually served as a starter for meals, but it can also be grated on top of certain traditional fish dishes.
The bread is known for its yellowish interior and it has a hard and toasted crust because it is cooked in a wood oven.
4. Pastel de Bacalhau
A famous Portuguese popular saying states that there are more cod recipes than days in a year. Pastel de Bacalhau, also known as Bolinho de Bacalhau, is a true standard of Portuguese cuisine. It is made with shredded salt cod (it's very tasty, trust me!), potato, onion, and garlic. After being shaped into a ball, the salt cod fritter is deep-fried.
Golden and with a crunchy outer layer and a smooth and soft interior, these can be served hot or cold and can be eaten as a starter or main course with rice. These codfish balls are a traditional Portuguese treat.
5. Caldo Verde
A frequent presence at traditional Portuguese festivals, caldo verde is a soup made from potatoes, onions, cabbage, and slices of chorizo. It is the perfect comfort food and can be served simply as supper or before any main course.
The soup originated among farmers, who used the ingredients that they had in greater abundance to make a broth. In Portugal, the green broth is accompanied by cornbread.
6. Bolo do Caco
On the island of Madeira, one of the most common starters is Bolo do Caco, a flat wheat bread. It is usually accompanied by a mixture of butter with garlic and parsley, but it can also be eaten with a main dish, for example, with steak, sword fillet, octopus, salad, and other dishes. It can also replace the bun in hamburgers!
This flat, circular bread is baked in an artisanal wood oven and it is especially good if you can find it being served hot and crispy.
7. Francesinha
Inspired by France's croque monsieur, this Portuguese version of a hot cheese and ham sandwich, created in Porto, is quite delicious.
Between two slices of bread, you will find several layers of various types of meat, such as linguiça (a Portuguese sausage), roast beef, and sausage. All of it is covered with plenty of cheese and one egg. A hot spicy tomato and beer sauce, served separately, is poured on top, melting the cheese. This is the city of Porto's legendary dish and one of the most iconic sandwiches that Portugal has to offer.
As a side note, Francesinha means little French woman.
8. Cozido à Portuguesa
Cozido à Portuguesa is a traditional dish much appreciated in the country and abroad. The recipe is based on a stew of meats, sausages, legumes, and various vegetables, creating a colorful, aromatic, and very tasty dish. It is an intense and rich dish, ideal for cold winter days.
A traditional stew for meat lovers, the dish includes chicken, beef, pork, and various sausages. It also has some vegetables, such as potatoes, carrots, cabbage, and beans.
There are small regional variations in the recipe, especially in terms of the combination of ingredients, although in essence, this traditional dish remains unchanged and can be found throughout Portugal.
9. Amêijoas à Bulhão Pato
Amêijoas à Bulhão Pato is a typical dish of Portuguese cuisine, originating in the region of Estremadura.
The recipe is simple, quick, and probably one of the best ways to eat clams. It can be served as a snack or as a starter to a more refined meal. To make them, you need oil, garlic, lemon, and coriander. Some variants of the recipe also include white wine, which enhances the flavors. The quality of the clams is crucial to the success of the dish and the sauce that accompanies them asks for bread.
10. Polvo à Lagareiro
This is roasted octopus covered in olive oil and garlic, and served with roasted potatoes. Polvo à Lagareiro is a very special dish and usually served on special occasions, such as Christmas Eve. It is also served as a starter in several restaurants specializing in fish and seafood, and usually served cold with onion, olive oil, and parsley.
11. Caldeirada de Peixe
The use of fish and seafood in Portuguese cuisine is abundant and Caldeirada de Peixe is a traditional fish stew, full of flavor and variety. Throw several types of fish and seafood of your choice into a pot, add potatoes and peppers, cover with tomatoes and herbs, and the result is Caldeirada de Peixe. This is the ideal dinner after a long day at the beach.
12. Arroz de Pato
There are many ways to prepare Arroz de Pato, with small variations that depend on the region of the country or the clever improvisation of the cook, who over the years has refined their recipe.
It is nothing more, nothing less than a duck risotto with a crispy topping, covered in slices of chorizo. Before going to the oven, the duck is cooked until it is as tender as possible, soft when it reaches the mouth. With a glass of red wine, it is guaranteed to be an out-of-this-world experience.
13. Alheira
Typical of Portuguese cuisine, Alheira is a smoked, horseshoe-shaped, cylindrical sausage with a kind of paste made up of various types of meat, bread, and condiments. It is the most consumed and well-known regional sausage in the country, and one of the most famous versions is the Alheira de Mirandela, which also ranks among the 7 Wonders of Gastronomy in Portugal.
Alheira can be eaten grilled or roasted and is usually accompanied by boiled potatoes and seasonal vegetables or fries, rice, and a fried egg.
14. Bifana
Bifana occupies a prominent place among Portuguese snacks. Created in the Évora district, this sandwich became popular at religious festivals throughout the country.
It is a toasted bread stuffed with thin slices of grilled pork, that has been marinated with garlic, wine, and other spices. The fact is the original sauce is still a secret! Ingenious cooks have tried to recreate it and you can find several variations of Bifana from the north to the south of Portugal.
The result is usually the same: a smooth sandwich, with soft and very tasty meat.
15. Bacalhau à Brás
If you sauté shredded cod with onion and straw potatoes, add olives and parsley to it, and finish by mixing in several eggs, the result is Bacalhau à Brás. It always looks good, and it tastes even better.
This cod recipe is one of the most appreciated by the Portuguese people. At the same time, it is also one of the easiest and quickest to make. You can easily adapt the method and experiment with another fish or shredded chicken.
16. Pastel de Nata
Created by monks expelled from the Jerónimos Monastery, in Belém, in the 19th century, this delicacy quickly entered the hearts of the Portuguese people. And then it conquered the world. To this day, tourists from all over the world line up at the Pastéis de Nata Factory to try this marvel of Portuguese cuisine.
It is an egg custard tart and, usually, it is dusted with cinnamon. Contrary to what many people think, it is not a dessert. It can be eaten at any time of the day, preferably with a cup of coffee.
17. Queijada
Several regions of Portugal have Queijadas, but without a doubt, the most traditional is that of Sintra. The main ingredient is requeijão (a loose, ricotta-like cheese produced in Portugal), and they also take sugar, eggs, flour, and cinnamon.
These delicious traditional sweets hit all points: a thin and crunchy pastry with a sweet and very creamy filling from the cheese. Queijadas are a perfect delicacy. Be sure to stop by a pastry shop to buy a packet of Queijadas, sprinkled with cinnamon.
18. Pão de Ló
The most traditional Portuguese cake, this is a frequent dessert during Christmas and Easter and is sold in most pastry shops, wrapped in parchment paper. In the more traditional shops, Pão de Ló is still baked in a clay pot.
In Portugal, there are several types that you can try, from cakes that are fluffy and dry in the center to cakes in which a large part of the dough is still moist and can be eaten with a spoon. Smooth, simple, and bulky, the sponge cake can be served with a scoop of ice cream or eaten alone.
19. Ovos Moles de Aveiro
The recipe for Ovos Moles de Aveiro is simple: sugar and egg yolk. Cooked over a low heat and wrapped in a wafer as thin as a sheet of paper, these are one of Portugal's most traditional sweets.
With a yellow and orange hue, they have an intense and sweet flavor, but it is their texture and appearance that makes Ovos Moles de Aveiro truly unique. The outside wafer is shaped into shells and fish, honoring the maritime tradition of the city of Aveiro.
20. Torta de Azeitão
In Portugal, desserts made from eggs are very common, with many regional varieties. A very famous one is the Torta de Azeitão tart, a traditional lemon sponge cake, covered in cinnamon and egg yolk, rolled up perfectly. These pies are a joy for those who like sweets, and a snack not to be missed if you pass by Azeitão.
21. Arroz Doce
Arroz Doce is an old dessert from the time of our grandmothers, and each family has its own recipe. It requires few ingredients, but is very creamy: rice cooked with water or milk, with a dash of lemon, eggs, and a cinnamon stick. You can eat it hot or cold, with a sprinkle of cinnamon on top.
Arroz Doce is usually cooked during special occasions, such as during Christmas, birthday parties, or family reunions. It is so simple that anyone can cook it, at any time. It is the perfect comfort food.
22. Ginjinha
Ginjinha is a typical drink from the city of Óbidos and is made with sour cherries that have fermented in brandy with sugar, water, and cinnamon sticks.
Ginjinha is widely consumed in a small cup made of chocolate, but there are other ways to drink it, and it can also be served as an apéritif. This liqueur has a strong flavor and is intensely perfumed. Dark red, it can be found in two distinct varieties: simple or with fruit inside, sometimes flavored with vanilla or cinnamon.
23. Vinho do Porto
Produced in the Douro Demarcated Region, Vinho do Porto is one of the best-known fortified wines in the world. It is a naturally sweet wine and, generally, it has a high alcohol content when compared to other wines. Officially, there are three types of Vinho do Porto: white, ruby and tawny.
Vinho do Porto is usually served cold as an apéritif, but can also be used as a base for summer drinks, such as Portonic.
24. Poncha
Poncha is a traditional alcoholic drink from Madeira. A mixture of distilled alcohol made from sugar cane juice, honey or sugar, and lemon juice. The most adventurous can try the other variations of this drink, such as the passion fruit, tomato, orange, absinthe, or even whiskey Poncha.
It can be drunk both in the summer with ice, and in the winter, as it contains a lot of vitamin C.
25. Licor de Amêndoa Amarga
The Licor de Amêndoa Amarga, also known as Amarguinha, is a liqueur obtained from an old recipe of bitter almond liqueur. It has a light-yellow color with a predominant almond aroma, and can be consumed as an apéritif, digestif, or cocktail. It should be served fresh, with ice, and accompanied with lemon juice, to cut down the sweetness a little.
---
Related: Most Popular Portuguese Desserts