20 Most Popular Nepali Foods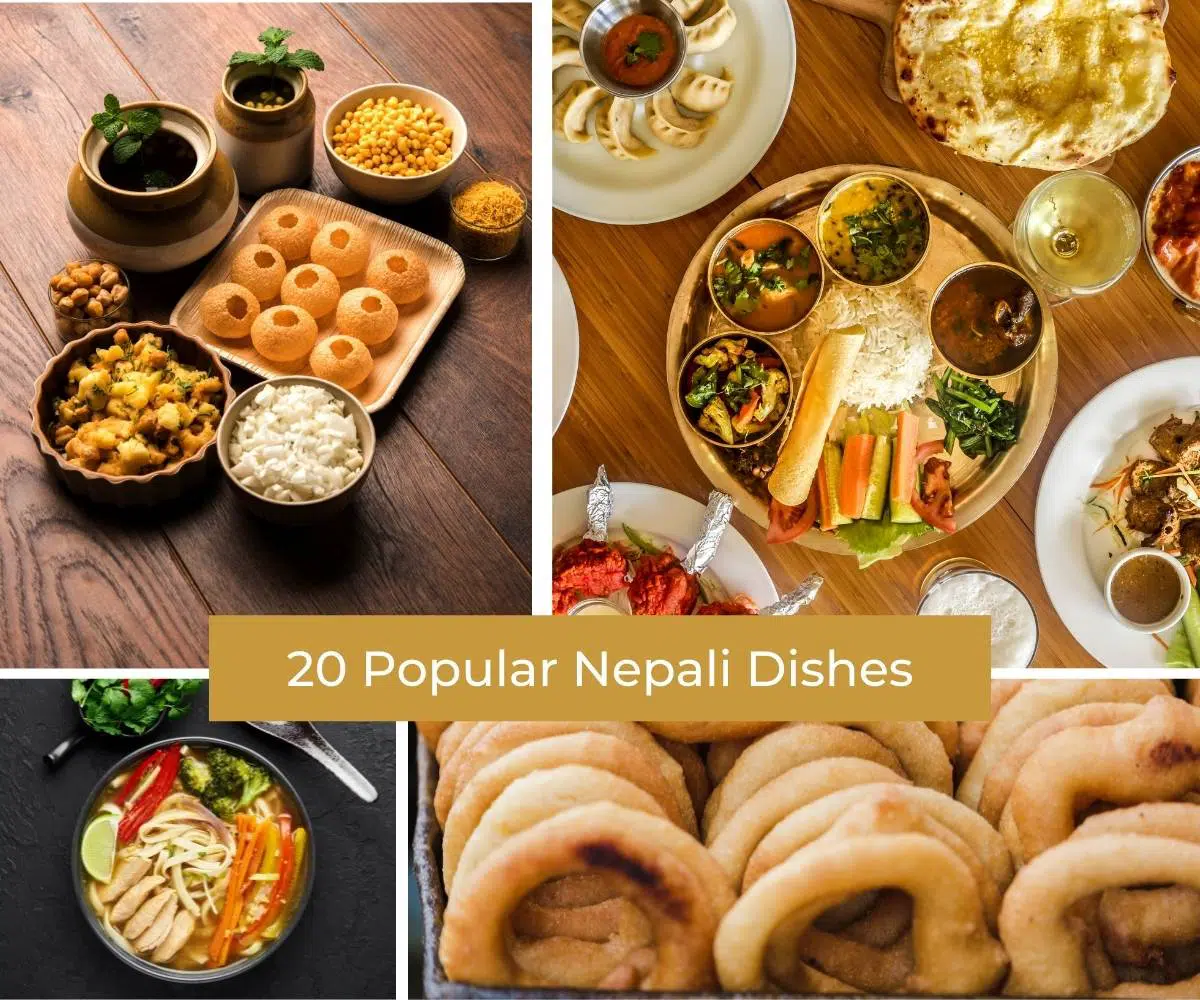 As well as snow-capped peaks, thrilling trekking routes, down-to-earth locals, breath-taking natural scenery, and culturally vibrant localities, Nepal has plenty to offer in terms of cuisine.
The fusion of different geographies, cultures, and traditions is reflected in the food and dishes of the Nepali people. Nepali food is known for its rustic, traditional, and homemade dished.
Almost every dish has a cultural significance and its own history. Many dishes are specific to particular festivals, and that's what makes Nepali cuisine so unique. You will not only get a culinary experience; you will get a cultural one too!
Let's round-up some of the most popular foods in Nepal.
1. Jerry/Haluwa Swari
This list begins with a sweet delicacy. Jerry swari is a delectable dish available in almost all Newa sweet shops. The Newa are a native ethnic group of Kathmandu, the capital of Nepal.
Jerry, (or jalebi, the Indian name) is a popular sweet snack made of a flour batter that is deep-fried and coated with sugar syrup. While jerry is often eaten alone, it can be accompanied with a soft, thin roti or flatbread called swari. Swari helps to undercut the intense sweetness.
As people are becoming more health-conscious, they are beginning to opt for the healthier version, haluwa swari, rather than jerry swari. Haluwa is a pudding made by stirring together flour or suji and sugar. The secret ingredient is the addition of heaps of ghee (a type of clarified butter), which helps to create a creamy texture.
No matter whether you choose jerry swari or haluwa swari, this sweet snack accompanied with a cup of coffee is the perfect way to start your morning.
2. Puri Tarkari
Puri tarkari is a simple dish consisting of a piece of fried unleavened whole wheat bread and tarkari, which refers to vegetable curries in general. Because the dish is very filling and easy to prepare, puri tarkari is a meal for any time of day, breakfast, lunch or dinner.
Since tarkari means vegetable curry with no specific vegetable, different versions of puri tarkari are served all over the country. The specific vegetable curry that accompanies the puri depends on the locality. It can be a potato curry or cauliflower curry or even saag (a simple stir fry of common greens such as mustard green, cabbage, brinjal).
A plate of puri tarkari is also extremely cheap, costing you less than a dollar!
3. Sel Roti
One of the traditional dishes of Nepal, sel roti, is a ring-shaped sweet rice bread that is usually fried. As well as being a sweet snack, sel roti has a deep cultural significance in Nepal.
During Dashain and Tihar, the biggest festivals in Nepal, most households prepare their own homemade sel roti, which they share with relatives, friends, and colleagues. They are used during pujas as an offering to goddesses, gods, and deities. Although sel roti was originally a food for celebration, it has become a common dish.
Few ingredients are required: ground rice, ghee, sugar, and a pan full of oil for deep frying. The secret to an authentic sel roti is not to ground all the rice grains too finely but to leave a few chunks to give a rough and authentic texture. Some people prefer sel roti piping hot, right out of the frying pan, while others prefer them cooled down and 1-2 days old. No matter which sel roti you prefer, spicy potato curry is a highly complementary side dish.
4. Kheer
Kheer is a type of wet pudding that is popular in Nepal as a celebration dish. Kheer brings people together whether for festivals, birthdays, anniversaries, weddings, or reunions. There are many different ways you can make kheer, and it tends to vary from household to household. The recipes are passed down through the generations, accompanied by family stories and history.
The most common recipe includes milk, rice (preferably a long-grain version like Basmati), spices such as cardamom, cinnamon, cloves, and fenugreek, sugar, and, lastly, coconut. Kheer is prepared by boiling the milk and rice while continuously stirring.
Kheer can be cooled down and served as a dessert, but if it is being served as a main dish, it is better to have it hot and accompanied with a spicy vegetable curry to balance the sweetness of the kheer.
5. Laphing
The cuisines of neighboring countries India and Tibet heavily influence Nepali cuisine. A Tibetan dish popular in Nepal is laphing, a dish made from starch extracted from potato, mung wheat or wheat flour that is cooked overnight and left to settle. The extract is then cut into wide noodle shapes and served either wet or dry.
The craze for laphing originated from areas with Tibetan settlements such as Bouddha, Swayambhu, and Ekantakuna. As the popularity of laphing grew, two distinct versions of the dish emerged: wet (jhol) and dry.
The wet version is served with the laphing submerged in a dip made up of soy sauce, vinegar, sesame oil, and chilly paste. For the dry version, the laphing is filled with instant noodles (locally known as chauchau) along with seasonings and garnished with spicy potato chips.
Due to the immense popularity of this dish, many small eateries that cropped up in the Kathmandu valley focus on laphing along with other Tibetan dishes such as keema noodles and thukpa.
6. Samay Baji
Samay baji, a traditional meal of the Newa people, is not one single dish but a combination of different dishes. It is basically beaten rice with an assortment of side dishes and is most often served as a meal for special occasions.
The various dishes are most commonly beaten rice (chiura), boiled beans with spices, fried and boiled egg, choila (marinated and barbecued buffalo meat), green leaves, achaar (pickles), and bara (cooked lentil patties). Samay baji is often accompanied by the traditional Newa alcoholic drink ayla or chyang, prepared with fermented rice. Samay baji is usually followed by generous heaps of dhau (yoghurt) as a dessert and palate cleanser.
Many Newa festivals and special occasions like births, marriages, and deaths hold a special significance in Newa culture. Bhoj (feasts) are often organized for the locality and relatives during such occasions, when samay baji is traditionally served.
7. Juju Dhau
Bhaktapur, one of the ancient districts of the Kathmandu valley, is renowned for its yoghurt, known as juju dhau. Tourists and locals visit Bhaktapur to sample this distinct and delectable yoghurt. Juju dhau is a Newa term that literally translates as king of yoghurt.
In the past, juju dhau was a delicacy reserved for the royals and aristocrats. In modern times, however, juju dhau is a dessert enjoyed by everyone. Though there are shops outside Bhaktapur which claim to sell authentic juju dhau, the original taste of juju dhau is still only found within the district.
Juju dhau has a rich, creamy, and sweet texture that differs from the regular clean texture of yoghurts in Nepal. Juju dhau is traditionally prepared in a warm environment in clay pots, which contribute to its rich texture. Since the clay pots are porous, excess liquid from the yoghurt slowly evaporates, leaving a creamy custard-like texture.
8. Pani Puri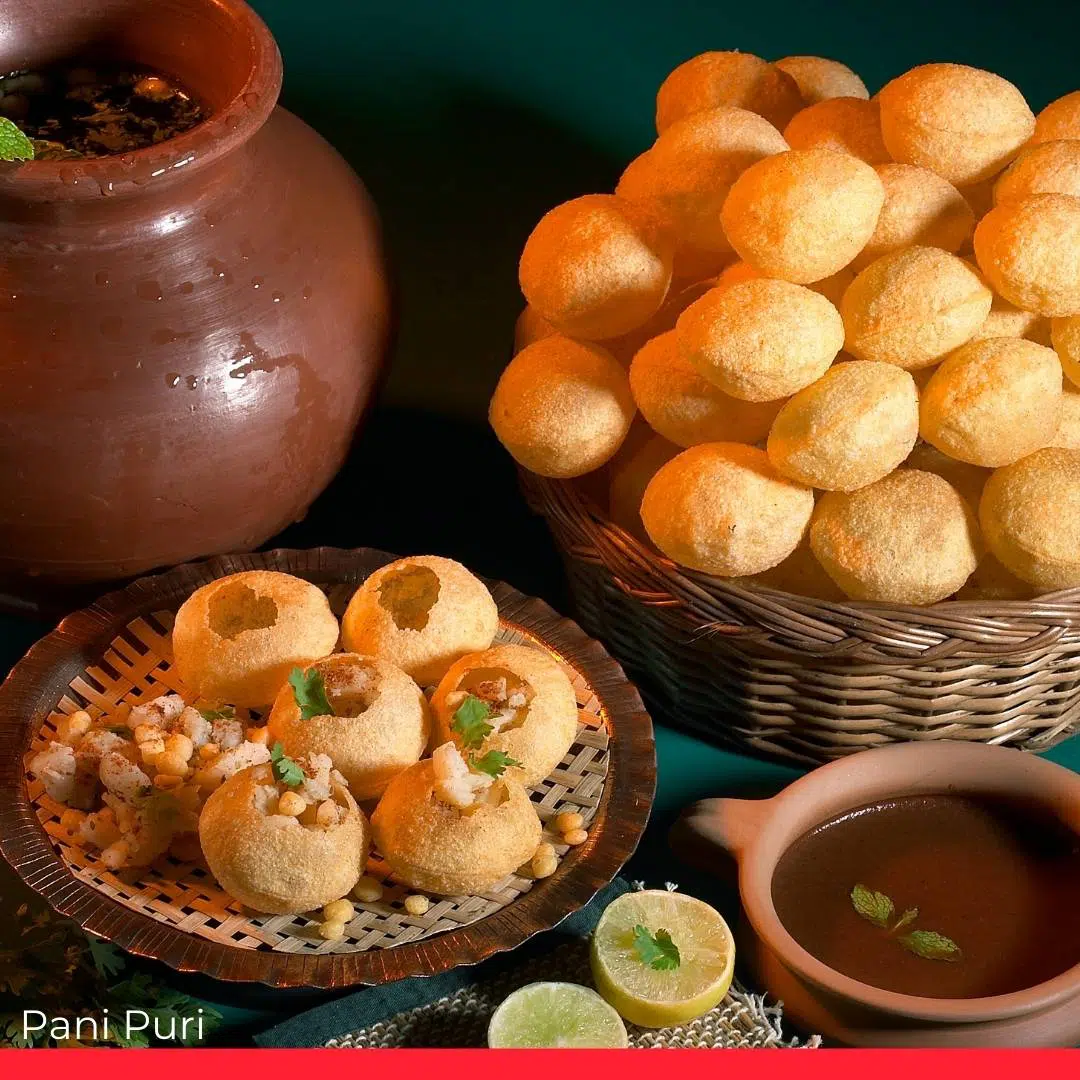 Pani puri is one of the most famous street snacks in Nepal. It is a dish that consists of a spicy and tangy liquid along with puri made of crisy, fried, hollow dough balls with a filling of seasoned and boiled potatoes and diced onions. Though pani puri is usually available from vendors, who have their own distinct barrows and move around from place to place, permanent eateries offering pani puri have recently begun to appear.
There are many variants of pani puri as well as the original. A popular one is dahi pani puri, in which instead of the seasoned liquid, the puris are filled with yoghurt along with chaat masala and garnishes.
Pani puri is usually a cold, tangy, and spicy dish but a regional variant of pani puri commonly found in the Terai region of Nepal called fulki incorporates a new approach. The puri is filled with bean curry instead of the seasoned liquid so fulki has a warmer temperature and a less spicy and tangy taste.
9. Chatpate
Chatpate is a favourite with spice enthusiasts and with children. The main ingredient is puffed rice, which is mixed with instant noodles, chopped boiled potato, diced onions, tomato paste, seasonings such as salt and pepper, chaat masala, diced green chili, and lemon juice.
It is a popular snack that is available from pani puri vendors and can be easily prepared at home. Many additional ingredients can be added according to your taste. To increase the crunchy texture, add peanuts or crushed potato chips.
10. Sadeko Badam/Bhatmas
In Nepali cuisine, there are many delicious quick-to-prepare dishes. Since Nepal is largely an agricultural country with an agrarian history, the relationship between people and grains is deep and interconnected. Grains such as wheat, barley, and millet as well as other crops such as maize and soybean are prominent.
One of the most popular appetizers, sadeko badam/bhatmas, is a must-have on any occasion. Sadeko simply means marinated, so sadeko badam/bhatmas means marinated peanuts/soybeans. The peanuts or soybeans are lightly roasted to create a crunchy texture and then tossed with salt, chilly power, chopped onions, and ginger-garlic paste. There are many dishes that can be served sadeko style, from boiled maize to momo to instant noodles.
11. Chatamari
Chatamari is regarded among locals as the Nepali pizza but in reality, the dish is more similar to a crepe. A traditional Newa dish, chatamari can be found in any Newa joint or during special Newa occasions and festivals. The base is made of rice flour batter, which is topped with a variety of toppings, mainly fried buff or chicken keema along with an omelette. Diced spring onions, as well as leaves of coriander, are a common garnish.
Though a Newa dish, chatamari has become common in Nepali cuisine and many eateries unassociated with Newa cuisine include this dish on their menu.
12. Sukuti
Sukuti means dried meat, usually buffalo and sometimes lamb or goat, which is a staple food item in many Mongolian communities in Nepal. In the recent past, there was a culture of hanging buffalo meat from the ceiling of the attic to let the meat dry. Nowadays, people simply buy sukuti from supermarkets, which aslo sell sukuti seasoned with salt and chilly powder.
Sukuti can be consumed on its own, but there are many other dishes that can be made with sukuti. Sadeko sukuti, a marinated sukuti, is a popular dish. Another popular sukuti dish is buff chilly, in which the sukuti is cut into bite-sized pieces and combined in a stir-fry of capsicum, onion, and tomatoes and covered with a sweet and spicy sauce.
13. Thukpa
A dish hailing from the Himalayan regions and Tibetan borders, thukpa is perfect during cold and gloomy weather. Similar to ramen, thukpa is a hot noodle soup made with homemade noodles. Thukpa is served with an assortment of additional spices such as vinegar with green chilly pieces, olive oil, soy sauce, and homemade chilly sauce.
An authentic thukpa dish in Nepal is served with a bone-based soup, which gives it a distinct flavor in contrast to other vegetable or meat-only-based soups. Though predominantly a vegetarian dish, thukpa can incorporate non-vegetarian toppings such as buff, pork, and chicken pieces.
14. Dhido
Once considered a poor man's dish, dhedo has climbed the ladder of popularity and is now served in many high-end Nepali restaurants. The reason for this immense popularity is that dhido represents the traditional cuisine of Nepal.
Dhido is made by continuously stirring corn flour with water. In restaurants all over Nepal, you can order a dhido set, which comes with a generous amount of dhido and hot ghee on top along with an assortment of dishes such as meat curry, pickled vegetables, and fried potatoes. Since dhido is simply cooked flour, by itself it tastes rather bland, which is why it is combined with the gravy of a meat curry or with pickles.
15. Bhakka
Bhakka is a dish from the Terai region of Nepal, particularly the Tharu and Rajbanshi community in eastern Nepal. It is a fluffy rice flour steamed cake that is served with a freshly prepared tomato pickle. It is an extremely simple dish with few ingredients: rice flour and water. Similar to dhedo, bhakka by itself has no real taste profile. However, the soft and spongy texture of the rice cake is delectable.
What makes bhakka stand out is the side dish accompanying it. Different places serve different side dishes, which can transform the simple dish into something complex. Some people prefer a simple salt-and-green chili pickle whereas others pair it with chakuni, a mildly spicy yogurt-based salad. But whatever the side dish offered, bhakka is eaten as soon as it's cooked, piping hot.
16. Yomari
Yomari is a traditional Newa dish of steamed rice flour dumplings filled with either khuwa (a dairy product made with dried whole milk) or chaku (concentrated sugarcane juice and ghee). It is a dish best served hot as the fillings inside will be melted.
There is even a special festival day dedicated to this dish called yomari punhi, which is celebrated during the end of the rice planting season in November/December. On this day, Newa households prepare their own yomaris and celebrate the festival with their loved ones and friends. Aside from the festivals and occasions, yomari can now be found in Newa eateries around the Kathmandu valley.
17. Chicken/Mutton Curry
Chicken and mutton curry with lots of gravy is one of the most prominent dishes in Nepali households. During Dashain, one of the biggest festivals in Nepal, there is a tradition of sacrificing a chicken or goat to the gods and then cooking a curry with their meat.
The specialty of Nepali chicken/mutton curry, similar to Indian curry recipes, is the abundance of spices and flavors. Garam masala is prepared in-house with cinnamon, peppercorns, cardamom, mustard seeds, coriander seeds, cloves, and nutmeg.
Nowadays, you can also buy meat masala from shopkeepers, which is used in the curry to add depth to the flavors. Nepalis prefer chicken/mutton curries to have lots of gravy so water is added to the curry and it is left to simmer to create lots of gravy.
18. Choila
Choila is a typical Newa dish that consists of grilled or barbecued buffalo meat. Usually, choila is barbecued over an open flame, which gives it a smoky flavor.
Though there are other variants, such as chicken or duck choila, the most popular is buff choila. It is an integral component of Newa traditions and culture and part of the many feasts during the various Newa festivals.
19. Daal Bhat
Daal bhat is THE Nepali dish. Daal means lentil soup while bhat means steamed rice. Rice is an important ingredient for many traditional Nepali dishes. Daal bhat is typically accompanied by side dishes such as stir-fried vegetables, greens, or chicken curry, along with pickled vegetables.
A version of daal bhat called thakali khana is also highly popular in Nepal. It is a dish that originated in the Thakali community. A variant of daal bhat, the thakali khana set includes more side dishes such as fried potatoes, a wide range of pickles, and papaad.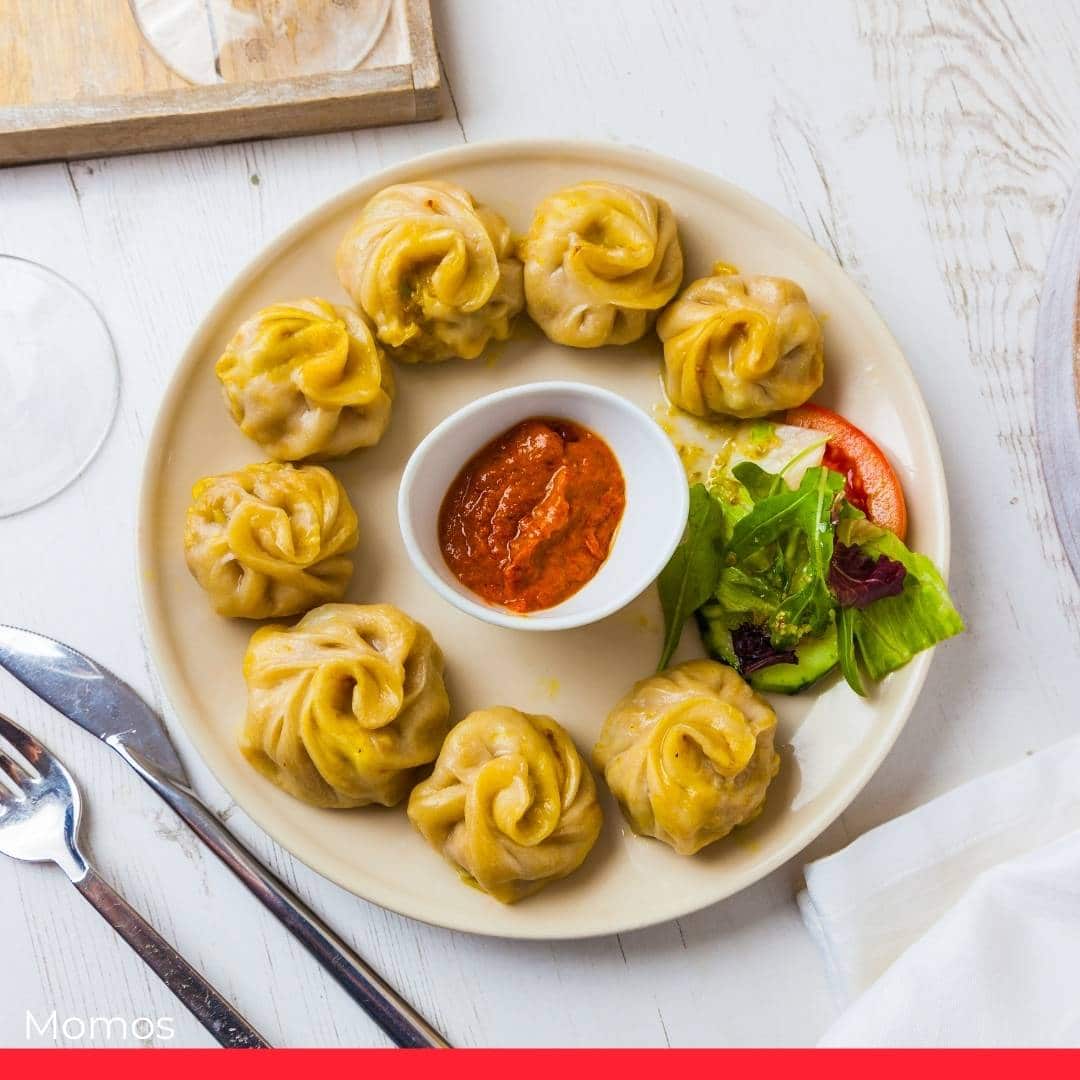 Momo is the ultimate Nepali food and is common in many restaurants. No matter whether a small local eatery or a five-star restaurant, the menu will always have momo. And there are many variants of this steamed dumpling with meat or vegetable fillings.
While steamed momo is the traditional version, other versions include chilly momo (steamed momo with a sweet and spicy sauce, chopped onions, and capsicums), fried momo, kothe momo, and sadeko momo, which are equally popular. Darjeeling momo is another popular variant, which uses less spices and has a subtle flavor.
---
Related: Most Popular Desserts in Nepal