20 Most Delicious Bengali Foods
Bengal was considered the cultural capital of India even before the British Raj. The Mughals built a modern metropolis in Dhaka (Bangladesh) in 1610, which was the seat of their power in Bengal. The city was renamed in honor of Emperor Jahangir. It was well developed with fortifications, gardens, tombs, palaces, and mosques.
The Bengal Subah or Mughal Bengal was a considerably large subdivision of the Empire, which later became an independent state under the Nawab of Bengal. It covered most parts of modern West Bengal and Bangladesh.
The Mughals brought their own cuisine and fused it with the traditional Bengali cuisine, which was further changed by the western influences under the British Regime, which made Kolkata (formerly Calcutta) into their administrative capital. This has seen quite a few recipes such as patties, chops, and cutlets make their way to the humble Bengali dinner table.
The region sits on one of the largest and fertile river delta basins in the world, wherein the confluence of the Ganga and Brahmaputra (the two largest rivers in India) empty their waters into the Bay of Bengal, bringing with them rich silt from the mountains. This makes it ideal to grow rice, which is a staple food in the region.
The proximity to the seas and the abundance of rivers in the region also boasts a multitude of fresh water and saltwater fish, which form an integral part of the cuisine. The most famous and beloved fish in the Bengali community is the hilsa and rohuss.
The state of Bengal boasts a geographic diversity stretching from the peaks of the Himalayas in the north and flowing down to the coast of the Bay of Bengal in the south. Some of the finest tea plantations in India can be found in the state of West Bengal; Darjiling being the crown jewel. Mount Everest can be seen from here on a clear day.
Let's round-up some of the most popular Bengali foods.
1. Mangshor Jhol (Bengali Mutton Curry)
Sunday afternoons are synonymous with Mutton Curry and Rice in any quintessential middle-class Bengali household. The taste of tender mutton in a rich gravy accompanied with hot steamy rice is a match made in heaven.
Mangsho generally refers to chicken or mutton and is usually used quite interchangeably. Mangshor Jhol basically refers to a traditional mutton curry made in the Bengali style. Jhol refers to a traditionally thin gravy but it changes from household to household. It is usually mildly spiced to ensure the freshness of the meat is retained.
The natural gelatin from the bones imparts a silky smooth feel to the gravy. Fat from the mutton once cooked forms the rogan, which rises to the top and forms what appears to be a thick layer of oil.
Bengal and especially Kolkatta, being situated on one of the largest delta basins and mangrove coasts in the world, enjoys a bountiful supply of seafood, freshwater, and seawater fish. But there is one fish that is especially close to the heart of every Bengali: the infamous Hilsa or Ilish.
It is a fish similar in nature to the salmon which swims upriver from the coast. The fish has a lot of tiny pin bones, but is soft flaky and very tasty when fried or prepared in a gravy. This is a traditional spicy gravy due to the presence of green chilies and mustard.
It is usually seasoned with the "panch poran" or 5 spice mix traditional to the region, it usually contains cumin, brown mustard, fenugreek, nigella, and fennel. The fillets of fish are first fried before being added into a rich and spicy gravy or jhol.
3. Lau Patai Pabda Paturi (Steamed Pabda Fish in Bottled Gourd Leaf)
Pabda refers to the Indian catfish that is found in abundance across the Mangroves of the Sunderbans. It is not an extremely bony fish, having one main bone running through the length of the body. Pabda Macher Kalo Jeerer Jhol is cooked light with minimal spices.
Surprisingly Pabda Tel Jhaal requires no onion, no garlic and no tomato at all! The bata moshla/masala (freshly pounded spices) and fresh coriander leaves are the key to this wonderfully fresh and light recipe. Bottled gourd leaves are used to wrap the fish once they are marinated and can be steamed either in a pan or a hollow vessel on low heat.
The flavors of fresh coriander mustard and chilies are an absolutely mouth-watering combination. This dish is best served with rotis or parathas.
4. Calcuta Biryani (Bengali Mutton Biryani)
Despite the staggering number of spices used this is a light and fragrant biryani. Like its famous counterparts from Delhi, Lucknow, and Hyderabad, Kolkata has its own unique biryani, which is much more moist and can be eaten by itself without any accompaniments like raitha or gravy. Potatoes are usually served with this biryani.
Green cardamom, black cardamom, cloves, cinnamon, nutmeg, mace, fennel, cumin, white, and black peppers are some of the spices used in this recipe. Initially starting in a few handpicked restaurants, today it can be found along the length and breadth of the city. The use of potatoes is a unique feature that is not common in other traditional biryanis.
5. Aloo Posto
This is a traditional Bengali dish prepared using potatoes lightly spiced with poppy seed paste. It is a common comfort food eaten with rice and dhal. This recipe can be made with or without onions and garlic and is light on the palette. Fresh poppy seeds are a key element to this dish and one must ensure to use the freshest possible seeds; using rancid seeds can lead to a sharp bitter flavor in the overall dish.
The three essential ingredients apart from potatoes, which cannot be substituted, are nigella seeds (kalonji), mustard oil, and poppy seeds.
6. Macher Matha Diye Moong Dal
An unlikely combination of lentils and fried fish head, this is a delicacy reserved for a traditional Bengali table. The flavor of fresh carp head fried and infused with roasted moong dal is an absolute treat for the senses. There is no other dal in Bengali cuisine that occupies a higher position than this dish.
It is the perfect dal to serve at wedding lunches, first rice ceremonies, and the like. The Bengali favorite is the head of a large freshwater fish called the katla – a kind of carp that lives in freshwater. It is served with bhajas (fried dishes) such as beguni or jhuri alu bhajas.
7. Shorshe Ilish
A popular dish from the wetlands of Bengal, stretching across borders between India and Bangladesh, this humble yet flavorful dish unites two favorites of the region: hilsa or Tenualosa ilisha, a type of herring found in the rivers and tributaries that span the region, and mustard seeds.
The dish is popular among the people of Bangladesh, where the fish is mainly found, and in the neighboring Indian states of West Bengal, Tripura, and Assam's Barak valley. Hilsa, white mustard, mustard oil, green chili, black cumin, turmeric powder, red chili powder, and salt are the main ingredients. Lime juice and/or coriander leaves may also be added for flavor.
8. Ilish Paturi (Hilsa Cooked in Banana Leaf)
Ilish Macher Paturi combines three of Bengal's greatest loves – the Hilsa fish, the banana plant, and mustard. Even though it looks very polished, it is a fairly easy recipe to execute. It requires very few ingredients, no special technique, and can be cooked very quickly.
This simple recipe calls for a smooth marinade of mustard seeds, ginger, and turmeric, which is blended with mustard oil and beaten yogurt. The fish is then coated with this marinade and wrapped in banana leaves and then cooked over a hot griddle with a little bit of oil. A visually appetizing masterpiece for any dinner table. Best served with basmati rice.
9. Aam Tel Ilish (Mango-flavored Hilsa Steamed in Pumpkin Leaf)
"Aam Tel Ilish which is mango pickle-flavored, steamed boneless Hilsa wrapped in a pumpkin leaf and served in a clay pot with steamed rice" – a favorite at Oh Calcutta, Bengaluru's best Bengali restaurant. Mustard fresh ginger and tangy mango pickle are ground into a smooth paste. The fish is then fried and tempered in this puree along with copious amounts of mustard oil.
10. Macher Chop (Bengali Fish Croquette)
Calcutta being the administrative center of the British Raj in India has adopted various techniques and recipes and added their own culinary twist. This includes the Chop or Chaap, which refers to a cutlet or croquette that can be filled with potatoes, fish, or even meat.
It is usually eaten as a snack or accompaniment to the main course and is a favorite for many. The bread crumb coated fish cutlet or chop is a beloved recipe, is very simple to make, and can also be done using leftovers.
11. Gondhoraj Maach (Fish with Kafir Lime)
Gondhoraj Ibeu, locally called the Rangpur lime, is a variety of lime indigenous to Bengal. It is surprising how understated it is, given its culinary prowess. Just a few drops are enough to elevate the most humble and insipid dishes into divine delectable masterpieces. The canton lime from China, hime from Japan, and the famous key lime from the Florida Keys and Caribbean would be close competitors of the wonderful olfactory experience this provides.
The barramundi or Asian sea bass is the preferred fish here, for its boneless and soft texture, paired with a mild sauce flavored with cream, yogurt, and a ginger-chili-garlic paste. The icing on the cake of course being the Godhoraj lime juice and zest to finish it off.
12. Bengali Mishti Pulao (Cashew & Raisin Pilaf)
Bengal is famous for its variety of sweets made with milk, milk fudge, and cheese. Just as famous as the sweet Misthi Pulao, Basmati is the choice of rice. The pulao is flavored with green cardamom, bay leaf, and cloves. The addition of ghee or clarified butter transforms the dish from a mundane rice preparation into an ornate addition to your dining table.
Finally, a little sugar, roasted cashew nuts, and raisins are added before it is steamed to perfection. Best served with a spicy curry or meat, this dish with its light flavors and richness is ideal for cutting through the sharpness of a spicy hearty meat dish.
13. Chingri Pulao (Prawn Pilaf)
A specialty reserved for "Noboborsho" or Bengali New Year, this is a simple yet flavorful dish and an attractive way to serve your guests a delectable rice preparation. It is something different from the traditional biryani. It can be prepared in one pot and is a quick fix in a tight situation.
Fennel, cumin, cardamom, cinnamon, mace, and nutmeg are some of the common spices used in this dish, with whole spices preferred over ground powders. Large to medium-sized prawns are cooked with the spices and the rice is added and steamed together.
14. Calcutta Fish Fry
Calcutta's very own batter-fried fish is inspiration from the yesteryear of the British Raj. It is a street food novelty and beloved by the locals of the city. Various fish can be used, such as vetki, barramundi, tilapia, cod, swai, and basa. Onions, ginger, garlic, green chili, coriander, and mint are ground into a fine paste, which is then coated over the fish fillets. Lemon juice and pepper can also be added.
After an egg wash, the fillets are coated in bread crumbs and deep-fried to perfection. Served with the local kashundi or mustard and mango sauce or tomato ketchup, it is a treat for the senses on a cold monsoon evening on the streets of Calcutta.
15. Kosha Mangsho (Bengali Mutton Curry)
This is traditional mutton gravy prepared using a base of onions and potatoes seasoned with black pepper, cinnamon stick, bay leaves, cloves, and cardamom. Boneless chunks of lamb or mutton are sautéed in mustard oil until tender and then added to the curry base.
Sugar is added to the curry to finish it off, giving it a deep red color and a flavor profile that is rich deep and intense. Best served with rice or porota.
16. Chingri Malai Curry (Prawn Curry)
This is tiger/king prawns steeped in a creamy rich and lightly flavored sauce and coconut milk. It is a dish served during celebrations and festivals and was a favorite of the British in India.
Mustard oil, onions, turmeric powder, chopped green chili, garlic paste, and ginger paste make up the body of the dish, giving it a refreshing flavor. Best served with steamed white rice.
17. Shukto (Mixed Vegetable Stew)
"A wide array of mild, sometimes bitter, milky curries served for lunch to open up the palate for the oncoming spicier courses" is a generalized understanding of shukto. But to the Bengali palette, it's a warm delectable medley of veggies cooked to tender perfection, mildly spiced, and a reminder of home wherever you are.
Drumsticks, sweet potatoes, eggplant, flat beans, bitter gourd, green plantains, potatoes, and raw papaya are usually used for this recipe. Bay leaf and panch poran are the whole spices of choice. Freshly ground coconut milk is the base for the dish. Sundried lentil dumplings, dal'er bori, are also added.
18. Begun Bhaja (Brinjal Fry)
A simple yet spicy marinade of chili powder, turmeric, and lime seasoned with salt and pan-fried with mustard oil. Baja refers to frying and can be a variety of vegetables or meat fried.
Eggplant, or aubergine, is a favorite among Bengalis. Coat the eggplant with rice flour to get a crispy outside and moist inside. Potatoes, pumpkin, bitter gourd, onions, and green plantains can be used in place of eggplant. Usually served as an appetizer, this dish is a quick and easy way to satisfy hungry bellies any time of the day.
19. Dhokar Dalna (Lentil Cake Curry)
Dhokar refers to split chickpeas that are ground and formed into cakes and steeped in a thick curry with cubed potatoes, cumin seeds, hing, and bay leaf along with ginger and red chili paste.
This is a star among the veggie dishes that make up traditional Bengali cuisine and is reserved usually for special occasions like religious festivals and days of abstinence, when meat or fish isn't consumed. It is best served with steamed white rice.
The name is derived from the word dhoka, which means betrayal, referring to the meat-like consistency and texture of the chickpea cakes, something along the lines of mock meat. The base of the gravy is usually made with satvik ingredients. Satvik refers to the omission of onions and garlic and it is a cuisine that is popular within the Jain community in India and also followed by certain Hindu castes.
20. Postor Bora
Postor bora is a mix of poppy seed paste, grated coconut, onions, green chilies, and rice flour, which are shallow fried as fritters in mustard oil. It is an absolute delicacy for Bengalis and is known for its extraordinary flavor and texture. It is the perfect fritter, with the outer crisp containing of poppy seeds and a tender center.
It is mostly served as a starter or as a side with the main course to relish. Posto bora is a very simple and easy recipe and requires very minimal and easily available ingredients.
The best part of the recipe is that it requires very little oil, unlike other bora (pakoda). It can be prepared very easily without too much time and you it can be prepared in batches. So it is a great option for any get-together and small party.
---
Related: 50 Famous Indian Foods
Related: Popular Indian Snacks
Related: 30 Popular South Indian Foods and Desserts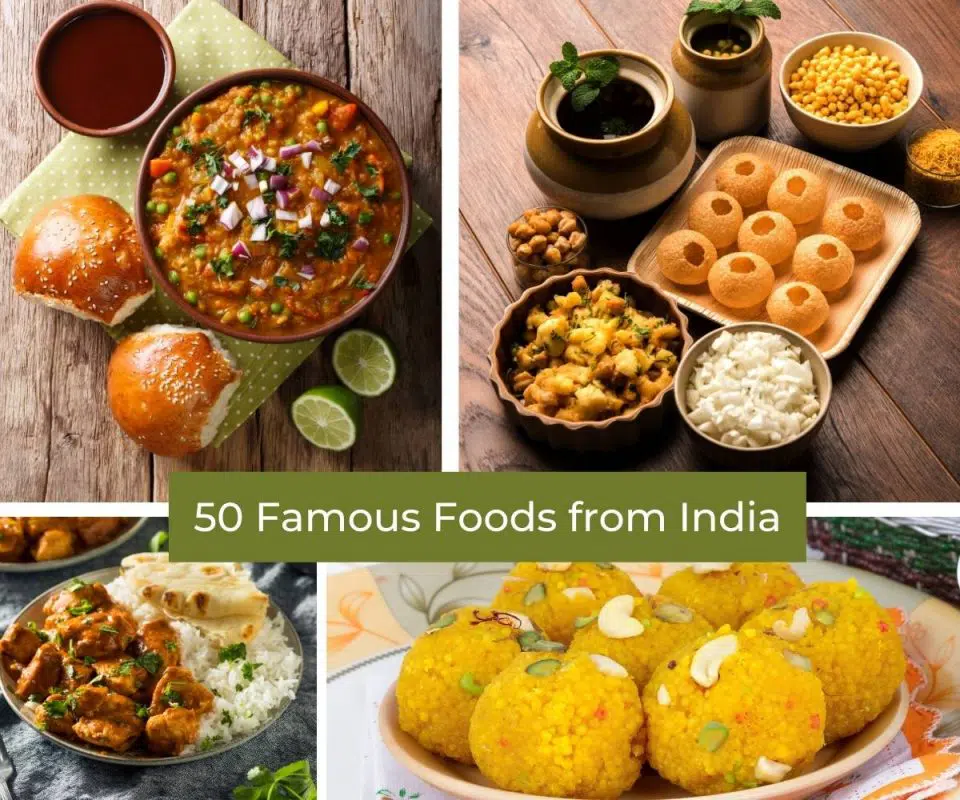 Related: Most Popular Foods in Maharastra