20 Tasty Diwali Sweets & Desserts to Try This Year
With an appetite for living life large, the festivals in India don't fall short.
Diwali is the most famous and widely celebrated of all festivals in the country. As depicted in the Ramayana, people leave no stone unturned when preparing for this festival, which marks the victory of good over evil.
Diwali marks the day Lord Ram returned to his kingdom of Ayodhya with his wife Sita and brother Lakshman after defeating the Lankan king Ravana and serving 14 years in exile.
Diwali is usually associated with the Goddess of wealth, Lakshmi, and is celebrated with pomp and ceremony. It usually lasts 5 days and is celebrated with great enthusiasm across the country.
Homes are renovated and repainted, lamps are lit, fireworks are displayed, and various sweets made with milk, nuts, and fruits are prepared and distributed.
Rangolis – floral decorations made with colored rice flour are prepared and families gather for a feast and to exchange gifts.
Sweets are a pivotal part of the traditional celebrations and households pride themselves on preparing various dishes in-house. With each region having its specialty, there is no shortage of desserts to suit every palette.
1. Badam Puri
A deep-fried nutty flavoured dough-based dessert, this is made using a blend of almond and wheat flour that is kneaded with butter, salt, and water.
This dough is then folded and flattened using a rolling pin and shaped into traditional triangles. This method of folding and rolling lends the dessert a crispy outer and soft, moist inner layer. The deep-fried dough is then soaked in a sugar syrup flavored with saffron and cardamom. Honey and rose water may also be added for additional flavor.
This dessert originates from the southern state of Karnataka and is known to bring feelings of nostalgia to the table.
It is a humble dessert requiring the most basic of ingredients and can be whipped up in no time. Grated toasted coconut, mixed with slivers of almonds is the traditional garnish. Modern versions may include koha or reduced milk fudge as a filling.
2. Sweet Kadabu or Gujiya
This quintessential Diwali dessert is prepared throughout the length and breadth of the country and has become a staple of every household. It differs based on the tastes of the local population and the indigenous ingredients found in the region.
South Indian versions are known for a hearty filling of grated coconut, jaggery, and cardamom. Northern versions are heavier, filled with with Kova or reduced milk fudge and with the addition of slivers of cashews, almonds, and sugar.
The southern versions use rice flour for the outer wrapper while the north is known for a blend of wheat and semolina. Steamed and deep-fried versions are available depending on preference.
Steamed versions of this dessert treat may even contain a mix of mashed bananas, cinnamon, jaggery, and nuts. Jackfruit stewed and mashed with ghee and jaggery is also another popular filling from the state of Kerala.
3. Doodh Peda
One of the most famous sweet treats you will find in traditional Indian sweet shops, this has a creamy rich fudge-like texture and is mildly flavored with spices such as cardamom or saffron and rose water.
Milk is boiled in a large kadais till it is evaporated, leaving behind only the milk solids. This begins the process of caramelizing the milk sugars and solidifying the milk proteins, giving the end product a moist yet fudgy texture.
This forms the base for the dessert which is then blended with a mix of floral petals, sliced dry nuts, sweet-smelling spices, and other natural flavorings.
Saffron and almonds are a favorite, but the sky is the limit. Some varieties blend jaggery with the fudge, giving a darker, earthier color and flavor. Powdered sugar, saffron milk, pistachio chunks, and rose petals are used to garnish this all-time favorite dessert. Most families gift each other sweet boxes with varieties of pedas.
4. Kaju Katli
A rich concoction of cashew nuts puréed and blended with a mix of milk fudge (kova), saffron, sugar, and cardamom pods. This dough or mash resembles shortcrust pastry and must be handled carefully. It is flattened out into oiled trays and cut into the classic diamond shape before being boxed for sale.
This dish is called kaju or cashew burfi in some parts of the country, but the standard recipe remains the same. It is one of the most expensive dishes available in Indian sweet stores and it can be found topped with edible silver or gold leaf. A kilogram, or half a pound, can set you back around $20.
It has a predominantly cashew flavor and it is mildly sweet. With a smooth texture complemented by bits of roasted cashew, it has the perfect balance of sweet and nutty flavors. The ghee adds a layer of richness and moistness to the entire dish.
This dish originated from the Royal Mughal court of Emperor Jahangir. The best Kaju burfi or katlis can be found in the states of Delhi, Punjab, and Haryana.
5. Badhushah or Badhushahi
Similar to a glazed doughnut, this dessert has many different names around the country, though its roots are the North Indian state of Uttar Pradesh.
It consists of a stiff, biscuit-like dough that is deep fried and then soaked in a sugar syrup flavored with cinnamon, cardamom, and saffron.
The dough balls are deep fried over low heat, which is essential as the low heat produces a crumbly and moist inner with a slightly crisp and robust outer layer.
It can be filled with condensed milk and nuts, giving it a richer and more delicious flavor. It is usually topped with a sugar syrup glaze and nuts, but may also be covered with condensed milk and saffron. It is another simple dish that can be made with the easily accessible ingredients.
6. Mysore Paak
Named after the fabled City of Mysore, located in the southern state of Karnataka, this dessert is the ultimate indulgence in sugary decadence. It consists of roasted gram flour blended with copious amounts of puréed desi ghee or clarified butter and sugar.
It is time-consuming to make, mixing the gram flour, ghee, and sugar over a low heat till it becomes semi-solid with the texture of a buttery, crumbly cookie. The ghee or clarified butter is first blended with the gram flour, then a thick sugar syrup is blended and added. Saffron and cardamom are the usual flavorings.
Hard and soft versions are available, the softer Mysore paak requiring three times the amount of ghee than sugar, and vice versa for the harder, robust version.
The origin of the dessert is attributed to the late Maharaja of Mysore, Krishana Raja Wodeyar the 4th, who was an avid food lover and tasked his head halwai, or pastry chef, Kakasura Madappa, to come up with something special.
7. Kaju Pista Rolls
These cashew nut and milk fudge-based cigars filled with sweet pistachio nut-based fillings are a treat for the eyes and the tongue.
They incorporate two of North India's favored ingredients, milk and nuts, combining them in a unique way. If you love kaju katli, then kaju pista rolls are sure to win your heart.
Cashew nuts are puréed and blended with milk fudge, or kova, and then rolled out into sheets before being filled with pistachio cardamom and saffron crumble. They are then garnished with edible silver leaf and saffron stamens.
The outer layer is smooth and fudgy, which is perfectly complemented by the crumbly, nutty filling.
8. Gajar Ka Halwa
If there is one dessert that instantly reminds an expat of India, it would have to be the classic carrot halwa. Halwa refers to a sweet pudding made by slow cooking fruit and vegetables along with milk and sugar to achieve a smooth creamy and sweet pudding texture.
Ash gourd, ridge gourd, carrots, and even semolina can be used to make a variety of halwa. Depending on the type of sugar used, either white, palm or jaggery, the color and texture of the dessert varies.
Making gajar halwa begins with grating fresh red or orange carrots, and then stewing them with ghee, milk, milk solids, condensed milk, sugar, and nuts. The carrots are cooked till they reach a creamy and pudding-like texture and the natural and added sugars just begin to caramelize.
Modern versions even use purple or black carrots for a unique and decadent dessert unlike any other. It can be served hot or cold along with vanilla ice cream.
9. Motichur Ladoo
Ladoos are traditional Indian desserts shaped into balls and made from a variety of ingredients, such as, but not limited to, rice flour, coconut, semolina, besan or gram flour, ragi flour, and wheat flour.
This specific ladoo is made from gram flour caviar, which is deep fried in oil or ghee and then soaked in a rich and decadent sugar syrup and then formed into the classic ladoo.
This ladoo has a classic saffron color, obtained by blending saffron with roasted chickpea or gram flour along with water, forming a runny batter that is flash fried to obtain caviar-like granules. These are then soaked in a simple syrup made with sugar, saffron, and cardamom. It is then garnished with slivers of cashew or almonds and pistachios. Silver leaf is also used.
Ladoo has a delicate texture and crumble with a little pressure. When made right, it simply melts in your mouth and leaves you craving for more.
10. Jalebi
Known by many names, jilapi, jilebi, jilipi, zulbia, jerry, mushabak, z'labia, or zalabia, this pretzel-shaped deep-fried dessert is found across southeast Asia, South Africa, Mauritius and as far as Fiji.
The Indian version takes the limelight today and is made by preparing a batter with maida or refined wheat flour, which is then piped into a wide and shallow kadai and fried over low heat. These are then dunked into a thick, rich thick sugar syrup.
Jalebis may be found in a variety of colors ranging from golden yellow to deep red and saffron. The most common is the traditional saffron one.
Jalebi is usually paired with a rabri, which is a rich creamy concoction made by reducing milk and flavoring it with saffron, cardamom, and rose petals.
There are other versions of jalebi made by blending kova with maida and deep frying it into the classic shape. These are softer and denser and have a more milky flavor. Jalebis have an almost chewy exterior with a hollow, syrup-filled inner.
11. Gulab Jamun
Considered the national dessert of India, the name translates to rose water berry or rose berry. This is one of the most popular desserts in an Indian mithai wala's arsenal. Each household across the country boasts a special version of this popular dish, giving it their own unique twist.
The original, classic gulab jamun, served with a simple sugar syrup seasoned with fennel seeds, is the ultimate champion, with the dry, black jamun, topped off with desiccated coconut and nuts, coming in a close second.
The traditional jamun is made by blending and kneading a dough made with kova or reduced milk solids and maida along with icing sugar to produce a smooth and pliable dough. This can then stuffed with nuts and deep fried before being soaked in a sweet syrup seasoned with rose petals, pandan leaf extract, saffron, and cardamom powder.
A true delight for all Indians and a must-try for those wishing to experience the true mastery of sweetmeats.
12. Kalakand
This is a popular variety of milk cake made across the Northern Plains of India. It is also called malai burfi or milk burfi and can be found in many variations.
It has a soft and grainy texture and is filled with a rich, lactose-based sweetness from the reduced milk fudge that is used. This forms a base for the artist to work their magic and create combinations that enthrall the child in all of us.
Traditional methods call for the coagulation of milk solids and then stewing them along with sugar and nuts. Modern, quicker versions blend milk, khoya or milk fudge, grated paneer or cottage cheese, condensed milk, and a medley of nuts and sweet aromatic spices.
These are combined and cooked over low heat before being lined in a tray to cool. The bars are then cut into the desired shapes before being garnished with saffron, slivers of nuts, and silver leaf.
This dessert is thought to have originated in the state of Rajasthan in North India.
13. Soan Papdi
One of the most time-consuming and skill-oriented confectioneries in the arsenal of a traditional Halwai is the infamous Soan Papdi. The term sohan is of Persian origin. It bears some resemblance to the Persian sohan pashmaki, which gave rise to the Turkish pişmaniye.
Street hawkers sell this delicate sweet in paper cones, and you can find them served as cubes in larger confectionery stores.
Gram flour, ghee, sugar, refined wheat flour, almonds, milk, and cardamom pods are the main ingredients. It takes years to master the skills required to blend these ingredients in the right quantity and knead and stretch the sugar to form a hair-like texture.
The texture is reminiscent of a mix of fine vermicelli and taffy stretched out to the thickness of a hair follicle. It just melts in the mouth.
14. Rasmalai
Originating in the heartland of the Indian Mithai Wala, the famous ras malai is one of the most beloved of all Bengali sweets. The dessert is called rossomalai in Bengal.
The dish consists of chenna, an East Indian term referring to a clotted cream of light cottage cheese that is used as the base of a multitude of Indian sweets.
An acid is used to clot the milk after boiling it, and the separated milk solids are then strained and kneaded into a light dough before being shaped into spheres and boiled in water containing rose petals and sugar.
A kheer or rabri-like milk solution is made by boiling milk with cardamom, saffron, pistachios, and almond powder. The milk is cooled and the chenna is left to soak in and absorb the flavors.
It is usually served cold and garnished with saffron, nuts, and even cream.
15. Rasgulla
Rasgulla, also fondly known as rasagola, rosogola or rosogolla in Bengali and various eastern Indian languages, is a simple yet decadent dessert. Two Indian states have G.I. certification for their variations of the dish, with West Bengal receiving official status. It is also hugely popular in Bangladesh.
It can be made with a handful of ingredients and refrigerated for serving later. Chenna or clotted cream or cottage cheese is combined with semolina flour and kneaded to form a delicate dough. The dough is then shaped into balls and cooked in a light sugar syrup seasoned with rose petals and cardamom pods.
These can be found in most supermarkets across the globe, along with the famous gulab jamun as they can be canned and preserved for 6-8 months without refrigeration.
16. Mawa Lyangcha
This dessert orginated in the West Bengali town of Burdwan, which is famous for its lyangcha.
Ghee, kova, milk powder, and refined flour are blended to form a soft pliable dough, shaped into cylindrical logs, and slowly deep fried before being dunked in a sweet sugar syrup similar to that of gulab jamun.
The taste is slightly different from jamun but the texture is pretty similar. The outer coating is crispy while the inside is soft and moist.
17. Mohanthal
Originating in the states of Gujrat and Rajasthan, this dessert is a kind of burfi made with besan or roasted gram flour or chickpea flour. The flour is blended with ghee and milk and cooked to a fudge-like consistency. Sugar saffron, nuts, and cardamom powder is then added to give it a subtle aromatic flavor.
It has a grainy texture that melts in your mouth. It is similar to a smooth dense cookie texture. Kova is also added at times to give it a smoother and creamier texture.
A favorite amongst the Gujarati community, it is one of the most treasured desserts for Diwali.
18. Obbattu
This popular flatbread-styled confectionery is found in the southern regions and is a delectable simple and utterly fulfilling treat. It is known as puran poli in the northern regions.
Roasted gram flour or besan is the main ingredient, combined with jaggery and ghee to make the all-important stuffing. Some recipes call for a mix of ghee, desiccated coconut, nuts, and dried fruit. The base of the flatbread is simply a whole wheat or refined flour dough made by combining water, flour, turmeric, and salt. Some people also add milk to the mix to give it added richness.
The dough is rolled out similar to roti or chapathi and is then stuffed with the sweet filling. It is then cooked on a flat top griddle or pan till it is cooked thoroughly. Ghee is generously added while cooking and also served on the side as a garnish.
Some of the more modern twists on this classic recipe include dried fruit, such as dates, and even tropical fruits, such as pineapple in the sweet butter filling.
19. Payasam/Kheer
Known commonly as payasam in the South and kheer in the North, this is a simple milk-based dish similar in consistency to a wet pudding.
It is made by boiling milk, sugar, and rice, along with sweet spices such as cardamom, cloves, cinnamon, saffron, etc. Various recipes around the country add dhals, bulgur wheat, millet, tapioca, vermicelli, or sweet corn.
Jaggery is the traditional sweetener, although people today most commonly use refined white sugar. Essences such as orange blossom, vanilla bean, rose water, and pandan leaf extract can be added to boost the flavor. Nuts and dried fruit are commonly used to garnish.
A favourite with people of all ages, it is a simple dessert and can be prepared in a hurry. Payasam is considered a blank canvas for home cooks to add their unique variation.
20. Mawa Mango Burfi
For this popular dish during the summer months, mango pulp is preserved by cooking it with sugar to preserve it for the rest of the year. It is then combined with condensed milk, milk fudge or kova, milk powder, and sugar to form burfis or bars of sweet meat.
This is a modern recipe that's become a staple at most festivals. The slightly tart flavor of the mangoes complements the sweet and buttery richness of the milk solids, making for a truly divine combination.
Pistachios and cashews are sliced and added to the mix and pandan leaf water or kewra adds an aromatic and tantalizing aroma. Ghee is also blended into the burfi mix to ensure moisture and added richness.
A must-try and one of my personal favorites, something I always look out for during Diwali.
---
Related: 20 Diwali Snacks You Have to Try
Related: 50 Famous Indian Foods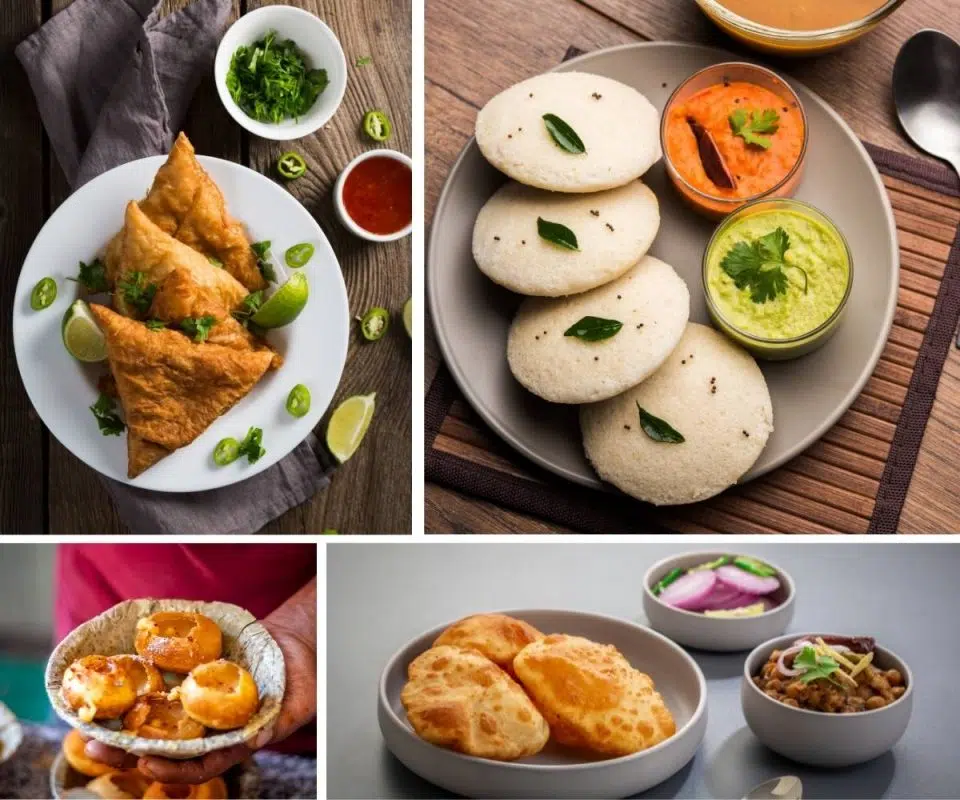 Related: 25 Delicious Indian Side Dishes