20 Most Popular Gujarati Foods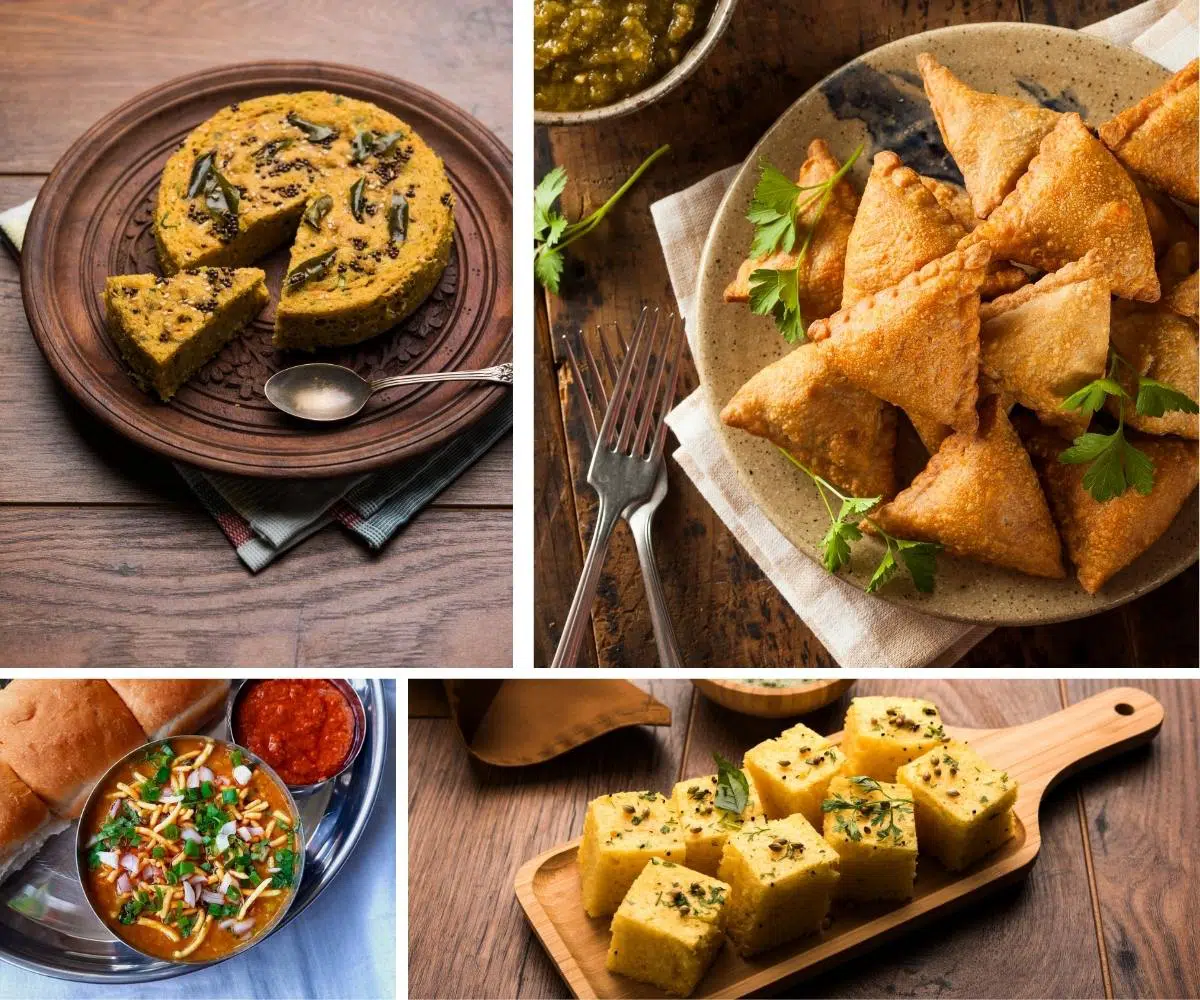 Known for their exuberant spread of vegetarian delicacies, the people from the region of erstwhile Saurashtra have perfected the art of vegetarian cuisine. The thali is the highlight of any authentic Gujarati spread, composed of myriad dishes made with the most mesmerizing techniques incorporating the most humble of ingredients, in an alchemy of flavors, colors, and textures.
Some of the more predominant flavors of Saurashtra cuisine include, crushed mustard seeds and mustard seed oil, pounded dry red chilis for a fiery punch, roasted and ground coriander and cumin in varying textures that add an earthy note to the recipe.
Mangoes are a staple through the summer months, from which a decadent sweet concoction called Aam Ras is prepared. As well as the variety of vegetarian cuisine, Muslim communities such a the Bohras and Khojas have an amazing array of non-veg delicacies, perfected carefully over generations.
A typical Gujarathi thali is a well-planned collection of vegetarian appetizers, followed by a collection of curries made with different bases, followed by a collection of yoghurt-based recipes accompanied with pulses.
Accompaniments include sweet and spicy chutneys and pickles, and the whole meal is followed by salads. The main courses are accompanied by a collection of flavored rice or bread made from a variety of grains including millet, wheat, etc., either baked on a griddle over coals or deep-fried.
A lot of thought goes into balancing tastes and textures. You will find coarse, gritty, granular, smooth, consistent, dry, and so on. Also, don't forget the myriad sweets prepared from milk and its derivatives.
Let's round up the most popular Gujarati dishes.
A delicate and wonderfully appetizing dish, this is similar to the Tibetan mung bean pancake but is prepared from roasted chickpea flour or besan. The flour is first cooked into a thick paste, similar to thick custard, and is then skillfully spread onto an oiled surface as thinly as possible. Once the batter has cooled, the sheet is cut and rolled into cylinders.
Some recipes call for a stuffing made with tempered coconut and seasoned with mustard seeds, sesame seeds, curry leaves, and green chilis. The tempered species and desiccated coconut is then spread onto the thin sheets before being rolled into little cylinders.
Leaving out the green chilis or swapping them out for a bit of pepper may reduce the heat of the overall dish but this differs from the authentic flavor it's known for.
Khandvi is a common tasty treat across the state and every household prides itself on its khandvi skills.
2. Gujarati Samosa
Gujarat has a wonderful legacy of snacks. They have a with farsaan, a collection of sweet and savory snacks prepared and stored in households and consumed on a regular basis.
Though this dish is prevalent all over India, and the subcontinent, the Gujarati version is different from that commonly found around the country. The samosa itself is a canvas for the artistic mind of mithaiwalas, shaping whatever they have to please the customer with a treat for the senses.
Potatoes are commonly used as a filling in North Indian samosas, which is the same in Gujarat, the only difference being that the filling is a well-balanced mixture of peas and potatoes spiced gently and seasoned to give you a sweet and savory experience in every bite.
Sometimes the dough of the samosa itself is a bit sweet and the filling can have a mix of dates to give it a sweet and piquant flavor.
3. Undhiyu
A popular cooking technique found across the western reaches of India extending into Pakistan and Afghanistan is the practice of cooking food underground. This usually includes the main ingredient, meat, wrapped in bread and covered with leaves before being cooked in a pit with hot coals, or vegetables cooked in earthen jars buried in the ground with soft embers gently simmering away to perfection.
The City of Surat is famous for this dish as the saying suggests: "Surat Nu Jaman Ane Kashi Nu Maran", to live in Surat and die in Varanasi is as blissful as one can be on Earth.
A hearty mix of potatoes, plantains, eggplant, sweet potatoes, and purple yam, stuffed with an aromatic mix of freshly chopped coriander, garlic chives, green chilis, toasted sesame seeds, cumin seeds, ajwain or carom seeds are the main ingredients. It is topped with grated coconut and seasoned with turmeric powder, red chili powder, and salt. Pigeon peas and broad beans are also mixed in. Sugar is an optional ingredient that most recipes call for.
This mix of vegetables is stuffed into an earthen pot, which is sealed with banana leaves and wet hay before being placed over a bed of embers and covered and cooked with wood.
4. Aam Shrikhand
The highlight of a Gujarati thali, shrikhand is a light airy dessert made from hung curd, which can be seasoned with myriad spices, dry fruits and nuts, sugar, cardamom, pistachios, almonds, saffron, and nutmeg.
But the seasonal mango shrikhand is the king of all them all, made with fresh, ripe, sweet, and mildly tart mango pulp sweetened with sugar and seasoned with nuanced hints of saffron. Shrikhand is an ancient recipe with roots in the historical origins of Saurashtra itself.
Shrikhand may be enjoyed chilled by itself or accompanied with freshly cut mango, but the traditional cardamom flavored shrikhand is usually eaten with thin steaming hot puris. A true treat for the senses.
5. Dhokla
This is another traditional recipe from Gujrat. It is made with chickpea flour mixed into a thick batter with water and leavened with baking powder before being steamed into something that resembles a Victorian vanilla sponge. This gives the dish a light and airy texture.
The spongy dhokla is then seasoned with a tempering mix which includes oil, mustard seeds, curry leaves, and green chilis, and stewed with a bit of salt and sugar along with water. This water is then poured over the dhokla giving it a sweet and spicy twist.
Dhoklas are usually topped with freshly grated coconut and served with a coriander and mint chutney or tomato chutney.
Instant dhokla mixes can now be found in most Indian supermarkets.
6. Bardoli Ki Khichdi
Bardoli Ki Khichdi is savory, warm, and comforting and has a hint of the piquant flavor of tender raw mangoes, blended smooth with rice and yellow lentils and split green lentils. It is a medley of vegetables such as bottle gourd, eggplant, potatoes, and carrots, with peanuts for a nutty tone, seasoned with handsome helpings of ghee, bay leaf, cinnamon, and cumin.
A tempering of green chili, mustard, red chilis, asafoetida, and curry leaves is then prepared and poured over the top. Grated coconut and freshly chopped coriander leaves garnish the finished dish.
Every region in India is known for their own version of khichdi, but the tangy, slightly sweet and savory version that is beloved in Gujarat is the Bardoli version. It can be served with a side of hung yoghurt and coriander and mint chutney.
7. Methi Ka Thepla
A soft savoury flatbread bubbling with subtitle of methi or fenugreek leaves made from a combination of wheat flour and chickpea flour, or besan, blended with fresh fenugreek leaves.
It is usually eaten as a breakfast dish or a child's evening snack. You can even freeze thepla for up to 6 months and enjoy the familiar taste of homecooked food whenever you like.
The humble thepla is a lunch box staple and a favorite for many, bringing back fond childhood memories. Theplas can be eaten with coriander mint chutney, a bit of ghee, and a spicy mango pickle.
8. Dal Dhokli
This is a creamy yellow and delicious gravy made of lentils stewed slowly till it is thick and luscious. It ıs often topped with dumplings made with seasoned wheat and chickpea flour seasoned, resembling pasta. The dumplings are boiled along with the lentil curry, slowly thickening the gravy and absorbing its flavors.
This dish is a staple from Gujrat but can also be found in the neighboring state of Rajasthan. The lack of meat in these cuisines has given rise to these innovative recipes that have evolved over the years, catering to regional palettes and distinguished tastes.
Dal dhokli can be served with plain rice, pickle, cucumber, and toasted papadums.
Toor dal or pigeon pea or yellow lentils are preferred variants used here, with the dhoklis having a signature taste with the addition of ajwain or carom seeds. Jaggery can also be added to dal dhokli, giving it a sweet and savory aftertaste.
9. Handvo
Handvo is a savory cake quintessential to Gujarati cuisine. It is prepared with a batter consisting of soaked and ground rice and lentils, blended with mashed bottle gourd, and other vegetables such as cabbage and peas. Sometimes peanuts are crushed and mixed into the batter.
The batter is usually mixed with thick yoghurt which acts as a leavening agent and makes the cake rise naturally. Sesame seeds and garam masala are also usually added, giving it a nuttier and savory note. Handvo is usually steamed in a special pressure cooker, although it can be steamed in a double boiler, or even in the oven with a pan of water.
Usually eaten as a snack, it can be accompanied with coriander and mint chutney or tomato ketchup.
10. Fafda
Fafda is another culinary delight from the state of Gujarat. These long rectangular leaves of chickpea dough are seasoned with ajwain or carom seeds and turmeric, giving it a bright yellow color. It is deep-fried and served with a sweet date and jaggery chutney and a spicy green mint and coriander chutney. Sometimes you'll find a partially deep-fried green chili on the side.
A popular snack, it can be found on many streets across the cities of Gujarat. On its own it is a plain canvas on which the creativity of the chef can run wild.
Some modern renditions of this classic recipe recreate it as a sort of bruschetta or crostini, which is gluten-free and vegan. Papaya sambro or a dry chutney made with raw papayas are the traditional condiments of choice, but today many variations exist.
Fafda can be consumed for breakfast followed by hot jalebis. This is one of the few original Gujarati breakfast combinations.
11. Patra or Patrode
Originally a dish from the west coast of India, this is popular in the regions of Mangalore extending all the way down to the Malabar coast. It can be found in Uttar Pradesh, Himachal Pradesh, Bihar, Gujarat, and Rajasthan.
The dish is prepared with colocasia leaves, known locally as chevu or arbi. The leaves are cleaned and prepared for steaming by filling them with a savory mix of besan, or chickpea flour, jaggery, green chili paste, and mixed species.
Once the leaves are filled, they are rolled up or layered over each other and cut into medallions. Cutting the medallions reveals the distinct layers of the leaves and the sweet and savory filling. One of the more ancient and traditional recipes of India, it's healthy and tasty at the same time.
12. Lilva Kachori
Lilva is the Gujarati word for pigeon peas, tuvar dal or toor dal. The dish is a delicious winter snack that is usually preferred with a hot and sweet cup of masala chai. Kachori is the generic term for a variety of deep-fried dumplings, usually filled with a savory stuffing.
These dumplings are oval shaped and filled with a sweet and savory mix of lentils well cooked and tempered with ajwain or carom seeds, cumin seeds, jaggery, chopped cashews, and raisins, giving it an added twist. Asafoetida is another important flavoring used in this recipe.
It is served with a side of mint chutney, date and raisin chutney, whipped curd, sev or crispy deep-fried chickpea vermicelli. This dish that's enjoyed by Indians all over the country but is, through and through, synonymous with Gujarati cuisine and culture.
13. Sev Usal
Inspired by neighboring Maharashtra, this dish comes from the streets of Vadodara and is a popular snack found throughout the state. It's a flavorful and zesty combination of various chutneys mixed with sev, papdis, tikkis, boond, and puris. Perfect when you have guests coming over, as you can prep all the elements in advance and just mix it all together just before serving.
Like most chaats, raghda is the base for this dish. Raghda refers to a stew prepared with yellow peas and an assortment of mild spices. ıt is topped with the above-mentioned chutneys and toppings and blended, before serving, with a dollop of fresh yoghurt and more chutneys topped with crispy sev.
This dish can be consumed on its own or be accompanied with pav or bread rolls.
14. Makhaniya Gathiya
This is a take on another traditional snack found across the subcontinent. Referred to as murukku or chakuli in the south, this dish is made of deep-fried strips of gram flour or roasted chickpea flour seasoned mildly and has an overall savory taste.
It is a popular snack and can always be found in traditional Gujarati households. Shredded carrot salad, mango pickle, and deep-fried green chilis are the condiments of choice for this humble yet flavorful snack.
Gathiyas are as addictive as potato chips and you can easily find yourself bingeing over a pack of these while you watch your favorite TV programs. An added bonus is that this snack is 100% gluten-free and vegan.
15. Dabeli
Another famous street food treat on our list is from the region of Kutch in Gujarat, which is the home of the famous salt plains. This dish is a combination of mashed potato seasoned with spices and stuffed in a pav and topped with crispy sev and pomegranate pearls.
The dish is fondly called kutchi dabeli or double roti. It is common across the country and is also found widely across the city of Mumbai or Bombay.
The filling is a sweet, tangy, and savory mix of potatoes, topped with sweet and tangy chutney, topped with grapes, pomegranate pearls, and chickpea vermicelli deep-fried till crispy. The bread is toasted with a little butter and chutneys and then filled with the boiled potato mash.
A colorful and eye-catching dish, it has immense visual appeal and is a crowd favorite.
16. Khakhra
This is a thin, crispy, delicate cracker made with a combination of rice flour, wheat flour, millet flour, and a mix of spices. Mat bean, moth bean, matki or dew bean is also a key ingredient for khakras. It is a resilient drought-resistant legume grown across the arid regions of Western India.
The flour mixture is kneaded into a smooth and pliable dough and rolled into thin sheets which are then baked on a flat griddle pan or tava.
Khakras are delicate crisps and are a favourite snack all over India. Traditional khakras have a sweet and savory flavor. They are referred to colloquially as namkeen.
Methi (fenugreek), jeera (cumin), bajri (millet), garlic, math (bean), and mixed masala are some of the common traditional flavors. Khakhras can be accompanied with chutneys, curd, pickles, and ghee.
17. Locho
One of the most popular street foods from the city of Surat, this dish is commonly found at any event calling for a traditional Gujarati spread. Chickpeas, black gram, and chickpea flour are the core ingredients and it is usually seasoned with asafoetida, cumin, chili powder, and turmeric. Ginger, green chili, and fruit flavored salt is also used.
The name arises from the uneven consistency and shape and it is similar in taste to khaman or dhokla. A thick batter is prepared from the mix of lentils and seasonings, poured into a shallow pan, and then steamed using an open topped vessel.
It is usually served with sev, chutney, coriander, onion, and butter.
18. Basundi
Basundi is also known as rabri, across many parts of India, and it is a dish prepared by boiling and reducing milk slowly for a long time. This evaporates the water from the milk, concentrating the sugars and fats and turning the milk thick and creamy and imparting a natural sweetness. Cardamom, sugar, and saffron are the most common flavorings.
Some modern takes on this traditional recipe call for the addition of tropical fruits such as custard apple, mangoes, dates, almonds, and pistachios.
Basundi is always served cold and is usually topped with shaved almonds, pistas, and cashews. It is usually eaten with hot puris, which is a favorite combo.
19. Sev Tamatar Nu Shaak
Spicy, sweet, and tangy tomato sabzi topped with crispy namkeen sev is one of the most favorite comfort foods on our list of dishes.
Warm soft and savory tomato sabzi is seasoned with cumin, mustard, chili powder, turmeric powder, and sugar and topped with a crispy sev, creating contrasting textures.
It can be eaten with chapatis, theplas or khakras and is best served as an accompaniment. It never fails to impress.
With fresh tomatoes, the flavor is simply amazing and will overwhelm you with a bust of flavors, true to the essence of Gujarati. Sev is usually flavored with ajwain or carom seeds, adding to the overall distinctive taste of the dish.
20. Mawa Gujiya
Mawa is the general term for condensed milk fudge, which is used across the subcontinent in myriad ways to prepare a variety of sweet meats. Gujiya is a sweet deep-fried flaky pastry dish stuffed with mawa, coconut, toasted nuts, and saffron.
The sweet filling is stuffed between layers of flaky pastry, which is then shaped into a semicircle with crinkled corners.
The pastry is similar to that of samosa, and the shape resembles empanadas. It is commonly made for festivals and is a treat cherished by one and all. Cardamom powder is also added to the filling to give it a sweet aromatic aftertaste.
Holi and Diwali are two famous festivals that are incomplete without these sweet decadent desserts. Saffron, dried rose petals, and apricots are some modern flavors that have found their way into the heart of the beloved gujiya.
---
Related: 50 Famous Indian Dishes
Related: 25 Popular Indian Side Dishes
Related: 50 Popular Indian Desserts
Related: 30 Delicious South Indian Foods