Top 20 Culinary Delights of Maharashtra
Known for its historic forts, monuments, and wonders such as the Ajanta and Elora Caves, modern-day Maharashtra was initially a part of the Maurya Empire. It then went on to be ruled by multiple southern kingdoms before falling to invading Moghuls. It finally found a common identity, united by Chhatrapthi Shivaji, founder of the modern Maratha Empire.
Their culinary traditions are a unique blend of Northern Indian and Moghul cuisine combined with their own authentic Konkan coastal influences. This brings myriad spices and flavor combinations that would be found individually in northern and southern cuisine but never combined so beautifully as that offered by Maharashtra.
With the advent of colonialism, Maharashtra and the port city of Bombay, now Mumbai, were poised to benefit from the industrial expansion awaiting the region.
This can be seen even today as Bombay is the gateway to the gulf states, eventually creating the sea route to Europe through the Suez Canal.
Mumbai is the financial capital of India and is a playground for the rich and famous, being home to India's most prominent movie industry, Bollywood. The city is modern, elegant, and up-to-date with global trends when it comes to food, lifestyle, and travel.
The city is home to some of the best Indian restaurants, such as Masque, the Bombay Canteen, and the Olive, probably because it is also home to the who's who of the country: A-listers, movie stars, businesspeople and politicians.
The city has a rich history of Konkan culinary influences, with nuances from various communities who have come to call it home. The Persian influences of the Parsis, the rich culinary offerings of the Moghuls, plus British colonial influences and the largest Jewish community in India have made this city a bustling vibrant center for modern Indian gastronomical experiences.
The quintessential Mumbaiker's street eats is as symbolic to Mumbai as the hot dog is to NYC. This simple vegetarian delight is a combination of sweet buttery pav or slider roll with a vada in place of a burger.
The vada is usually mashed spiced potato balls coated in fried gram flour or besan batter and deep-fried. It's topped with salted deep-fried green chilis.
The traditional accompaniment for this Maharashtrian slider is either green coriander and mint chutney or sweet and tangy tamarind chutney. Modern versions of the so-called gourmet vada pavs include everything from cheese to mayo to sour cream.
Nevertheless, this is an absolute must-try when in Mumbai and the best place to spot it is in the streets. Just look out for the most crowded store. It's sure to be a banger in terms of value for money and taste.
2. Pav Bhaji
Another iconic dish from the streets of Mumbai, this is the stuff of childhood memories as most kids will have tasted this treat at fairs, festivals, and community gatherings.
It is a combination of sweet and soft buttery pav or traditional Marathi bread paired with a deep brown, spicy, tangy stew made with potatoes, green and yellow peas, and a medley of other vegetables.
This stew is seasoned with the perfect mix of robust spices, giving it a hot sweet and savory flavor, one of the most distinctive masala combinations found in India.
It boasts a combination of star anise, cinnamon, bay leaf, black cardamom, and dry red chilis, that are dry roasted on an iron pan before being ground into a coarse masala mix.
This is then combined with another roasted mix of cumin, black pepper, fennel seeds, green cardamom, and cloves. Dry ground ginger, mango powder, and red chili powder are added at the end, according to preference.
3. Misal Pav
Considered the trinity of pav-based dishes, the two above and misal pav, these are the most common street food delicacies found across the state of Maharashtra.
This dish is a combination of buttery soft pav or slider buns served with a side of misal, which is a sprouted legume-based curry made with a spicy and tangy onion-tomato base and seasoned with coriander lime and red chilis.
The dish is topped with sev, sliced onions, lime wedges, and freshly chopped green cilantro. Don't forget the dollop of butter on the top!
This is a healthy, high protein snack that is usually consumed before or after chai, though some prefer it as a whole meal for breakfast or lunch.
4. Khanda Poha
This is flattened rice seasoned with a savory and tangy tempering. Made famous on the streets of Mumbai, where the Aam Admi, or working man, would rush to the nearest hawker to grab a plate of this delicious light breakfast on the go.
Today this delicacy is found all across India and most stores have an instant option that requires only hot water.
Poha is usually made with flattened white rice, but health buffs have taken to other contemporary ingredients to make poha such as red rice, millet, etc.
The savory tempering is made of cumin, mustard seeds, curry leaves, and green chilis with chopped onions, and roasted peanuts adding a change in the texture and flavor.
Turmeric gives it an almost neon yellow color, whilst freshly grated coconut and sev can be used as a garnish. Usually eaten on its own, it can be combined with light coconut chutney as well.
5. Upeeth or Sanja
Similar to their South Indian counterparts, this is a version of the beloved upma. A thick porridge consistency is preferred here rather than the grainy and dry southern variant.
Green chilis, onions, cumin, and mustard are primarily used to flavor the dish. Though certain variants call for fresh cilantro, coconut, and peanuts too. Sugar is also added to give it a sweet and savory flavor in sharp contrast to the savory and salty version available in the south. This is primarily a breakfast dish and is mild in flavor and heat.
Asafoetida, mustard seeds, and cumin seeds are the main savory flavoring agents here, supplemented with the use of fresh curry leaves.
The desiccated coconut added as a garnish is a quintessential Marathi/Konkan tradition that is visible in most of the dishes on this list.
6. Kheema Pav
The love of fresh-baked bread was something instilled by the Brits during their colonial era in India. This love affair has endured the test of time and remains today for the many types of bread throughout the Indian sub-continent. This wonderful dish is a staple in the Parsis community of Bombay.
Imagine pairing this sweet fluffy and buttery bread with spicy rich and deeply flavored kheema and you will find yourself emptying a plate without breaking a sweat.
Lamb is preferred, but chicken can also be used. Green peas, chilis, and onions form the base for this kheema, and it is finished off with freshly chopped onions, cilantro, and lime wedges.
7. Mutton Dhansak
Another Parsis favorite, this dish has influences from Persia and Sourashtra, ie modern-day Gujrat. The Parsi belong to the Zoroastrianism faith and migrated to India centuries ago. Their food is a blend of Desi and Persian flavors that is starkly different to that of the Moghuls
Mutton dhansak is a deep reddish-brown stew made with mutton, a medley of spices, lentils, and vegetables. It is usually served with a caramelized onion and white rice pilaf, seasoned with whole spices. The vegetables include potatoes or sweet potatoes, tomatoes, brinjal, pumpkin or squash, all flavored with fenugreek leaves.
Toor or arhar dal, Bengal gram or roasted chana dal, red masoor dal, and brown masoor dal are the lentils of choice. The long cooking time ensured that this dish is reserved for holidays and Sunday lunch.
8. Thalipeeth
This mixed multi-grain and lentil-based flat bread made across the west coast of India is famous in the southern regions of Maharashtra and Goa, stretching up to the northern regions of Karnataka and the Konkan coast.
Ingredients include jowar or sorghum flour, pearl millet flour, rice flour, wheat flour, roasted chickpea or besan flour. Coriander, cumin, and mustard seeds are used to add a savory note, whilst fresh vegetables such as onions, green chilis, and cilantro may also be used.
It is cooked over a flat griddle and is an unleavened bread that is usually served with butter, yogurt, and pickles, or can be eaten on its own.
Healthy and tasty and packed with protein, vegan variations of this humble bread are fast catching on with global trends.
9. Chakolya/Varan Fala
Wheat flour is combined with water to form a dough which is then shaped into squares that are cooked in a mildly flavored lentil stew seasoned with onions, green chilis, mustard, cumin seeds, grated coconut, asafoetida, and turmeric.
These wheat wedges are steeped slowly in the mildly flavored lentil stew and served with roti or rice. They are a popular vegetarian dish in most Marathi households. The dish is very similar to the Gujarati dal dhokli.
Hung curd, mango pickle, and lime are the main accompaniments for this simple yet mouthwatering dish.
10. Sabudana Khichdi
Though this dish is called a khichdi (stewed rice and lentils similar to a risotto), it is quite like fried rice. The recipe calls for tapioca pearls or sabudana, these are made from the scratch extracted from the tuberous roots of the tapioca plant.
They are soaked overnight or up to four hours to hydrate before being suited in a tempering made of cumin, mustard, green chilis, curry leaves, grated fresh coconut, peanuts, asafoetida, and ground turmeric.
This light and tasty dish is usually prepared as a quick-to-go breakfast or eaten as a late evening snack. Best topped with a squeeze of fresh lime juice and a spoon of bujiya sev.
11. Aluvadi/Patrodo
Another traditional Konkan dish found in the state of Maharashtra, this savory preparation is typically a monsoon dish. Taking time to prepare, it is considered a labor of love and for many it is a cherished childhood memory.
Colocasia leaves are found growing in most backyards. The leaves are deveined, cleaned, and lightly bruised before being stuffed with a thick and savory paste made with ground dal, rice, dry red chilis, coconut, turmeric, tamarind, asafoetida, and jaggery.
The leaves are then rolled into a roulade before being sliced and steamed. Sometimes the steamed roundels are then deep fried.
Traditionally eaten as a snack, it can be found in most houses along the Konkan coast.
12. Bhelpuri
Influenced by the traditional Marathi snack badhang, bhel puri is said to have evolved from the beaches and cafes of Bombay, being adjusted to suit local flavors as it spread all across the country. The dish is considered a chat or a snack and is a favorite for young and old alike.
Puffed rice is mixed with roughly chopped onions, tomatoes, fresh green cilantro, green chilis, lime juice, and sev and topped with a tangy tamarind-based sauce. Don't forget a dash of chat masala and dry mango powder to tingle your taste buds.
It is usually served on the street in a cone made from newspaper. Modern variations include everything from Nachos and Lays and Cheetos being added.
13. Ragda Pattice
A mix of colonial and desi influences gives us a roadside delicacy unlike any other. This is a dish of mashed potato patties, shallow fried to give a crispy outer layer, with a smooth and savory filling.
This is then topped with a sauce made from yellow peas, stewed with a myriad of spices. Freshly chopped onions, tomatoes, cilantro, and sev are added as a garnish followed by a green and spicy chili coriander sauce and a tangy yet sweet tamarind sauce or just plain yogurt.
Some Indian street food connoisseurs like to pair this with a pav to take it to the next level. Though considered a snack or a chaat, this humble dish is a complete meal by itself.
14. Sabudana Vada
Tapioca pearls soaked overnight are combined with mashed potatoes, green chilis, freshly chopped ginger, and seasoned with chaat masala, chili powder, turmeric, asafoetida, and salt.
These fritters are deep fried and have an overall crunchy texture and mild flavor. They are usually served with green mint, and coriander chutney. Many people also add tomato ketchup.
Contemporary vada pav stores across the city also serve a sabu vada pav, which is a modern delicious merger of two traditionally Marathi dishes.
15. Modak
If there is one festival that the state of Maharashtra is known for, it is Ganesh Chaturthi. This auspicious day is celebrated to mark the arrival of Lord Ganesh, the elephant-headed God from the Hindu Pantheon, from mount Kailash, where he resides with his parents Lord Shiva and Parvathi.
It is a huge festival that lasts a month and it is usually marked with celebrations across the city, with processions carrying the statue of Lord Ganesh. Many homes install clay murtis of the deity, followed by a period of prayers, after which the murti or statue is returned to the sea.
This festival is marked with these steamed delights, which are a fabled favorite of the God himself. Rice dough is stuffed with grated coconut jaggery and elaichi and then steamed.
16. Zunka Bhakri
A rustic dish originating from the city of Pune, lying south of Mumbai. This is a poor man's dish but is one loved by all. It is a simple dish eaten with rotis made from sorghum millet or wheat flour.
Onions, garlic, green chilis, and curry leaves are sautéed with cumin, mustard, and a mix of traditional Marathi masalas.
Besan or roasted chickpea flour is then added to this mix and it is cooked on a low heat till the dish is completely coated with the masala mix, giving you the zunka.
The bhakri is then made by kneading sorghum flour with water and salt and rolling it out into flat bread that is then cooked on a griddle.
17. Bharleli Vangdi/Stuffed Eggplant Masala
This is another dish that can be found across the Indian subcontinent, with each region giving it a unique twist. The Maharashtrian version calls for hollowing out the eggplant before stuffing it with a savory filling made with a paste of cumin seeds, onions, green chilis, ginger, garlic, poppy seeds, and desiccated coconuts.
Chili powder, turmeric powder, Marathi Kada masala and garam masala season the filling. Once the eggplants are filled, they are sautéed in oil along with the remainder of the masala, which forms the gravy base.
18. Kolhapuri Mutton
The region of Kohlapur is famous for its culinary prowess. The sequence of a traditional meal is similar to that of a classical French menu, where dishes are served in courses and the entire dining experience is meant to satisfy all the senses, not just taste.
This dish is known for its deep reddish-bronze color and is indicative of the robust spice mix used, mainly comprised of red chilis blended with cumin, coriander seeds, grated coconut, poppy and sesame seeds. Onions form the base for the curry and it is usually eaten with rotis or naan.
19. Shrikhand
The original recipe for this humble dessert dates back to 500BC. It is a traditional Kohlapuri dessert made with hung yogurt that is blended with saffron, dry fruits, nuts, and seasonal fruits. The most famous are the saffron and elaichi shirkand and the aam or mango shrikand.
This quintessential Marathi/Gujarati dish is served with hot puris – the cold smooth and sweet flavor of the shrikand perfectly complementing the hot and crispy puri.
Rose petals, almond slivers, saffron petals, and pistachios are used as garnish.
20. Bombil Fry
Bombil is the Marathi name for the lizard fish, which is common around the waters surrounding Mumbai. It is a flat fish with white flesh. The fish is marinated in salt, lime, turmeric, and chili powder before being coated with semolina or rava and then fried in a shallow pan.
The dish is fondly called Bombay Duck. It got its name from the late-night mail trains, referred to as daak trains, that the fish was transported to the city in. Yes, nothing to do with ducks.
---
Related: 50 Famous Indian Foods
Related: 50 Famous Indian Desserts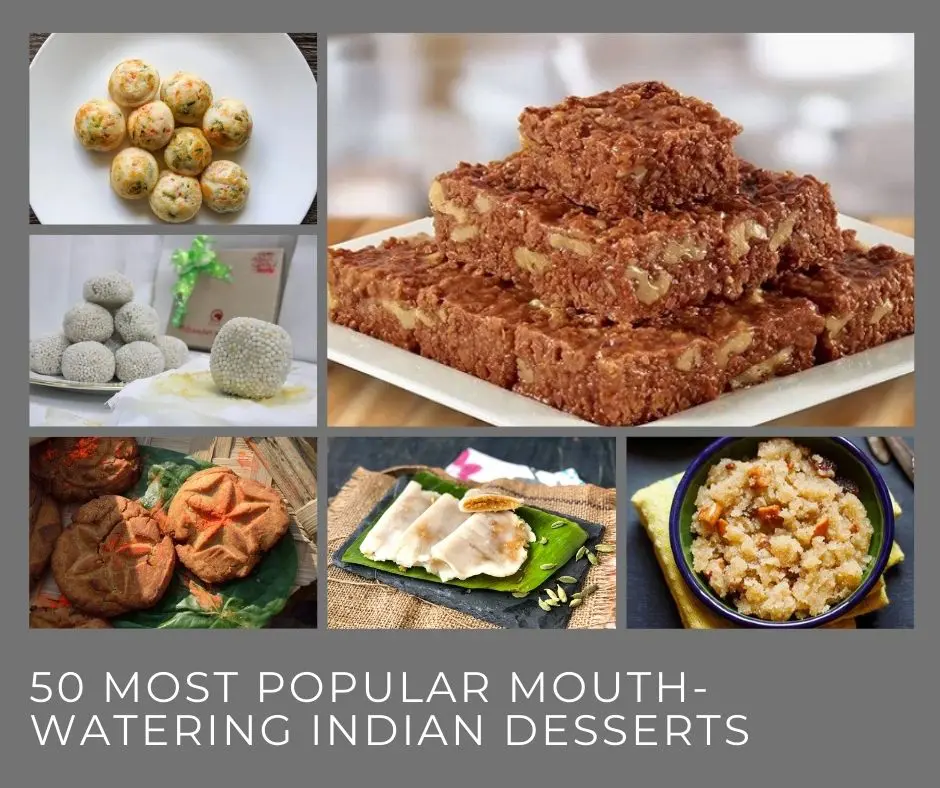 Related: 25 Delicious Indian Side Dishes