20 Tasty Indian Street Foods You Need to Try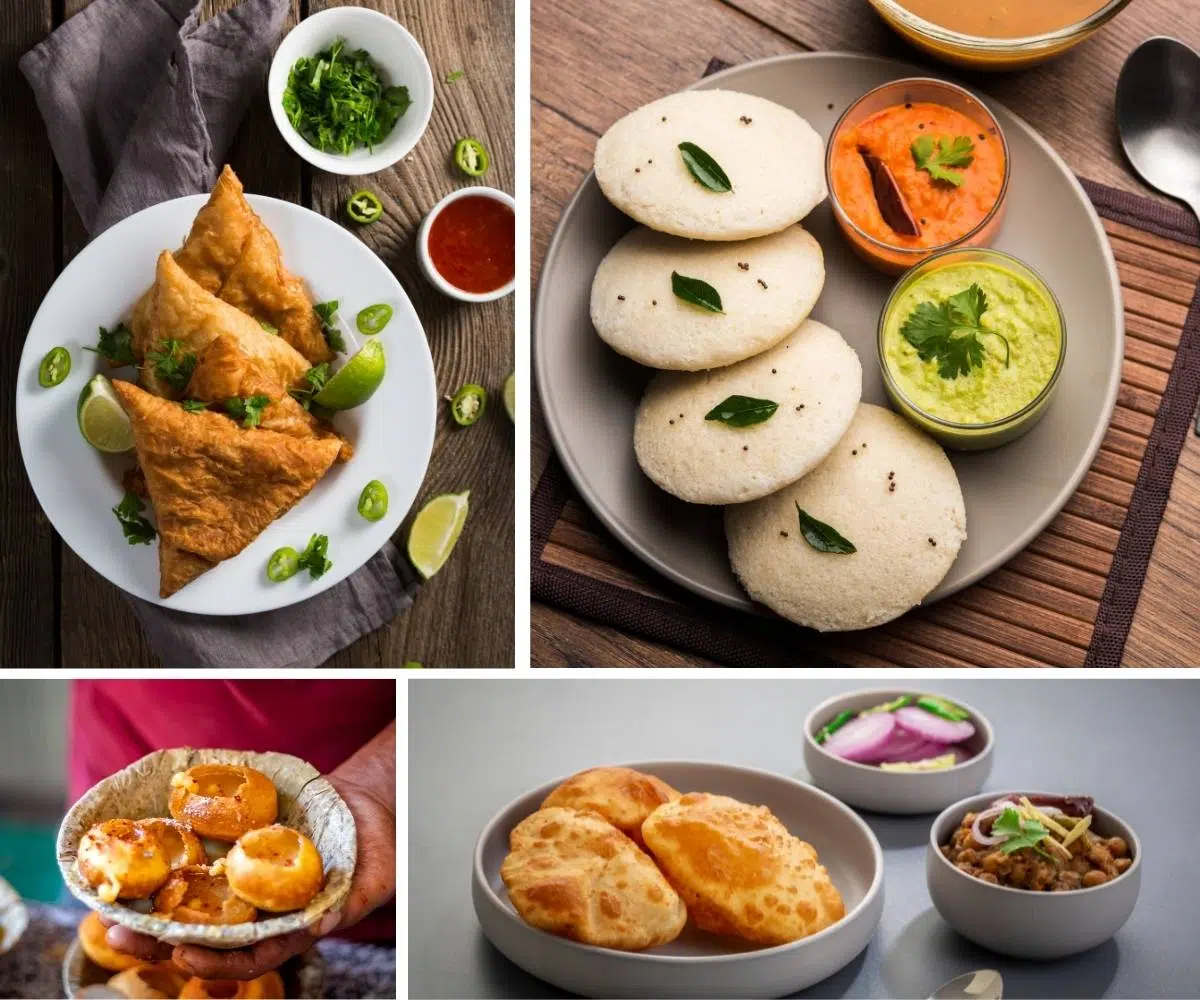 Considered one of the most colorful of all global cuisines, Indian street food is the physical incarnation of this diverse and bustling society. With a range of flavors from sweet to salty-sour and piquant, Indian street hawkers have made a reputable name for themselves in the culinary world as some of the most famous finding their way to different parts of the world.
While most mainstream restaurants follow a fixed work hour schedule, the street vendors fill in the gaps by providing food around the clock, whether steaming hot idlis or samosas early in the morning, or late-night masala chai or a Katti roll to satiate your post-pub crawl hunger.
Each state in the country is a microcosm of their own varied culture and practices, hence the variations of many famous dishes that take a whole new avatar as they cross state boundaries, making them beautifully concocted dishes which are sure to leave you coming back for more.
Let's hit the streets and explore some of the oldest cities in this amazing country and the tantalizing fare they have to offer. Without further adieu, we present 20 of the most famous Indian street food delicacies to grace our taste buds.
1. Bhel Puri
One of the most famous chaats or roadside snacks, most Indians will have childhood memories of munching on this savory puffed rice salad of grated carrot, cucumber, sweet corn, and bujiya sev (deep-fried gram flour vermicelli). It is seasoned with a generous helping of lime juice, black salt, chat masala, dry mango powder, and chili powder.
Some places also add a sweet and tangy tamarind sauce and a green herby and spicy green chili and coriander sauce to the mix. Some regions also combine toasted peanuts into the mix to add a bit of crunch.
The entire dish is combined in a salad bowl and then served in a cone of newspaper or magazine pages.
Originating on the beaches of Mumbai, especially Chowpatty beach, the dish has since gone global, reaching acclaim as the Canadian poutine bowl. But in reality, it is very similar to the green papaya salad from Thailand.
Contemporary renditions of this humble dish have found their way to Michelin-starred restaurants where chefs have reimagined the dish. One of the most famous recreations is a puffed rice cake seasoned with the traditional bhel mix of spices, topped with a fresh salad consisting of carrots, cucumber, purple cabbage, sweet corn, and pomegranate pearls.
2. Aloo Tikki
A crispy outer layer shallow fried to perfection, a moist soft and savory inner filling with hints of sourness from lime and dry mango, heat from green chilis, and the perfect amount of acidity from red onions.
They are stuffed with boiled and mashed chickpeas, green/yellow peas, and even paneer or cheese. This desi cutlet or patty made from mashed potatoes can be found across the Indian subcontinent.
Pakistan and Bangladesh have their own versions and in certain areas in India, chaat is prepared in a similar fashion to that of a samosa or kachori chaat with the tikki or cutlet being the highlight of the dish.
Curd or yoghurt may also be added to give the cutlet an inherent richness from the protein, modern versions even add soya granules to the cutlet to provide a varied texture. Cheese seems to be one additive that has become a staple in this humble recipe making it a favourite amongst kids and adults alike.
Bread crumbs or Rava or semolina may be used to give the patty a crispy outer layer, at times starch or breach may be added as a binging agent to hold everything together.
No Mumbaiker's day is complete without sinking their tastebuds into one of the many famous vada pavs across the city; a quintessential monsoon snack, it is also called the Mumbai burger.
A hot steamy potato fritter is gently placed between a sliced, buttered, and toasted pav or piece of bread topped with a deep-fried green chili and accompanied with two or more sauces. Typically one sweet and sour tamarind sauce and one herby spicy coriander, mint and chili chutney.
The dish originated as a carb-rich dish for workers in the cotton mills, laboring for long hours with only a few minutes to grab a snack. Dadar railway station and the stores surrounding it are rumored to be the birthplace of this infamous dish, with the Kidki Vada Pav in Kalyan being the oldest vada pav store in the city.
Today, one vada pav costs 50 cents, making it one of the most affordable dishes on our list of the most famous Indian street food delicacies.
4. Thatte Idli
Idlis are traditional steamed rice and lentil cakes that come in all shapes and sizes. A typical breakfast dish, it has evolved over time to suit the needs of the working class and transformed itself into an all-day delicacy served up in various ways to cater to the many needs of the common worker.
The traditional idli is an oval-shaped steamed rice cake accompanied by a spicy sambar and herby coconut chutney.
The variety in focus here is the famed thatte idli, originating in the southern state of Karnataka. This version is flat, wide, and almost the size of two regular idlis.
In terms of texture, it is more homogenous and has a spongy feel to it in contrast to the coarser regular idlis you can find.
Usually eaten as an evening snack, it can be found on the streets accompanied by a spicy peanut chutney. Some of the older establishments also serve a spicy dry lentil chutney powder with a dash of desi ghee.
5. Bombay Sandwich
This humble vegetarian sandwich has made inroads into various cities across the country owing to the simple recipe which has a wide appeal across all audiences in the nation.
This is a simple combination of toasted white bread smeared with butter and green mint-coriander chutney, stuffed with a medley of sliced vegetables including onions, cucumber, carrots, capsicum, and tomatoes and layered with a mix of mashed potatoes seasoned with cumin, fennel, black pepper cinnamon, chaat masala.
Usually made with three slices of bread, the mashed potato filling makes it a mini-meal. It is perfect to take on the road or to school, making it a hit with kids. Some recipes also include mayonnaise and cheese, others preferring sweet corn and spinach.
This popular sandwich usually costs less than a dollar and is a bang for your buck, so the next time you visit this beautiful, city don't forget to try this iconic sandwich.
6. Litti Chokha
A famous street-side delicacy originally from the states of Uttar Pradesh, this has become famous in Bihar and Madhya Pradesh too. This snack is usually a meal by itself and is relished across the northern and central parts of the country.
Litti refers to a kind of unleavened bread, made with whole wheat flour and roasted gram flour, baked over a wood fire.
This is usually served with chokha, comprising ,roasted or grilled eggplant mashed with a spicy tomato mix; mashed and spiced potatoes are a common side dish as well. This vegetable mash is seasoned with onion, garlic, ginger, cilantro, lime juice, carom seeds, nigella seeds, and salt.
Pickles and other spicy relishes are also served as an accompaniment, and sometimes thick yogurt is an add-on option. Certain parts of the country also pair it with a chicken korma, made with onions and tomatoes.
7. Chole Bhature
There are debates over the origins of this dish with Delhi and Punjab at loggerheads claiming the rights to this mouthwatering delicacy commonly found in the north of the country.
This dish usually consists of a spicy and thick white chickpea curry paired with steaming hot deep-fried wheat puris.
The puris or bhature is thin wheat bread that is deep-fried in oil giving it a soft center and a crispy exterior. The channa or chole masala is a deep red curry made with a base of stewed tomatoes seasoned with cilantro, chili and turmeric powder with a dose of spicy garam masala.
This is another common breakfast dish but is also served as an evening snack. Coriander and mint chutney, spicy pickles, pickled onions, and carrots are usually served along with it.
8. Paddu/Kuzhi Paniyaram
Evolving as a means to use leftover idli or dosa batter, this dish came into its own and is widely consumed both up north and down south.
Made with a batter of black lentils and rice similar to that of dosa, this dish is made by pouring the batter into a cast iron pan with circular indentations. Usually served along with coconut chutney, it is not very spicy and is packed with flavor. In size, they range from an inch to 3 inches in diameter.
The batter may be mixed with onions, chilis and cilantro along with a few seasonings to make a savory variety. The sweeter variant is made with mashed bananas, or jackfruit stewed in jaggery and cardamom and mixed with the rice batter.
Originating as an evening snack, today multiple versions have evolved, making it one of the most loved street food dishes in the county.
9. Calcutta Kathi Rolls
Originating in Kolkatta, the city of dreams, this dish has now made its way to all parts of the country, embracing each culture along the way and absorbing their influences.
On any given day in any city in the country, you can rest assured that small kiosks are selling a variety of rolls, ranging from veg to cheese to chicken. Double egg and double chicken are also common.
The dish comprises a refined flour paratha base, cooked over a flat tava with copious amounts of oil or butter, before an egg is cracked on top and it is filled with toppings of choice. It is then rolled into one thick, juicy, flavorful meal.
Breakfast burritos watch out! Many newer outlets have started making quirky combinations including a sweet version filled with peanut butter and jam.
10. Paya: Goat Trotter Soup
A thick silky savory soup or stew made with fresh goat trotters. It has an earthy, meaty flavor and is usually paired with naan bread. Best consumed piping hot, it is perfect on cold winter mornings.
The high levels of collagen found in the connective tissues of the trotter are the key to this dish. Simmered over a low flame for a ling time breaks the collagen down into gelatin, giving the soup a silky, smooth texture.
Apart from being highly nutritious, the soup is known to have medicinal benefits ranging from improving your overall immunity to relieving joint pain and promoting healthy skin and hair.
Down south it may be paired with dosas or appams, up north it's usually eaten with bread or naan. Cumin, cilantro, black pepper, mace, cinnamon, and nutmeg are some of the spices added to this flavorful soup.
11. Raj Kachori
Kachori is a deep-fried snack made with a pastry dough similar to that of a samosa but filled with moong dal. This version is a thinner and lighter kachori, with a delicate outer layer that is broken and stuffed with a mix of mashed potatoes, stewed yellow peas, freshly chopped onions, carrots, and cilantro.
This is then topped with a spicy green mint-coriander chutney and a sweet and tangy tamarind-jaggery chutney. Freshly whipped yogurt is then layered and topped with bujiya sev. Pomegranate pearls and savory boondi are added as a garnish.
You can find this delicacy in most chaat shops dotted across the various cities in North and South India.
12. Halwa Poori
Let's take a break from the array of savory snacks and look at those that satisfy a sweet tooth. Poori here is a deep-fried flatbread, accompanied by a halwa made of semolina cooked in milk along with sugar and dry fruits such as raisins and nuts like cashews and almonds.
This halwa is topped with generous amounts of ghee, giving it a smooth, silky, and sweet flavor. Hot pooris paired with warm halwa are a great way to spend the evening, pair it with a cup of masala chai and you will definitely come back for more.
This dish is found commonly across North India and Pakistan too. Certain regions swap the semolina with broken wheat for the halwa.
13. Tunde Kabab
A famous recipe that was given to us from the royal kitchens of the Nawab of Avadh from Lucknow, this dish is fabled to include almost 160 spices. This kebab, unlike the traditional tikka kebab, is made with boneless lamb or buffalo.
Legend has it that the Nawab held a competition in his kingdom to find the softest kebab. A fabled one-handed chef concocted the recipe by blending minced goat meat with yogurt, garam masala, grated ginger, crushed garlic, ground cardamom, powdered cloves, melted ghee, dried mint, small onions cut into rings, vinegar, saffron, rose water, sugar, and lime.
These spices, along with a blend of botanicals and aphrodisiacs, won the Nawab over and this kebab became legendary across India. The combination of minced meat and yogurt creates a melt-in-your-mouth texture, unlike anything you've ever tasted before.
The mini kebabs are pan-fried and can be eaten as is or with a side of pickled onions and lime.
14. Kheema Samosa
Yes, we've all tried the famous aloo or potato samosa commonly found across India and other parts of the world. But have you ever tried a samosa filled to the brim with a savory and tantalizing mix of minced chicken, lamb, or beef.
This is a common sight during the holy month of Ramadan, and you can find hawkers making them fresh just before sunset to feed the many believers breaking their fast. Some variants are mild in flavor and have onions and garlic along with the mice, while others have nuts and dry fruits blended in as well.
But my personal favourite would be the one stuffed with a rich and tangy tomato-based kheema masala. Perfect when paired with a herby and zesty mint-coriander chutney.
Some vendors also prepare a bite-sized variety that you can munch on as you wander around.
15. Sundal
A protein-packed vegan delicacy from the southern state of Tamil Nadu, this can be found across South India, especially along its many beaches, served as a steamy hot snack in a paper cone.
White chickpeas are boiled till cooked, before being tossed in a tempering made with onions, mustard seeds, curry leaves, grated coconut, green chilis, salt and asafoetida.
A simple and tasty snack, top it with some freshly squeezed lime juice and enjoy. The freshly grated coconut provides a contrasting sweetness to the savory tempering used to season the chickpeas.
16. Bonda Soup
As simple as the name sounds, bonda soup is a combination of a deep-fried potato and gram flour fritter, topped with a spicy and tangy vegetable soup. Famous in the southern state of Karnataka, this is a very regional dish and can't be found in other states.
The fritters are made of mashed potatoes seasoned with turmeric, salt, chili and cilantro. The mashed potatoes are then coated in a gram four batter ad deep-fried. This is a simple lentil soup made with seasonal vegetables. It is slightly thick and poured over the hot and crispy bonda.
It can be accompanied by some coconut chutney, though as an evening snack it is usually consumed along with a cup of coffee.
17. Mushroom Manchurian
Although this sounds like a traditional Chinese dish, it's a fusion inspired by the ex-pat Chinese community in Kolkata. This street-side delicacy has even found its way onto fine dining menus across the country and is a go-to for most vegetarians looking for a quick and failsafe appetizer.
Button mushrooms are coated in spicy corn flour and refined flour batter before being deep-fried till crispy. They are then tossed in a semi-liquid sauce made with onions, bell peppers, green chilis, garlic, chili, tomato, and soy sauce, and seasoned with pepper and msg. It is topped with freshly chopped spring onion.
Perfect for those rainy days, most places serve it on a paper plate with a toothpick for eating it.
18. Pani Puri/Gol Gappay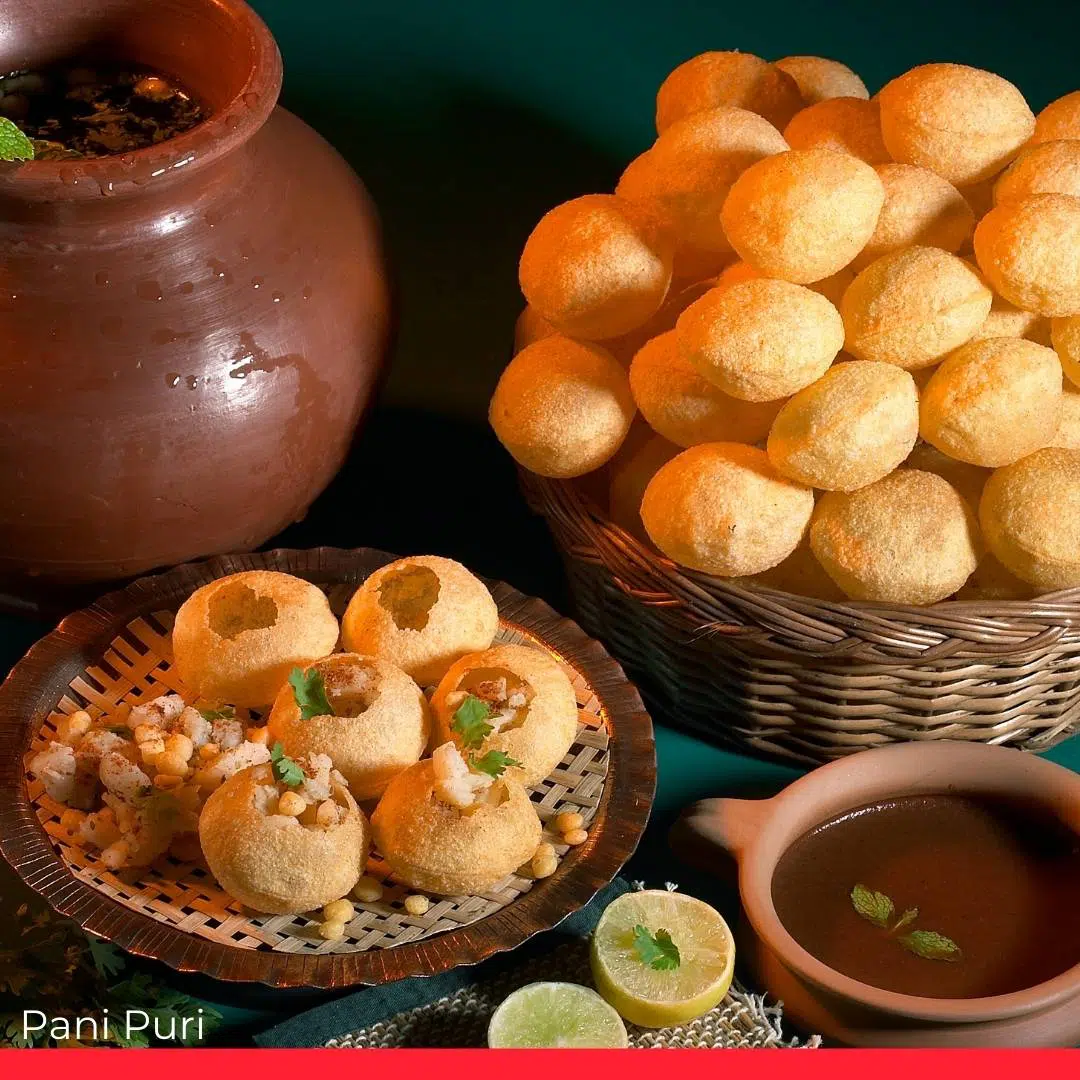 Deep-fried puchkas or mini hollow pooris are filled with a mix of yellow peas, mashed potatoes, spicy coriander-mint chutney, chopped onions, and chopped cilantro and dunked in a refreshing cool mix of jeera and chili-infused water; tamarind is also added to give a tangy after taste.
These Pani Puri stalls can be found all across the country with many arguing that it might be the single most famous street food dish in India. Originating from the city of Mumbai this dish has won global acclaim and can be found on many menus across the world in various avatars.
My personal favourite is the butter chicken puchka, which has you pairing the puchkas with butter chicken gravy and shredded tandoori chicken tikka inside. For less than 25 cents a serving it's one of the most affordable snacks on the street.
If you've never had it before, please get some local advice to find a good vendor.
19. Momos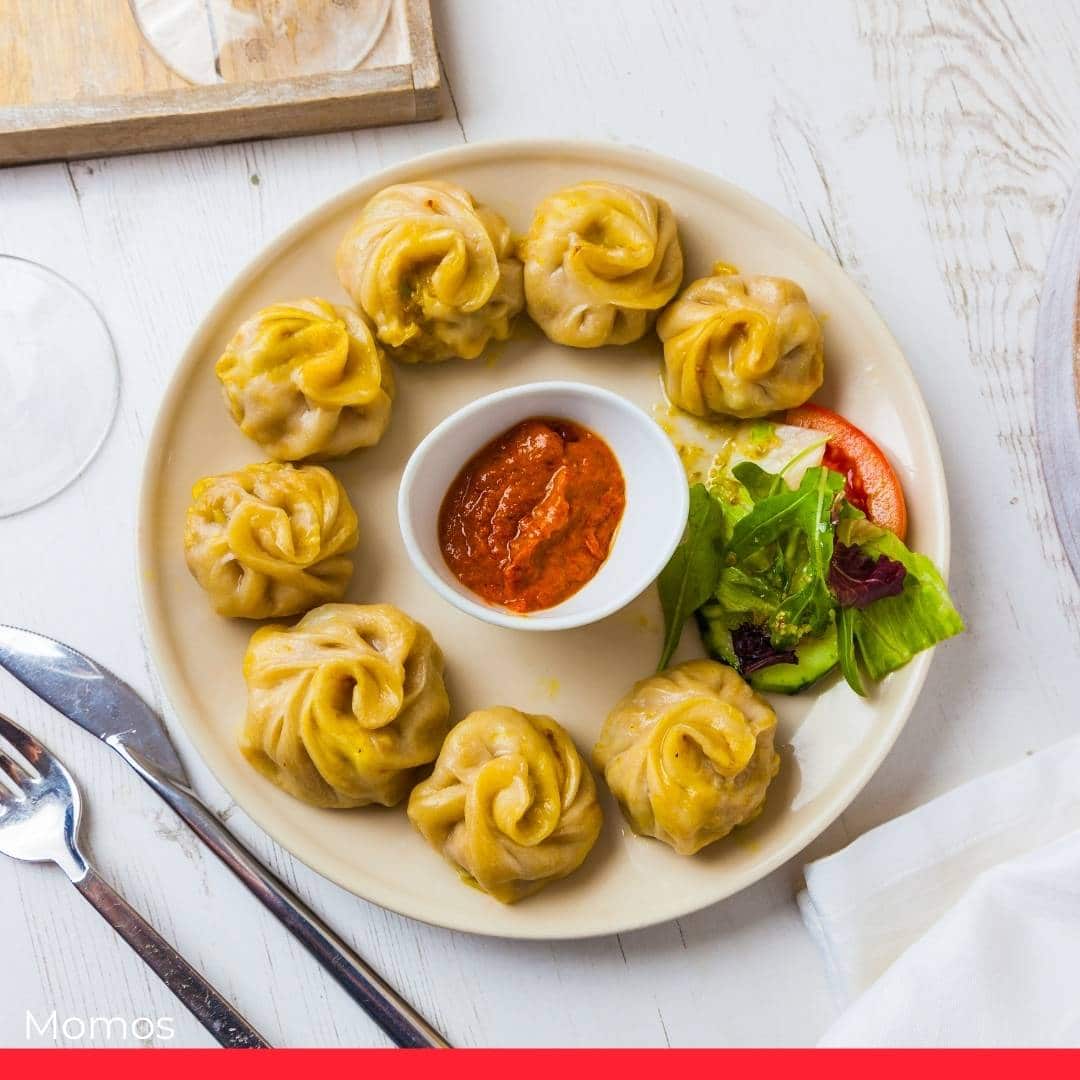 Oriental-style dumplings either steamed or deep fried can be found all across the country. Originating in the north-eastern regions, it has made its way into the hearts and minds of the people of India and is considered as popular as chaat.
These dumplings are usually made with a refined flour outer covering filled with a medley of vegetables seasoned with white pepper, salt, chili, and soya sauce.
Some variants also offer combinations such as corn and cheese, chicken, and even seafood and pork being easily available. But most street-side vendors serve either a veg variant or a chicken variant.
Served with a spicy achar or chutney, it is also enjoyed with a side of sriracha mayo as well.
20. Palam Puri
A crispy sweet and moist fritter made with rice flour and ripened bananas, this is a go-to snack in the southern states and originates from the state of Kerala. Here, bananas are plentiful and the wonderful, innovative people down there have created a multitude of ways of combing rice and other ingredients.
This simple yet delicious snack is usually enjoyed with a hot and large cup of tea. It is made by splitting the banana lengthwise before dunking it into a batter made with rice flour and turmeric and sugar. The banana fritter is then deep fried till crispy on the outside and soft and moist on the inside.
Coconut oil is usually used down south, which adds a totally new dimension to the entire dish, elevating it to the next level.
---
Related: Most Famous 50 Indian Foods
Related: Most Popular Indian Desserts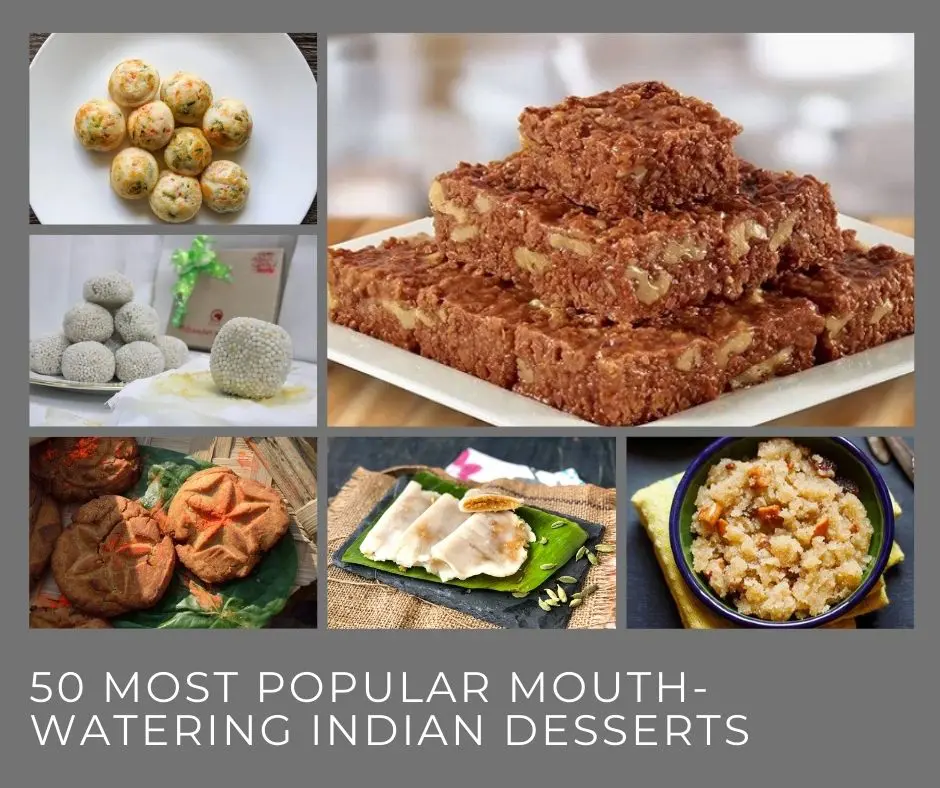 Related: 25 Famous Indian Snacks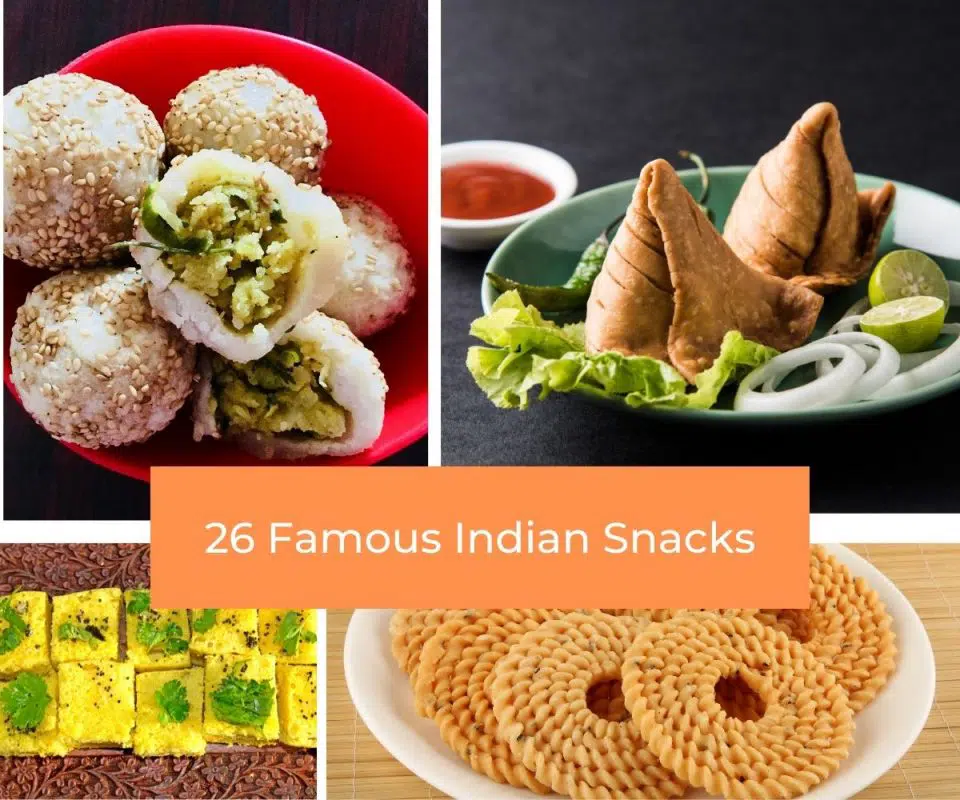 Related: Most Popular Indian Curries