Authentic Kashmiri Mutton Rogan Josh (Kashmiri Lamb Curry)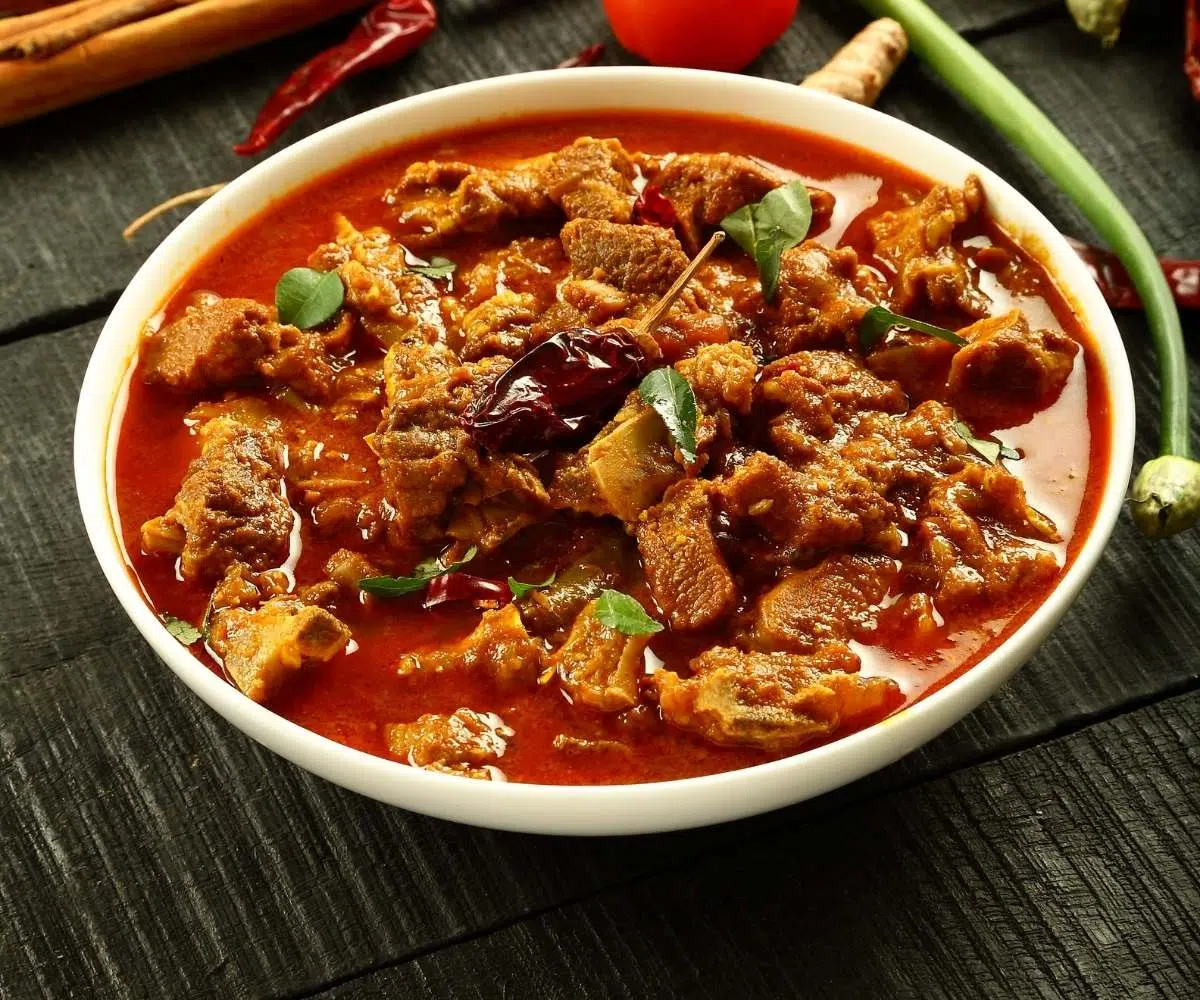 Rogan Josh or Mutton Rogan Josh is a mouth-watering traditional lamb curry recipe with origins in Persia and also popular in Kashmir. It is prepared using a slow cooking method with a variety of aromatic spices.
This famous Indian dish has a fiery red color and a creamy texture. Kashmiri pandits use ratan jot or alkanet root to attain the signature red colour.
While biryani and haleem are popular Indian recipes, Rogan Josh follows close behind. Soft and tender mutton pieces cooked in rich gravy and served with Naan can make your lunch or dinner full of bliss. Enjoy the traditional recipe below.
Authentic Kashmiri Mutton Rogan Josh (Kashmiri Lamb Curry)
Ingredients
Ingredients for marinade
800

g

Mutton

1/2 tsp

tbsp

Cinnamon 

grounded

1/2

tbsp

Green cardamom

crushed

1/2

tbsp

Black cardamoms

1/4

Cloves

grounded

1/2

tbsp

Black peppercorn

grounded

1/2

tbsp

Fennel seeds

grounded

1/2

tbsp

Kashmiri chillies

grounded
Ingredients for Rogan Josh
1/2

cup

Ghee

or Mustard oil

1

inch

Cinnamon stick

3

Fennel powder

3

Whole black cardamoms

5

Whole green cardamoms

6

Cloves

1

tbsp

Black Peppercorns

1

tbsp

Fennel seeds

1/2

tbsp

Asafoetida

1.5

tbsp

Dry Ginger powder

Salt to taste

2

tbsp

Kashmiri chillies

grounded

3

Whole dry red chillies

Ratan jot infused in hot oil

2

cups

Yoghurt

beaten
Instructions
Dry roast the whole spices in a heavy bottomed pan or a cast iron skillet over a low heat, until they release their essential oils. Grind them using a coffee grinder. Marinate the mutton pieces with the ground spice mix overnight or for around 4-6 hours in a refrigerator covered with a lid.

Put the ghee in a heavy bottomed pan, and heat it on medium to high until it starts to smoke.

Reduce the heat and add the cinnamon and black and green cardamoms followed by the cloves and peppercorns. Sauté them in the ghee, making sure they don't burn.

Add the fennel seeds followed by the marinated meat and turn the meat so it is coated evenly with the oil.

Cook until the meat slowly changes colour, becoming a light brown.

Add the asafoetida at this point followed by the ground ginger, covering the meat, and cook for another minute.

Next, add the red Kashmiri chilis followed by the rattan jot root and water.

Mix well, coating the meat thoroughly. Finally, fold in the yoghurt till it coats the meat. Add salt to taste.

Cover the pan and cook on a low flame for about one and a half hours or until the meat is cooked and the rogan (red oil) comes to the surface, rendering the finished curry with a glossy red look.

Add a little hot water occasionally and cook until the meat is done.

Serve sprinkled with coriander leaves, naan, and rice.
Notes
If you don't have ghee available in your home, check out these great ghee substitutes.
Related: 20 Famous Indian Sauces and Chutneys
Related: Authentic Kashmiri Mutton Rogan Josh (Kashmiri Lamb Curry)
Related: Nepalese Goat Curry
Related: Mangalorean Chicken Curry (Kori Gassi)
Related: Indian Goat Curry