30 Popular South Indian Foods and Desserts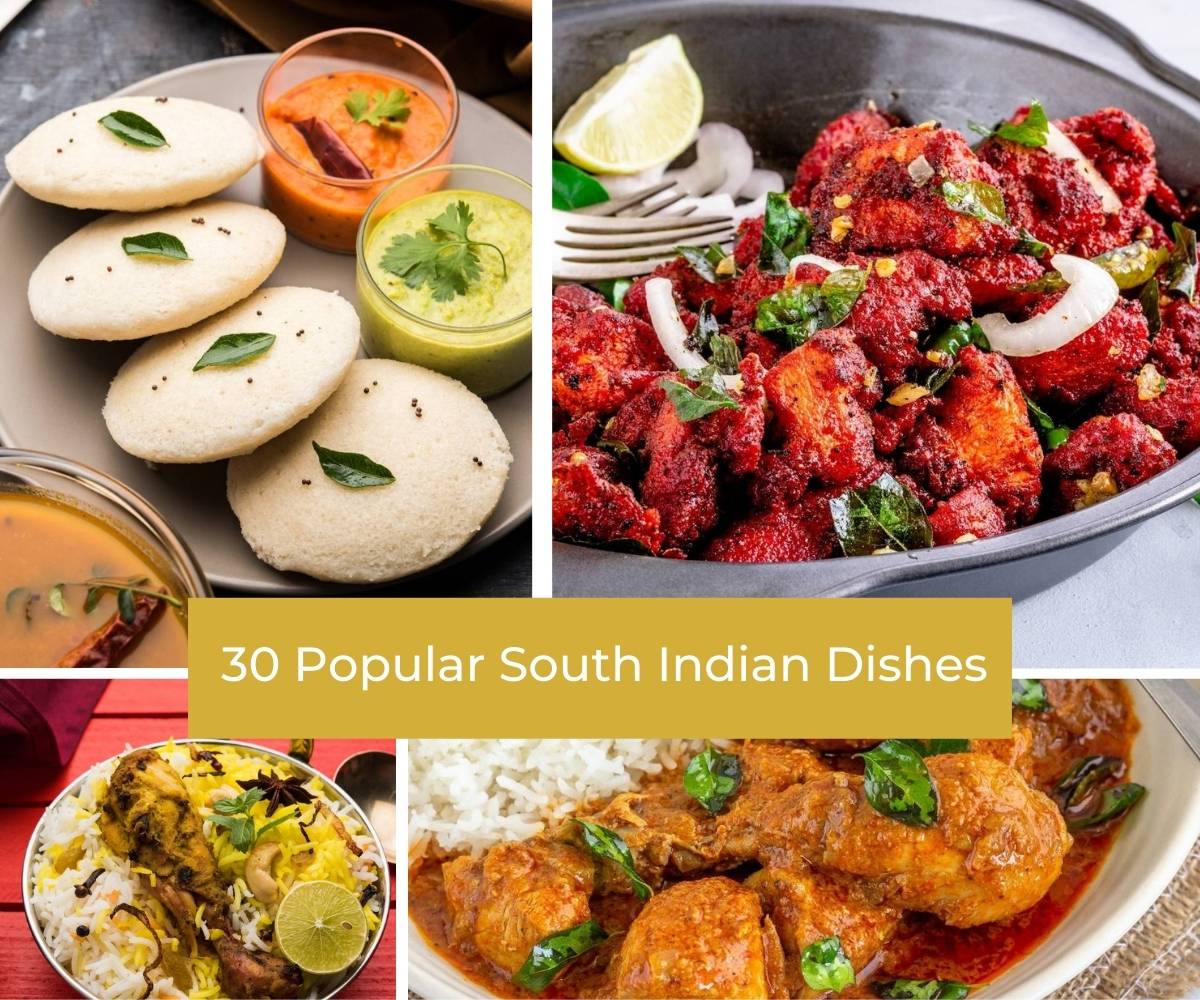 South Indian cuisine usually encompasses the five Southern states of Karnataka, Andhra Pradesh-Telangana, Tamil Nadu, Kerala, and Goa. Both the geography and culture of the South influence the region's cuisine. As with most countries, there are large regional differences and each state's cuisine can vary greatly even within a specific state.
There are typically vegetarian and non-vegetarian dishes for all five states. Additionally, all regions have typical main dishes, snacks, light meals, desserts, and drinks that are well-known in their respective region.
South India has a hot, humid climate and all its states are coastal. Rainfall is abundant and so is the supply of fresh fruit, vegetables, and rice. Andhra Pradesh produces fiery Andhra cuisine which is largely vegetarian yet has a huge range of seafood in its coastal areas. Tamil Nadu has Chettinad cuisine, perhaps the fieriest of all Indian food. This style, too, is largely vegetarian.
From Kerala comes Malabari cooking, with its repertoire of tasty seafood dishes. Hyderabad is the home of the Nizams (rulers of Hyderabad), and regal Nizami food is rich and flavorful with tastes ranging from spicy to sour to sweet. Hyderabadi food is full of nuts, dried fruits, and expensive spices like saffron.
Style of Food
By and large, South Indian cuisine is perhaps the hottest of all Indian food. Meals are centered around rice or rice-based dishes. Rice is combined with sambar (a soup-like lentil dish tempered with whole spices and chilies) and rasam (a hot-sour soup-like lentil dish), dry and curried vegetables, meat dishes, and a host of coconut-based chutneys and poppadums (deep-fried crispy lentil pancakes).
South Indians are great lovers of coffee, which is usually a special type made with chicory.
Staple South Indian Foods
No South Indian meal is complete without rice in some form or other. It's either boiled rice or idlis (steamed cakes made from rice batter), dosas, or uttapams (pancakes made from a batter of rice and lentil flour). Daals (lentils) are also a part of most meals.
Important South Indian Spices and Ingredients
Typically, Southern Indian food will feature curry leaves, mustard, asafetida, pepper and peppercorns, tamarind, chilies, and fenugreek seeds. Huli pudi (also known as sambar powder) is also used to spice and flavor dishes.
Let's round up the most popular 30 South Indian foods.
1. Dosa
Rice and wheat are the top two grains consumed by Indians, with rice topping the list. Indians have taken this humble grain and transformed it into a plethora of sweet and savory dishes unlike any other culture in the world. The humble dosa is an ode to the never-ending love between the people of this country and rice.
Dosa is the ever-popular South Indian breakfast of crispy crepes made with fermented rice and lentil batter. It
is usually poured into a thin crispy crepe and served with a side of mashed spiced potatoes, lentil stew called sambar, and coconut chutney.
2. Idli – Idly
Idli or idly is a type of savory rice cake, originating from the Indian subcontinent, popular as a breakfast food in Southern India and in Sri Lanka. The cakes are made by steaming a batter consisting of fermented black lentils and rice.
Traditionally, each region has its own version, and it is usually served with sambar (spiced lentil stew) and coconut
chutney. Some of the new contemporary variations are button idli, tatte idli, sanna idli, rava idli, and masala idli.
3. Vada
Vada is a category of savory fried snacks from India. Different types of vadas can be described as fritters, cutlets, donuts, or dumplings. Alternative names for this food include wada, vade, vadai, wadeh, and bara.
Vadas are legume based. The legumes (dal) are soaked in water and then ground to a batter. The batter is then seasoned with other ingredients, such as cumin seeds, onion, curry leaves (sometimes previously sautéed), salt, chilies, or black pepper grains.
Often ginger and baking soda are added to the seasoning in shops to increase the fluffy texture and improve fermentation for large batches. The mixture is then shaped and deep-fried, resulting in vadas with crispy skin and a fluffy center. They are usually referred to as the savory donuts of the south.
4. Appam
Appam is a type of pancake, originating from South India, made with fermented rice batter and coconut milk, common in Kerala, Sri Lanka, and Tamil Nadu. It is most frequently eaten for breakfast or dinner. Plain appam or vella appam are bowl-shaped thin pancakes made from fermented rice flour.
They derive their shape from the small appachatti (appam-pan) in which they are cooked. They are very tasty, neither too sweet nor too savory, and the following currys are served with them; Kerala-style mutton stew, Kerala-style chickpea curry, Kerala-style chicken curry, and others. These pancakes are made from a batter using rice, yeast, salt, and a little sugar. After the mixture has stood for a couple of hours, it can be cooked in the appachatti with a little coconut oil.
5. Puttu
Puttu is a breakfast dish eaten in the South Indian states of Kerala, Tamil Nadu, and parts of Karnataka, as well as in Sri Lanka. Puttu means "portioned" in Tamil and Malayalam. It is a dish made of steamed cylinders of ground rice layered with coconut shavings, sometimes with a sweet or savory filling. Puttu is served hot with sweet side dishes such as palm sugar or banana, or with curries including dal, chickpea, mutton, fish, chicken, or beef curry.
Puttu principally consists of coarsely ground rice, grated coconut, a little salt, and water. It is often spiced with cumin but may have other spices. The Sri Lankan variant is usually made with wheat flour or red rice flour without cumin, whereas the Bhatkal recipes have plain coconut or masala variants made with mutton or shrimp-flavored grated coconut.
In Bangladesh, the outside is made of a mixture of rice flour and ground moong dal, while the filling is a mixture of coconut flakes and a type of caramelized sugar that is similar to dulce de leche.
6. Pongal
Pongal, or huggi, is a popular South Indian rice dish. In Tamil "pongal" means "to boil" or "bubbling up". In Telugu and Kannada, pongali is a dish of rice mixed with boiled milk and sugar. Huggi is derived from the Old Kannada word Puggi meaning "bubbled up or ballooned".
The two varieties of pongal are chakarai pongal, which is sweet, and venn pongal, which is made from clarified butter. The word pongal generally refers to spicy venn pongal and is a common breakfast food. Chakarai pongal is made during the Pongal festival.
Chakarai pongal or chakkara pongali (transl. sweet pongal) is generally prepared in temples as a prasadam, (an offering made to a deity). This type of pongal is made during the Pongal festival in Tamil Nadu and during the Sankranthi festival in Andhra Pradesh. Ingredients can include rice, coconut, and mung bean. Chakarai Pongal is often sweetened with jaggery, which gives pongal a brown color, though it can be sweetened with white sugar instead.
7. Malabar Parota
Parotta or Porotta (Parathas) is a subcontinental layered flatbread made from maida or atta, alternatively known as a flaky ribbon pancake. It is very common in Kerala and Tamil Nadu and is widely available in other states like Karnataka, Maharashtra, and countries like Malaysia, the United Arab Emirates, and Sri Lanka.
Porottas are often available as street food and in restaurants across Kozhikode, Kerala, Tamil Nadu, Karnataka, Andhra Pradesh, and Telangana. In some places, it is also served at weddings, religious festivals, and feasts.
It is prepared by kneading maida/wheat flour, egg (in some recipes), oil or ghee, and water. The dough is stretched into thin layers and laminated with oil, similar to puff pastry. This dough is then folded and rolled into a round shape, preserving the laminated layers. When cooked on a hot griddle, these layers turn flaky and crispy on the outside and soft and moist on the inside.
Porottas/Parathas are commonly eaten with vegetable kurma/korma, chicken, fish, mutton, or beef curry. They are also served stuffed with vegetables such as potatoes or radish, which are then eaten with yogurt or raita. Chilli parotta and kothu parotta are prepared using parottas.
8. Pesarattu
Pesarattu, pesara attu, pesara dosa (mung bean dosa), or cheeldo is crepe-like bread, originating in Andhra Pradesh, India, that is similar to dosa. It is made with green gram (moong dal) batter, but, unlike dosa, it does not contain urad dal. Pesarattu is eaten as breakfast and as a snack in Andhra Pradesh.
It is typically served with ginger or tamarind chutney. Green chilies, ginger, and onions are used in other variants.
A pesarattu served with upma is known as a pesarattupma. It is popular in South Indian cities. Pesarattupma is a favorite in the coastal Andhra region, especially in the Godavari districts, Krishna district, Guntur district, Nellore district, and Vishakapatnam district.
9. Coconut Rice
Coconut rice is a dish prepared by soaking white rice in coconut milk or cooking rice with coconut flakes. As both coconut and the rice-plant are commonly found in the tropics all around the world, coconut rice, too, is found in many cultures throughout the world, spanning across the equator from the Indian subcontinent, Southeast Asia, South America, Central America, East Africa, West Africa, the Caribbean, and Oceania.
In India, coconut rice is famous in the southern regions. Coconut rice is usually made from short-grain rice with mild coconut flavors acquired from coconut milk and is commonly served with curries. It can also be made with coconut flakes (or grated or desiccated/dry coconut).
One way to make this dish is to make the rice separately (preferably using a rice variety that is light and fluffy when cooked) and then mix it with the coconut mixture (coconut flakes toasted in sesame/coconut oil and spiced with paprika, nuts, curry powder/leaves, and other spices).
10. Sambar
According to food historian K.T. Achaya, the earliest extant mention of sambar in literature can be dated to the 17th century. The word sambar stems from the Tamil word champaaram. A Tamil inscription from 1530 CE shows evidence of the use of the word champaaram, in the sense of meaning a dish of rice accompanying other rice dishes, or spice ingredients with which a dish of vegetable rice is cooked.
It is a lentil-based curry, cooked with summer vegetables such as carrots, beans, gourds, potatoes, drumsticks, and many other seasonal vegetables.
Each south Indian state has its own sambar and takes pride in the diverse variety available in the country. It can be consumed as an accompaniment for all three meals of the day, making it one of the most versatile curries out there.
11. Beans carrot Poriyal/Thoran
Poriyal/Thoran usually refers to a south-Indian-styled vegetable stir fry that is usually tempered with curry leaf, red chili, mustard, and lentils. In this case, it refers to the familiar combination down in southern India, which includes fresh carrots and tender beans, stir-fried and tossed in freshly grated coconut with a curry leaf, mustard, and red chili tempering.
A staple in many south Indian homes, this dish can be eaten with rice, chapati, poori, and parottas.
12. Patrode
Patrode/Patrodo/Patra/Patrodu is originally a vegetarian dish from the Western coast (Tulunad), India. Adaptations can be found in the Himachal Pradesh region, Uttar Pradesh, and Bihar, where it is called rikvach, and in other regions of India under different names. For example, it is known as patrodé in the Tulunad region, patra in Gujarat, chembila appam in Kerala, patrodo in Maharashtra (especially in Malvan) and Goa, patrode in coastal Karnataka, and patrodu in Himachal Pradesh. Patra in Sanskrit and its derivative languages means leaf and vade/vado means dumpling.
It is made from colocasia leaves (chevu in Tulu, taro, kesuve or arbi) stuffed with gram or rice flour and flavorings such as spices, tamarind, and jaggery (raw sugar).
In July 2021, it was recognized as a traditional food recipe by the Union Ministry of the AYUSH system of medicine. According to the Ministry of AYUSH, "iron-rich colocasia leaves help in improving the hemoglobin level. The leaves contain phenols, tannins, flavonoids, glycosides and sterols, which help in reducing chronic inflammation such as rheumatoid arthritis. The leaves have significant amounts of vitamin C and beta carotene."
13. Palkatti Chettinadu
The paal-katti chettinad curry recipe is a paneer gravy recipe made in a Tamil Nadu-Chettinad style. It is a recipe that originated from the traditional chettinad-style curry. Bursting with flavor, this dish is a must-try. Serve along with chapathis for your next meal.
The authentic chettinad masala is prepared by roasting a blend of spices and blending it into a smooth paste and then adding it into a sautéed pearl onion and tomato mix to give it a rich and spicy flavor. The paneer is just simmered into the curry. Paal-katti is a Tamil word that refers to the process of how a cottage cheese or paneer is made. It literally means "milk that is held".
14. Chicken Ishtu
Kerala-style chicken stew is a very mild yet flavorful chicken curry that is cooked in coconut milk with mild spices and is a traditional recipe from the state of Kerala in India. It is usually a dish made in the Syrian Catholic community in Kerala and is eaten as a breakfast staple paired along with rice hoppers (pancakes).
Cardamom, cinnamon, and cloves are paired together to bring out a sweet yet aromatic flavor. Potatoes, beans, and carrots are the vegetables of choice here, adding body and varied texture to the overall dish.
Also fondly known as nadan chicken ishtu and is traditionally made using coconut oil, which elevates the entire taste to a whole new level.
15. Beef Ularthiyathu
Kerala beef fry is a dish made of beef, slow-roasted in a mixture of spices, onions, curry leaves, and coconut slivers, fried in coconut oil. The dish is also popularly known in Kerala as "Beef Ullarthiyathu."
The dish's origins can be traced back to 52 CE, after which Syrian Christians have been known to have settled in Kerala; however, the first Jewish settlers arrived in Kerala as early as 7 CE, and brought with them Kosher cattle slaughter techniques, which could also have led to the development of the recipe.
The dish is prepared by cooking chunks of meat in a mixture of spices which include turmeric, coriander, garam masala, black pepper, red chili, cooked along with onions, shallots, ginger, and garlic. Slivers of coconut, fried in coconut oil and curry leaves are also used for garnish. The meat is usually cooked in a pressure cooker to soften it before it is slow roasted in the mixture of spices until it reaches a dry consistency.
Kerala beef fry is most commonly eaten with Kerala porotta, whereas in other parts of the region such as in Thrippunithara, the dish has been combined with pazham pori or banana fritters and has become a very popular combo in the state.
16. Konju Varutharaccha Curry
A seafood lover's paradise, this prawn recipe is filled with delicious and aromatic flavors of spices. South Indian cuisine, especially that of Kerala, is full of diverse curries and distinct regional flavors. The region is popular for its delicious fish and prawn curries cooked with fresh spices and coconut.
You can serve this luscious and sumptuous Kerala prawn curry at dinner parties, paired with roti or rice. A mouth-watering dish that your guests would love to indulge in.
Stir in hot spices with juicy prawns and a warm blend of coconut milk. This traditional prawn curry is sure to put a spell on your taste buds with tempting, aromatic flavors of chilies, coconut, and tamarind, along with other spices and herbs.
17. Meen Pollichathu
Meen pollichathu is a Kerala-style dish which is first cooked in coconut oil and then wrapped in a banana leaf (vazhayila). This dish traditionally features karimeen, pearl spot fish. During his trip to Kerala, Anthony Bourdain compared the technique of cooking the fish in banana leaf to the classic French technique of fish en papillote (fish steamed in parchment pouches). The flavor penetrates well into the fish, and the aroma of banana leaf is divine.
The fish is first marinated with a hearty marinade and then pan-fried before being coated in a fiery masala and tightly wrapped in a banana leaf. It is then grilled to combine all the flavors. It is served beside the table; usually a spectacle for all the senses, making it an experience worth trying when in Kerala. Cooking the fish wrapped in banana leaf adds an earthy and unique flavor to the dish.
18. Coorg Pandhi Curry
Coorg Pork Curry-Kodava Style Pork curry is rich and dark in color. It is a hearty dish from the malalnad or hilly regions of Karnataka flavored with pepper, cumin, kachampuli and kodava-style vinegar, which is a rich dark liquid extract from a fruit called kodampuli. It is also called black vinegar and gives the dish its dark, rich color and flavor.
Coorg is famous for its beautiful hills, lovely weather, and coffee estates. All you need is good-quality pork with a high fat content, as fat is what helps lend this dish its amazing flavor along with the rich flavor of the spices. Kachampuli, if not available, can be substituted with thick tamarind juice or limes although the outcomes of the final dish will vary greatly.
19. Andhra Chili Chicken
A fiery combination of green chili, garlic, and ginger stewed to perfection. A simple yet deadly dish. Light green in color with hints of yellow, this is a spicy, straightforward dish loved and relished by many and enjoyed in the state of Andhra Pradesh infamous for its spicy chilies. Usually eaten as a side dish with biriyani or parotta.
The cooking of this dish begins with stewing chopped chilies with a lot of garlic and a little ginger. The chilies are cooked until they are soft and start breaking down; the sauce is finished by adding green chili sauce, soy sauce, and MSG. Then, boneless chunks of chicken are added and poached to tender perfection. Not for the faint of heart.
20. Hyderabadi Dum Biryani
Hyderabadi biryani, also known as Hyderabadi dum biryani, is a style of biryani from Hyderabad, India, made with basmati rice and goat meat and cooked using the dum pukht method. Originating in the kitchens of the Nizam of Hyderabad, it combines elements of Hyderabadi and Mughlai cuisines.
Hyderabad biryani is a key dish in Hyderabadi cuisine. Hyderabad was conquered by the Mughals in the 1630s and ruled by the Nizams. Mughlai culinary traditions merged with local traditions to create Hyderabadi cuisine. Local folklore attributes the creation of Hyderabadi biryani to the chef of the first Nizam, Nizam-ul-Mulk, Asaf Jah I, in the mid-18th century, during a hunting expedition.
Base ingredients are basmati rice, goat meat (or sometimes chicken or beef), dahi (curd/yogurt), fried onion, and ghee. Spices include; cinnamon, cloves, cardamom (elaichi), bay leaves, nutmeg, papaya paste, Caraway (shahi jeera), mace flower (javitri), star anise (biryani flower), lemon, and saffron, coriander leaves, and garnish. Biryani is usually served with dahi chutney and mirchi ka salan. Baghaar-e-baingan is a common side dish. The salad includes onion, carrot, cucumber, and lemon wedges.
21. Haleem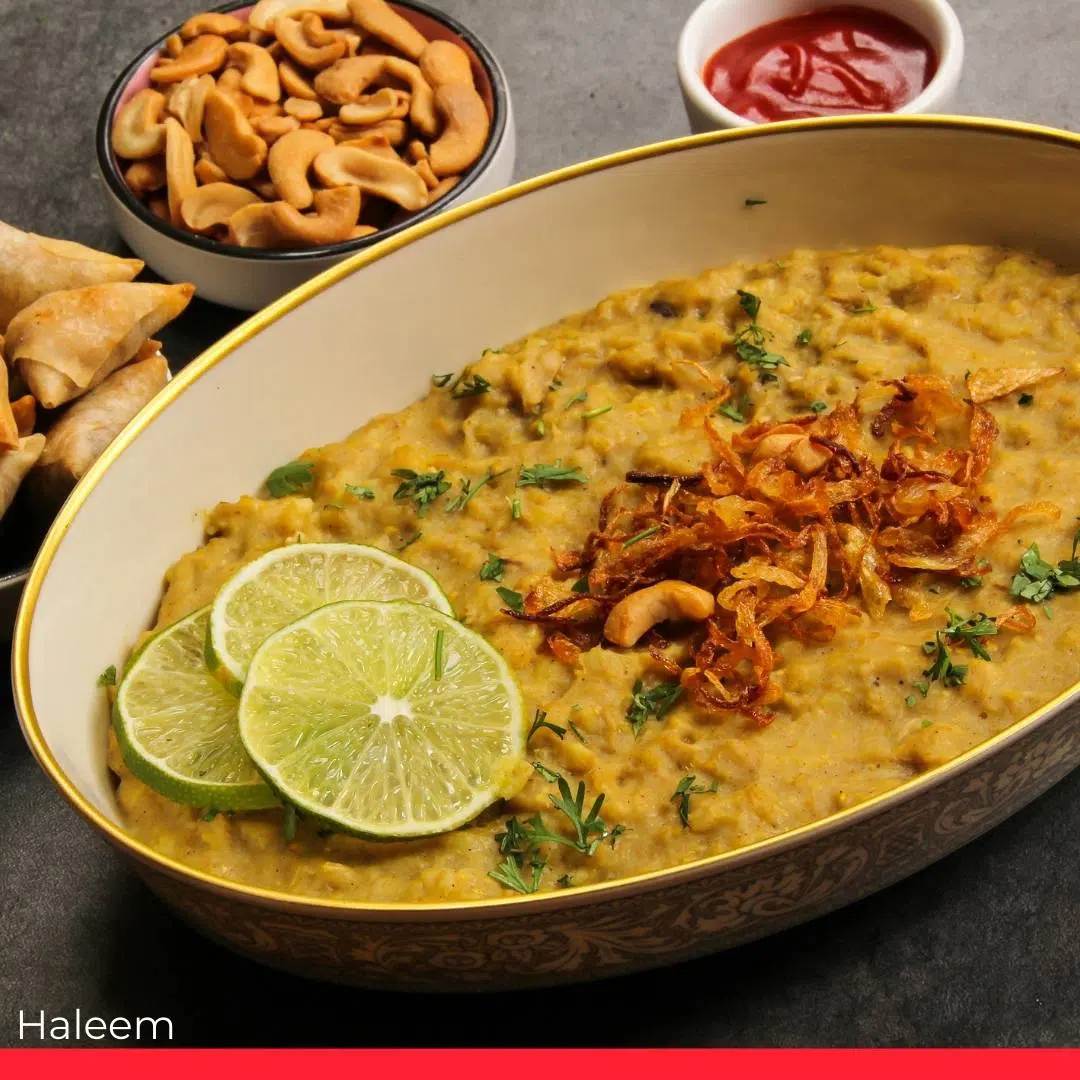 Hyderabadi haleem is a type of haleem popular in the Indian city of Hyderabad. Haleem is a stew composed of meat, lentils, and pounded wheat made into a thick paste. It is originally an Arabic dish and was introduced to the Hyderabad state during the rule of the Nizams. The recipe calls for a mixture of grains like broken wheat, rice, and even oats, blended with exotic spices and herbs like rose petals and saffron.
It is consumed especially during the Islamic month of Ramadan for Iftar (the evening meal that breaks the day-long fast), as it provides instant energy and is high in calories. This has made the dish synonymous with Ramadan.
In recognition of its cultural significance and popularity, in 2010, it was granted Geographical Indication Status (GIS) by the Indian GIS registry office, making it the first non-vegetarian dish in India to receive this status.
22. Gongura Maas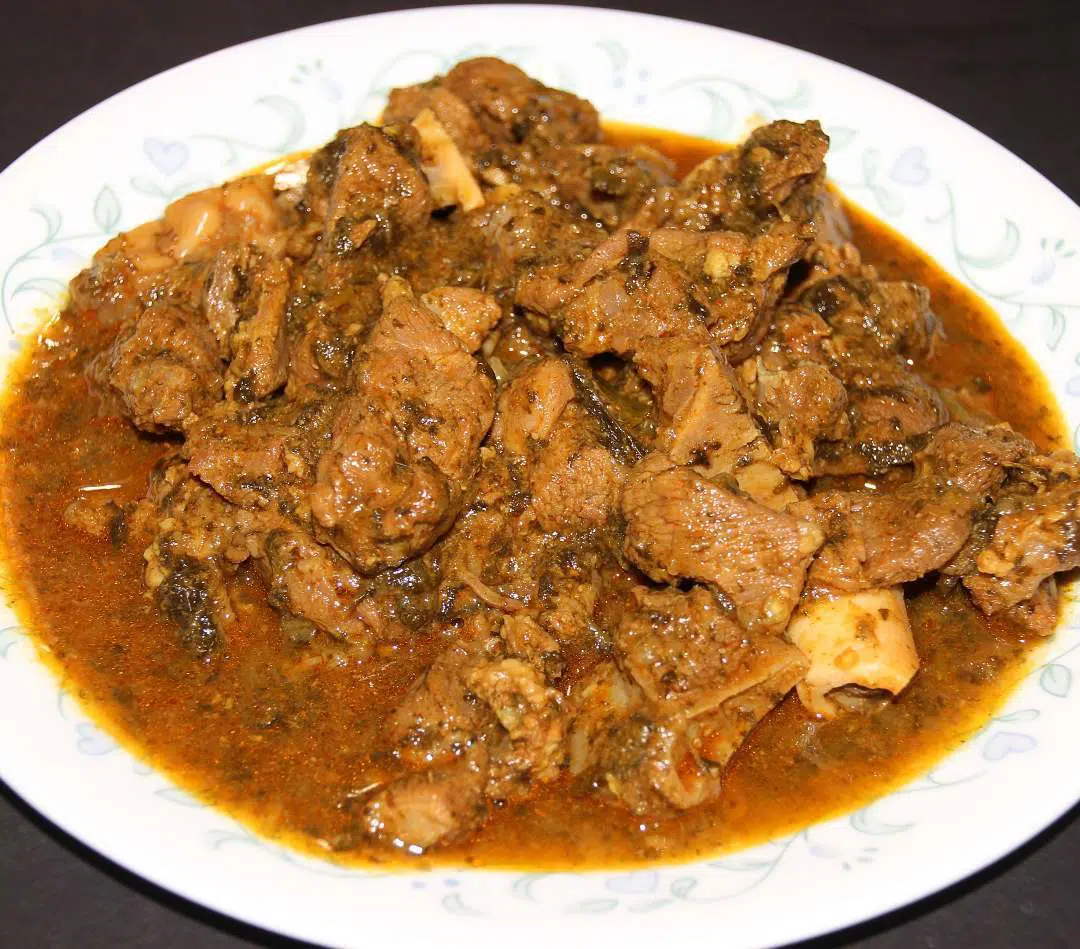 Gongura mutton is an authentic recipe from Andra Pradesh. This is one of the most popular and traditional recipes of Andra cuisine. This recipe gets its distinctive flavor from the gongura leaves used in the dish. Gongura leaves are called sorrel leaves in English. The sourness of the gongura leaves adds a unique flavor to the mutton curry.
The mutton is marinated with spices like salt, turmeric powder, green chili paste, ginger, garlic paste, cumin, coriander powder, and oil, then pan fried. Then, the gongura leaves are cooked with cumin seeds, cloves, cardamom, cinnamon stick, pepper, red chilis, onions, green chilis, ginger, and garlic paste until they become soft. Then finally, the cooked mutton is added to the gongura leaves and mixed in before serving.
23. Nalli Mamsam
Mutton Nalli is a very spicy and flavorful dish prepared from goat shanks. Once cooked, the bone marrow is squeezed out and served along with the curry. It is a very traditional dish reserved for special occasions such as festivals or weddings and so on.
It involves slow cooking the shanks in a deep tomato-based curry, spiced heavily with black pepper, cinnamon, red chili, onions, tomatoes, and garlic, until they are braised well. This dish is usually eaten with rice, chapati, and parottas.
24. Pork Vindaloo
Vindaloo or vindalho is an Indian curry dish originally from Goa that is based on the Portuguese dish carne de vinha d'alhos. It is known globally in its British Indian form as a staple of curry house and Indian restaurant menus and is often regarded as a fiery, spicy dish. The traditional recipe uses pork, marinated in vinegar and garlic, but alternative versions are prepared with beef, mutton, prawns, chicken, and vegetables instead of pork.
This dish evolved from a Portuguese tradition of preserving meat by alternating layers of pork and garlic and covering them with red wine; this method was later adopted by the local Goan population, who converted it into the dish we all love today.
The British Indian version of vindaloo calls for the meat to be marinated in vinegar, sugar, fresh ginger, and spices, and then cooked with more spices.
25. Chicken 65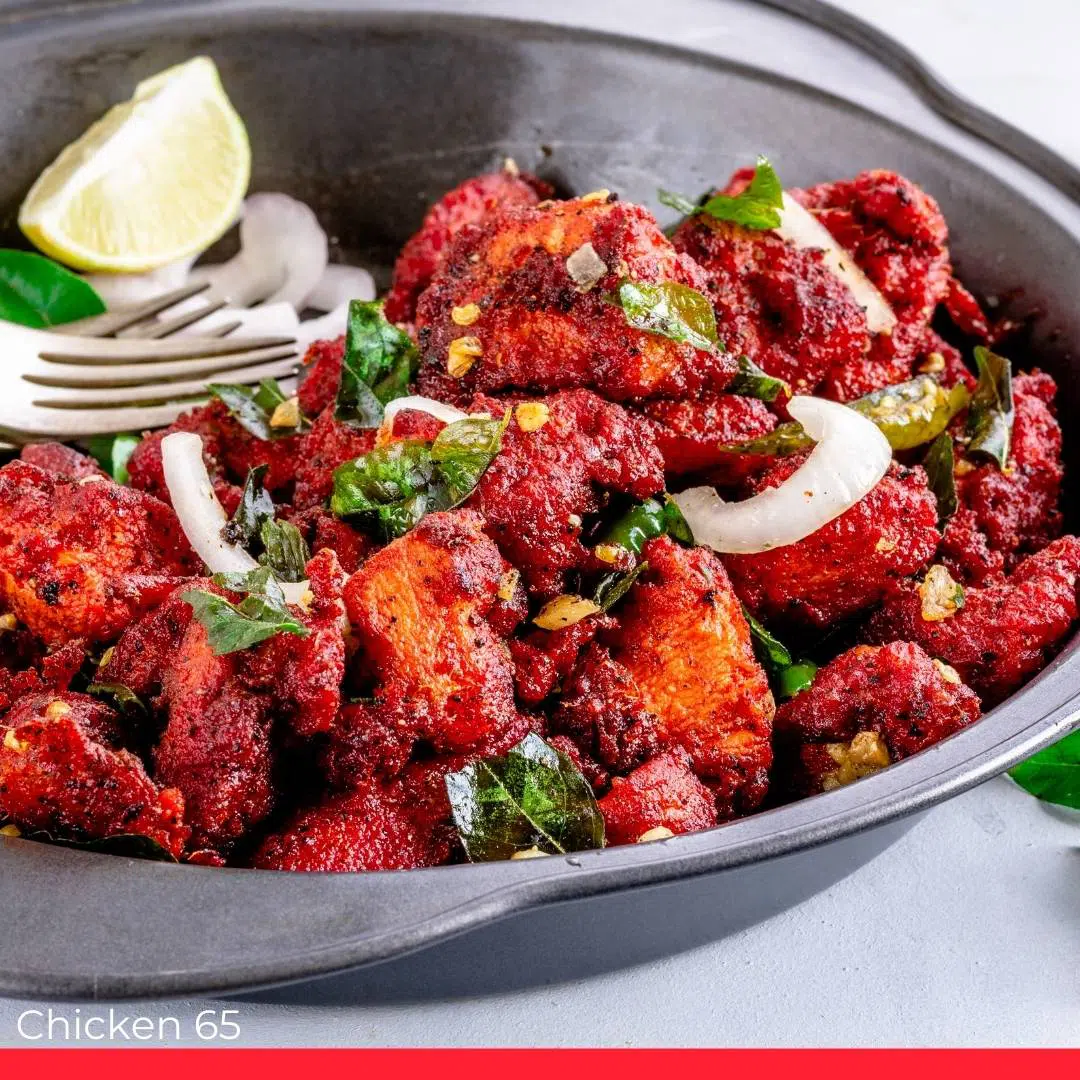 Chicken 65 is a spicy, deep-fried chicken dish originating from Hotel Buhari, Chennai, India, as an entrée, or quick snack. The flavor of the dish can be attributed to red chilies, but the exact set of ingredients for the recipe can vary. It can be prepared using boneless or bone-in chicken and is usually served with onion and lemon garnish. Vegetarian variants like "Paneer 65" or "Gobi 65" use paneer or cauliflower instead.
There is much speculation about why the dish is called Chicken 65. Some people say the number 65 refers to the 65 different spices or chili peppers added to the dish; others say the dish was invented in the year 1965, and some say it is called Chicken 65 because the dish is prepared from a bird just 65 days old.
26. Kori Gassi
The name literally translates to chicken (kori) curry (gassi). But this spicy, rich curry is a native to the coastal regions surrounding Mangalore, a port city on the western coast of India to the north of Kerala. This region is famous for its vegetarian Hindu temple cuisine but also has a rich history of using seafood and meat in its own distinct fashion. It is a cuisine influenced by the Portuguese, the Malabar, and Karnataka.
This curry is usually eaten with thin rice wafers. The combination is so popular that the locals fondly call the wafer kori roti (chicken roti) even though there is no chicken used in the preparation of these rice wafers.
Mangalore is a hot coastal region. People in Mangalore love their spices and coconut. Most of their curries have a blend of wonderful spices and, of course, coconut in them. The gorgeous red color comes from the dried red chilies that are ground and added to the curry.
27. Kothu Parotta
A popular street food delicacy, this dish is made using flaky parottas that are shredded and tossed in onions, tomatoes, chilies, and a spicy kurma, usually topped with scrambled eggs or shredded chicken or mutton. This dish is also famous in Sri Lanka and is available in parts of Malaysia, Singapore, and Thailand.
The name originates from the Tamil word Kothu, or shred, which literally calls for the bread to be shredded in a rhythmic manner over a flat pan, similar to the teppanyaki style of cooking. It is usually enjoyed with a side of onions, cucumber, and coconut chutney. This dish is the perfect answer to those rainy day hunger pangs.
28. Mysore paak
Mysore paak is an Indian sweet prepared in ghee. It originated in the city of Mysuru, one of the major cities in the Indian state of Karnataka. It is made from generous amounts of ghee, sugar, gram flour, and often cardamom.
The texture of this sweet is similar to a buttery and dense cookie or a smooth milky fudge depending on the variety being made. It is prepared and given at weddings and other festivals in southern India and is very popular at baby showers.
29. Paal Payasam
Payasam is a sweet dish and a type of wet pudding popular in the Indian subcontinent usually made by boiling milk, sugar or jaggery, and rice, although rice may be substituted with one of the following: daals, bulgur wheat, millet, tapioca, vermicelli, or sweet corn.
It is typically flavored with desiccated coconut, cardamom, raisins, saffron, cashews, pistachios, almonds, or other dry fruits and nuts, and, recently, pseudo-grains have also been gaining popularity. It is typically served as dessert.
According to the food historian K. T. Achaya, kheer, or payas, as it is known in southern India, was a popular dish in ancient India. First mentioned in ancient Indian literature, it was a mixture of rice, milk, and sugar, a formula that has endured for over two thousand years. Payas was also a staple Hindu temple food, in particular, and it is served as Prasāda to devotees.
30. Ada Pradhaman
This is a classic dessert from Kerala, which is popular during the festival of Onam. Ada Pradhaman is a variation of payasam, made with ada rice, cashew nuts, coconut, and palm jaggery mixed well. It is a quick, easy, and delicious Indian dessert to relish during the festive season.
The main ingredient of wafers/noodles is made of rice flour, known as ada. Traditionally, the rice ada is made fresh to be used on the same day. Ada Pradhaman and Palada made fresh are definitely a treat. Cardamom, coconut milk, and jaggery are the main flavoring agents in this dessert.
---
Related: 50 Famous Indian Foods
Related: 50 Popular Indian Desserts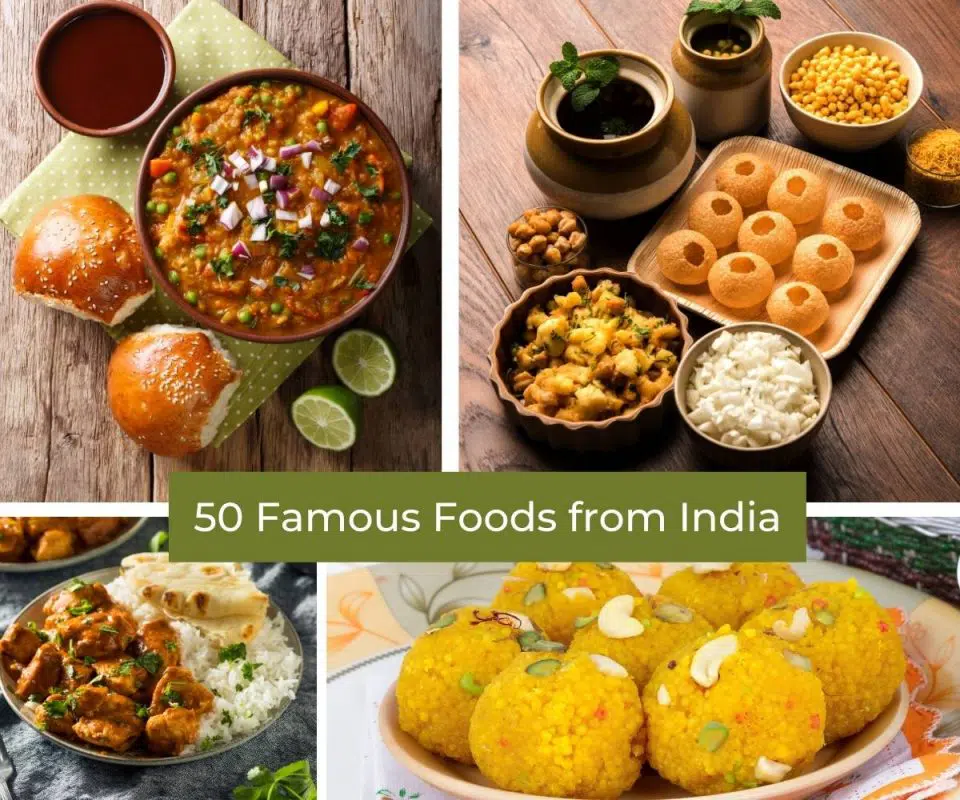 Related: Most Popular Foods in Maharastra