35 Popular Middle Eastern Foods
The Middle East is a region that connects the East and the West, the Mediterranean and the Indian Ocean, Russia, and the warm seas. All the commercial and cultural connections between the Western world and the Eastern world are made here.
So, it's no surprise that some of the world's most vibrant, fragrant, and delicious tastes originate here. Middle Eastern cuisine, one of the latest gastronomic trends, has incredible richness because of the influence of many nations and cultures.
Each local cuisine has its own delicacies, from Bahrain to Iran, Kuwait, and Qatar to Lebanon, Jordan and Turkey. From spices to herbs, from animal-based foods to vegetarian sauces, please join us on a journey to get to know this incredibly original and rich cuisine.
We invite all you food lovers who are passionate about trying authentic dishes. We have compiled 35 dishes of rich cuisine just for you. Warning: after this article, you may want to pack your bags and go on a trip to the Middle East.
1. Pita
Bread is a good side dish for nearly all meals in this region. The most popular type of bread is pita, one of the oldest types of bread in the world.
Pita is also known as Arabic bread, Lebanese bread, or Syrian bread. Pita is a leavened and flat type of bread. Pita differs from country to country in terms of cooking technique and shaping.
This bread has pockets formed as a result of fermentation. Another type is known as pide, which is common in Turkey. It is usually used as a side meal with doner kebab, which is also one of the unique dishes of the region.
Pita is a delicious bread that compliments any meal. And you can easily bake it at home.
2. Ayran
Milk and dairy products, especially yogurt and cheese, are pretty common in Middle Eastern countries.
Ayran is basically a chilled and diluted, healthy yogurt drink. It may be hard to think of yogurt as just a beverage, but it is indispensable for many Middle Easterners to complement any meal.
It especially compliments kebabs and spicy dishes. It is also served as a cold appetizer when various greens or vegetables are added to it.
3. Börek
One of the oldest culinary values of Middle Eastern cuisine, börek is made with thin phyllo dough and is one of the essential dishes of the region.
A special delicacy that is served when guests arrive, börek is a meal with particular importance.
Dough pieces are prepared using flour, water, and salt, and it comes in many different shapes and sizes. Spinach, cheese, minced meat, grated potatoes, and much more can be the stuffing of the börek, which can be layered or rolled up.
It is a must-have dish for special occasions, and there is a lot of room to be creative and use any ingredient or technique to fit your taste.
4. Pilaf
Pilaf is made with rice or grains that have been cooked with oil or butter and chopped onion before being simmered with broth. While pilaf is sometimes preferred as a main dish, but it can also be enjoyed as a side dish.
From ceremonial meals to everyday tables, pilaf is a staple in any Middle Eastern table. For example, some pilaf recipes, such as white rice pilaf, can be an easy-to-make meal, while other recipes require more elaborate techniques.
Pilaf has many varieties, from rice to bulgur to other ingredients, such as meat or vegetables, and even nuts or fruits.
A different type of pilaf can be found in each country in the Middle East, and there is undoubtedly one that fits your taste.
5. Ashure (Noah's Pudding)
Ashure is a dish that symbolizes abundance and fertility. It is the oldest dessert in the world, as claimed by many people. According to beliefs, it is the soup that the survivors cooked with the food left on Noah's Ark after the Great Flood.
This dish is made with legumes such as wheat, beans, chickpeas, as well as fruits such as raisins and figs, and nuts such as walnuts and hazelnuts. You can find many varieties of it in different cultures and regions.
This dish, which is very rich in nutrients, is traditionally cooked in large amounts and shared with friends, neighbors, and people in need.
This communal and historic dessert is a treat for both your and your loved ones.
6. Kebab
Kebab, which we can also call a cooking technique, has different names and ingredients in different cultures. Minced meat and chicken, usually with vegetables, is grilled on skewers known as shish over an open fire.
However, differentiating from region to region, culture to culture, a kebab can mean any grilled meat. It can be cooked in the oven or sautéed and even stewed, a delicious example being eggplant kebab.
The most widely known types of kebab are shish taouk (marinated chicken skewer), adana kebab, which is one of the prominent dishes of Turkish cuisine, kafta kebab, widely consumed in the Arab world, and chelow kabab with steamed rice, Iran's national dish.
7. Revani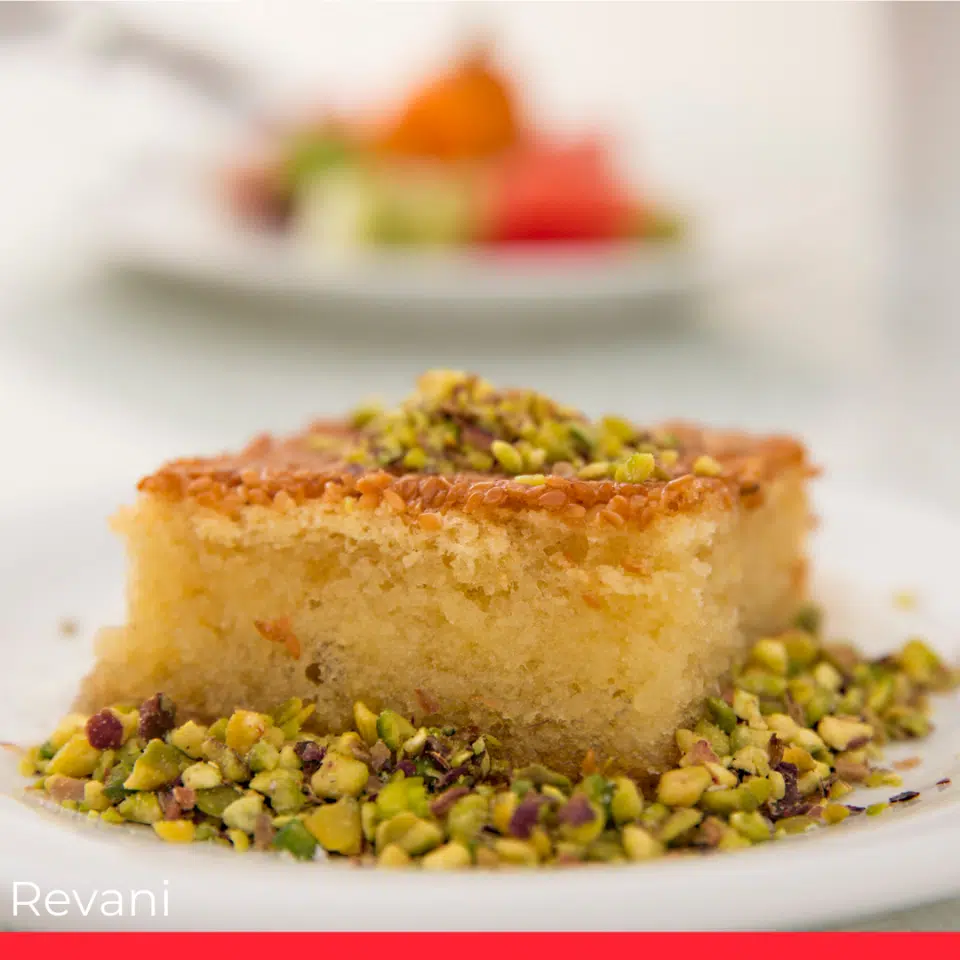 Revani is a dessert that emerged with the cuisine of the Ottoman Empires. The essential ingredients of this dessert, which was invented by the the palace cooks, are yogurt and semolina. This classic dish comes together with yogurt, semolina, and sherbet to make an incredibly delicious dessert.
Revani is mainly served on special occasions in the Middle Eastern culinary culture and is also one of the desserts that are usually served to guests. While it's excellent on its own, adding whipped cream or a scoop of ice cream makes it even better.
The Greeks also have a revani recipe variation which can be made with all-purpose flour and soaked in orange juice.
8. Omani Shuwa
Omani shuwa is a slow-cooked, tasty, marinated lamb that is juicy and tender. This dish, whose main ingredient is either lamb, goat, or camel, is traditionally cooked over a slow fire after being marinated in spices for 48 hours.
It is then wrapped in banana leaves and placed on hot charcoals. This traditional cooking method is not the most convenient for modern cooks, so modified recipes allow you to enjoy this deliciously spicy dish at home.
9. Hummus
Hummus is probably one of the best-known Middle Eastern foods due to its surge of popularity worldwide. This quintessential Middle Eastern dish, in its simplest form, is chickpea puree flavored with tahini, olive oil, garlic, and lemon juice.
Mostly consumed for breakfast with pita bread and vegetables, It can also be served with fried meat. This incredibly delicious dish can be easily consumed both at meals and between meals.
It's flexible and tasty, and it can be used as a dip or spread in almost any dish. It is pretty easy to make this dish at home as well. Once you try homemade hummus, you will never want to have store-bought again.
10. Falafel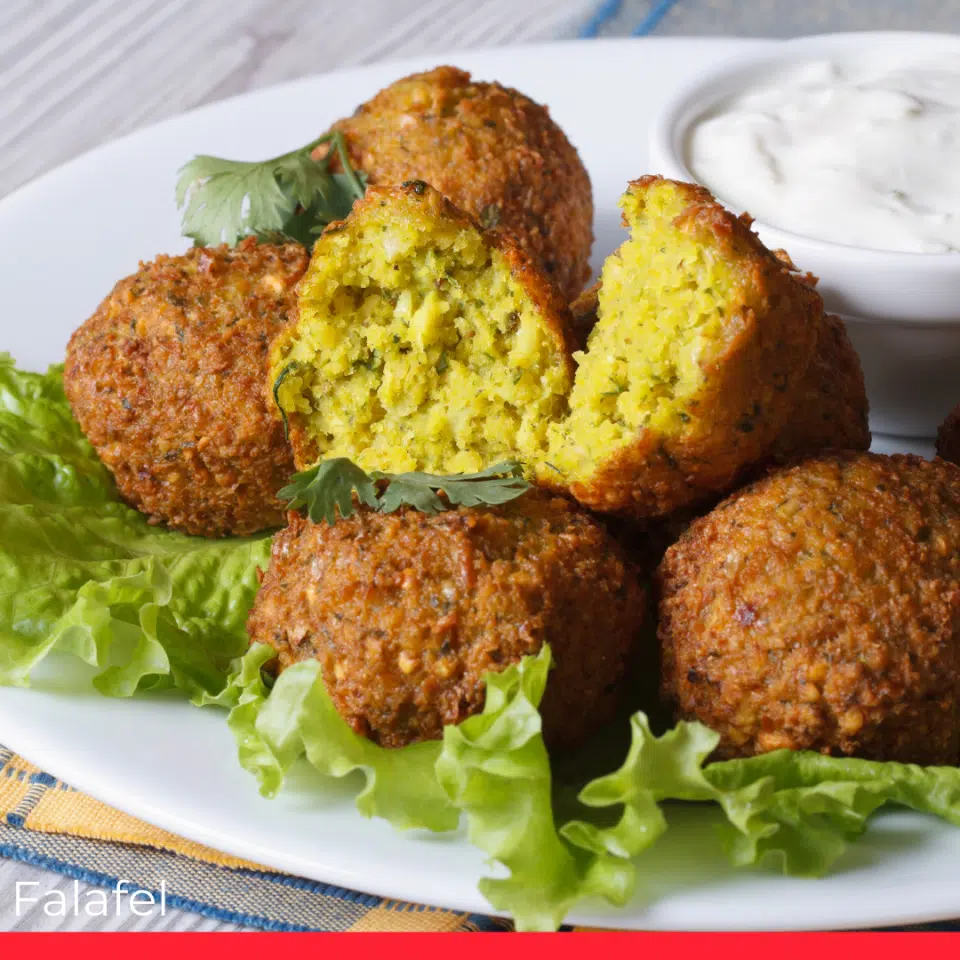 One of the global icons of Middle Eastern cuisine, falafel is a dish originating from the Levant. As a widespread street food that many people enjoy around the globe, it can also be delicious when prepared from scratch at home.
It is made by mixing chickpea patties or broad bean paste with various spices and frying it in oil. You can enjoy it served with many side dishes, such as hummus, baba ghannouj, and fresh greens.
It also makes an excellent ingredient for a flavorful and nutritious wrap. Rich in proteins and a staple for many vegetarian and vegan diets, this dish has become immensely popular around the world.
11. Baba Ghannouj – Eggplant Sauce
Baba ghannouj is a popular appetizer made from eggplant and tahini. It is smooth and has a creamy texture. It is traditionally served with pita bread. Besides being a healthy side dish, it has an incredibly delicious taste. Eggplant lovers should not miss out on this delightful dish.
12. Fried Kibbeh
Kibbeh is a kind of Middle Eastern croquette made by mashing bulgur into the dough and stuffing it with minced meat and nuts. There are many variations in the Middle East, the most prominent ones being Lebanese Kibbeh and Syrian Kibbeh. This aromatic, fried dish is perfect for parties, family gatherings, and dinner parties.
13. Beef Tajine with Plums
Tajine, Morocco's national dish, is usually served at special meals such as family meals or iftar in Ramadan. It takes its name from the domed earthen pot in which it is cooked. It can be made with different ingredients and recipes.
Prepared differently in each region, this dish is striking with its excellent balance between sweet and savory. With plenty of toasted bread, it becomes a delicious meal for the table.
14. Syrian Style Lamb Stew with Cream (Lamb Shakiryeh)
Lamb meat is cooked for a long time on a slow fire with aromatic ingredients until it absorbs wonderful flavors and becomes soft and tender. Yogurt sauces are frequently used in Syrian cuisine. The yogurt is heated in this case, which gives this dish its distinctive taste. We recommend serving shakriyeh with scallions and radishes.
15. Cheese Pita (Manaeesh)
Manaeesh is one of the most common flatbread recipes in Middle Eastern cuisine. It is a type of flatbread mixed well with soft white cheese, za'atar (a traditional spice blend), and olive oil.
This bread is crispy on the sides and soft in the middle. It's a great breakfast and lunch dish that is made in the size of a small pizza.
16. Barley Breakfast Bowl (Snayniyeh)
This nutty and quick breakfast hails from Palestine. It is a straightforward and delicious recipe to prepare; the bowl consists of nutritious barley grains and hazelnuts and is sweetened with honey. This dish is also served to celebrate a baby's first tooth after birth.
17. Knafeh
Knafeh is a buttery, crunchy dessert made with fried or baked pressed string dough filled with cheese and flavored with simple syrup called sherbet and garnished with crushed pistachios.
Knafeh can also be flavored with orange juice or rose water and served with chopped pistachios. It is often served at celebrations and special occasions. Also known as kunafa, it is one of the most famous Middle Eastern deserts, a timeless classic.
18. Malabi
Malabi is a creamy, milk-based dessert that is hugely popular in the Middle East. Like knafeh, this delicious pudding is flavored with rose water, giving it a sweet yet mellow flavor, and topped with pistachios. In Israel, malabi can be found everywhere, from street stands to fancy restaurants.
19. Halvah
Halvah is a sweet dessert that comes in a variety of shapes and sizes. Although each region has its version, ranging from flour-based to semolina, rice, and tahini, flour halvah is the most common and is made with flour, oil, sugar, and milk.
With its wonderful smell and taste, halvah is a match made in heaven for celebrations or ceremonies.
This delicious dish, which has become more and more popular in Western culinary scenes and is made for breakfast or brunch, is also frequently encountered in Middle Eastern cuisine.
This hot, hearty dish is based on a garlic and onion tomato sauce, seasoned with cumin and hot pepper, topped with a hard boiled egg, and garnished with parsley. This dish, prepared by frying different vegetables, is often accompanied by yogurt and is both easy to prepare and incredibly delicious.
21. Malawach
Malawach was brought to Israel by Yemeni Jewish immigrants and has become a popular street food dish today. It consists of savory fried pastries sweetened with honey or boiled eggs, tomato sauce, and zhug (spicy dip).
It can also be served as a wrap (memulawach) and filled with delicious stuffing such as tahini, hummus, hard boiled eggs, eggplant, fried onions, pickles, and more.
22. Tunisian Nut Cake (Khobzet Fekia)
This dessert, also known as hazelnut cake, is a Tunisian delicacy traditionally prepared by mothers or grandmothers at family gatherings.
The intense scent of nuts, the color of pistachios, the taste of almonds, and syrupy rose water come together to make both an easy-to-make and flavorful dessert.
23. Lahmacun
Lahmacun is a thinner, crispier pizza with spiced minced meat, and the word "lahmacun" literally means dough with meat. Aside from low-fat minced meat mixed with tomato paste, it is made with garlic and spices spread on a thin round pita dough.
Lahmacun has different varieties according to regions and has been a staple of Turkish cuisine for more than 300 years. This is a unique dish that you will want to have again and again.
24. Dolma
This dish, also known as sarma, is made by wrapping various ingredients, especially bulgur or rice, inside white cabbage, black cabbage, mulberry leaves, cherry leaves, or vine leaves. It is definitely a dish made for special occasions in Middle Eastern culture.
There are many different types that can be prepared by adding various other ingredients such as meat and raisins.
25. Filled Cookies (Kleicha)
If Iraq has a national cookie, it should be kleicha. Whenever there is a special gathering, religious holiday, or similar event, every Iraqi makes this cookie known for the flavor of its rich and spicy filling. It is sweetened with rose water, spiced with cardamom, and its most popular filling is dates.
26. Maamoul
This cookie, which is popular in the Arab world, is also a part of the cuisine of the Ottoman Empire. There are varieties made from dried fruits, such as dried figs, or nuts, such as pistachios and almonds.
The unique feature of this cookie is that it is made from semolina flour and butter. Maamoul is a great dessert to be accompanied by tea and definitely makes tea parties more enjoyable. Maamoul is hugely popular in the region and one of the most popular desserts in Lebanon.
27. Frik Soup
Frik soup is an extremely common dish in Middle Eastern cuisine, especially in Jordan, Egypt, Lebanon, and Syria. This soup is made from durum wheat, called freekeh, which is harvested while it is still green.
Wheat grains are dried, roasted, and cleaned. Tomatoes, chickpeas, and local spices are added to chicken, beef, mutton, or lamb while frying and served with lemon.
28. Lamb Salad
This salad is prepared with fresh za'atar leaves, which are indispensable for Lebanese cuisine. It is a very common salad to be eaten during Ramadan, as it is easy to prepare. All you have to do is mix the ingredients before serving.
It is light and can be served as a main course or as a side dish. You can also add sautéed vegetables, beans, and chickpeas to get more flavor.
29. Lebanese Couscous (Mograbieh – Moorish)
Mograbieh is one of the essential festive dishes of Lebanon, specially prepared for social gatherings. It is made from pearl-sized semolina dough that is cooked in meat or chicken broth. The use of spices such as ground cinnamon and cumin gives this dish its unique taste.
30. Kadayıf Dolma
Kadayıf dolma is a kind of dumpling made from string dough filled with clotted cream or nuts. This crunchy dessert, which is incredibly delicious with the soft taste of sherbet (sugar syrup), is one of the unique dishes of Middle Eastern cuisine.
31. Chicken Musakhan Rolls
This is one of the most famous traditional dishes of Palestinian cuisine that stands out during celebrations such as the olive harvest season. Musakhan consists of roasted chicken with onions, sumac, allspice, saffron, and toasted pine nuts served on taboon bread.
32. Baklava
Baklava is made by placing chopped walnuts, pistachios, almonds, or hazelnuts, all depending on the region, between layers of thin phyllo dough. It is generally sweetened with a sugar syrup called sherbet.
One of the most well-known Turkish and Greek desserts, baklava is often made during holidays, weddings, and celebrations, and makes these social events more enjoyable.
33. Borani
Borani is one of the appetizers of Iranian cuisine. A side dish made with roasted spinach with onions and flavored with many kinds of spices, it is usually served with yogurt and is a healthy meal option.
This excellent combination of cooked vegetables and yogurt is best enjoyed with crispy bread and butter sauce poured over it.
34. Muhammara
There are two types of muhammara in the Middle Eastern cuisine: breakfast and appetizers. Made from red pepper paste, olive oil, salt, garlic, bread crumbs, coriander seeds, black pepper, basil, Aleppo pepper, and ground walnuts, this incredibly easy-to-prepare dish is suitable for any meal.
35. Turkish Coffee
Turkish coffee is one of the most well-known and loved drinks of Middle Eastern cuisine. Served with Turkish delight or chocolate, this drink has a treasured place in Middle Eastern culture.
It is brewed in a copper coffee pot known as a cezve. It can be adjusted to your taste, either sweet or plain. When brewing, very thinly grounded coffee beans are used, and after cooking, it is served unfiltered.
This coffee, which is frequently consumed after meals or when hosting guests, is a symbol of hospitality.
—
The Middle Eastern cuisine, enriched by many different cultures and geographical conditions, is not limited to these dishes of course. There are plenty more.
Each of these rich dishes have a different story, cooking techniques, and ingredients. You can taste them by trying them at home. However, we recommend you go on a taste tour so that you can see and feel the culture as you enjoy the food.
---
Related: Most Popular Desserts in the Middle East