20 Central Asian Foods That Everyone Should Try
Food, along with the language and local celebrations, is one of the key elements for understanding a region and Central Asia certainly abounds in culinary traditions. Some foods are unique to certain countries and regions, but many others are enjoyed throughout the area.
What is immediately noticeable to a newcomer to Central Asia is the hospitality of its people, larger-than-average servings, and a high reliance on dairy produce and red meat. And the latter is not surprising given the region was and still is inhabited by nomadic tribes who are primarily cattle-herders.
If you're a vegan, you might shun a culinary expedition through the region. But if you can't imagine a day without a juicy roast – it's a dream destination.
With nomadic traditions, mountainous regions for the larger part, and harsh weather conditions, the countries of Central Asia are marked by hearty, energy-intensive foods.
The cuisine has also been influenced by the Soviet past: the traditionally Russian pelmeni (boiled dumplings stuffed with minced meat) are now considered the Central Asian signature.
On the other hand, a lot of dishes have been modernized with Western ingredients. You can even find vegetarian versions of the most typical regional dishes nowadays. Without further ado let's take a look at some of the most popular foods in Central Asia.
1. Pilaf (Osh)
The Uzbek pilaf, Turkmen palaw, Tajik palow, or Kazakh palau is perhaps the most symbolic and popular dish of Central Asia. It's also incredibly delicious and a must-try for everyone visiting the region.
They say you haven't experienced the region as a tourist unless you've tasted a well-cooked pilaf. It has long been a central food of all family gatherings and important celebrations.
A meat-and-rice dish cooked with lots of onions, garlic, carrots, and spices in a cauldron, this food has traditionally been made on an open fire with a pinch of love and only positive emotions. They say everyone needs to consume this dish to stay strong and healthy.
2. Manti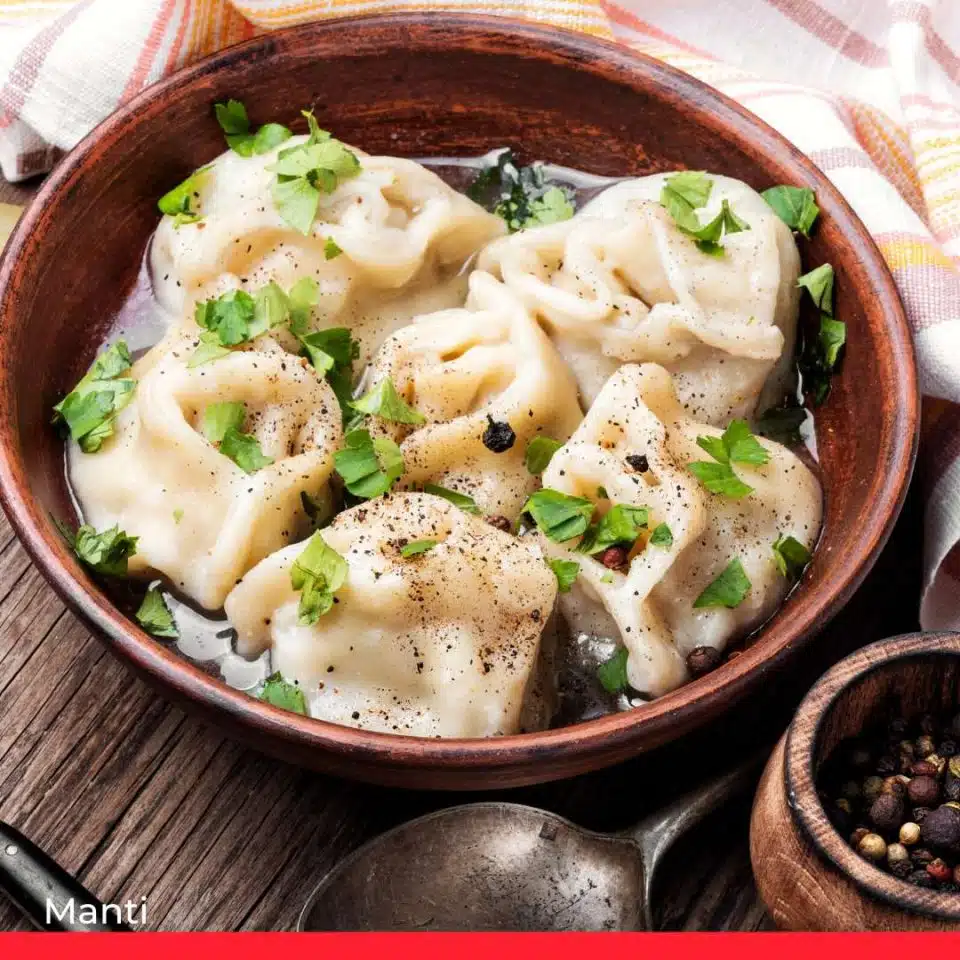 Probably the first dish that comes to mind when you think of Central Asia, even if you've never been there, is manti.
Manti are steamed, slightly stiff dumplings with minced meat, a piece of fat (for a juicier taste) mixed with onions and seasoned with cumin. They're typically served with a dairy product reminiscent of cream cheese – suzma.
3. Naryn
This ancient, aromatic dish is one of the signature foods in the area. Cooked with horse meat mixed with dough and boiled in water, it looks like crepes but is far more filling. Owing to cumin sprinkled all over the dough, naryn acquires a distinct odor and tangy aftertaste.
Uzbeks also like adding freshly chopped onions on top before serving. P.S. Don't plan any romantic dates after you've had some naryn, please.
4. Kuk Samsa
Kuk samsa is a layered dough pastry which is hearty but heathy. It is traditionally made at the beginning of spring when greens are beginning to sprout, full of all essential vitamins.
Finely chopped and salted spinach, parsley, sorrel, dill, or chives are stuffed into the dough to form buns and baked in the oven. Alternatively, one can use meat but that's a rarer option.
You can get samsa everywhere in Central Asia, and it's often seen as an on-the-go snack.
5. Beshbarmak
This dish dates to nomadic tribes and translates as 'five fingers', implying that it used to be eaten without cutlery. In brief, it is a combination of chopped meats (beef or lamb), onions, and homemade noodles.
For an authentic taste, the noodles must be boiled in the broth that is left after cooking the meat. Beshbarmak is served with chopped onions on top.
It's very popular in Kyrgyzstan and Kazakhstan, but Kazakh bashbarmak is often made with fish instead of meat.
6. Gulchatay
Gulchatay is a meat-based dish that consists of a soup and a main course, served separately. Just like beshbarmak, it contains homemade noodles. The noodles can take various shapes – from strips to rectangles – and are boiled in the broth along with vegetables.
To an outsider, gulchatay and beshbarmak may taste quite similar, but no local would ever confuse them. In any case, they are both very nutritious and worth trying if you're a meat person.
7. Lagman
Lagman is cooked with meat, noodles, turnips, eggplants, and other vegetables. It's something in between a soup and a juicy pasta.
The consistency depends on the region. Thicker or thinner, lagman tastes wonderful though. What's great about this dish is that it develops its taste gradually and is even more palatable the next day.
8. Dograma
A unique Turkmen comfort soup, dograma is a traditional religious and festive dish.
This lamb-based broth has pieces of petir (tandoor-baked flatbread) floating in it. What's special about preparing the dish is that all family members are invited to participate in tearing the flatbread into pieces. It's not just a soup but a ritual gathering.
9. Batyrma
This is a classy summer dish, which reminds you of ratatouille, is made of all kinds of fresh vegetables. It's served with a piece of bread to dip (the name itself translates as 'dip') and sometimes with an egg to make a hearty breakfast.
Some recipes include meat and potatoes, so you can experiment with batyrma and adapt it to your taste.
10. Quyrdak or Kuurdak
As the name suggests (quyrdak means 'frying'), this one is a roast. It may be served with or without broth, but in essence the dish is made of offal (typically sheep's lungs, kidney, and heart), meat (traditionally mutton, but also beef), and potatoes. It's usually seasoned with fresh greens such as chives.
11. Qazi or Qazy
This is one of the most unique dishes in the region. All tourists dream of tasting the authentic qazi, but there are two secrets to it. First, you won't find a good qazi in a store. Second, you need a local to help you pick the right one at a bazaar.
It's a horsemeat, dry-cured or boiled sausage that contains intestine and rib meat. Don't leave the region without having a bite of this delicacy!
12. Oromo
Although found across the region, this dish is most popular in Uzbekistan and Kazakhstan. Oromo is a steamed pie made with dough, onions, and minced meat.
Nowadays, there's also a vegetarian option available: minced meat is replaced with mashed potatoes or greens. The cuisine is finding its way to accommodate the tastes and needs of all.
13. Lubiyova
Most popular in Tajikistan, this is a sweetish red soup, whose color is borrowed from red beans and beets. The dish also contains meat and wheat – you can imagine how hearty and thick it is.
Lubiyova is typically cooked overnight and garnished with parsley in the morning before serving. The region is a dream destination for soup lovers overall, I'd say.
14. Shurbo, Shorpo or Sorpa
This soup is available throughout the region and known with slightly different names in every country of Central Asia. The idea remains the same – it's a meat broth (usually made with mutton on the bone) served with homemade noodles, onions, and herbs. A very nutritious option for cold winters.
15. Meat Skewers or Shashlyk
Not originally from this region, meat skewers or kebab have become essential in Central Asia. Beef or mutton is marinated overnight, chopped into large cubes, and skewered along with onions sprinkled with herbs. 
Shashlyk is prepared over heated coals and needs to be constantly rotated for an even roast coating and a distinct taste. What's special about consuming shashlyk in Central Asia is that you can't pair it with any side dish or bread – you don't want to be distracted from the palatable taste of the meat.
16. Qurut
A very popular salted snack, Kyrgyz qurut (Turkmen gurt or Uzbek qurt) comes in various shapes, but most typically balls or strips. Qurut is a dried sour milk delicacy that's considered very healthy because it contains no sweeteners or artificial flavors
17. Chalap
Chalap is a traditional drink to try in Kyrgystan or Uzbekistan. You haven't been to the region if you haven't tried this salty, refreshing beverage. Its recipes might differ depending on where you taste the drink.
Thus, traditional, home-made chalap has always been prepared with water, fermented milk (suzmo), and salt. The store-bought version uses carbonated water instead. In either case, chalap has a pleasant, tongue-biting taste and goes perfectly as a stand-alone refreshing drink, as well as pairing nicely with any meat course.
18. Shirchoy Tea
Popular in Tajikistan and Uzbekistan, this milk tea protects people in harsh winter conditions. It is not a typical tea we are used to. Shirshoy tea is made by adding milk and salt to boiling water. This beverage is also thicker than a usual tea, and it's always served with a helping of local bread and butter.
19. Chak-Chak
Chak-chak is a signature dessert from the region. It's a deep-fried delicacy shaped like soft dough balls soaked in the mixture of honey syrup, whipped egg, and sugar. You may encounter chak-chak balls arranged like a pyramid or served individually, as garnished with nuts and fruit. Chak-chak is truly delicious if you're a fan of aromatic honey bites.
20. Nishalda
Nishalda is a staple dessert for Ramadan. It's made with egg whites, sugar, water, licorice root, anise, and vanilla extract. The dessert looks like a very thick whipped cream and may be bought at local bazaars. It's quite a performance when a bazaar trader distributes this cloud-like delicacy with a ladle. Uzbek people often eat nishalda with a tandoor-made flatbread, a combination that might look weird to a foreigner until they try it.
Central Asian cuisine has been influenced by neighboring regions. If you're an ardent traveler, you'll notice Korean, Russian, Turkish, and Middle Eastern elements in lots of Central Asian dishes. The best tip on how to go as authentic as it gets is to visit local bazaars and have a bite of everything or to accept a local family's invitation and let them treat you to homemade manti, sorpa, or beshbarmak.
---
Related: Most Popular Uzbek Foods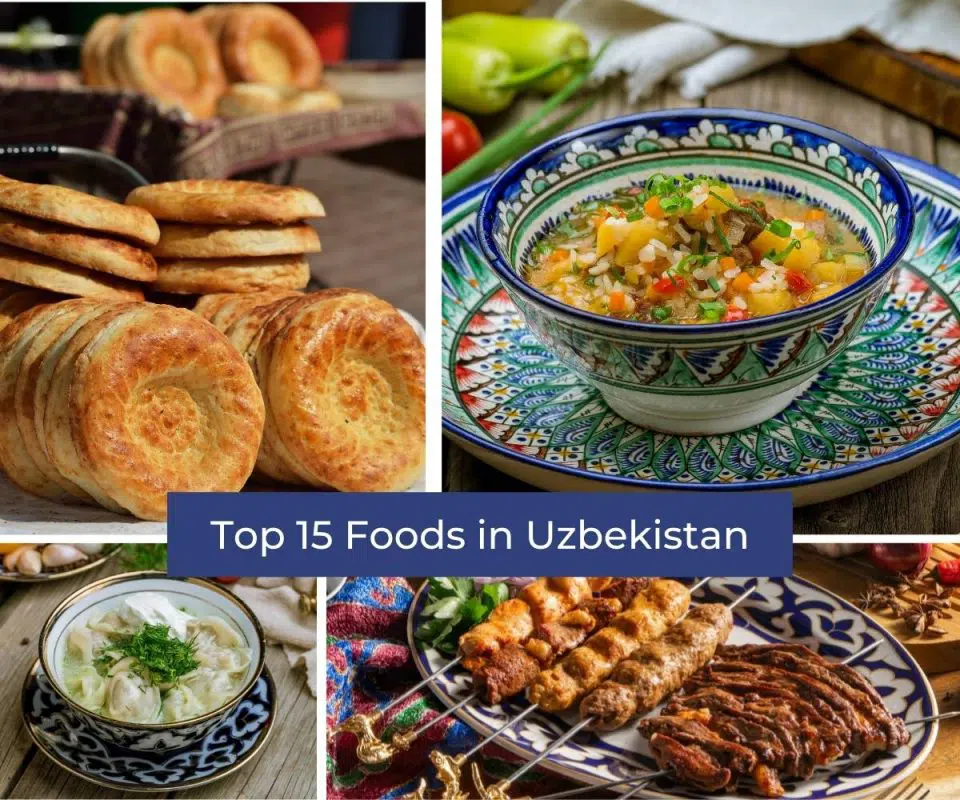 Related: Most Popular Foods in Kazakhstan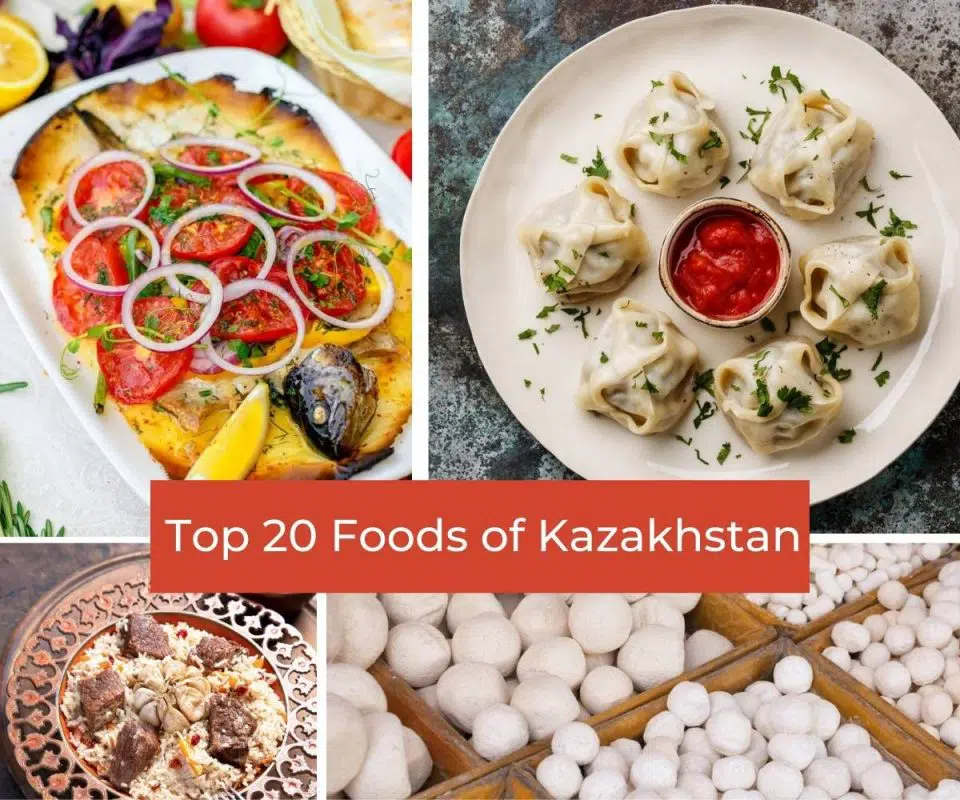 Related: Most Popular Foods in Kyrghyzstan
Related: Most Popular Foods in Tajikistan
Related: Most Popular Foods in Turkmenistan