Top 20 Foods of Kazakhstan: Cuisine of Central Asia Nomads
Kazakhs are the most meat-eating people in the world!
In the old days, Kazakhs were nomadic people living in the harsh conditions of the steppe. This left a mark on the national cuisine. The food is specific, high in calories, and quite easy to prepare.
Exploring Kazakh Cuisine: 20 of Its Most Famous Dishes
Kazakh national cuisine is a storehouse of delicious meat and milk dishes. This nation is one of the largest consumer of meat in the world — on average, every Kazakhstani eats 73 kilograms of meat per year.
Moreover, the meat used is often horse meat, which is very unusual for most people, but absolutely natural for Kazakhs. After all, these people, for a very long time, led a nomadic lifestyle, which was, in turn, reflected in their culinary preferences.
There are a lot of fermented milk dishes among Kazakh national recipes. Indeed, due to the nomadic way of life, only this cooking option made it possible to preserve milk for the longest possible period. Thanks to this, today the national cuisine of Kazakhstan is replete with recipes for dishes and, of course, drinks, from cow, mare, and camel milk.
Welcome to the culinary world of Kazakhstan!
Kazakhstani Meat dishes
1. Beshbarmak
Not a single festive table in Kazakhstan is complete without beshbarmak. This is a traditional meat and flour dish of all Turkic-speaking peoples. Beshbarmak in translation from the Turkic languages ​​means "five fingers"—the nomads ate this dish with their hands.
For the garnish, they used what was rich in this or that region of the Kazakh khanate. For example, cereals were grown in the south. Therefore, some added rice to beshbarmak. The north was the last among all regions to switch to a sedentary lifestyle, so for a long time there, beshbarmak consisted only of meat. With the advent of Soviet power, grain crops began to be grown in the republic, after which dough became an integral ingredient of this dish.
To this day, in different regions of Kazakhstan, it is prepared and called differently. In western Kazakhstan, beshbarmak is cooked with fish.
2. Sorpa
Sorpa (literally translated as "broth") is a dish that is prepared in many eastern countries, but always with regional differences. In Kazakhstan, this is a wonderfully rich soup made from lamb.
The meat is boiled with spices, after which the meat is removed and separated from the bone. Special wide pasta (which is also used for beshbarmak) is added to the broth and cooked. Then the meat is returned to the broth with more spices and also some herbs. Sorpa is a very well-boiled and hearty soup that you cannot eat enough of.
3. Quyrdak
Quyrdak (translated as "frying," so named because of the cooking method) is a national Kazakh roast, which is prepared from meat and offal such as kidneys, heart, liver, as well as onions, abundant greens, and potatoes.
The latter is stewed with the already fried meat and can be boiled down, turning almost into mashed potatoes. When ready, quyrdak may contain a small amount of thick broth.
4. Qazy
Qazy (translated as horse fat or sausage made from the belly and ribs of horse meat) is a traditional horse meat sausage and a real Kazakh delicacy. The fact is that you cannot find authentically cooked qazy in the supermarket, only at the bazaar. And only people who really know a lot about this dish can choose the right one. Therefore, it is not so easy to taste the national culinary pride, and even less easy to make it.
The dish includes horse intestine with fat and meat from the ribs, as well as numerous spices. The meat used for this dish is usually kept intact, and a rib can also be added to the horse intestine. There are a lot of cooking options—there are boiled, boiled, dry-cured, and dried qazy.
5. Nan-salma
Nan-salma is a very popular Kazakh dish, somewhat reminiscent of lagman. This is an unusual dish consisting of meat, gravy, and small squares of cooked dough. The dough is similar in preparation and structure to a dumpling.
Cooking nan-salma isn't easy. After all, noodles are drawn by hand, and this requires experience and skill. The gravy is traditionally made from lamb or beef. More recently, one of our readers shared with us a recipe for this wonderful dish.
6. Palau (Kazakh pilaf)
Palau (literally translated as "pilaf") is cooked with a lot of meat, specifically, lamb. The recipe is not easy and not every chef can handle it. It is cooked in a cast-iron cauldron and it consists of rice and meat, vegetables, spices, dried fruits, and spices (this part is called "zirvak").
The correct preparation of each part, as well as its proportion, creates a dish unique in its beauty and taste. Traditionally, the finished dish is eaten by hand, gently taking a small amount of palau at a time.
7. Manti
Manti is a traditional dish of East and Central Asia, such as Armenia and Turkey. They are like large ravioli, but a million times better.
The filling consists of chopped dough, lamb fat, and onions. Sometimes pumpkin, potatoes, and herbs are added. The dish is steamed, but you can't call it dietary.
8. Nauryz-kozhe
To understand even a little about Kazakh traditions, you need to try one of the oldest dishes in Kazakhstan: Nauryz-kozhe. This is a special national dish that is prepared for the Nauryz holiday (March 22). It is believed that people need to eat this dish in order to live in abundance and satiety all year round.
There are different variations in the preparation of this dish and each housewife prepares it in her own way. Among the compulsory requirements are: the dish must have seven compulsory components: meat, flour, water, salt, millet, butter, and milk, as they signify the seven principles of life and also symbolize the best benefits that can be given to a person; another requirement is that the dish must be seasoned with sour-milk products.
9. Syrne
Syrne is somewhat similar to meat stew. The main feature of the dish is that the lamb must be very soft. Therefore, only young lamb is used in the recipe.
The meat is marinated for an hour in special spices, stewed for a long time without water and oil, and at the end of the stewing process, vegetables are added. When the dish is ready, the meat is so soft that even the cartilage becomes almost jelly. The dish is often complemented by Kazakh bread (baursak).
10. Koktal
Koktal is a hot smoked fish cooked in a special way. Different people have different recipes for smoking fish, but Kazakh koktal is a special dish, and therefore very famous. Its secret lies in the name. "Koktal" in translation from Kazakh means "green willow."
When smoking the fish, willow branches are used, which give it a unique delicate aroma.
This dish is usually prepared from freshwater fish. Traditionally, koktal is made from carp, but you can also make it from grass carp, silver carp, or large carp. The fish should be large, at least 4–5 kilograms in weight, its bones should not be too small, and it is more convenient and safe if you eat it with your hands.
Kazakh pastries and snacks
11. Baursak
Baursak is one of the varieties of traditional bread among the Turkic peoples. It looks like square or round donuts, which are fried in oil. The history of the emergence of this dish is associated with the nomadic way of life of the Turkic peoples. In such conditions, the preparation of bread was supposed to be quick and easy, and difficult field conditions were taken into account.
Modern baursaks are cooked in a cauldron, in a deep-fried pan. Among the Turkic peoples, almost no traditional holiday is complete without these delicious donuts.
12. Shelpek
Shelpek is a traditional Kazakh flatbread fried in boiling oil.
The purpose of shelpeks is purely a ritual one—bread prepared for the spirits of ancestors. Eating them, we even say: "Aruaktarga tie bersin"—"Let the spirits of the ancestors get it".
Traditionally, seven shelpeks are prepared.
13. Chak-chak pie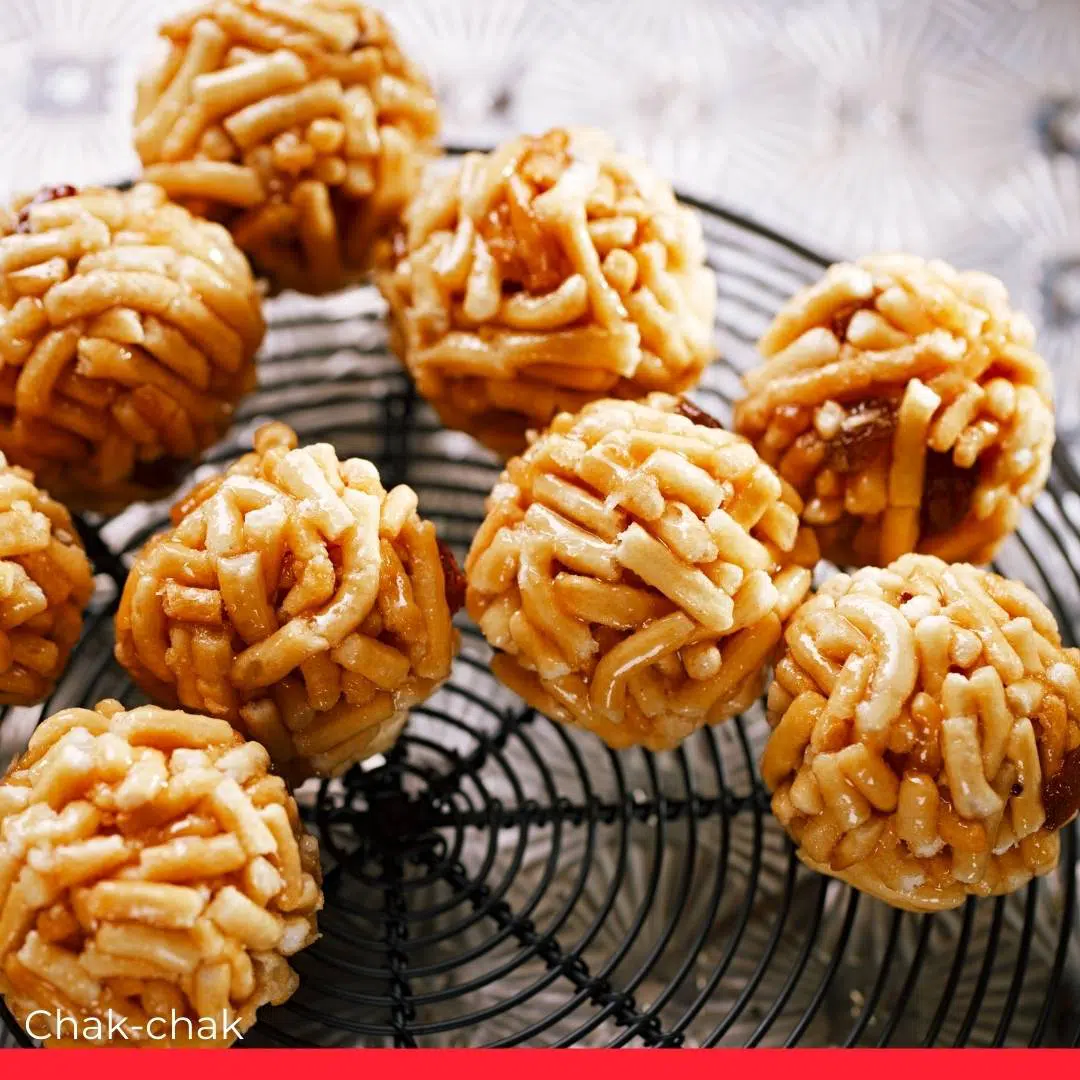 Chak-chak is a favorite oriental sweet in the cuisine of the Turkic peoples—in Bashkiria, Kazakhstan, Kyrgyzstan, Uzbekistan and in many other countries that were traditionally actively engaged in beekeeping and agriculture.
Butter, flour, eggs, milk, and honey are all you need for a delicious chak-chak.
Traditionally, chak-chak is prepared from a soft dough, from which thin short sticks or balls the size of a nut are formed and fried in oil. A hot mix with a honey base is then poured over the dough pieces. The dish is given the desired shape, traditionally in the form of a slide.
Fresh, fragrant chak-chak gives you the opportunity to smell exotic flowers and honey and feel all the power and magic of the East.
Dairy-based products
14. Qurt
Qurt is a high-calorie fermented milk product of the nomads of Central Asia, dried in natural conditions, a cross between salted dried cottage cheese and hard young cheese in the form of balls of different sizes.
The qurt recipe was invented many centuries ago with the aim of preserving dairy products for when trade caravans set off on long journeys and cattle breeders from green spring to late autumn went far from home with their livestock. It was then that the ingenuity of their wives was required, how to supply their defenders on the way, and such culinary products appeared that did not deteriorate for a long time and remained tasty.
Kazakhs call qurt the stone that saved lives. This is why:
During the Soviet Union, there was a concentration camp in the territory of Kazakhstan, in which the wives of oppositionists from all over the Soviet Union were kept. They were forced to collect reeds for 17–20 hours a day.
To save the women from hunger, local Kazakhs from a village next to the camp found a way to feed the prisoners: children threw white stones at the women; it was qurt that helped the prisoners not die of hunger. The guards thought the children were bullying the women, so they didn't pay attention.
15. Irimshik
Irimshik is a national sweet from cottage cheese. Because of its reddish-golden color, it is also called "kyzyl irimshik", i.e. red. Even without added sugar, it tastes sweet. Irimshik is prepared from goat or sheep milk so that it remains soft for a long time.
16. Zhent
Zhent is a Kazakh national festive dish made from fried millet groats, with the addition of dried crushed cottage cheese, ghee, sugar, honey, raisins, nuts, and other ingredients. Zhent is usually served with tea.
It is prepared after the birth of a child, on the occasion of shilde toi (celebration of the birth of a child), besik toi (celebration of the first laying of a child in the cradle), and qyrkynan shygaru (celebration of forty days after the birth of a child).
17. Qymyz
This drink is rightfully considered one of the oldest and is made from milk from dairy animals. Kumis (qymyz) is very nutritious and healthy, therefore it is often prepared nowadays as well. There are a lot of cooking methods; there are several or one-day sourdough, well-beaten, thick, strong, matured, or even fermented kumis.
The cooking method depends on the time of year, on the region where it is prepared, and, of course, on who prepares it. Making kumis is a laborious process and has a large number of its own characteristics; for example, it must be cooked in a special dish, otherwise it loses its useful and nutritious properties.
18. Ayran
Ayran (translated as "sour milk drink") is a drink known far beyond Kazakhstan due to its unusual fermented milk taste. Many people remember it from the not-too-distant Soviet past when the mass production of this drink was launched.
It is believed that ayran is a kind of kefir, only quite thick, although these two drinks have different methods of preparation. Ayran perfectly quenches thirst, has different degrees of liquid, and is made from cow's milk, water, and salt.
19. Shubat
Shubat (translated as a drink made from camel milk) is another traditional fermented milk drink, but made with camel milk.
In addition to the fact that shubat has an amazing, rich taste, it is also considered an incredibly healthy drink because it helps with many metabolic disorders due to the high content of vitamins C and D. It is prepared using a sourdough base in a wooden container by souring.
20. Balqaymaq
This is the national Kazakh sweetness-stewed cream, "honey sour cream". The recipe for cooking is passed down in the family from mother to daughter, and this dish occupies a special place on the table.
For cooking, it is necessary to simmer the cream over a low heat and gradually add a small amount of flour and honey. It is especially delicious to dip a fragrant flatbread into a hot balqaymak.