Top South American Foods You Can't Miss
Food, undoubtedly, is a subjective experience, and no two palates are alike. But what can't be debated is that South America's food, like its countries and people, is culturally rich and diverse.
There are too many amazing dishes across the continent to mention them all, but here we spotlight some of the most popular and delicious, ones that we hope will inspire you to explore this amazing continent further!
1. Ceviche: Perú
Starting off with perhaps one of the best known, ceviche is considered one of the best foods in Peru and South America. It is made with just 5 ingredients: raw fish or seafood, salt, red onions, ají-Peru's unique chili pepper, and citrus juice from lemon, lime or orange.
The citric acid "cooks" the fish, making it firm, and the marinade is called leche de tigre (tiger's milk). This dish is light and fresh, but roaring with flavor.
Ceviche is often served with camote (sweet potatoes) and choclo (large, white corn), which are both native to Peru. While originating in Peru, ceviche can now be found in many of the continent's coastal cities. Of course, who wouldn't want some of this fresh goodness?
While most associate ceviche with Peru, Ecuador has its own version of the dish. However, don't confuse Ecuadorian ceviche with the Peruvian or Mexican versions: it's more like a soup than a salad, is served with chifles (thinly sliced plantain chips) instead of tortillas or corn kernels, and is not accompanied with chili of any kind.
2. Feijoada: Brazil
With Brazil being the largest country on the continent and containing more than half the population, its food cannot be missed out. The most famous of all Brazilian dishes, feijoada, is eaten in every corner of the country.
This hearty stew gets its rich flavor from the combination of black beans slow cooked with different cuts of pork, sausage, and offal. Brazil's national dish is served with fried kale, rice, farofa (toasted cassava flour), and a slice of orange – a dish with as much flavor and color as Carnival!
Feijoada has become a staple dish in many Portuguese-speaking countries from Cape Verde to Mozambique, though each country has added its own twist to this classic recipe.
3. Empanadas: Argentina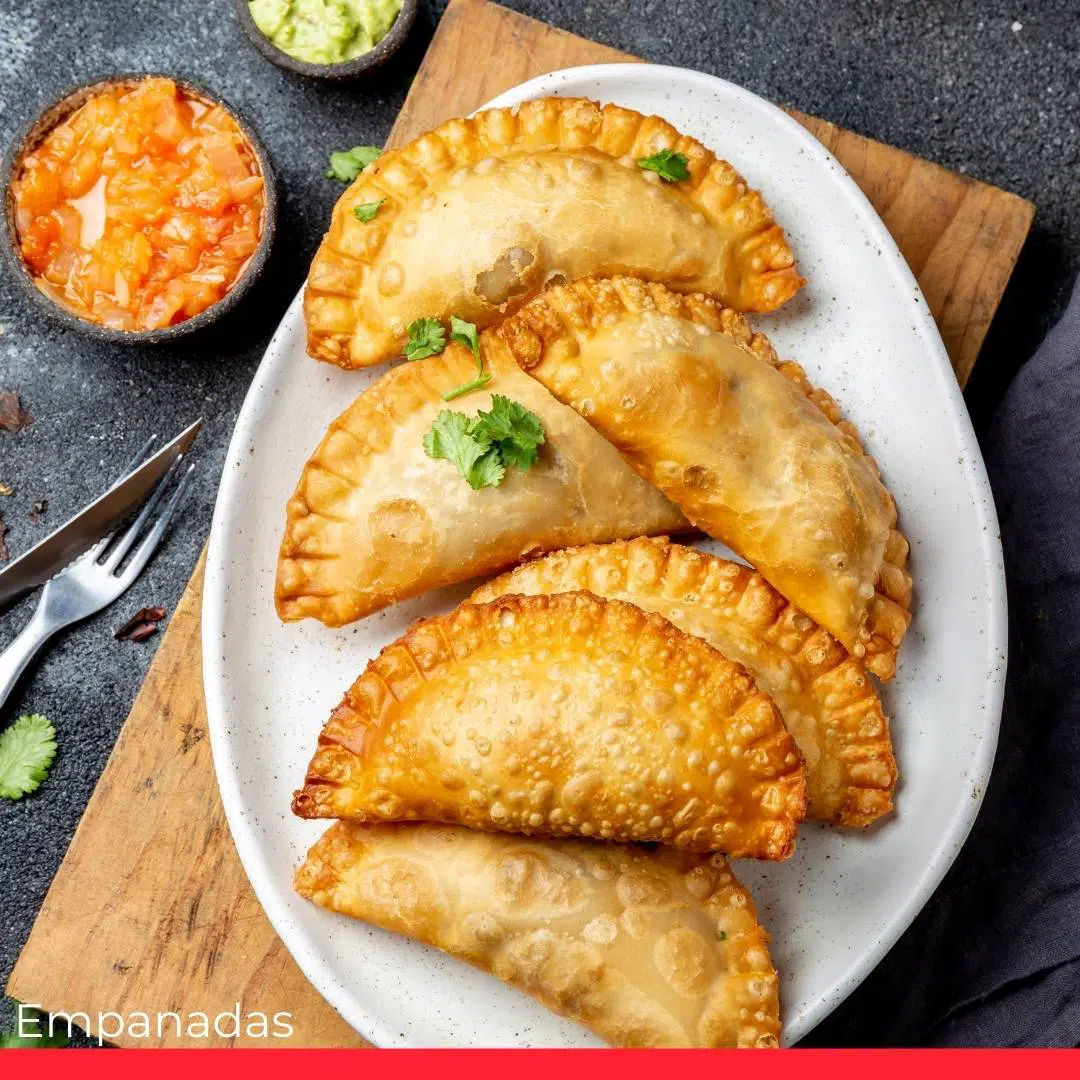 Empanadas are heaven in the palm of your hand. These savory pies made with pastry or dough are shaped into half-moons, stuffed with cheese, meat, or vegetables, and baked or fried. Delicious whether made at home or as street food, they are packed with flavor, and can be enjoyed as a snack, or have a few for a delicious meal.
You can find empanadas in several South American countries, but Argentina's are known to be some of the best.  Every province has its own signature flavor, so take a tour and try them all!
Try this easy mushroom empanadas recipe or this fancier, but incredibly delicious oxtail empanadas with chimichurri sauce recipe.
4. Platanos Fritos: All of South America
Fried plantains are a typical South American treat. Enjoyed on their own or as a side, the subtle sweetness suits just about any meal, and the soft texture practically melts like butter in your mouth.
This traditional food is a staple and can be found throughout South America from tropical Guyana to Venezuela, with each country preparing them in their own special way. In Colombia, for example, fried plantains are usually accompanied with hogao, a salty sauce made from tomato and onion.
No matter how or where you have them, you will go bananas for them!
5. Parilla/Asado: Argentina and Uruguay
Argentina and Uruguay, both with their gauchos (cowboys), cattle, and leather, are destined for loving meat. And oh, do they. Steakhouses can be found all over these countries, and grills in many a backyard as well; it is a way of life.
Each country throws different cuts of beef, sausages, and offal on the grill. A typical Argentine asado will often feature lamb as the main course.
Spiced only with salt, the meat is grilled to perfection and cooked and served with chimichurri (a spicy vinaigrette marinade or sauce), potatoes, bread, and other sides. Simple and delicious!
6. Arepas: Venezuela, Colombia
You can't turn any corner in Venezuela or Colombia without coming across arepas; they are even featured in the Disney movie Encanto. These fluffy, corn tortilla pancakes are a traditional food that can be found at street vendors, in restaurants, or made at home. They are also a favorite Christmas food in Venezuela.
Crispy on the outside and soft on the inside, in Colombia, arepas are more of a side dish and eaten like bread buttered with cheese or egg, while in Venezuela, they stuff them to make a hearty sandwich with meats, cheeses, eggs, beans and sauce and call them pabellón criollo, their national dish.
Whatever they're called, they are magical. 
7. Salteñas: Bolivia
Not to be outdone by its neighbor's empanadas, the national dish of Bolivia is a unique take on the crescent-shaped, filled pockets of dough. Salteñas are strictly oven-baked and filled with chicken or beef, and often served for breakfast as a mid-day snack. 
The uniqueness of salteñas is the sweet pastry with braided crust, achiote spice, which contains cumin and oregano and more, and crushed seeds of the adobo bush, which combined give them a special flavor and color that might make you want to give up empanadas. No need, just enjoy them both!
8. Leche de Tigre: Perú
Leche de tigre may be the marinade in ceviche, but it is also worth a mention of its own. Consumed as a drink consisting of ceviche juice that is left after the fish has been eaten, this milky drink has a number of variations each characterized by a unique blend of spicy, acidic, savory, creamy, and fresh flavors.
If you like it creamier, add puréed fish, or balance the acidity of the lime juice by adding milk. It has almost a religious following in most Peruvian households as it is considered an aphrodisiac and a great hangover cure. You can try and be your own judge!
9. Coxinhas: Brazil
You can never go wrong with dough stuffed with meat, and coxinhas (coshi-ngyazh) do not disappoint. Far from it, these chicken croquettes are crunchy and creamy and the most popular snack food in Brazil.
Meaning "little thigh", a coxinha is a dough made with wheat flour and chicken broth and sometimes mashed potato filled with shredded, spiced chicken meat, mixed with cream cheese, onions, parsley, and scallions.
It has a unique shape – imagine a chicken drumstick without the bone, or a simple chubby, teardrop. Try these with some hot sauce and a cold beer, and you will become a life-long fan.
10. Calentado: Colombia
Calentado is a traditional, hearty Colombian breakfast that includes rice, beans, plantains, steak, fried eggs, and arepas. Truly the easiest meal you could ask for, it is made up of last night's leftovers that are simply reheated.
Nowadays, it's a weekend treat given the sheer quantity of food that is served, but well worth the overly full stomach!
11. Pastel de Choclo: Peru, Chile
Pastel de choclo was created by substituting corn dough into an empanada-like dish, resulting in a creamy casserole-like pie that is Chile's favorite home-cooked meal, Peru's national dish, and also popular in Argentina and Bolivia.
It consists of ground beef, black olives, onions, hard-boiled eggs, and the corn flour dough called choclo. Choclo is an indigenous word for "tender corn," or the new corn of the season, and dates back to the Incas. Still today, corn is a very important staple throughout the continent.
12. Chivito: Uruguay
The extra-large, delicious steak sandwich called chivito actually means "little goat", thanks to a clever chef who didn't want to disappoint a customer and instead created an iconic dish.
While it has numerous traditional and modern variations, the chivito común (common chivito) is a large bun stuffed with thinly sliced grilled beef called churrasco, as well as ham, bacon, melted mozzarella, boiled or fried egg, tomatoes, lettuce and mayo. This delicacy is nothing but common!
13. Dulce De Leche: Colombia, Venezuela, Argentina, Uruguay, Brazil
If you have never had this thick and creamy confection, you should jump on a plane to South America immediately. This sweet, thick caramel is made by simmering milk, sugar, and sometimes vanilla, and served with everything from donuts to toast, or used to make other desserts (like the amazeballs alfajor).
It can be hard to find authentic dulce de leche outside of South America, but luckily you can make an extremely good substitute by cooking condensed milk in the can. You're welcome!
---
Related: Most Popular Foods in Paraguay
Related: Most Popular Foods in Ecuador