Oxtail Empanadas with Chimichurri Sauce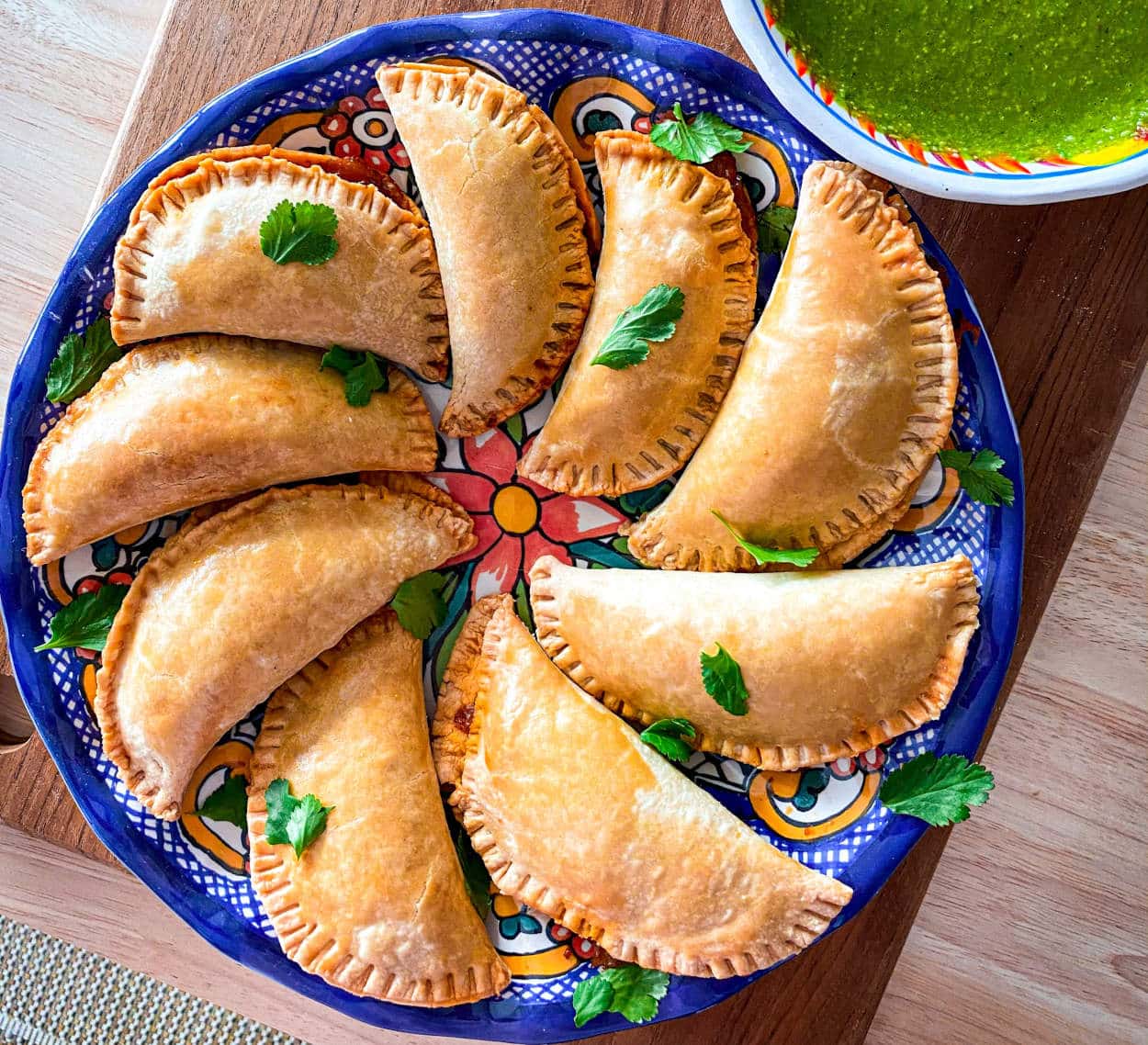 These golden pockets of deliciousness are a marriage of rich, succulent oxtail meat and the comforting embrace of a flaky, golden crust. But wait, there's more! The tangy chimichurri sauce adds a burst of vibrant herbs and spices that elevate each bite to a new level of yum.
Enjoy this wonderful oxtail empanadas recipe by Ismail Haggag!
Oxtail Empanadas with Chimichurri Sauce
Ingredients
Oxtail:
1

kg

oxtail

1

onion

1

carrots

1

celery

1

potatoes

1

red pepper

3

garlic cloves

bay leaf

100

ml

red wine

500

ml

chicken stock

1

tsp

tomato paste

gruyere cheese
Dough:
150

gr

plain flour

75

gr

butter

35

gr

eggs

15

ml

water

2

gr

salt
Chimichurri sauce:
limes

olive oil

cilantro

basil

shallots

garlic

green chili peppers

red wine vinegar

a pinch cumin
Instructions
How to Make the Dough:
Mix the butter (cold) with the flour until you get a sandy texture.

Add the water, eggs, and salt together and mix well with the dough until it's firm.

Roll into a ball and leave to cool.

Roll out the dough to the desired thickness and cut into circles for the empanadas (as wide as desired).
How to Cook the Oxtail:
Sear the oxtail in a sautoir pan and remove.

Cut the vegetables into cubes and sweat over a low heat (5 min) then remove.

Add wine to deglaze.

Put the oxtail and vegetables back in.

Add the stock.

Wrap the herbs together and add.

Bring to the boil and let it slow cook in a preheated oven at 160°C/ 320 ℉ for 3 hours.

Once done, separate the meat pulling it from the bones and set aside.

Blend the vegetables with the liquid then add to a pot to reduce (add tomato paste for color and flavor).

Once reduced to a thick sauce, add the pulled shredded meat and add the grated cheese.

Set aside to cool.

Once cool, fill the dough with the filling and close.

Brush egg wash on the top and bake at 140°C/ 284 ℉ for 20-25 mins.
How to Make Chimichurri Sauce:
Blend all the ingredients together.

Gradually add the lime and vinegar to your desired taste.

Put in the fridge to cool.
Notes
Related: Mushroom Empanadas
Related: Most Popular Argentinian Foods
Related: Wagyu Oxtail w/ Heirloom Carrots, Pickles & Nasturtium
Related: Most Popular Costa Rican Foods
Related: Homemade Chimichurri Sauce