Top 25 Bolivian Foods – Best Bolivian Dishes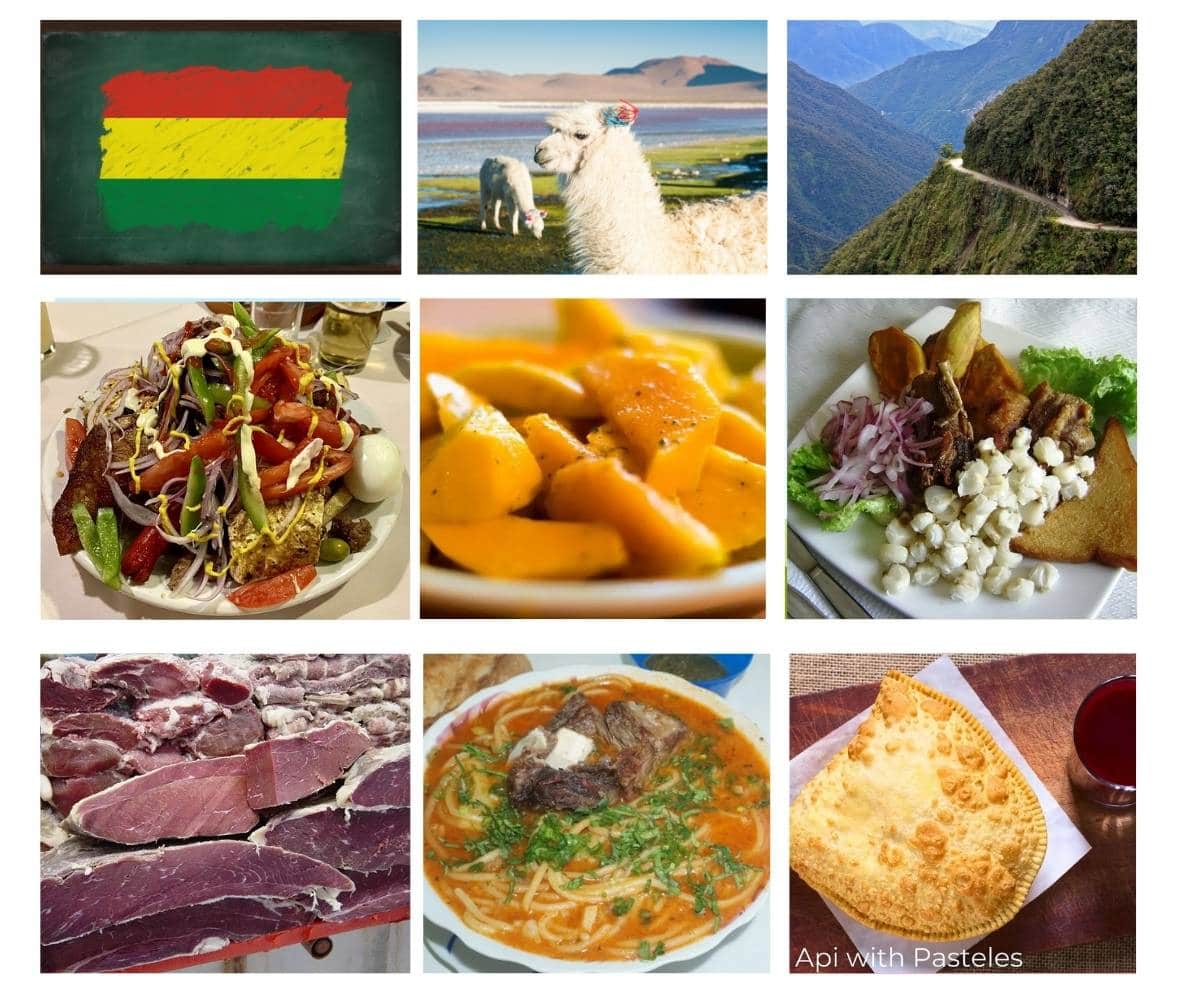 Bolivia is a vast country with different and varied climates, and consequently offers a great variety of natural products, including hundreds of varieties of potatoes and corn, fruits and spices, which are well used by its people to enrich their cuisine.
The people of the Andean zone, with its cold climate, favors very spicy foods full of carbohydrates.
Those in the eastern zone use Amazonian products such as bananas, yuca, corn, and preserved and dehydrated meats.
The valleys area is perhaps the most fertile and has the greatest variety of products, but the main characteristic of dishes prepared here is the number of ingredients and spices used. Of course, locoto and other chili peppers are often used in dishes.
As diverse as its people, geography, climate, and culture, Bolivian cuisine offers an endless range of flavors that reflect the traditions of each region. With the millenary heritage of the native people, the European influence of colonization, and the most contemporary techniques, the possibilities are endless. From the sea level eastern lowlands through to the 12,000 ft. high Andean basin, the following is a small sample of flavors and textures of this cuisine.
1. Salteña
This is a baked patty with two ingredients that distinguish it from any similar snack in the rest of the world: broth and chili. In addition to its steaming broth, it has a filling of different legumes, beef or chicken chunks, potato and spicy spices. It is a very popular and inexpensive mid-morning snack that you can find and enjoy in any street or square in the country.
2. Pique Macho
This dish is typical of Cochabamba (the valley area). Minced meat in well-seasoned pieces, chorizo, fried potatoes, and locotos (chili peppers), tomato, hard-boiled eggs, and sliced onions, all in very generous quantities and served as a snack. Sometimes it is dressed with a sauce made with beer, oil, vinegar, and llajua (a very hot sauce made with locoto and tomatoes).
It was born as a dish to cure drunkenness and is considered "only for the brave" thanks to the strength of the spices.
3. Picante de Pollo (Spicy Chicken)
You can find this in several cities throughout the country, but the most appetizing is that made in Cochabamba. Its special ingredient is the red chili sauce in which pieces of chicken are stewed. Potato, chuño (dehydrated potato), tomato and onion salad, rice, and peas side this delightful dish. It is also prepared with different sorts of meat, such as ox tongue, oxtail, or rabbit.
4. Chanka de Pollo (Chicken Chanka)
This is a very traditional food that you can find all over the country. Prepared with chicken, beans, green onions, and potatoes, it is served with abundant broth in which a variety of vegetables and meat are cooked. The onion to garnish the dish and the llajwa (spicy sauce) to intensify its flavor are a must. Rabbit is used as a popular variation.
5. Chicharrón
On weekends in Cochabamba, it is common to see chicharrón being cooked in large copper pans over a wood fire. Pieces of meat are cooked along with bacon and pigskin fried in their own fat and chicha (an alcoholic beverage made with fermented cornmeal). It is sided with by mote (boiled corn), potatoes, and llajwa.
6. Fricasé
This is a dish symbolic of the city of La Paz. Its base is pork stewed in abundant water with onion, spices, herbs, lemon, and red and yellow chili. The broth is then thickened with bread crumbs and served in a deep dish with chuño, peeled corn, and potatoes.
7. Chorizo Chuquisaqueño
From the Chuquisaca region, this is a Creole well-spiced pork sausage served in an open sandwich, usually before noon. It is accompanied by a salad made of lettuce, tomato, onion, and locoto.
8. Chola Sandwich
Slices of baked pork, crispy pork crackling, lettuce, tomato and quirquiña (an aromatic herb), or pickled onion and carrot on a round piece of bread. The chola sandwich owes its name to the traditionally dressed ladies who sell it.
9. Charque
It is an ancestral dish based on beef or llama meat, which is dehydrated by exposing it to the sun for several days with salt. It is served boiled and deep-fried, with boiled eggs, cheese, potato, corn, and llajwa.
10. Majadito or Majao
Typical of the eastern region, this consists of yellow rice with charque (dehydrated meat), accompanied by yucca, fried plantain, and eggs, and has the consistency of a risotto. It can also be served with chicken or duck.
11. Sopa de Maní (Peanut Soup)
This is one of the most traditional dishes of Bolivia and was made famous on the famous TV show Master Chef. It is prepared with white peanuts, various vegetables, macaroni, pieces of beef or chicken, and French fries.
12. Anticucho
The name of this dish comes from the Quechua language. It is beef heart skewer on sticks, seasoned with a mixture of oil, yellow chili, garlic, and cumin, and grilled over a charcoal fire. It is best accompanied by potatoes and a spicy peanut and chili sauce.
13. Silpancho and Trancapecho
Typical of the Cochabamba valley, this dish consists of a piece of beef beaten until it is very thin. It is accompanied with white rice, fried egg, boiled and browned potatoes, plus a raw sauce based on tomato, onion, and locoto. One of its main features is the huge size of the portions.
This huge meal has become a feature of Cochabamba's nightlife. Because this favorite dish needed to be served in a way people could take away and be economical, the Trancapecho was born.
This curious snack is a Silpancho served as a sandwich in crusty rustic bread. It's known as the "poor son of Silpancho" but is a very fulfilling meal.
14. Mondongo
Popular in the department of Chuquisaca, this is a meal based on pork and skin minced into small pieces. This colorful culinary offering has a lot of red chili pepper in a delicious sauce, boiled potato, corn, and yellow chili and is served hot as a main dish.
15. Pampaku
Cooked for three hours in an underground oven of hot stones, this is a dish typical of the valleys. It consists of various types of meat (pork, chicken, beef, lamb, or duck), cooked in its own juices along with potatoes, plantains, sweet potato, and corn on the cob. It is served with a salad.
Very few dishes can achieve the tenderness and flavor complexity this technique provides.
16. Ají de Fideo (Spicy Noodles)
This is a traditional dish of the highlands, mainly in the mining areas, although it can be found throughout the country. The main ingredients of are toasted noodles, beef, lamb, and chicken in a broth with lots of aji (chili peppers). It is usually cooked in a clay pot over a wood fire.
17. Fritanga
This dish is eaten in the valleys of Chuquisaca and is made with fried pork ribs seasoned with many spices and hot chili, accompanied with patasca (broth with corn) and potato.
18. Api with Pasteles
Ideal at the beginning or end of the day, the api is a drink typical of the coldest areas of the country and is served very hot. It is made from ground purple or yellow corn with cinnamon, cloves, and sugar. It is accompanied by a fried patty made of wheat flour, filled with cheese, and sprinkled with plenty of powdered sugar.
19. Saice
One of the most popular dishes of Tarija (valley area),this is a stew of well-seasoned and finely chopped beef with chili, served with rice or noodles, Creole potato, chuño breaded with cheese and egg, and a rich refreshing salad.
20. Humintas a la Olla
This is a delicious Bolivian pastry snack made from a pastry of ground corn, milk, butter, salt, sugar and slices of fresh cheese and aniseed. It is divided into portions, wrapped in corn leaves, and boiled in a pot of water. When you try them, make sure you also have a good coffee.
21. Chanfaina
The main ingredient here is lamb giblets (liver, heart, and lungs) cut into small pieces and turned into a thick stew. The dish is completed with rice, potatoes, and oca (a sort of sweet potato).
22. Locro Carretero
You can find this delicacy in the east of the country. It is a soup made with beef jerky or poultry, egg, onion, green plantain, and yucca. It is so-called because it used to be consumed by those who traveled by carretón (a cart pulled by oxen or horses).
23. Patasca
Typical of the eastern lowlands, this dish is a thick broth made from beef and pig's head, stewed until the meat is reduced to tiny bits, with popped corn, shredded and served with chopped green onion and boiled yucca. It is usually consumed after a party as it is said to cure hangovers.
24. Ranga Ranga
The star ingredient of this dish is the so-called book or cow belly, chopped into small pieces and stewed to make a broth to which is added diced potato, onion, and yellow chili pepper among other condiments. Enjoy it with a tomato and onion salad.
25. Phisara de Quinua
Quinoa is a grain native to the high plateau area of the Andes mountains and has a high nutritional value. In Bolivia, this "golden grain" is used to prepare more than thirty exquisite dishes, one of them being Phisara, which is served mainly in La Paz, Oruro, and Potosi. It consists of quinoa lightly ground in a batán (grinding stone), toasted and then cooked in a pot.
It is served with roasted beef, llama pork rinds, charque or cheese, and garnished with beans, cooked peas, and green onions.
---
Related: Most Popular Bolivian Desserts
Related: Popular Bolivian Christmas Dishes