Top 30 Guyanese Foods To Try Out (With Pictures!)
Guyana, also known as the "land of many waters", is the only English-speaking country in South America. This little country on the Amazon basin is a melting pot of cultures and traditions.
Guyana has a very vibrant history and was fought after by the Dutch and British. During this period, African slaves were brought here to work on the sugar plantations.
After the abolishment of slavery, indentured immigrants from India, China, and Portugal were shipped in, bringing with them their native dishes. The country's first people, the Amerindians, also played a part in developing this unique cuisine. Together, this land of six races brings to the world food like no other nation on earth.
Let us jump right into the most delicious Guyanese dishes you must try on your next visit to Guyana.
1. Pepperpot
Pepperpot is the national dish of Guyana and celebrates the contribution of the nation's first people.
It is a slow-cooked meat stew using beef, but some versions use mutton, pork or chicken. The meat is cooked with peppers, cinnamon, spices, and cassareep (a sauce made from cassava root (yucca) and a handful of other ingredients).
Soaking up the decadent stew with a piece of homemade bread is a great way to enjoy this dish, especially on Christmas morning.
2. Cassava Bread
Cassava bread is a crispy-thin flatbread made from grated cassava dried to a powder. The taste of cassava bread is like that of a rice cracker and it goes well with peanut butter or pieces of avocado as a fantastic snack.
3. Farine
Farine is made from cassava root flour and has the consistency of couscous. The taste is bland, similar to rice, and goes well with a delicious curry or spiced vegetables.
4. Metemgee
Metemgee is a hearty and thick soup bursting with the flavors of African influence.
This tasty dish involves boiling together vegetables and hearty starches such as plantain, yam, cassava, sweet potato, and others. The vegetables and starches are all combined with some meat in a coconut milk broth.
5. Cook up Rice
This luscious blend of peas, rice, meat, and coconut milk makes a heart-warming meal. Cook up is a highly customizable dish with many variations using different types of beans, peas, and meat. Cook-up with pepper sauce (blended pepper in lime juice or vinegar) on the side really gets your taste buds going!
6. Curry and Roti
This dish is of East Indian origin and uses meat such as chicken, fish, duck, shrimp, and crab.
The meat is cooked in a mixture of curry powder and masala (a blend of dry-roasted ground spices such as cinnamon, cardamom, cloves, nutmeg, and others). It simmers until the meat is tender and a thick gravy is left behind.
These infused pieces of meat in gravy are scooped up with either roti (a flaky flatbread), rice, or dhal puri (roti stuffed with seasoned yellow split peas ground up into a smooth paste).
7. Dhal
Dhal is a soup-like dish of Indian origins made by boiling yellow split peas in water with garlic, pepper, and other spices. A swizzle stick can be used to make the dhal smooth and then slightly burnt cumin and garlic are added for a hint of smokiness.
This flavorful gravy with rice or roti can be paired with any meat or vegetable dish.
8. Coconut Choka
Coconut choka is ground fire-roasted coconut seasoned with onion, garlic, and lots of pepper. It is enjoyed with rice and dhal and is quite a zesty meal.
Choka can also be made from roasted eggplant and tomatoes or fish, which are then mashed and seasoned with onion, garlic, pepper, and fresh herbs.
9. Seven Curry
"Seven curry" reflects the incredible flavors of India and is traditionally served at Hindu religious functions.
The seven curries are potato, channa (chickpeas), eggplant, eddoes (similar to taro), pumpkin, spinach, and katahar (a type of breadnut).
This finger-licking meal includes the curries, rice, dhal, and chutney (a spicy condiment from cooked green mango and pepper) served in a giant water lily leaf. It is usually eaten using the fingers rather than a spoon.
10. Bake and Saltfish
Bake and saltfish is a typical breakfast meal and consists of fried dough and saltfish. The dough puffs up as it is fried in oil for a crispy outer shell and a pillowy-soft hollow inside.
11. Black or White Pudding with Sour
This dish shows a direct influence of the British and Irish. Black pudding is a blood sausage with rice, flavored with fresh herbs and other seasonings, stuffed into the intestines of a sheep or cow.
White pudding contains all the ingredients of black pudding except the blood. Dipping pieces of the "pudding" in sour (a local condiment made with mango or tamarind) elevates the dish to a whole different level.
12. Garlic Pork
This Portuguese pickled meat dish is made from chopped pieces of succulent pork seasoned with large amounts of garlic, pepper, and fresh herbs.
The meat sits in brine for up to 4 days to pickle before cooking in its fat until brown and tender. It goes best with homemade bread and is popular during the Christmas season in Guyana.
13. Chicken Foot Souse
This dish has European origins and consists of chicken feet. Other variations include the ears, feet, knuckles, and shoulder of a pig, or the heel of a cow and the head, which becomes gelatinous when cooked.
The cooked meat or trimmings are usually soaked in a brine made of water, lime juice, cucumbers, hot pepper, salt, and specially prepared seasonings.
14. Black Cake
Black cake is a rum-soaked fruit cake that is popular at Christma time and special events.
This sinful treat closely resembles a chocolate cake but do not be fooled. The dark color is thanks to the bits of fruit heavily soaked in red wine and dark rum.
15. Fried Rice
Guyanese fried rice is made with a medley of ingredients such as meat, eggs, vegetables or seafood. It resembles Chinese fried rice but with a fascinating West Indian twist. Chinese Five Spice -a blend of cinnamon, fennel, cloves, star anise, and Szechuan peppercorns – gives Guyanese fried rice its distinctive flavor.
16. Chowmein
With influences from the Chinese, Guyanese chow mein is a mix of noodles, chopped up veggies, meat, and sauces of your choice fried in oil.
Whilst hot, this food tickles the taste buds with the amazing taste of marinated meat and sauces including soy, cassareep, and others.
17. Wild Meat
Wild meat is legally sold in Guyana so it is quite usual to eat certain wild animals.
But it's only legal to hunt wild animals such as Labba (Cuniculus paca), Capybara (Hydrochoerus hydrochaeris), Peccary (Tayassu pecari) and Iguana. These exotic meats are consumed either in a curry or stew – so if you're adventurous, be sure to try some of these Gyanese delicacies.
18. Pholourie
Pholourie is a crispy fritter made by frying balls of spicy yellow split pea dough. Served with a side of sour, it is a mouth-watering snack for when you're on the go.
19. Egg balls
Eggball (or egg balls) is prepared by covering a boiled egg in a mix of boiled and mashed cassava, raw egg, and spices, and then frying it. Just like pholourie, a side of sour makes for a filling and flavorsome snack.
20. Plantain Chips
The plantain is cut into numerous round or long thin pieces, which are then deep-fried to give you a delightfully crunchy snack. Much like chips and dip in other parts of the world, plantain chips pair well with sour.
21. Chicken Foot
Chicken foot does not include any part of a chicken. Rather, it is made from strips of spiced dough. Once fried, these strips, seasoned with flour, curry powder, and cumin, closely resemble chicken feet.
They are quite crunchy, but leaving them in the liquid-y sour for a while will soften them a tad.
22. Tennis Roll and Cheese
Tennis roll is very much like a dinner roll with a slice of extra sharp cheddar cheese in the centre. It is a snack that can be enjoyed any time of the day with a cool refreshing beverage or a hot cup of tea or coffee for a moment of bliss.
23. Fried Fish and Bread
Fried fish and bread is fried fish placed in a tennis roll with ketchup and pepper. The crunchiness of the fish against the softness of the bread makes it a much-loved sandwich.
24. Gun Oil
Gun oil is corn in fresh coconut milk seasoned with salt, pepper, and thyme and cooked until all the flavors are infused into the corn. It is then served with some of the "juice" for a powerful combination that is believed to give men strength and help them stay fertile.
25. Pastries and Patties
Pastries and patties are common snacks that feature fruit or meat fillings in a crumbly dough. They're enjoyed anytime, anywhere.
Scrumptious options include Chinese cake (candied, mashed black eyed peas), pine tart (candied pine nuts), cheese roll, chicken, beef, etc.
Guyanese food gives you a taste of almost every country in the world due to its first settlers, slavery, and indentured labor. With the combination of different cultures adapting the local spices, meat, and vegetables takes you on an exciting culinary journey and truly deserves the accolade of being a genuine fusion cuisine.
Did we include your favorite Guyanese food on our list? We'd love to hear your opinion, so if you have more suggestions, be sure to leave a comment below and share your feedback with our community.
26. Sorrel Drink
Well….this is not really a food, but this drink needs to be part of every respectable round-up on Guyanese cuisine,
Sorrel drink has its origin in West Africa, but it's one of the most popular drinks in Guyana makes. Sorrel is a species of the hibiscus family. The sepals keep the petals of the flower together before it blooms. As the flower matures, the sepals become bright red and fleshy. 
The sepals are removed from the ovary and used to make sorrel drink. They are boiled in a pot with water and spices to extract their color and flavor. What you get is a vibrant red liquid which looks very Christmas-y.
The liquid is then cooled, sweetened to taste and left to sit overnight. When it is time to serve, it is passed through a sieve, then poured in a tall glass over ice. Some people add alcohol to take this refreshing beverage to the next level.
27. Tamarind Balls
Tamarind balls are a crowd-pleaser and a popular snack in Guyana. It is the perfect combination between sweet and sour. 
Fresh tamarind is peeled and mixed into a thick paste. It is then flavored with salt, finely crushed garlic and pepper. The paste is then rolled into small balls and coated with sugar. Some people prefer spicy, some prefer it sweet and some prefer it sour.
28. Coconut Buns
Coconut buns are a rich but not very sweet dessert made from shredded coconut, flour, eggs, and sugar. It is topped with either raisins or cherries for an added hint of sweetness.
29. Potato Ball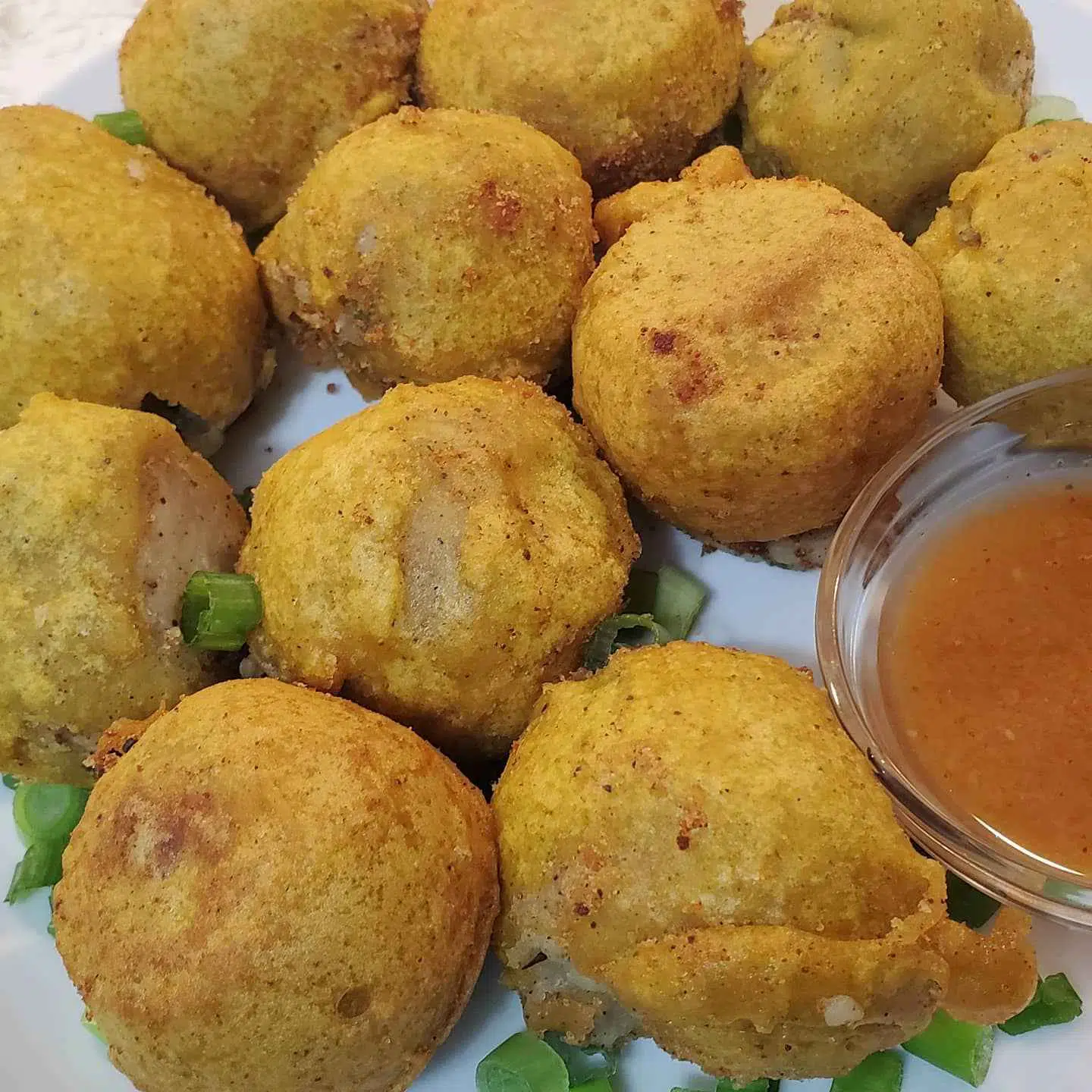 Potato ball are very popular in Guyana and they are similar to cassava balls or egg balls. Potatoes are boiled, crushed, seasoned, shaped into balls, rolled in eggs and flour, and fried. They are served with mango sour as well. Delicious!
30. Honey Roasted Peanuts
Peanuts are loved worldwide, except by those who are allergic of course. This favorite Guyanese snack involves peanuts which are roasted in a honey syrup mixture to give it a sweet and toasty flavor.
They are usually served in paper bags and some street vendors roast them fresh, right in front of your eyes. This ensures you get them hot for the best experience.
---
If you're interested in the Guyanese cuisine, check out these the stories below:
Related: The Best 20 Guyanese drinks.
Related: The Best Desserts in Guyana