Uruguayan Food: Top 25 Dishes and Recipes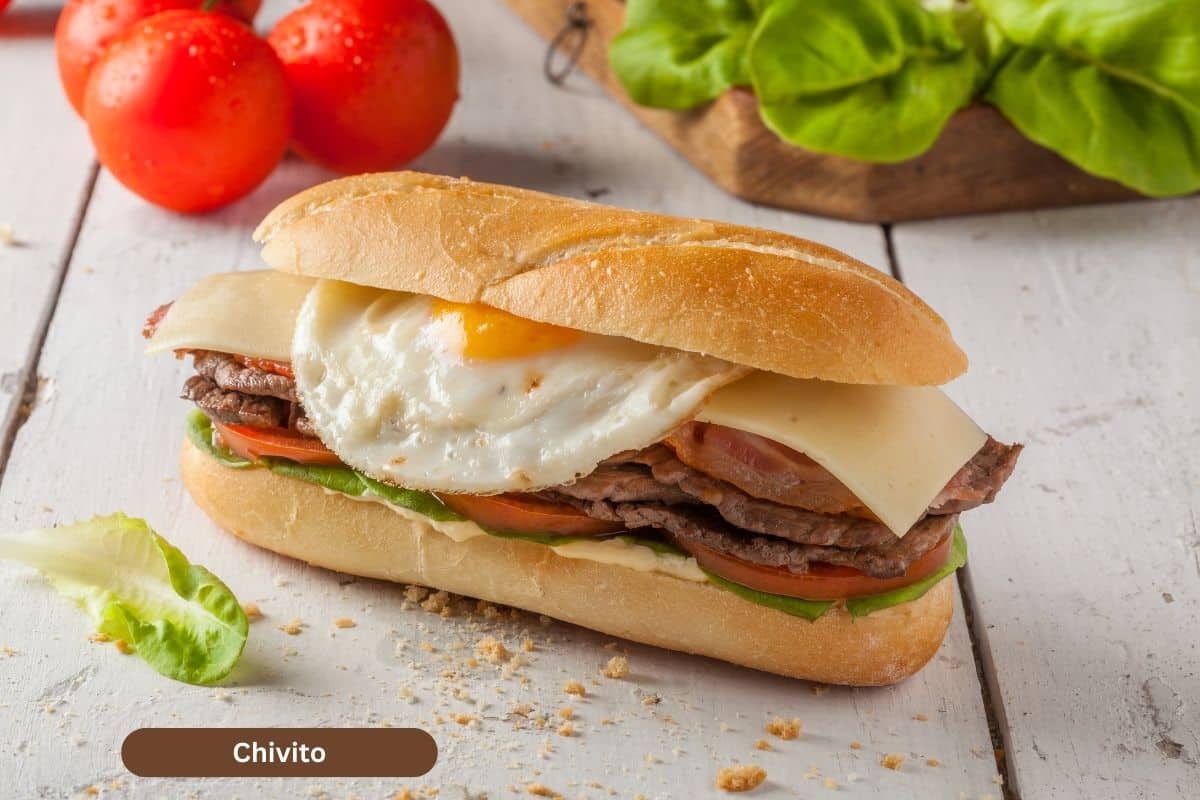 One of the joys of traveling is trying each culture's most typical and popular foods and discovering why they favor certain ingredients or preparations over others.
In Uruguay, a country located northeast of Argentina, gastronomy was heavily influenced by the Spanish and Italian settlers of the 19th and 20th centuries.
There are also traces of French, British, and German culinary traditions. As a result, you might spend some time searching for a genuinely indigenous dish because they are challenging to find.
1. Asado (Barbecued Beef)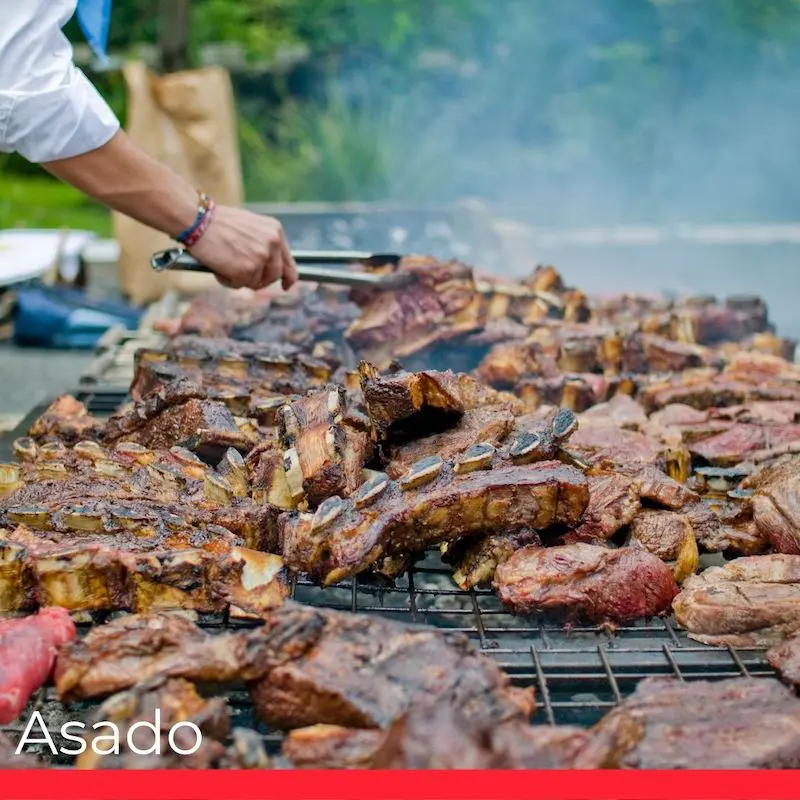 Here's a fact: There are more cows than people in Uruguay. There are nearly four cows per person in this small country. So, it is no surprise that the absolute top dish in Uruguay is meat. The "asado", which is nothing more than barbecued meat, is number one on our Top 25 List.
Now, anyone can barbecue a good steak. Still, you need to try the Uruguayan asado. We are talking about succulent, high-grade meat, slow-cooked on eucalyptus wood embers to produce tasty and tender cuts that melt in your mouth. You will find delicious asado in any city.
Uruguayans serve it at most celebrations and informal get-togethers, and houses and apartments often feature a built-in barbecue, proving this is Uruguay's most popular and typical dish.
2. Gnocchi
Italian cuisine has the greatest influence on Uruguayan cooking. Home-made gnocchi is the second most popular food in the country. One of Uruguay's most popular traditions is based on eating gnocchi on the 29th of every month.
According to Italian legend, Saint Pantaleon once asked a group of Venetian farmers for a piece of bread, and they invited him to join them for dinner: they had gnocchi. As thanks, he announced they would have a year rich in fishing and farming, which they did.
Another version says that rich people in Uruguay would invite those who had less to lunch on the 29th of each month and quietly pass along a couple of coins under a plate of gnocchi to help them make ends meet.
Although often considered a type of pasta, gnocchi is made of potatoes, eggs, cheese, and a bit of flour. Uruguayans typically top them with a sauce called "tuco", mainly tomato and beef, similar to a Bolognese. You can also try the gnocchi with a four-cheese sauce, pesto, or pomodoro sauce. If you eat this delicious dish on the 29th, remember – check under your plate for coins!
3. Homemade Filled Pasta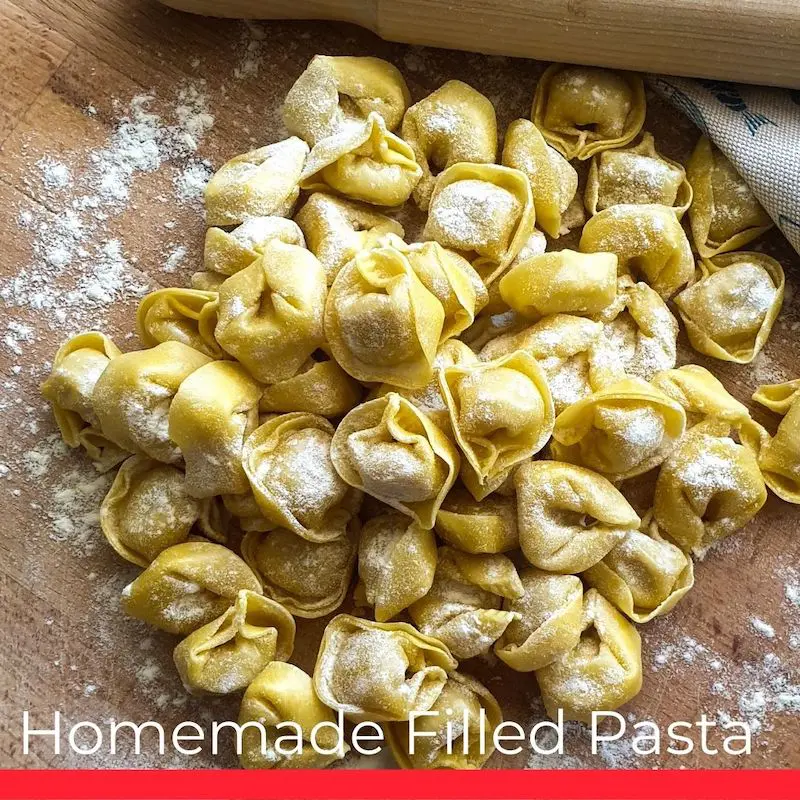 Again, Italian tradition is huge in Uruguay, so it is no surprise that home-made filled pasta, such as tortellini and ravioli, are very popular dishes. Fillings range from beef and vegetables to cheese and ham.
And you can have a plate of tortellini and ravioli with any of the traditional sauces: beef or chicken tuco, Napolitana (tomato or marinara sauce), four-cheese, pesto, tomato, aioli (sautéed in garlic and olive oil), or the much-loved Caruso sauce, which is made of cream, ham, mushrooms, and beef stock. Yum!
4. Choripan (Chorizo Hot Dog)
The word choripan is a contraction of chorizo and pan. It means chorizo on bread or chorizo hot dog. Contrary to Mexican or Spanish chorizo, the Uruguayan kind is made of two-thirds beef and only one-third pork, so it tastes different.
In Uruguay, chorizo is not smoked or dried. It is typically cooked slowly on the barbecue atop wood embers. However, if you're a fan of street food, many trucks cook it on the grill. Either way, it is juicy and delicious.
A choripan is chorizo sliced lengthwise, placed on a hot dog or hamburger bun, and topped with "chimichurri", a traditional Argentinian and Uruguayan sauce made of parsley, oregano, garlic, vinegar, oil, mildly hot peppers, and a bit of salt.
You can also add other sauces and ingredients, but it is delicious simply with chimichurri alone.
5. Chivito (Beef Sandwich)
The chivito is a very popular Uruguayan sandwich. Fill a large piece of bread with a boneless cut of grilled beef, lettuce, tomato, mozzarella cheese, ham, and a fried egg. Close. Enjoy!
You can use mayonnaise, ketchup, mustard, hot sauce, chimichurri, and other sauces to enhance the flavor according to your taste.
Also, there are several twists on the classic chivito. You can have it as a sandwich or a platter (without the bread); you can even ask for a Canadian chivito, including olives, red peppers, onions, and bacon. Chivitos are accompanied by a mountain of French fries and Russian salad, made of boiled potatoes, carrots, and peas, dressed with mayonnaise and mustard.
6. Pizza
You will find Italian pizza in just about any restaurant in Uruguay. You can order it as a main dish. However, Uruguayans typically enjoy it as an appetizer, a side dish, a snack, or to accompany their drinks. Pizza in Uruguay is generally cooked in wood-burning ovens. It has a rectangular shape to fit the long-handled baker's paddle.
In Uruguay, you can order pizza by the meter! However, ordering pizza will only get the bread base topped with marinara sauce. If you want any mozzarella cheese on it, order a muzza – short for mozzarella. You can also have the famous round pizza with any topping: Uruguayans call them pizzetas.
7. Fainá (Chickpea Flour Pie)
Also known as farinata or socca, this simple dish is made of a dough containing chickpea flour, olive oil, water, salt, and pepper. The dough is placed in the oven like a large pizza, and baked until golden.
Uruguayans eat fainá as an appetizer, a side dish, a snack, and pizza. Some like to put toppings on it, such as mozzarella cheese, blue cheese, or caramelized onions. It makes an excellent starter for any typical Uruguayan meal.
8. Milanesa (Beef or Chicken Cutlet or Schnitzel)
Milanesa is one of Uruguay's dishes with a heavy German influence. While most restaurants offer a choice of beef or chicken cutlet, the typical Uruguayan milanesa is made of beef – preferably veal. Perhaps this is hardly surprising, given the large livestock population.
A milanesa is a thinly sliced steak, patted in seasoned egg wash, and breaded in a mix of bread crumbs and parmesan cheese. It can be cooked in the oven but is typically deep-fried. It is served as a sandwich or on a platter, always with a large side of French fries, Russian salad, and a wedge of lemon.
9. Milanesa Napolitana
A delicious variation of the milanesa is this Neapolitan version. It is the Italian version of the German schnitzel. Start with the regular beef milanesa, and then top that with marinara sauce, ham, and a generous portion of mozzarella cheese.
To the oven, it goes until the cheese is melted. Then it is served on a platter with Uruguay's favorite side dishes: a mountain of French fries and Russian salad.
10. Gramajo
It is said that an Argentinian visiting Paris returned to his hotel feeling quite hungry one night. The kitchen was closed, so he broke in and made himself a scramble with the leftovers he found.
The dish is made with French fries, fried onions, peas, and diced ham, all scrambled with eggs.
The result looks a little bit like a hash brown. In Montevideo, the first gramajo was prepared in 1960 at Bar Luzon, a restaurant downtown famous to this day as the home of the gramajo.
11. Empanadas
An empanada is a type of turnover made of pastry filled with ingredients. Empanadas are a popular dish throughout South America, but the preparation varies. In Uruguay, the dough is made from wheat flour, and it can be fried or oven-baked.
Fillings can be savory, including combinations of beef, pork, chicken, fish, vegetables, and cheese, prepared differently. Fillings can also be sweet, made with chocolate, quince preserve, or dulce de leche. 
You'll find empanadas everywhere: in restaurants, street food trucks, kiosks, and more. They are popular as a quick lunch option and take-out food as they're perfect when you're on-the-go.
12. Uruguayan Pamplona
An Uruguayan classic created in the 1960s this is a rolled-up cutlet of beef, chicken, or pork filled with cooked ham, bacon, mozzarella cheese, red peppers, and olives. The Pamplona is rolled up, set with a net, and cooked on the barbecue or baked in the oven.
The Pamplona is then sliced and served on a platter, generally with a salad or pasta.
13. Hamburgers and Hot Dogs
Likely part of the German influence in Uruguayan gastronomy, hamburgers and hot dogs are widely found in restaurants and cafes and at street food trucks.
In Uruguay, a hot dog is called a pancho. The frankfurter is mainly made of beef, and a common pancho is just the frankfurter on the typical hot dog bun. Most often, the pancho is topped with mustard. Still, other sauces such as mayonnaise and ketchup are popular, as well as several pickled toppings such as mushrooms, red peppers, onions, carrots, and more.
You can also have a pancho topped with bacon, ham, and mozzarella cheese. Hamburgers are similar to the American kind. However, burger patties are a bit thinner, and the toppings offered are the same as the hot dogs. A completa is a hamburger with ham, bacon, mozzarella cheese, and a fried egg.
12. Olimpico
The Olimpico is a sandwich eaten mainly as a quick lunch or part of a typical afternoon snack. It is white, untoasted bread with mayonnaise, sliced ham, boiled eggs, processed cheese, tomato, lettuce, and red peppers.
The Olimpico is eaten cold and is a very popular option for picnics, to the beach, or to serve at parties.
13. Tartas and Tortas
Uruguayan pies are a top-rated lunch option from bakeries, kiosks, food markets, and restaurants. Tarts are generally savory dishes, made with a thin empanada-like crust filled with various ingredients.
Generally, the pie fillings are mixed with eggs and cheese to form a quiche inside the crust. Popular fillings include vegetables, ground beef, shredded chicken, tuna fish, and the famous Pascualina, made of spinach and/or Swiss chard and boiled eggs.
14. Pulpón al Horno
Pulpón or Vacío is a cut of beef similar to a rump steak, except that it is a larger chunk, as thick as three steaks together. Pulpón is cooked very slowly, either on the barbecue or in the oven.
The result is an incredibly tender piece of meat, generally served with baked potatoes and sweet potatoes. This dish takes several hours to cook, so you usually only find it on a restaurant's 'specials' menu.
15. Dulce de Leche
Dulce de leche (milk caramel) is a confection used in desserts all over Latin America. It's one of Uruguay's favorite dessert ingredients. It is made by slowly simmering sweetened or condensed milk until it becomes golden brown.
Uruguayans use dulce de leche as filling for cakes, pastries, and churros. It is also enjoyed as a spread on bread, pancakes, and other breakfast and snack foods.
16. Alfajores
Alfajores are best described as sandwich cookies. The dough is a soft shortbread, slightly sweet. Once baked, the sandwich is filled with dulce de leche, topped with powdered sugar, and coated on the sides with grated coconut. That is a typical alfajor.
However, chocolate-dipped alfajores are very popular as well. Many Uruguayans eat alfajores for breakfast, but they are most popular as part of an afternoon snack.
17. Torta Frita
This snack originates from the German Kreppel and was brought to the Southern Cone by Spanish and Arabic migrants.
Torta frita is a dough made with wheat flour, salt, water, and beef fat. The dough is kneaded to a thickness of one centimeter, a hole is poked in the middle, and the patty is deep fried. Once golden, it is covered with sugar and served warm.
Tortas fritas are the perfect comfort snack for Uruguayans, and they typically eat them on rainy days, either with mate or, in winter, with hot chocolate.
18. Pasta Frola
Pasta frola is a variation of the Italian fruit preserve pie. The crust is typically filled with quince preserve and topped with a lattice crust. It is a delicious combination of savory and sweet and a very popular dessert in Uruguay. It can also be filled with dulce de leche or sweet potato preserve.
19. Chajá
Chajá is a three-layered cake filled with merengue, Chantilly, and peaches. A chajá is an indigenous Southern Cone bird, and the dessert got its name because it resembles the pattern of the bird's abundant feathers.
This decadent concoction is one of the few genuinely original Uruguayan desserts. It was created in 1927 by Orlando Castellano, a baker from the state of Paysandu.
20. Martín Fierro
Sometimes, less is more! The Martin Fierro is a savory cheese dessert that perfectly combines the sharp flavor of Colonia or Manchego cheese with the sweetness of Uruguayan quince preserve (dulce de membrillo).
If you're stuck for time, his dessert couldn't be easier to prepare! Place a thick layer of quince paste over a thick slice of cheese, and you're done! Enjoy!
21. Arroz con Leche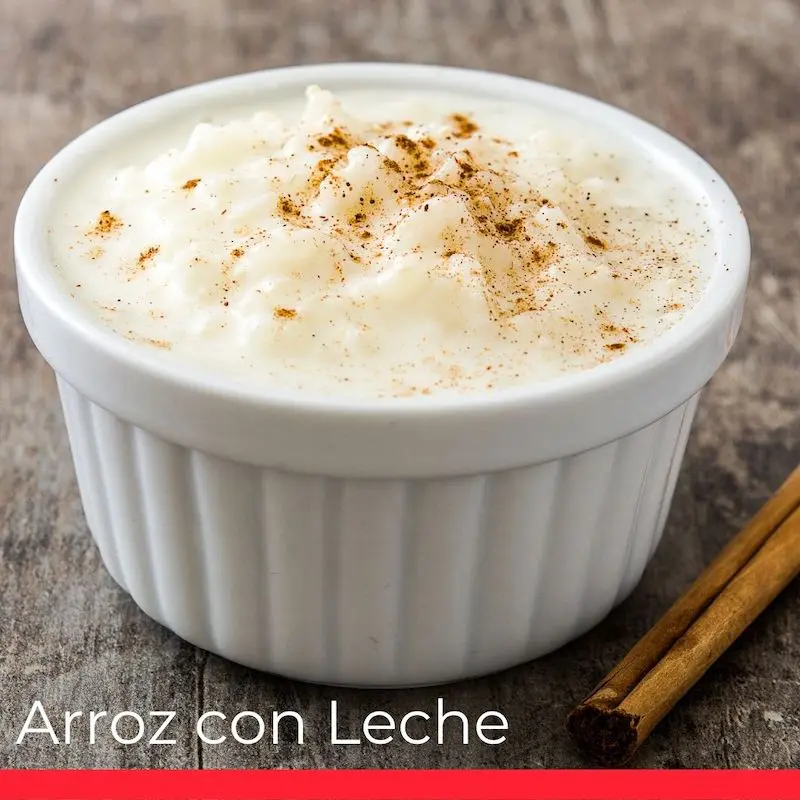 This very popular dessert is thought to have its origins in Asia. From there, it was brought to Europe and then to Latin America. It is usually made by slowly cooking rice in milk and sugar, but in Uruguay, they add egg yolks to give it a richer, creamier texture.
Once the rice is tender, sprinkle with powdered cinnamon and some grated lime or lemon rind. Arroz con leche can be served warm or cold and is delicious straight from the fridge!
22. Bizcochos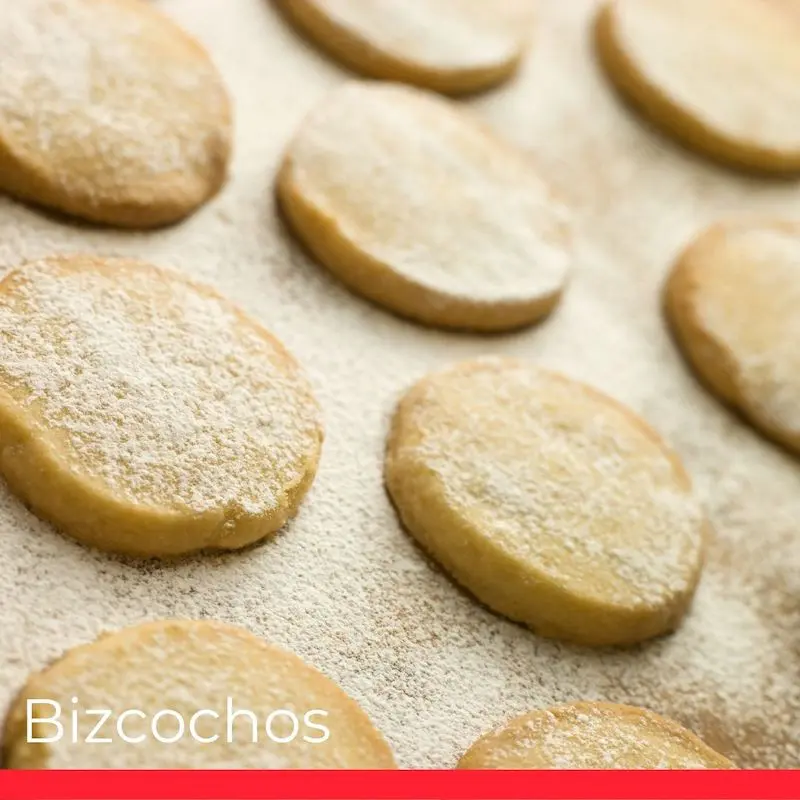 Bizcochos are small pastries that can be savory or sweet. There are many varieties. Among the most popular are miniature croissants, which can be covered with sugar or filled with preserves, chocolate, or dulce de leche.
There are also savory versions filled with ham, cheese, bacon, salami, and other cold meats. Then there is the pan con grasa, which is a small bread roll made with pork fat. Bizcochos are typically enjoyed at breakfast or as afternoon snacks.
23. Churros Rellenos
Churros are said to have originated in China, from where they were taken to Europe by the Portuguese back in the 16th century. They became known in Latin America during colonial times.
A churro is a soft dough made of wheat flour, water, and oil, deep-fried in the shape of long sticks. Once golden, churros are served sprinkled with sugar. Uruguayans take the simple churro to the next level by creating larger, thicker sticks, which are then filled with dulce de leche or chocolate sauce.
24. Tannat Wine
The tannat grape is considered part of the national heritage. Uruguayan wineries have been granted many awards for making tannat wines. The grape was brought to the country from Europe in the 19th century by Spanish, German, Italian, Swiss, and French migrants. It was first planted in the city of Salto.
The climate in Uruguay is very favorable to this grape. However, as tannat wine can be very acidic, astringent, and earthy, most Uruguayan wines combine the tannat grape with other softer varieties, such as the merlot.
25. Mate
Leaving the mate leaf out of this list of top Uruguayan foods is impossible. Mate is easily more popular in Uruguay than anywhere else, even Argentina. Yerba is a type of tea known to be a very mild stimulant. Uruguayans are famous for carrying their mate thermos everywhere, throughout the country and abroad.
The preparation of the infusion has its rituals. Water is boiled and stored in a thermos. Yerba is packed into the mate – which is actually the cup you drink the infusion from – and a hole is made on one side. Never pour the boiling water directly onto the yerba!
To avoid scalding the dried leaves, the yerba should be mixed with room-temperature water. After a while, the water in the thermos reaches the ideal temperature and can be poured.
Mate has an intensely bitter flavor, which makes this drink most definitely an acquired taste. The charm of the drink is not in its flavor, but in the context: it is a social event. It is something you enjoy with friends sitting on the beach at sunset. It is an indication that you are accepted in a group because sharing a mate is a sign that you now belong.
Some final thoughts
When you come to Uruguay, your first reaction to it's gastronomy may be muted: nothing truly typical or indigenous. Yes, the most popular foods in the country come from somewhere else.
But this small country has always been a melting pot of cultures.
It is a welcoming place where immigrants have come to stay throughout the years, and each wave of new cultures brings its traditions and foods. In the last few years, some of those cultures have brought the Armenian lemeyun, Japanese sushi, the Venezuelan arepa, and more. Uruguay is a small country with big open arms, which shows in its food.
What do you think about our list of Uruguayan foods? Leave your comments below and share any suggestions for other dishes with our community!
---
Related: Most Popular Uruguayan Desserts