Top 20 Foods of Cape Verde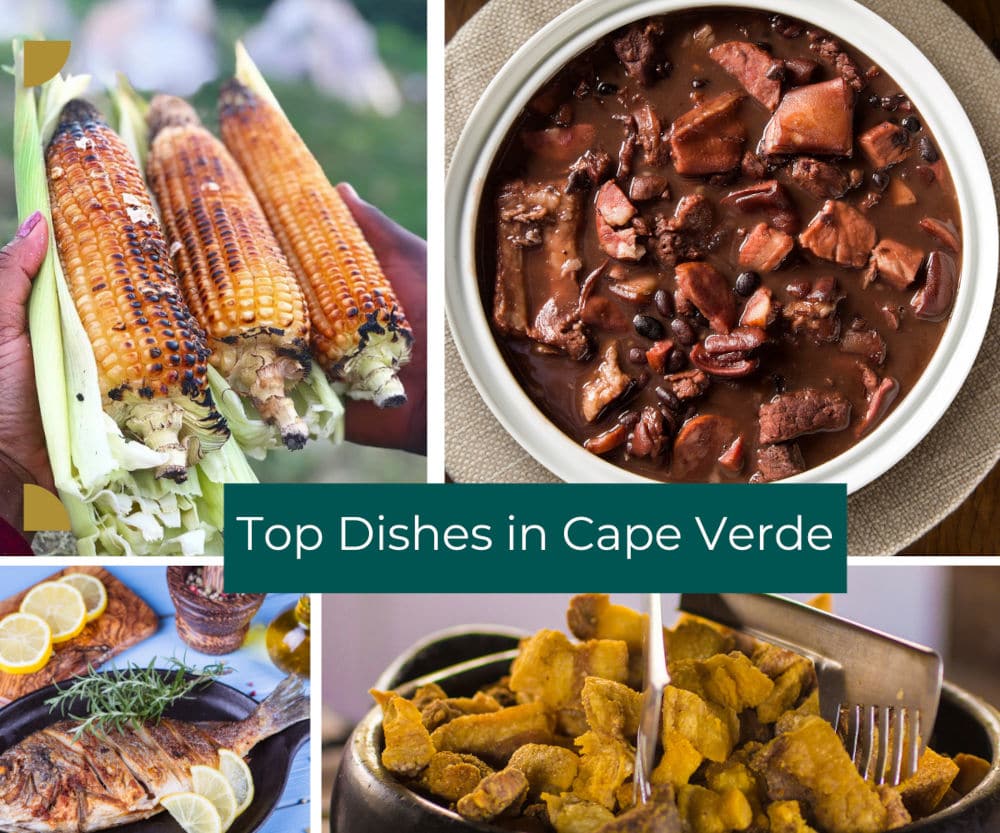 Cape verde is made up of ten main islands, all of which are vastly different but equally beautiful. From the desert landscapes of Boa Vista to the tropical mountains of Santiago, this incredible place has it all.
This archipelago was a Portuguese Colony until as recently as 1975, and in the 600 or so years since its original discovery, has been an important connection between Europe, Africa, and the Americas.
Over many years as one of the main transatlantic transportation ports during the slave trade, this unforgettable nation has adopted aspects of many nationalities, heavily influenced by Portuguese, Brazilian, and African cultures.
This blend of worlds has led to Cape Verde being one of the most unique and interesting countries, whose food is an imaginative combination of the best parts of international culinary traditions.
Staple Meals: A Rundown of Cape Verdean Classics
The fundamentals of traditional cooking in this wonderfully unique island nation are simple: taking basic ingredients and creating hearty, well-seasoned soul foods, made with love for the whole family.
1. Milho (the Humble Corn)
Corn is one of the most important ingredients in Cape Verdean cuisine. Whether it's crushed into flour to make Cuscuz de Milho, washed and dried to become the base of the country's national dish or simply thrown straight on the grill for barbecue mitxe ilhod (corn on the cob), this staple superfood deserves some serious culinary respect.
2. Catchupa
You can't talk about the traditional cuisine without mentioning catchupa. Easily the most famous of all Cape Verdean dishes and a staple in every home, this hearty stew takes at least four hours to prepare and comes in many variations.
The base of the dish is slow cooked corn and beans, and after that it really depends what island you are on and who you talk to. Everyone has their own idea of what catchupa should be, but the word itself represents the idea of 'a bit of this, a bit of that and anything goes'.
Most catchupas will include some kind of salty fatty meat—pork or chorizo being two of the most common—seasoned with garlic, onion and pretty much whatever spices you have to hand.
Catchupa rica, translated as rich catchupa, includes a mix of vegetables and potatoes, but the simple version is just as tasty and more popular among locals. Catchupa time means family time. Usually a family will make a huge pot for all the relatives to share, and any leftovers are fried up the next morning with an egg and chorizo, which makes for a substantial breakfast .
3. Mandioca (Cassava Root)
Mandioca, more commonly known as cassava or yuca, is a root plant similar in texture to potato—just a touch firmer and with a creamier taste. Although it has little flavor of its own, mandioca is an integral part of local cooking, providing a high-calorie starchy component to a variety of traditional dishes.
One of the best ways to eat this versatile staple is deep fried, when it looks and feels similar to a good roast potato but with something a little special about the taste. Be careful though—if not peeled, prepared, and cooked correctly, it is highly toxic!
4. Feijoada
Feijoada is a bean stew of Brazillian origin and is also popular in Portugal. Cape Verdeans put their own spin on it, as they always do. The type of bean used really to depend on personal preference, but pinto beans are the most common.
Because locals believe there can never be too many ingredients in a stew, many vegetables such as carrots, kale, onion, and peppers can be added as well as mandioca or potato—sometimes even both, making for an extremely tasty broth.
One big difference between the Brazillian and Cape Verdean version is serving it over rice. There are very few things that Cape Verdeans don't serve with rice!
5. Malagueta Hot Sauce
The malagueta is a small, fiery red pepper most famous for its use in Brazilian cuisine and it happens to make an excellent hot sauce! Malagueta sauce or oil is a must have in every Cape Verdean home and café.
The peppers are soaked in vinegar then, depending on how hot you want the sauce to be, the mixture can either be blended and bottled as is or strained to remove the seeds for a milder heat. For real spice lovers, you put the soaked peppers into a jar of oil and leave overnight to let the fire burn!
6. Galinha Grelhado
As lunch time approaches on the streets of Santa Maria, the smell of garlic and spice fills the air as Cape Verde's favorite lunch hits the grill. Galinha Grelhado is chicken on the bone, usually cooked on a barbecue grill. The smokiness from the open grill really brings out the flavors of the seasoning and a drizzle of hot malagueta oil brings the whole thing to life.
Sea Food
Being a nation made up entirely of tiny islands somewhere in the Atlantic Ocean, it should come as no surprise to learn that fresh seafood is one of the main ingredients.
Fishing is one of the biggest sources of income for locals, as almost all fish are caught by small independent groups of fishers.
One of the best times of day is watching the multicolored wooden boats bringing in the morning's catch, floating towards the pier where the women wait to prepare the fish for market.
7. Fresh Fish
The waters surrounding Cape Verde are teeming with exotic and delicious fish species. With fish as fresh as this, the best way to cook it is whole, either in the oven or on the grill, to bring out the incredible flavors. Garoupa is one of the highlights of the sea food selection and its distinct red color makes it easy to identify at the market.
One of my absolute favorites is corvina. Very similar to sea bass but smaller, this soft buttery white fish tastes beautiful with just a few herbs and spices, baked in the oven with some sweet potato and whatever fresh veg the street vendors have on offer.
8. Tuna Carpaccio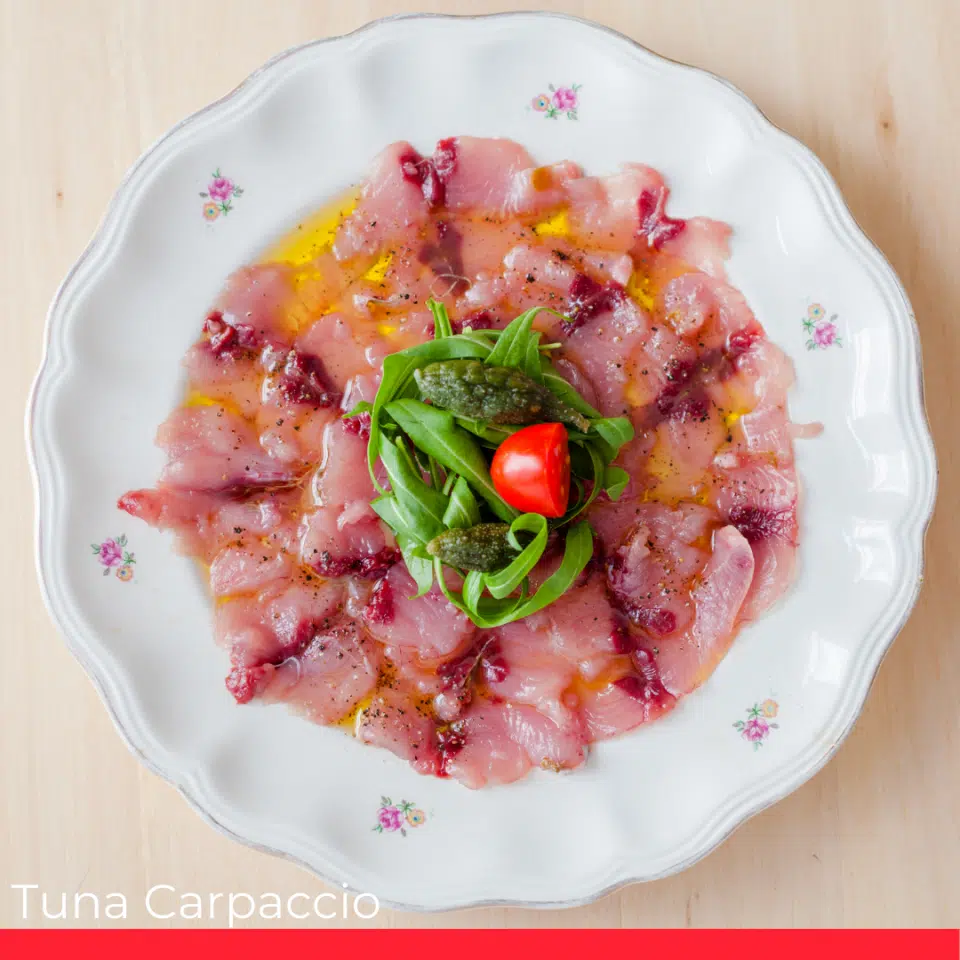 One of the islands' specialities is tuna. More often than not the tuna ordered in a restaurant will have been caught the same morning, and what better way to take advantage of the freshness than with tuna carpaccio. Very thinly sliced raw tuna belly is best served with black pepper, capers, and a squeeze of lemon, washed down with a glass of crisp white wine.
Another similar option is tuna tartare, which comes in finely chopped chunks rather than slices and is usually accompanied by either a fresh salsa or avocado.
9. Lapas (Limpets)
Lapas are delicious shellfish found around the rocky shore lines. They are not always so easy to collect if you don't know what to look for, and without a good blade they can be near impossible to pry from the rocks.
When freshly collected, they can be eaten raw with a squeeze of lime and some chilli oil. The taste of lapas is quite similar to mussels, so they are also exquisite cooked in garlic butter.
10. Percebes
In many parts of the world percebes are considered one of the rarest and most expensive types of seafood, but not in Cape Verde. Although not always available, they are fairly common and very affordable—not to mention delicious. The texture is close to that of squid, but the taste is more like lobster or clams.
They are definitely one of the strangest looking foods you will ever eat and the twist and pull method of eating them is equally strange. But if you get the chance to try them, you absolutely must. Tasty as they are, a small drop of lemon juice really compliments their natural flavor.
11. Kavala (Mackerel)
Kavala is such an important food in Cape Verde it even has its own yearly festival in Sao Vincent. A simple mackerel can become something quite special when fried or grilled on the barbecue with some salt and spice. A popular street food served with rice, kavala freske is proof of how humble ingredients cooked with a little love can become a national treasure.
12. Moreia Frita (Fried Moray Eel)
The secret to perfect moreia frita is in the preparation. Moray eel is very common and is easily found in the bays surrounding the islands. The small kiosks that boast the finest fried moray have mastered the art of this Cape Verdean classic.
Brining beforehand helps refine the flavor and prepares it perfectly for frying, then the meat must be cleaned and sectioned correctly to make it easier to eat. There are lots of small bones so don't pop it in your mouth in one go!
The crispy coating contrasts with the texture of the eel and the shrimp like flavor comes to life with a little salt and pepper. While typically eaten as a snack, it is easy to order more and more until you can't finish another bite.
Bafas (Cape Verdean Tapas)
Cape Verdeans are very social people and love to spend hours in bars and cafés having a drink and chatting with anyone who passes by.
Bafas is summarised by locals as 'food to eat while drinking', and one of the most popular ways of eating it is to order a plate of mixed bafas for the table to share over a few glasses of Pontche or a game of Ouril—an ancient African board game and one of the island's favorite pass times.
13. Pinch
There are few things in life that go together better than the beach and a barbecue. A simple skewer of usually either chicken or pork with onion and green peppers brushed with chilli or curry powder and oil, this classic and tasty snack is best served straight off the fire and goes great with a cold beer.
14. Torresmo
Not exactly a healthy friendly treat, these crispy fried pork skins are the definition of more-ish. You may start by ordering one to try but, trust me, that's not where it will end! Mouth-wateringly salty, they are the perfect bafas to balance out a sweet, fruity pontche.
15. Pastel
These delicious fried parcels are traditionally filled with tuna or shredded chicken and seasoned with a little salt, onion, and paprika but can also be packed with beans for a veggie option. Every local bar and café will have a bowl behind the counter for anyone in need of a light bite, and they are a popular on the go as a pick-me-up.
16. Ressois
The best way to describe ressois is to say they are Cape Verde's answer to a potato croquette. This simple one bite bafas is made of mashed potato, mashed fish—usually kavala (mackerel)—crushed garlic, and onion with a touch of chilli powder to give them a kick. The mixture is then packaged inside a thin dough, rolled in breadcrumbs, and deep fried. It is also possible to bake them, but frying is far more common.
Something Sweet- Traditional Drinks and Desserts
17. Pontche De Mel
The national 'firewater' is grogue—alcohol made from pressed fermented sugarcane and the base of the popular drink Pontche De Mel. Pontche comes in many varieties and is essentially grogue mixed with fruit juices or other natural products. Pontche with honey is the most well known. Served over ice with a slice of lemon, this is the perfect drink for a hot afternoon or after a meal—as long as you have a sweet tooth.
18. Homemade Goat's Cheese and Papaya Jam
Papaya is one of the various fruits grown on the most tropical of the islands, Santiago, the main supplier. Many fruit farmers make their own jam from the fruit they grow and the freshness is apparent from the incredible flavors.
Goats are one of the few farmed species able to survive and thrive on the desert islands of Boa Vista and Sal and are therefore a precious commodity.
Homemade goat's cheese is highly sought after for good reason and, together with papaya jam, makes up the most classic of Cape Verdean desserts. The sweet stickiness of the jam pairs perfectly with the salty crumbly cheese and neither need any further accompaniment—they shine as a pair.
19. Tambarina (Tamarind Fruit)
For inhabitants of the greener islands, such as Santa Antao, eating tambarina fruit straight from the tree is an image synonymous with childhood. These trees thrive in the tropical climate, and the tangy centre of its fruit makes not only a refreshing natural snack but also a popular drink.
Tambarina (tamarind) juice has a sweet and slightly nutty flavor, is thick in texture, and is probably the most traditional non-alcoholic Cape Verdean drink.
20. Bol de Cus-cus
Don't be misled by the name, this sweet dessert has nothing to do with the couscous you may be familiar with. This cake can be eaten simply as a sweet treat at any time of day but is also a common item to find on breakfast menus. Like so many of Cape Verde's main dishes, the base of this dish is corn.
The corn is dried out and crushed into flour, mixed with sugar, condensed milk, and either coconut or cinnamon to create this ultra sweet cake which can be eaten with butter, milk, or really any topping you choose.
I would recommend visiting Cape Verde to anybody who wants a truly different travel experience. Despite its tiny size, this country has more personality and warmer hospitality than I have experienced anywhere else in the world. Come with an open mind and free spirit and you will lose your heart to this incredibly vibrant and unique nation.