Top 25 Most Popular Caribbean Foods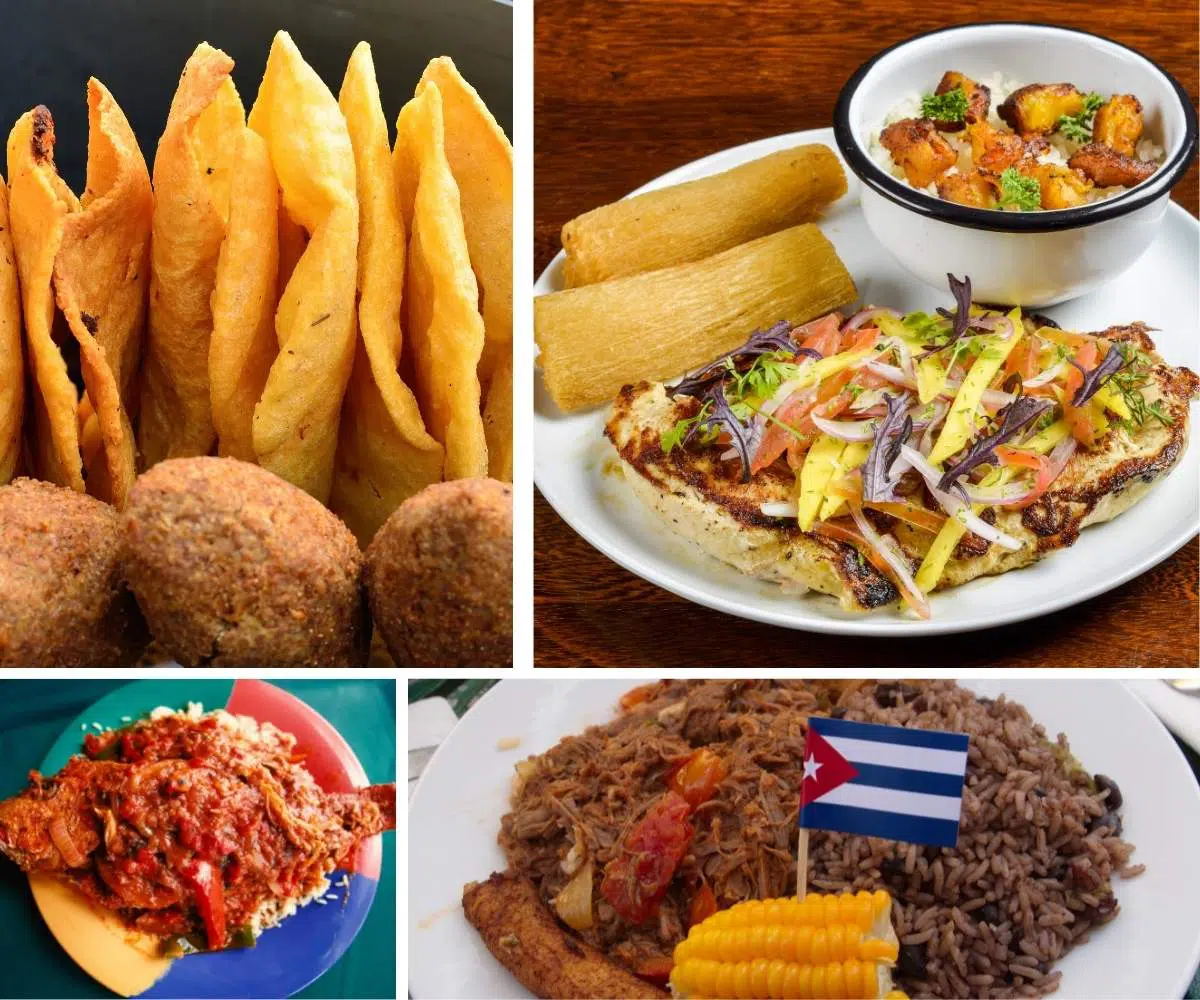 The islands' first inhabitants were the Amerindians whose menus were based on local vegetables, fruit, spices, meat and fish. But the Caribbean cuisine evolved into an exciting amalgam of cultural influences: Amerindian, African, French, Spanish, Indian, Dutch, British and Asian.
Among the many culinary contributions of the Spanish conquistadores were fruit trees, coconuts, plantains, sugar cane, chick-peas and cilantro.
African slaves introduced okra, callaloo, fish cakes, saltfish, ackee, mangos and pudding. The Chinese brought rice and mustard. The European colonists, the British, French, Portuguese, Dutch, Danish and Swedes, brought their own traditional foods and dishes with them.
The result has been food that is robust, flavorful, aromatic and colorful. Whether you are enjoying it there among the tropical breezes, white sands and turquoise water or go no farther than your local Caribbean restaurant, these Caribbean dishes are sure to delight your palate.
1. Rice and Beans (Belize)
Belizean rice and beans cooked with coconut milk, minced garlic, chopped onions, bell peppers, vegetable oil, salt, and black pepper, is a very popular inter-ethnic staple, and a vegetarian's dream. For non-vegetarians, it is usually eaten with stewed chicken and potato salad.
Belizean food is an amalgamation of the various ethnicities of this nation, which is located on the eastern coast of Central America and has Caribbean Sea shorelines.
The Belizean cuisine most closely resembles Mexican/Central American and Jamaican/Anglo-Caribbean cuisine, and yet very different, with touches of innovation handed down through generations.
2. Stewed Goat Meat – Kabritu Stoba (Bonaire)
It is hardly surprising that stewed goat meat, locally known as kabritu stoba, is the national dish of Bonaire, one of the Dutch Caribbean islands.
Goats are among the very few domestic animals that flourish on the rocky island, making them key candidates to play a starring role in local cuisine.
Kabritu stoba is a robust stew, simmered in a richly seasoned tomato-based sauce and enhanced by a judiciously balanced mix of beef broth, lime juice, butter, onion, garlic, jalapeno, salt, vinegar, black pepper, and paprika. Just the thought will make the taste buds tingle.
3. Turtle Stew
The Cayman Islands, a British Overseas Territory, is one of very few countries where turtle meat is a legal delicacy.
The dish consists of a delightful mix of marinated turtle meat, onions, peppers, tomatoes, and spices; and is typically eaten with rice and beans, or ground provisions such as cassava and potatoes.
Another traditional dish from the Cayman Islands which is made with turtle meat is rundown. Rundown means "nice and slow" and it's a fragrant soup made with coconut cream and milk, fresh tomatoes, onion, garlic, ginger, thyme, pimentos, scotch bonnets, and local pumpkin slowly cooked down to make a rich and creamy broth. It's delicious!
4. La Bandera Dominicana (Dominican Republic)
The Dominican Republic does not have an official national dish, but most Dominicans would name La Bandera Dominicana as their main choice for the title.
A decidedly delectable dinner or lunch, La Bandera Dominicana consists of white rice, stewed beans, and stewed meat (beef, chicken, or pork), often accompanied by a salad and avocado.
5. Oil Down (Grenada)
This mouth-watering dish from Grenada (also called the "Spice Island") is made by combining breadfruit, coconut milk, saffron, dasheen, dumplings, callaloo, and a salted fish or meat like codfish, smoked herring, salted beef, or pig's tail, stewed in coconut milk, herbs, and spices.
The breadfruit and meat are usually on the bottom of the pot, most of the vegetables in the middle, and the callaloo leaves and dumplings on top. The cooking of the dish is completed when all the liquid has been absorbed.
6. Porc Colombo (Guadeloupe)
Porc Columbo from Guadeloupe, a French overseas region, is traditionally made with pork seasoned with "tons" of spices and fresh herbs, mixed with carrots, potatoes, lime juice, sugar, and of course, curry.
The aroma of the spices along with the subtle taste of coconut milk gives this seductively irresistible dish, a taste that is eminently suited for imperial palates.
7. Stewed Saltfish with Dumplings, Spicy Plantains, and Breadfruit (St. Kitts and Nevis)
Stewed salt fish with coconut dumplings, spicy plantains, and breadfruit is probably the longest name of any dish in the Caribbean and is the national dish of the islands of St. Kitts and Nevis, located between the Atlantic Ocean and the Caribbean Sea.
The saltfish, which is the main ingredient in this tasty, finger-licking comfort food is soaked and boiled then slowly simmered with onions, garlic, and tomatoes.
The plantains are coated in chili peppers and fried, to complement the boiled dumplings made with grated coconut and flour. The sliced breadfruit is sautéed with onions, garlic, thyme, parsley, and red peppers.
8. Roasted Breadfruit and fried Jackfish (St. Vincent and the Grenadines)
Roasted breadfruit and fried jackfish is the national dish of St. Vincent and the Grenadines, located in the southern Caribbean region.
All that is needed for this simple, delicious (and simply delicious) dish is one large breadfruit, one pound of jackfish, lime juice, seasonings, salt, and oil for frying, and voila! Finger-licking goodness!
9. Crab and Callaloo (Trinidad & Tobago)
Crab and callaloo is the national dish of the twin islands of Trinidad and Tobago . . . and it's probably not what you think.
Callaloo can refer to two things in Trinidad and Tobago: The green leaves from the dasheen plant, or a stew made from those leaves. Saltwater crab is simmered in dasheen leaves, onions, scallions, okra, pimento, scotch bonnet peppers, butter, thyme, and coconut milk.
The result is a savory, rich, thick, creamy stew chock full of typically spicy flavor. It is normally served with rice, flour dumplings, or macaroni pie.
10. Conch (Turks and Caicos Islands, the Bahamas)
The most popular food in the Turks and Caicos Islands, a British Overseas Territory, is conch; usually the Queen Conch, a large sea snail with firm white meat; which is a ubiquitous ingredient in soups, salads, stews, and finger foods.
There are several ways to prepare this giant sea snail, but often it is breaded and fried or served raw as a mixed salad. Conch salad incorporates lime juice and vegetables, and the acidic juices 'cook' the conch. Definitely not for the faint-hearted!
There are many ways to prepare this giant sea snail, but often it is breaded and fried or served raw as a mixed salad. Conch salad incorporates lime juice and vegetables, and the acidic juices 'cook' the conch. Definitely not for the faint-hearted!
11. Callaloo (St. Martin)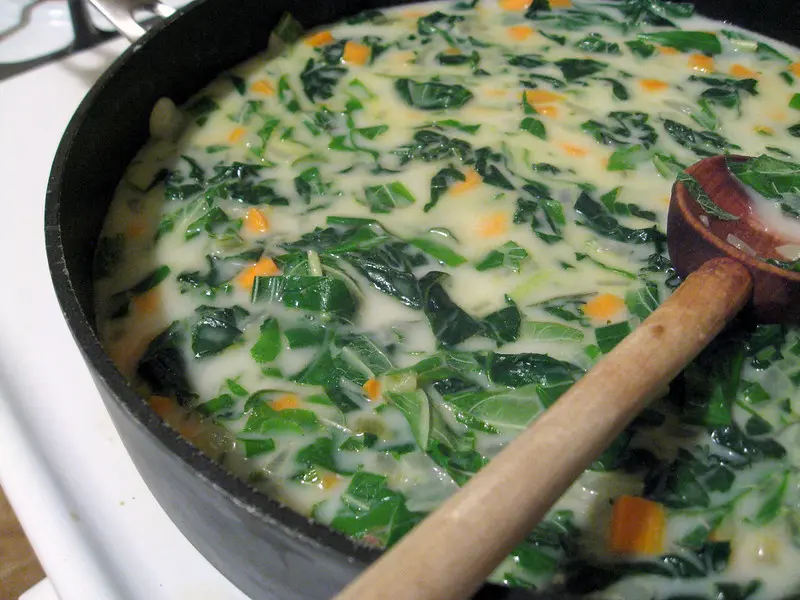 Callaloo, a leafy stew, is made with callaloo, a leafy vegetable—any of a variety of large green leaves of the taro, dasheen, tannia, amaranth or yautia roots.
Callaloo resembles spinach, but, unlike spinach, it is more bitter with a nutty undertone. Like spinach, it is extremely nutritious, filled with vitamins A, B, and C, fiber, iron and calcium.
The West African-influenced stew is thick and green. The callaloo is boiled with pork cubes, chicken stock, hot pepper, black pepper, okra and thyme. Usually served as a side dish with meat or seafood.
Most Caribbean countries have a version of callaloo stew using indigenous ingredients, but St. Martin claims it as their national dish.
12. Goat Stew (Montserrat, Saint Kitts and Nevis)
Also called goat water, this rich and spicy stew consists of goat meat, dumplings, tomatoes, green papaya, breadfruit and a generous array of spices. Often a wee bit of rum or whiskey is added for an additional "kick." Served with white rice or rolls, the stew is a "must" for family celebrations or social affairs.
Popular thought is that the stew was adapted from the traditional Irish stew, using the goat meat instead of beef. It is close to being a national obsession in Montserrat and very popular in Saint Kitts and Nevis.
13. Sancocho (Dominican Republic)
In the Dominican Republic, there is scarcely a special occasion that occurs without its most cherished dish, sancocho, but there is no reason not to have it on ordinary days—except it takes very long to prepare.
The soup is made with chunks of stewed meat (beef, chicken or pork) or fish; yams, yucca or potatoes; and vegetables, such as plantain and corn. Served as a main dish or a side.
Sancocho is a descendant of the traditional Spanish stew, cocido. It is served everywhere across the Caribbean, and so its preparation is flexible according to the island.
14. Pepperpot (Guyana)
Pepperpot is a rich, savory meat stew flavored with with cinnamon, hot peppers, and cassareep (casava extract). It can include aubergine, okra, squash or potatoes—or, basically, anything the cook wants! It may be best not to know what kind of meat. It tends to be among the less desirable cuts; perhaps cow heel; perhaps pig's tail.
The meat is slow-cooked for days, which makes it wonderfully tender regardless. It is served with white rice, black-eyed peas and thick warm bread to sop up the signature ingredient, the exquisitely flavored cassareep, a black sauce made from the cassava root.
Pepperpot is the national dish of Guyana. Yes, Guyana is in South America, but it has a distinctly Caribbean vibe. The Guyanese cannot imagine a Christmas morning without pepperpot!
15. Fungee & Pepperpot (Antigua and Barbuda)
In Antigua and Barbuda, pepperpot is accompanied with fungee, a cornmeal dish with okra cooked in salted water and boiled into a paste. It is similar to the Italian polenta and is served for breakfast or as a main entree at dinner.
Fungee is likely of African origin, adapted from West Africa's foofoo (cassava, yams or plantains boiled and pounded into a dough-like consistency).
16. Ropa Vieja (Cuba)
Ropa vieja (Spanish for "old clothes") resembles a mess of rags, but it is a savory dish made from slow-cooked shredded beef, tomatoes, garlic and bell peppers. Usually served with side dishes black beans and yellow rice.
Ropa vieja originated in the Canary Islands, a Spanish archipelago off the coast of northwestern Africa. It is found in just about every Caribbean country, but Cuba has claimed it as its own. In the authentic Cuban version, the ropa vieja is paired with boiled cassava in a garlicky citrus sauce cooked with the black beans and rice.
17. Pom (Suriname)
Pom is a casserole made with chicken and root vegetables, such as taro. It came to Suriname during the Dutch rule. The Dutch welcomed the Jews who were forced out of Spain and Portugal, and pom was a meal baked for the Sabbath.
Originally made with potatoes, scarce in the Caribbean, it's likely that the African cooks substituted taro root. Later, the Javanese added soy sauce, the Indians piccalilli, the Creoles salted beef and the Chinese lychee and ginger.
The chicken is marinated in a citrus fruit, also introduced by the Jews who traditionally cleaned chicken flesh with citrus juice to neutralize the smell.
Today, pom is prepared on Sundays and for festive occasions. It does double duty as it makes a delicious sandwich the next day.
18. Keshi Yena (Aruba)
The national dish of former Dutch colony Aruba is keshi yena. It is made from a large round ball of cheese that has been hollowed out; stuffed with spiced meat and raisins, olives, capers, Scottish bonnet peppers, and tangy sauces; and baked or steamed in the top of a double boiler. It is a meal that satisfies every taste bud!
When the Dutch brought Edam cheese to the Caribbean, they ate the center and tossed away the rind. Their slaves filled the rind with whatever meat and vegetables were left over for a very tasty and nutritious meal.
19. Grilled Snapper with Creole Sauce (Martinique)
Martinique, on the French side of the Caribbean, is famed for its grilled snapper with creole sauce.
The snapper has a lean, firm texture and a delicate, mild taste. It is cooked in a grill basket or directly on the grill after being seasoned with garlic and rosemary.
Creole sauce is one of the most delicious sauces. The authentic Caribbean Creole sauce is made with tomatoes, the Cajun "holy trinity" (celery, bell peppers and onions), garlic, seasonings, and herbs. Another version is chicken stock seasoned with cayenne, hot sauce, bay leaf, salt, black pepper, thyme and parsley.
20. Cracked Conch with Rice and Peas (The Bahamas)
Cracked conch with rice and peas is the Bahamian version of the British fish and chips. Conch alone is without rival in the Bahamas.
The meat can be extremely tough and chewy (think rubber bands!), and it must be tenderized properly. The meat is soaked in salt water for several hours, then gets pounded until it's smooth and thin.
A few minutes soaked in lime juice and it's ready to bread in a light better and deep fried. It is a very satisfying dining experience: crunchy, flavorful, and hearty. And best when served with rice and peas.
21. Griots with Rice & Beans (Haiti)
Haitians love their griots when served with rice and beans. Griots are big chunks of pork shoulder marinated in citrus and Scotch bonnet chili peppers, then simmered until very tender and fried until they are crisp and browned with charred edges and a bronze surface.
Griots are also served with cabbage, carrot and chili pepper pickle, giving the dish a distinctive vinegary tang.
It is a Creole dish, a blend of French, African, Amerindian, Spanish and Levantine influences (due to the more recent immigration from Arabic countries), but the bold and spicy taste is primarily a result of its African heritage tempered with French sophistication.
22. Ackee & Saltfish (Jamaica)
We may think of jerk chicken or plantains in relation to Jamaican food, but the national dish is ackee and saltfish. Ackee is a pear-sized fruit with an earthy taste and creamy texture that resembles scrambled eggs when prepared: boiled, diced, and fried with Scotch bonnet chili peppers and spices.
The saltfish (usually cod) is boiled to draw out much of the saltiness, then fried with green peppers and onions. This dish is served for breakfast, lunch or dinner, but mainly breakfast.
Note: Order this dish only at an authentic Jamaican restaurant. There are parts of the ackee that are poisonous if not prepared properly.
Interestingly, ackee came to the New World around the necks of enslaved West Africans. They wore necklaces of the seeds when they were forced onto ships by slave traders, likely in the late 18th century, the height of British rule in Jamaica.
23. Cou Cou & Flying Fish (Barbados)
Flying fish are found in abundance around Barbados. It is known as "Land of Flying Fish" and the fish appears on Barbados coins. These foot-long fish are found in other waters, but it is the people of Barbados (the Bajans) who have mastered the art of deboning them.
Flying fish are scrumptious when shallow-fried in soft breadcrumbs and Bajan seasonings and served over a mound of cou cou.
Cou cou is made with cornmeal, flour, okra and spices to create a savory porridge. It is a comfort food to Bajans, eaten with spicy dishes, particularly flying fish. Traditionally, it is served in an oval-shaped bowl. Or, even better, in a calabash shell, the fruit of a tree growing wild in the tropics.
24. Cassava Pone (Trinidad & Tobago)
Cassava is a root vegetable popular in the tropics. It's also called manioc or yuka, and it's the main ingredient in tapioca. Cassava pone is a sweet, comforting dessert made with cassava, pumpkin and coconut. It has a "kick" due to the cinnamon, nutmeg and ginger in the recipe.
The dessert originated in Trinidad and Tobago, having been handed down by the native Amerindians.
25. Gizzada (Jamaica)
Gizzada originated in Portugal where it is known as guizada. It arrived in Jamaica with the Portuguese Jews who sought refuge on the island. Gizzada is a round open-faced coconut pastry with crimped edges. The shell is crunchy and the filling soft and creamy—a sensuous combination of textures.
But it is the array of flavors, the spicy ginger, the sweet nutmeg and the deep, rich vanilla that people cannot resist.
---
Related: 25 Most Famous Caribbean Drinks
Looking for Caribbean dishes? Check out our selection of Caribbean food recipes provided by some of the best Chefs in the world: