30 Famous African Foods You Need To Try Out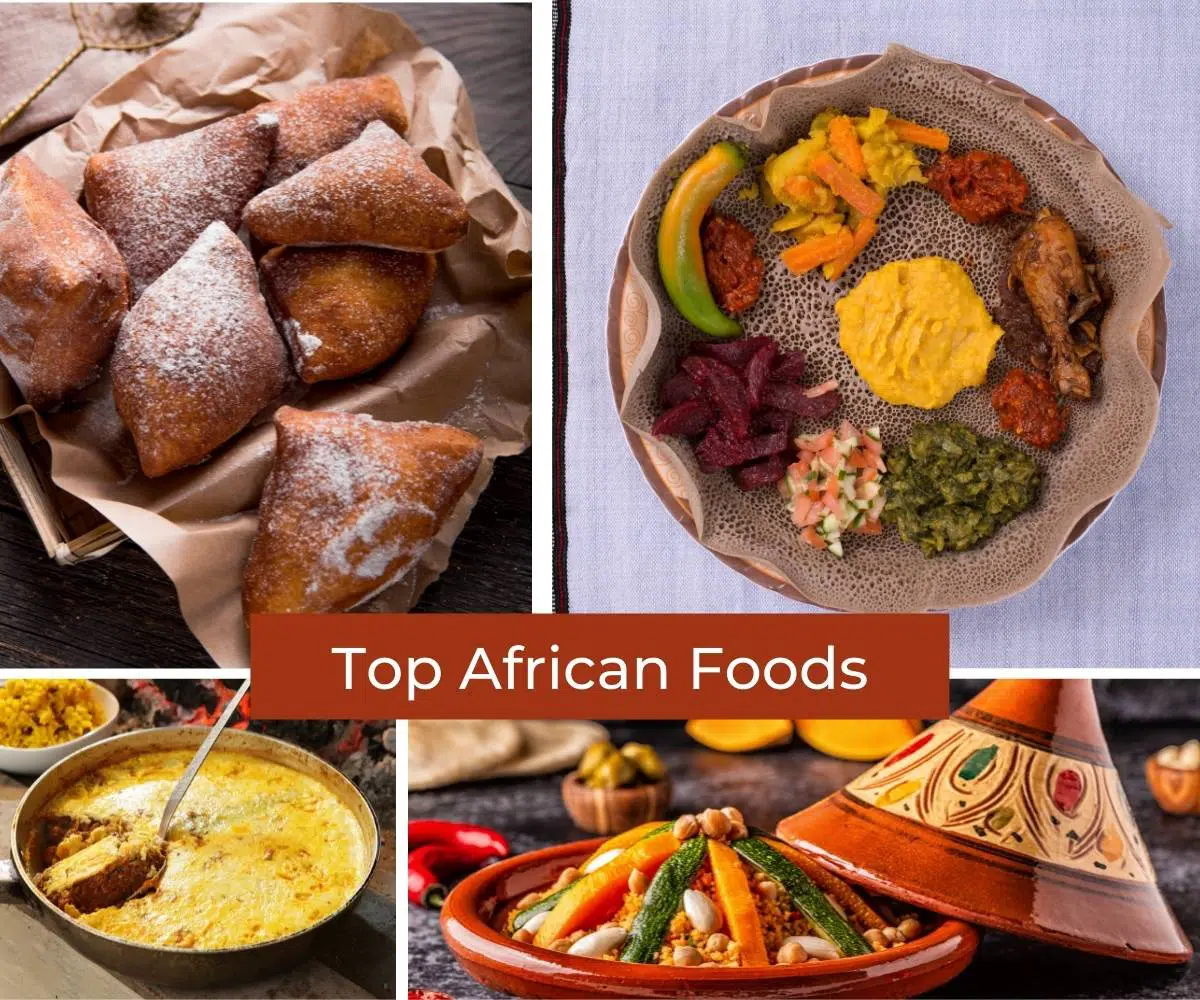 Anyone who has visited any part of Africa knows it is an experience unto itself and never to be forgotten. The world's second biggest continent by area and population, Africa has the most countries in the world, each with its own rich influences based on history, traditions, languages, cultures, landscapes, and flora and fauna.
Despite the vast diversity of each corner of the continent, they all emanate a literal and figurative warmth that inculcates itself into a person's being.
We will visit each region of the continent and explore some countries' traditional and modern foods that top their national menus, hearts, and stomachs.
Popular Dishes in Northern Africa
Morocco – This coastal North African country is blessed with Arabic, Mediterranean, and African influences and can be considered one of the most eclectic and mysterious countries to visit, with a delicious blend of cuisines.
Sardines
As one of the top exporters of sardines, Moroccans, rich and poor equally, enjoy a diet heavy with fish. They purify the fish with vinegar, flour them, then arrange them in layers with a zingy chermoula sauce made with coriander, finely minced garlic, cumin, salt, ginger, sweet red pepper, lemon juice and oil.
This is then deep-fried in oil and served in pairs. You can get them either as mzeouej (married), machrouk (associated), or ma'ashuk (lovers). Whatever your status, you will also love them.
Harira
The word harir in Arabic refers to silk or velvet, and this creamy and herby tomato soup made with pureed lentils is aptly named. It is by far the most popular soup in Morocco, being the first meal of the day after fasting during Ramadan.
Tajine
The word tajine (or tagine) refers both to this delicious traditional dish, and the unmistakable ceramic dish it is cooked in, with the lid shaped like a party hat.
This dish is a party in a pot, slow cooking its contents with the condensed steam and moisture from the ingredients, producing tender vegetables and succulent meats. Tajines are of various kinds, but generally combine meats, vegetables, fruits, and spices, for an exquisite flavor combination.
Couscous
Couscous or seksu may be Morocco's most well-known international export. Commonly mistaken for a grain, this fine wheat pasta is traditionally rolled by hand. Served in the traditional way, meat is covered by a pyramid of steamed couscous, vegetables are pressed into the sides and a sauce served separately. Internationally, it is boiled or steamed and served in a variety of meals, side dishes, and salads.
Egypt – Most known for its pyramids and deserts, Egypt is one of the oldest countries in the world, with bread once being the most significant food and beer their favorite drink. But you will see that Egyptian cuisine has come a long way since Cleopatra had her dinner parties.
Ful Medames
One of Egypt's national dishes, this creamy fava bean stew is cooked with cumin, olive oil, garlic, lemon juice, herbs, and spices. It is a staple around the Levant region, which includes Lebanon, Syria, Jordan, Israel, and other countries, and enjoyed at any time of day.
Like other popular dips such as hummus and baba ghanoush, ful medames is usually eaten as a dip with warm pita bread. You've got to love a good dip!
Ta'ameya (Falafel)
Probably most commonly associated with Lebanese food, falafel in Egypt is slightly different in that it is made with fava beans instead of chick peas, and more herbs, giving it a greenish color inside.
It's actually thought to have originated in Egypt where it's considered a national dish. It is a popular street food, and food to break the daily fast. You know it's ubiquitous when can order your McFalafel breakfast at McDonalds, but give me a home-cooked falafel any day.
Kofta
Kofta (or kefta) refers to a family of minced meat dishes popular throughout the region all around the Mediterranean Sea. They are extremely versatile and can be made with ground meat, but also fish or vegetables, and formed into a variety of shapes, the most common being cigars, balls, or patties. You can also make kofta kebabs by skewering and grilling them.
Hawawshy
Another popular dish made with minced meat is hawawshy. It is one of Egyptians' favorite home and street foods, made with bread filled with seasoned minced meat, onion, pepper, and plenty of spices, then baked until the bread is brown and crispy. Divine!
Hamam Mahshi
This Egyptian specialty is pigeon, or squab if you prefer, stuffed with onions, spices, and grains. Traditionally, the cracked wheat freekeh with a nutty flavor profile is used, but rice or bulgar wheat can also be used. This dish has been served for centuries in Egypt, and is considered a dish for special occasions at home, events, or restaurants. They even have special mud lofts where they keep the pigeons. This must be what keeps this fowl tasting so fresh.
Popular Foods in Western Africa
Ghana – Once dubbed the Gold Coast by colonial explorers and traders, it is now the continent's biggest producer of gold, and a pot of gold of diverse cultural influences from its many ethnic, religious, and linguistic groups. Uniting Ghanaian culture is its belief in hospitality, and its love of music and food.
Red Red
One of the best bean dishes you will have in West Africa (and possibly the world!) comes out of Ghana, and uses indigenous cowpeas, also known as black eyed peas. They say the name comes from the rich red color the meal takes on from the red palm oil and tomatoes.
It often is made with fish, either tinned or fresh, loads of spices, and served with fried plantain, rice, quinoa, or kenkey, a traditional staple food similar to fufu but made with corn. The combination makes for savory, sweet, saucy, and spicy goodness.
Kontomire Soup
This soup, also known as ebunu ebunu (green green), is a flavorful Ghanaian soup made from cocoyam leaves, smoked fish, mushrooms, and snails. The cocoyam leaves give the soup its characteristic green color. Throw in some boiled eggs and serve it with boiled yams, plantain and avocado.
Nigeria – With over 500 languages and over 1,100 ethnic groups, Nigeria is steeped in tradition. The most populous country on the continent, Nigeria is envied for its beaches, music, and love of life and food.
Jollof
The (sometimes heated) debates abound about the origins of jollof, but it is generally known as a Nigerian creation, with variations around West Africa. To say it is a simple tomato rice is to undersell this delicious one pot dish. With a range of delicious spices, vegetables, and even meat if you wish, this dish can rival any other tomato rice found around the world.
There's even a song (Cuppy – Jollof On The Jet Ft. Rema & Rayvanny (Animation Video) – YouTube) with the lyrics "Pass the jollof, The party jollof, I can't get enough..". It's true!
Egusi Soup
Variations of this delicious soup can be found all over West Africa, but it is hugely popular in Nigeria. What makes it unique is the use of protein- and fat-rich melon seeds (egusi) from specific plants, which are then dried and ground up and used as a thickener. Besides the seeds, water, and oil, egusi soup typically contains leafy greens such as bitterleaf or pumpkin leaf, palm oil, other vegetables such as tomatoes and okra, seasonings, and meat.
Being a coastal country, you will often find egusi made with a selection of fresh stock fish or catfish, with ground crayfish for extra flavor. If you make it with meat, you can add cow's offal for extra flavor and texture. Whichever way you prefer it, always enjoy your egusi with a starch such as pounded yam, fufu, or garri/eba (below). And if you eat it with your hands, it will taste even better!
Senegal – Living in the 'Gateway to Africa', the Senegalese are known to be peaceful, and very welcoming to newcomers. This terenga culture often sees visitors invited to share meals and even spend the night discussing Senegalese culture and religion.
Thieboudienne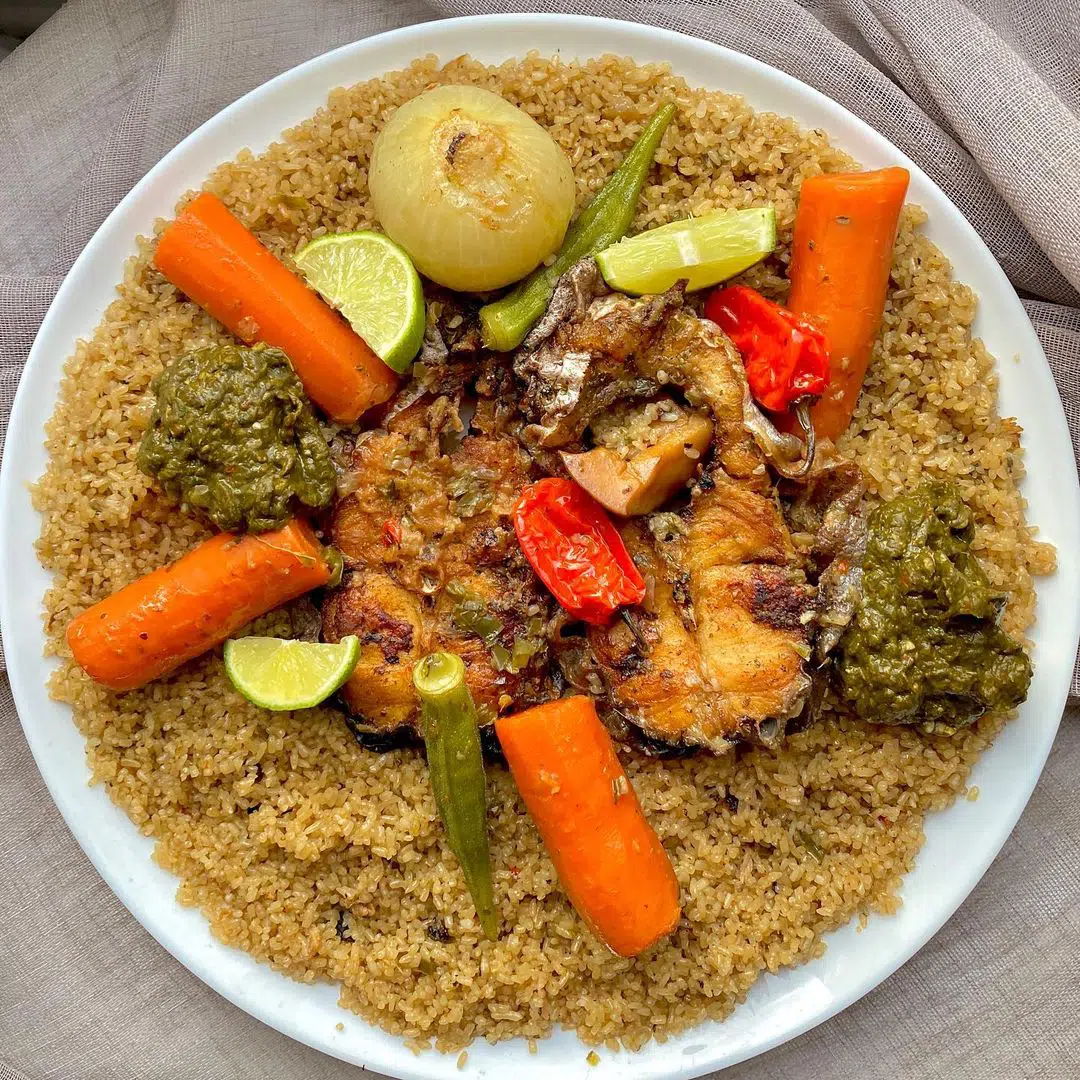 The national dish of Senegal, this is also found in Guinea Bissau, Guinea Conakry, Mali, Mauritania, and the Gambia. Typically using a firm white fish, either smoked or fresh, thieb or tiep, can also be made with meat (tiep yappa) or chicken (tiep ganaar). What distinguishes thieb is the delicious garlic parsley marinade/stuffing and a spice called netetou, which adds a delicious umami flavor to the tomato, garlic and onion sauce.
Related: Most Popular 20 Foods in Western Africa
Other ingredients include vegetables such as okra, eggplant, and sweet potato, and usually broken rice as it is cheaper than first grade rice. Serve in a large dish with rice on the bottom and the fish stew on top, and eat communally with the hands, or with a spoon in the case of visiting guests or friends. Delicieux!
Eastern Africa
Ethiopia – Ethiopia boasts the most UNESCO World Heritage sites in the world and is a wonder in itself, being the home to coffee, the Rastafarian movement, and arguably the first human skeletons. With thirteen months to the year due to its own calendar, why not enjoy the rich history and culture, sunshine, and amazing food a little longer.
If you have to pick only one country in Africa to visit, Ethiopia may just be the one. Ethiopian food is incredibly delicious and it is one of the most popular cuisines in the world.
Doro Wat
Doro wat is a type of stew made with chicken in a deep red and extremely flavorful sauce. In this sauce is the uniquely Ethiopian berbere spice, made with a mix of coriander, ginger, chilis, holy basil seeds, and more. Fresh chicken is soaked in water, salt, and lemon juice, and then cut into pieces for cooking.
Just before the stew is finished cooking, shelled boiled eggs are added in take on the flavor and color of the dish. Doro wat can be found at every festive occasion, holiday, and is the favorite dish for breaking fast. What do you want for a special meal? Doro wat, that's what!
Tibs
Tibs is a kind of Ethiopian stir fry. It has many varieties, using a range of meats, vegetables, spices, and different quantities and proportions of each. It is usually served at festive occasions and holidays, or simply as a sign of respect for someone special. Whenever you have it, it is a feast of flavor.
Kitfo
A super treat for Ethiopians, and a good hangover cure, kitfo is essentially minced meat that is warmed with butter and spices. While typically and best served leb leb (warmed), you can also ask for it betam leb leb (translated as very warmed, but meaning cooked).
Great on its own, it can also be served with side dishes such as spinach and cottage cheese for an even tastier and filling meal. Pass the beer, and the kitfo, please!
Injera
Injera is a unique kind of spongy flatbread made from the super tiny supergrain teff. It has a slightly sour flavor like sourdough, due to the fermentation time during preparation. It is shaped into a large round shape, then either rolled and cut into pieces, or used as the base topped with a variety of dishes at once. Rip off a piece and dip it or use it to scoop up any of the delicious sauces or stews.
A testament to the integral place in Ethiopian culture, people greet each other by asking "Did you eat injera today?" You will know that life is fine when they answer yes. You should always say yes to injera!
Spriss
While not technically a food, this Ethiopian delight needs to be mentioned. Spriss is a variety of fruit juices layered in a cup. Using fresh fruits such as avocado, papaya, orange, mango, watermelon, and other fruits in season, the thickest is found at the bottom and layered to the least thick at the top. I've never seen anything like it during my travels; this refreshing drink is as delicious as it is beautiful.
Related: Most Popular Eastern African Foods
Kenya – When in Kenya, expect the utmost hospitality. "Mgeni ni baraka" means that a "guest is a blessing". What better way to welcome guests than to offer food? There are several customs you should follow when eating in Kenya, but most of all it's important to know that refusing food is considered an insult. Who would dream of it?
Nyama Choma
Roast meat is any Kenyan's favorite dish. Swahili for meat, nyama is usually goat or beef roasted over an open fire. Traditionally from hunters cooking game meat, it was brought to urban areas and is now found everywhere from street food to festive occasions. Served with a tomato and onion relish, called kuchambari, and ugali, it is a hearty, communal dish.
Ugali
Ugali is one of Kenya's staple foods made from maize flour. Kenyans love ugali and will debate endlessly about its superiority to other African starches, such as fufu and pap. It is a culture in itself, and can be served in a variety of ways, such as with sour milk, soups, stews, or meats. Always enjoy it with your hands though!
Mutura
If you love sausages or street food, then mutura is a must. An authentic Kenyan sausage made from goat's intestine wrappers stuffed with ground meat, and here's the kicker, goat's blood. It is boiled til nearly done, then grilled to dry out the meat and give it a smoky flavor. It's bloody tasty!
Matoke
Matoke is fried bananas with onions, tomatoes, and a savory sauce and is a common household meal in Kenya. A perfect blend of sweet and savory, it can be served as a side or a main dish. I go bananas for matoke: any kind of banana or plantain is a yes for me!
Tanzania – With influences from the historic Indian spice route, many Tanzanian dishes include a lovely variety of tasty and aromatic spices, including coconut, turmeric, and cardamom. Beware though! It is considered offensive to sniff your delicious food before eating it. That seems a bit unfair.
Wali wa Madodo
Swahili culture pervades most of Tanzania, and Wali wa Madodo is one of their favorite dishes. This dish, translated as rice with beans, is spiced up literally and figuratively by first boiling the beans, then frying them with onions and spices. What makes this special is that coconut water is used instead of water to cook the rice, resulting in a thick, creamy stew.
Mshikaki
You can find mshikaki at bars, on the street, at groceries, just about everywhere, it is so popular. It is a grilled meat kebab made with beef and spiced with ginger, lemon, and chili peppers. Enjoy it on its own, or better yet, with roast potatoes known as chips mshikaki. Who doesn't love a good meat and potatoes meal?
Mandazi
While it looks like a donut, it's actually fried bread. It's a go-to treat for locals since it's easy to prepare and deliciously tasty. Don't leave Tanzania or Kenya without trying mandazi! You will thank me later!
Mauritius – This island paradise has been touched by various outside influences such as French, Chinese, and Indian, and this is seen in their cooking.
Rougaille
Rougaille is a typical Creole dish representing the French influence on the island. Its versatility makes it a favorite for a quick home-cooked meal.
This tomato-based sauce is made with garlic, onions, chilies, coriander, and thyme. You can either eat this sauce plain with rice, or add in your favorite vegetables and meat such as beef, chicken, sausage, seafood, or, Mauritians' favorite, salted fish. Bon appetit!
Dholl Puri
Influence from the Indian shores comes in this delicious flatbread made from yellow split peas, turmeric, and cumin. Fill it with bean or potato curry, rougaille, and don't forget the chili and special Mauritian coriander chutney and pickles for the full flavor experience.
Equally ubiquitous at special events and street corners, this delicacy is a favorite among Mauritians and tourists, for a cheap and filling, yet delicious meal.
Bol Renversé
Translated literally, it means 'upside down bowl', and that is exactly what it is, and what makes this a little delight. Although the name is French, it is a Chinese-inspired dish known as Magic Bowl, and can be ordered in most Asian restaurants.
It is a rice-based dish with stir-fried vegetables and meat, together with a soy and oyster sauce, topped with a fried egg. Place the egg at the bottom of the bowl, followed by the sauce, vegetables and meat, then the rice. Flip it upside down on the plate, and voila! Magic!
Southern Africa
South Africa – South Africa may very well be one of the most visited countries on the continent. With its many tourist attractions, not the least being the Big Five wildlife safaris and the notable Western Cape wine route, it has a wide variety of cultural influences that is well represented in its cuisine.
Bobotie
A hearty and comforting Cape Malay dish with simple ingredients, but with such rich flavors that it is also elegant. This mouth-watering dish is a combination of minced beef or lamb, spicy curry spices, and fruit, topped with a creamy egg custard.
The traditional way of serving South African bobotie is with some yellow rice, then often with slices of banana and some pickle or chutney on the side.
Potjiekos
Potjie is an Afrikaans word for the traditional South African method of slow-cooking meat and vegetables in an iron pot over an open fire. It is the name of the dish, as well as the three-legged cast-iron pot, brought from the Netherlands to South Africa by the Dutch.
Traditionally, the recipe includes meat, vegetables such as carrots, cabbage, cauliflower or pumpkin, and starches such as rice or potatoes, all slow cooked with Dutch-Malay spices, the distinctive spicing of South Africa's early culinary melting pot.
Boerewors
The typical South African sausage, known by its coiled design and unique spices, means 'farmer sausage'. It is usually made with beef or a combination of beef and pork or lamb. It must have at least 85% meat or it is not a true boerwors. The flavor comes from the spices and vinegar, and it is enjoyed by all South Africans, regardless of heritage.
Bunny Chow
This curry dish originated in Durban, where there is a large concentration of Indian immigrants and descendants, but is now enjoyed throughout the country.
Take your pick of a bean, chicken, or beef spicy curry served in a hollowed out half-loaf of white bread. It is a favorite for a quick, filling meal, but make sure you enjoy it with your hands for the full experience!
Braai/Shisa Nyama
If there is one thing that unites South Africans, it is meat. Shisa nyama, meaning 'burn the meat' in Zulu, and braai, meaning 'barbeque' in Afrikaans, both refer to any kind of grilled meat, as well as the experience of cooking and eating it!
Braais originally started in the townships of Johannesburg, where butchers would fire up their barbeques on weekends and sell their meat on the street. Nowadays, at a shisa nyama, you choose your own meat from the butchery and then have it cooked the way you like it. Often eaten with 'pap' a maize porridge, and chakalaka, a delicious spicy tomato and bean relish. A smart businessman will set up his shisa nyama next to a bottle store, turn up the music, and you have a vibrant locale for eating and socializing. Location, location, location!

We've virtually travelled the continent giving you a taste of what to expect when you finally visit this special place. Until then, make sure you try some of these delicious meals at home and impress your family and friends!