Top 20 Haitian Foods (With Pictures!)
Haiti is a country that shares the island of Hispañola with the Dominican Republic. It is known not only as the first black republic but also for its beautiful beaches, culture, and cuisine.
Haitian cuisine is a blend of many influences with a distinctive fusion of French, Spanish, African, Arabic, Taino, and even American dishes.
Like other Caribbean islands, Haiti has unique cooking techniques and practices that make its traditional foods rich in taste and flavor. Looking for an exotic mouth-watering treat on your next trip? Here is a list of 20 typical Haitian dishes that every traveler should experience when discovering this Caribbean island and that we feel deserve to be in the spotlight.
20. Mayi Moulen ak Zepina (Corn and Spinach)
Corn with spinach is a typical Haitian dish. With fresh spinach sautéed in small pieces, onions, and tomatoes, the coarse corn is boiled and stirred into a smooth, chewy cornmeal.
Believing that Mayi is an excellent source of protein and iron, this dish is usually served at breakfast with slices of fresh green avocado for an energy boost to start the day. If you plan to spend the day visiting, there's nothing better than a spinach corn dish to keep you energized throughout the day.
19. Bouillie de Bananes Plantains
One of the many foods Haitians eat for breakfast is Labouyi Bannann (plantain porridge). If you have never had Labouyi for breakfast, you are missing out.
Porridge has long been an integral part of Caribbean cuisine. The porridge is supposed to fortify and strengthen for long periods of time. Unlike typical porridges that use grains like oats, wheat, and corn, Labouyi uses plantains. The porridge is soft and creamy, and light.
18. Diri ak Lalo
Diri ak Lalo is a stew of crab and dark green lalo (Jute Leaves). This dish comes from Artibonite and it is the signature of their Haitian cuisine. This flavorful dish is served with national white rice.
17. Pain Patate
Looking for a dessert to warm you up? Pain Patate is certainly the one you need. Pain Patate is a very popular dessert among Haitians. It is prepared with sweet potato and spices, with a consistency ranging from soft to as firm as banana bread. If you like desserts, you'll love this, guaranteed.
16. TomTom ak Kalalou Gombo
Tomtom ak Kalalou Gombo is now considered a special dish in the city of Jeremie in southern Haiti, but in colonial times it was the daily dish of Haitians. This dish is composed of boiled and crushed breadfruits served with a sauce made of seafood and okra.
Tomtom ak kalalou is not normally eaten on its own. The traditional way to eat this dish is to put the mashed breadfruit in the middle of the table, the gumbo purée next to it, and have the extended family take turns digging in with their fingers. Then they dip it into the gumbo sauce to season it and finally pop it into their mouths in one go until the next round. This dish is made for those who want to spend time bonding with their family.
PS: If you don't want the elders to go mad, DO NOT CHEW IT.
15. Bouillon tèt kabrit
Bouillon tèt kabrit is a dish with very mixed reviews. The name means bouillon with goat head in English, which actually means that the head of a goat is one of the key ingredients.
A real goat skull is used in the broth. The dish also includes the goat's guts and intestines. The tender goat meat is simmered in a traditional Creole sauce for this Haitian dish. It is served with seasonal vegetables or rice for a traditional and hearty meal.
14. Diri Djondjon
Diri djondjon is ordinary rice cooked with black mushrooms called "djon djon". Djon djon mushrooms are cultivated in Haiti. They are used to flavor and give the black color to djon djon rice, a classic Haitian dish. Djon djon mushrooms can be found in Creole grocery stores.
The recipe for djon djon rice is cooked in the same way as traditional rice but with a variation in preparation and seasoning. Usually prepared with lima beans, you can also prepare it with frozen peas. It will be just as good. Cook it either on Sunday or for a special occasion, the rice with black mushrooms will charm your guests!
13. Haitian Pork Griot
Haitian griot is a recipe for marinated pork that is so succulent that even an uninformed vegetarian could make it their favorite dish. Joking aside, Haitian griot is truly one of the national meat dishes par excellence. The dish is often served at family gatherings and is one of the most popular in Haiti.
Boneless pork is marinated in a broth of citrus, garlic, onions, shallots, and a mixture of spices before being pan-fried until crispy. You can accompany the griot with rice, bannann peze (fried plantain) and don't forget to add some pikliz
12. Bonbon Siwo
If you want to add the flavors of Haiti to your table, bonbon siwo, Haitian gingerbread, is the dessert for you. Bonbon siwo is a tropical gingerbread from Haiti, hot and spicy and easy to make.
This Haitian gingerbread cake is dark and dense thanks to coconut milk and cane syrup, and is boldly flavored with fresh ginger, cloves, and cinnamon. Make this Haitian treat for your loved ones with a cup of hot chocolate or milk.
11. Dous Makòs
Dous Makos is a variety of vanilla fudge that originated in Petit-Goave, Haiti. The sweet usually contains three signature stripes: a light colored vanilla layer, a chocolate layer, and a red layer made with food coloring.
The candy was created by Fernand Macos in 1939, who many consider the Haitian version of the Hershey family. What are you waiting for?
10. Kasav
This is a round bread made from manioc. It is usually eaten for breakfast, as a snack, or in the evening with butter, mamba, jam, avocado or anything else you feel like. It can also be filled with coconut.
9. Tchaka
Tchaka is in fact one of the specialties of Haiti. A mixture of red peas, dried cracked corn, and smoked and salted pork meat, especially pig's trotters, tchaka is a dish that takes a day to prepare. It must simmer for many hours for the flavors to develop.
Although a bit time-consuming, the preparation of this dish is quite simple. The peas and corn are cooked separately and then mixed with the cooked pork. The mixture is spiced to taste and left to simmer until the tchaka has the desired consistency. A simple preparation, don't you think?
8. Akasan
Akasan is a specialty found throughout Haiti. Usually served hot or warm at breakfast accompanied by bread, it is a real treat for the stomach but also a source of income for those who sell it.
But that's not all, it is also a source of vitamins. This drink is prepared with corn (cornmeal or corn kernel that is ground with a mill), milk (as desired), and aromatic spices such as cinnamon. These ingredients make akasan a very rich drink.
7. Haitian's Russian Salad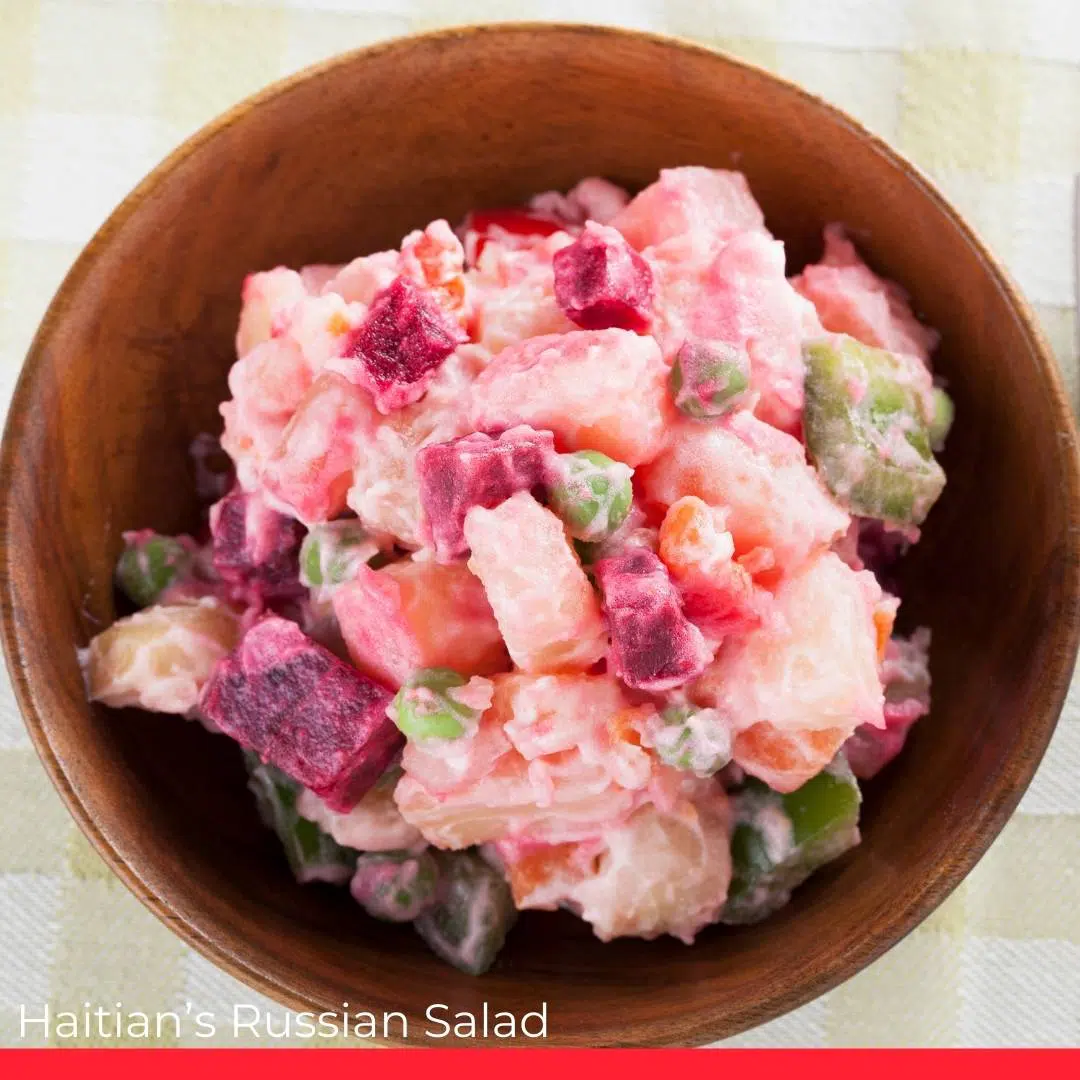 No matter what type of Haitian event you're happy to attend, potato and beet salad almost always find its way to the table.
This famous Haitian Russian Salad is the revisited version of the Russian salad. It is a colorful salad made of a mixture of potatoes, mayonnaise mixed with the scarlet color of the beet makes this salad appealing to the eye and its taste will leave you breathless. It is found in every Haitian home during the holidays and on Sundays. The salad is often accompanied by rice djon djon or macaroni gratin.
6. Pate Kòde (Haitian Patties)
If you are looking for a new comfort food, this might be your new favorite. Pate kode is delicious and gives you a variety of toppings to choose from, such as hot dogs and eggs, smoked herring and eggs, chicken and cabbage, etc.
The possibilities are endless when it comes to filling these patties, you put whatever you want in them.
5. Pikliz
According to some, pikliz takes its name from the English word pickles. This makes sense, as pickles is synonymous with a mixture of raw vegetables macerated in vinegar just like the Haitian pikliz. Pikliz is hands down Haitian's favorite condiment. If you give it a try, you'll notice that no matter how much pickliz you use, there is rarely enough.
This crunchy blend of cabbage and carrots makes this condiment the perfect side dish. It is the perfect combination for all kinds of fritailles; griot, fried chicken, weighed banana, etc.
4. Legim
Legim is among the most popular Haitian vegetable stews. It is made from a wide variety of vegetables including green beans, watercress, chayote squash, carrots, cabbage…the list goes on!
3. Fritay
Fritays are small pieces of pork, marinated and then grilled (griots), and served with a hot sauce and fried plantains. They are the favorite meal of Haitians in a hurry and are sold all over the country by cooks with cooking equipment installed under a makeshift hut on the side of the road. At first you may be wary of trying them, especially when you realize this is raw meat… but finally, once you have tasted them, you will be very happy that you have!
2. Kremas
Haitian kremas is an emblematic alcoholic drink in Haiti served on special occasions. The recipe for Haitian kremas consists of coconut milk, unsweetened condensed milk, sweetened condensed milk, spices, and rum.
Together, they create a sweet, smooth, and creamy texture. A small glass is enough for an explosion of flavor in the mouth guaranteed! During the Christmas holidays, kremas is the must-have drink. It is tasty but a bit treacherous since it can be forgotten that it is an alcoholic drink.
1. Soup Joumou
Soup joumou is placed #1 on our list because it is a symbol of freedom for Haitians but also because it is a UNESCO Intangible Cultural Heritage as of 2021. This soup, made with squash purée, beef, potatoes, and vegetables, is traditionally served on New Year's Day to celebrate Haiti's hard-fought independence from France.
This soup was once the exclusive delicacy of the white masters while the slaves who prepared it were forbidden to eat it. But since January 1, 1804 – the day Haitian revolutionary leader Jean-Jacques Dessalines declared Haiti's independence – joumou has become a symbol of freedom that adorns every Haitian's table on January 1st. At home, with family and friends, everyone hopes to have a bowl of soup joumou on that day – a culinary event not to be missed.
---
Related: Most Popular Haitian Desserts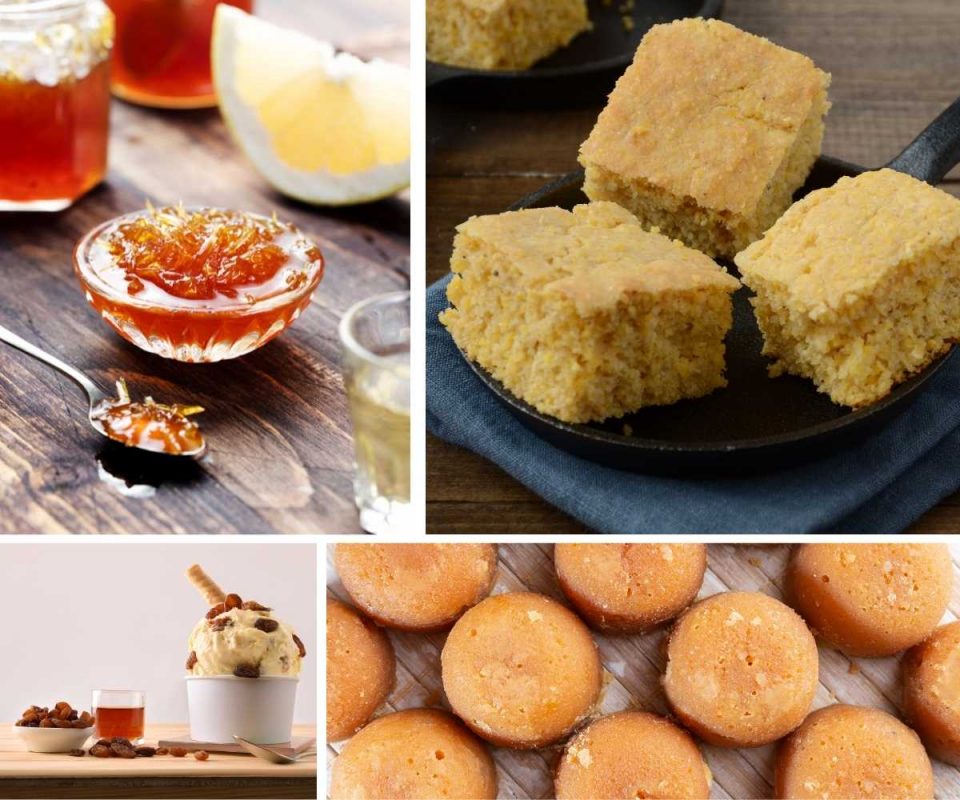 Related: Unmissable Haitian Christmas Foods