Bahamas Food: Top 25 Bahamian Foods To Try Out
The Bahamas, or the Commonwealth of the Bahamas, is a breathtaking archipelago of 700 islands and keys. Nestled off the coasts of Cuba and Florida, this island nation is known for pink sandy beaches, crystal clear waters, swimming pigs, and, of course, scrumptious food. 

Your taste buds will come alive with Bahamian foods. Dishes are a fusion of the cultures of West Africa, Europe, America, and the indigenous people adding flair. Bahamian cuisine is heavily inclusive of seafood such as fish, crawfish, crab, and conch, as well as fresh fruit and vegetables. It's an explosion of flavor, both savory and sweet. 
So what are the most popular foods in the Bahamas? Drum rolls for the top 25 dishes you need to try out on your next trip to the Bahamas.
1. Conch Salad
Conch salad (pronounced conk) is a staple of the Bahamian diet. It is a light, refreshing dish. You can have this as an appetizer or with a cool drink on a hot day. Conch salad gives a tasty bite of the Bahamian Islands to your taste buds.
It is made with fresh, diced conch and an array of diced fruit and vegetables: onion, bell pepper, cucumber, and tomato. It is seasoned with salt, pepper, fresh lime, and orange juice, and for heat lovers, a few dashes of hot pepper sauce. For more of a tropical twist, some people add fruit such as apples, mango, or pineapple.
2. Conch Fritters
Usually served as an appetizer, conch fritters are a delightful and filling part of the Bahamian cuisine. The savory flavors can't be beaten and you'll almost always find yourself wanting more.
The batter contains chopped conch, onion, bell peppers, celery, salt, and pepper. It is fried until golden brown and served with a dipping sauce of ketchup, mayonnaise, salt and pepper, and a bit of hot sauce if desired.
3. Cracked Conch
In the Bahamas, "cracked" simply means coated in batter and deep fried. Cracked conch can be paired with rice, a tossed salad, or fries. As a side note, a meal that comes with fries and a roll is known as a "snack" here.
Coat the tenderized conch in a salt and pepper seasoned batter. Fry until the conch has lightly browned and enjoy this mouthwatering dish with a squeeze of fresh lime juice.
4. Johnny Bread/Cake
Johnny cake is said to have originated from the native peoples of the Americas who "journeyed" to various island nations of the Caribbean.
In the Bahamas, Johnny cake is made from a simple dough which is a cross between bread and a cake (hence the name). It is baked until golden brown and served with soups or stews, or it can be topped with butter or a bit of a native fruit jam.
5. Conch Stew
This hearty dish is a scrumptious medley of flavors. It can be an appetizer or a meal in its own right. The aromas of this dish are simply captivating.
Strips of tenderized conch are first boiled and a sauce of tomatoes, onions, salt, and pepper is first simmered, and then peeled, chopped potatoes and tomato paste are added. Then the conch is added and the whole thing is left to simmer until the potatoes are soft.
The result? A delectable stew with flavors that will linger in your mouth and leave you craving more. It can be served with white rice, grits, or Johnny cake/bread.
6. Peas and Rice
Peas n' rice is a staple of every Bahamian household, especially for Sunday dinner. It began in the nineteenth century when Bahamians were heavily reliant on what they grew themselves, and pea plants were the most abundant. This is one of the most delectable dishes you'll find as it is chock full of savory delicacies. It is served with meat or fish, along with one of our many side dishes (for example, macaroni, fried plantain, or coleslaw).
Salted pork, bell peppers, onion, and thyme are fried then salt, pepper, and tomato paste are stirred in (browning can be added for a deeper color). Canned pigeon peas, with or without coconut milk, are stirred in and this is brought to a boil, and parboiled long grain rice is added The hardest part is waiting for the rice to be done! Once complete, the delightful peas n' rice is ready for eating. For additional flavor, salted beef or ham can be added.
7. Crab and Rice
Crab n' rice is a must-have for a Bahamian dinner. It is rich and savory rice, lighter than peas n' rice as it doesn't have meat. The flavor of this dish comes from the crab fat, body, and pincers. For dinner, it might be served with fish and a side dish.
8. Grits
Grits are a must-have Bahamian breakfast food. It is simply coarse cornmeal brought to a boil with salt and topped with butter once done. This can be eaten with any of the typical breakfast proteins in the Bahamas: steamed corned beef, tuna salad, sardines, or steamed sausage (bologna). It is a great and filling way to start your day.
9. Fish Stew
Fish stew is one of the most appetizing Bahamian breakfasts. This delicacy is perfect for chilly days. It is a combination of flavors and techniques from the American South, Haiti, and West Africa.
Grouper or snapper are typically used. The fish is rubbed with salt and hot peppers and left to marinate in limes and allspice until the flavors are infused. Like a stewed conch, a roux is made and then brought to a boil. Onion, potatoes, celery, and thyme are sauteed, and the seasoned fish is fried in thyme-infused oil. Finally, everything is brought to a boil and it is ready to be served with grits, white rice, or Johnny bread.
10. Chicken Souse
Souse (pronounced sows) is typically a breakfast dish and can be paired with Johnny bread/cake or a side of grits.
To prepare, chicken wings are boiled until cooked, then drained. This produces a clear broth. The chicken is brought to a boil again, with peeled and cubed potatoes, goat pepper, onion, and allspice (which gives it the signature taste). When the potatoes are nearly done, chopped celery can be added. After simmering, you can add the juice of fresh lime to the soup, and then it's time to savor and relish this flavorful creation!
The pig feet and sheep tongue versions are made the same way, just given extra time when pre-boiling for the meat to become tender.
11. Boiled Fish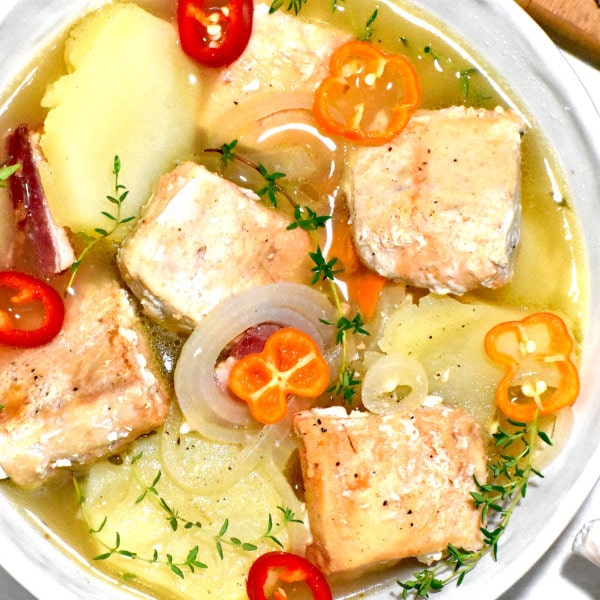 This is a similar dish to souse, but this one is made instead with the bone in the fish, traditionally grouper as it doesn't have to be pre-boiled. Like souse, it is usually a breakfast dish.
12. Fire Engine
The origin of the name of this meal is unclear, but it's a yummy dish anyway. It is easy and quick to prepare, too.
Onions, bell peppers, and peeled potatoes are sauteed in oil, then canned corned beef, tomato paste, and black pepper are added with a bit of goat pepper for an extra kick if desired. The steamed corned beef is served with white rice and usually a side of corn. Voila, fire engine.
As a side note, "steamed" in the Bahamas means cooked in tomato paste and herbs.
13. Macaroni
Most Bahamians would say macaroni is the side dish. It is commonly served for lunch and dinner with peas n' rice and fish, or other meat. It is often prepared especially for Sunday meals, holidays, birthdays, and other celebrations.
It is made with elbow macaroni, onion, bell pepper, evaporated milk, salt, pepper, goat pepper, paprika, eggs for binding, butter, and, most of all, lots of cheddar cheese inside and on top. This heavenly dish is baked until golden and served in slices to those waiting to gobble it up.
14. Fried Fish
Fried fish is usually grouper or snapper, though other types of fish can be used. It is coated in a batter, seasoned to your taste, and then fried. It is served with peas n' rice, tossed salad, or any other side dish. It is typically eaten as lunch or dinner.
15. Chicken in Da Bag
This is a typical Bahamian comfort food and late-night meal bought from fast-food joints. It is a deep-fried chicken (usually thigh) snack along with fries and a roll. However, instead of being neatly plated, it is wrapped in wax paper and popped into a brown paper bag, as the name implies.
16. Steamed Crawfish
Seafood is all around and so is crawfish! This scrumptious dinner is savory and mouth-watering. Crawfish tails are boiled and the meat is removed. The crawfish is then sauteed with onions, celery, bell peppers, salt and pepper, and tomato paste. It is served with white rice and a tasty side dish.
17. Peas Soup and Dumpling
This soup is incredibly filling and can be found year-round accompanying any meal. It is a melting pot of West African and European traditions. Its European link is "pease pudding" and dumplings, and the West African link is the practice of cooking with pigeon peas. It is perfect for feeding a large family.
This Bahamian favorite is a combination of pigeon peas (with or without coconut milk), pigtails, salted beef, ham, pork ribs, onions, bell peppers, tomato paste, and rolled dumplings. Your taste buds will thank you.
18. Daiquiri
This frozen drink can be made with a host of fruits: mango, pineapple, strawberry, coconut, and even banana. It is often found at Fish Fry or can be made at home. Frozen fruits are blended with crushed ice until smooth, but not completely blended. It can be led or unleaded, that is, with or without white rum.
19. Switch
This refreshing drink is a tasty limeade! All it takes is fresh limes, sugar, and water. For a Bahamian spin, add ginger, mint, grapefruit, or rum. It is a much-needed cool drink in a tropical climate.
20. Sky Juice
This smooth cocktail is also known as gully wash and dates back to the 1920s when America's Prohibition was in full swing and rum-running was common practice. Sky juice is made with coconut water, sweetened condensed milk, and, most abundantly of all, gin. This cool drink makes a great pair with conch fritters.
21. Goombay Smash
This is another incredible cocktail of tropical fruits and flavors. Goombay smash is made with orange and pineapple juice, coconut-flavored rum, and light, gold, and dark rums. It can be garnished with slices of pineapple or orange. Sip away and let the fruity flavors linger on your tongue.
22. Benny Cake
This sweet treat is typically consumed during Christmas and is not difficult to make. Benny (sesame) seeds are heated until brown and brought to a boil with sugar and salt. It is then dropped into circles and allowed to cool and harden.
23. Coconut Cake
Like benny cake, coconut cake/candy is prepared by bringing coconut to a boil with sugar and allowing it to cool and harden. It is a yummy sweet that can be found any time of year.
24. Guava Duff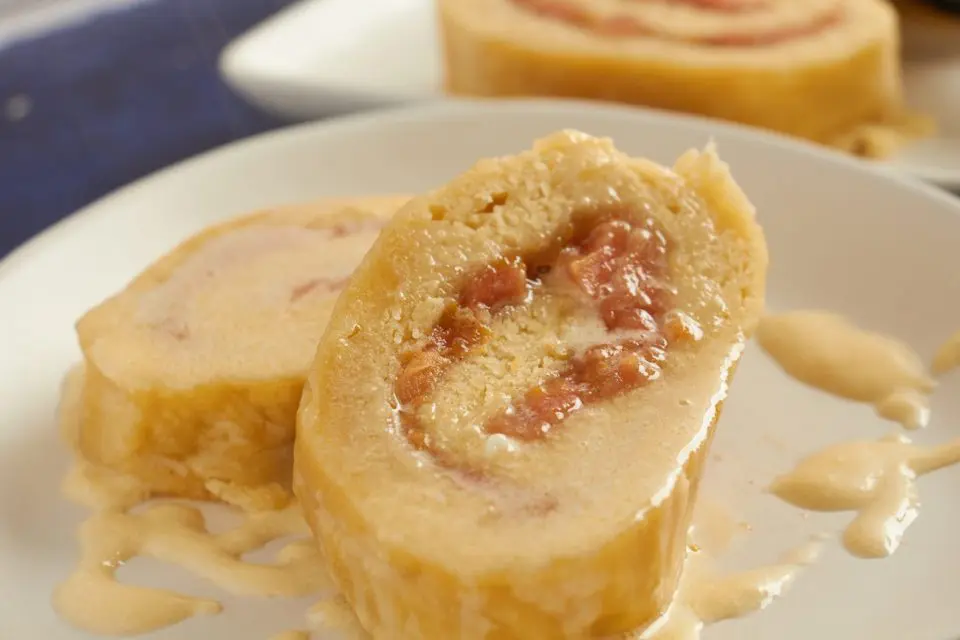 This irresistible dessert is made with fresh guavas, once you've taken care to remove the seeds. The guava is simmered until soft and then spread out on the dough. Once the dough is rolled up, it is wrapped in foil and parchment paper and allowed to boil (or it can be baked in a water bath). Once done, it is topped with a butter rum sauce that includes finely chopped guava. The smoothness of guava duff is simply delicious.
25. Coconut Tart
This pastry is a common Bahamian dessert and is a spin on a fruit tart. A simple sweet dough is prepared and kneaded, and the tart is made by alternating layers of the dough and cooked grated coconut, then baked. Once the crust forms, this fruity dessert is ready.
Bahamian food is an amalgamation of the cuisines and practices of indigenous peoples, Europeans, Americans, and West Africans with our unique flair. Our cuisine is rooted in our ancestry and we take full advantage of what is naturally available to us, especially our marine resources. Food is an expression of our culture and a journey of flavors.
---
Related: 10 Most Popular Bahamian Desserts
Related: 25 Most Popular Caribbean Foods
Related: Famous Caribbean Drinks to Try Out