Top 10 Traditional Foods in the Cayman Islands
Breathtaking warm turquoise waters, sugary white sand beaches, palm trees swaying in the breeze, this is the dreamy image of what the Cayman Islands have to offer. But the islands are really known for being the culinary capital of the Caribbean.
The first settlers hailed from Jamaica along with a blend of African and European cultures, resulting in traditional dishes bursting with flavor. The waters provide an abundance of fresh seafood, whilst the lands cultivate luscious tropical fruits and locally grown and harvested vegetables.
This is a food lover's paradise with the theme of scotch bonnet in almost every dish. Let's round up the most popular foods in the Cayman Islands.
1. Marinated Conch
Conch season opens on the 1st of November and lasts until the end of April and everyone vies for the best fresh conch. The shells are prized as much as the meat inside, with their tubular pink and white glow, polished up and sold around town.
The shell is cracked with a hammer to release the sweet and salty meat inside, which has a taste comparable to clams but with a meatier and chewy texture.
Many dishes are made from conch, such as stew, cracked conch, fritters, and ceviche to name a few, but the locals love marinated conch.
Marinated conch is a salad made with sliced raw conch, onions, bell peppers, scotch bonnets, lime juice, pickapeppa sauce, and ketchup. It is all tossed together, marinated for a few hours, then served chilled on top of warm coco bread or salted crackers.
Depending on the chef who's making this dish, it can vary in spice level but is always tangy and fresh.
2. Cayman-style Beef
This is a feast that most Caymanians look forward to all year. Cayman tradition is to have it served on the table for Christmas celebrations.
Locally farmed beef is butchered and sold one week before the holidays, with residents reserving their cut well in advance. It's a mixture of all cuts of beef, cooked down with onions, garlic, seasoning peppers, black pepper, salt, and whole scotch bonnets.
The beef is then slowly roasted in its own juices for hours in a large pot until tender and juicy. It is then shredded and served with a rice dish or root vegetables such as sweet potatoes or cassava.
You only have to ask and someone will make it for you outside of the holidays.
3. Jerk Chicken
If you have ever driven past a roadside jerk shack, the aroma of jerk chicken on wood and coal grills will have you making a u-turn.
It is a Jamaican classic that is taken very seriously, and arguments abound about who has the best jerk chicken in town.
Jerk chicken has a touch of heat, smoke, char, and sweetness, marinated in a blend of spices and seasonings consisting of ginger, garlic, cloves, cinnamon, allspice, brown sugar, fresh thyme, scallions, soy sauce, and, of course, scotch bonnet peppers.
The chicken is tossed on a smoky grill and done to juicy perfection. Add some rice 'n' beans and a touch of Caribbean slaw, a slice of cornbread, and you'll be back for seconds.
4. Saltfish Fritters
These are referred to as "stamp and go" due to the fact that you can order these fried fritters, be out the door, and go on with your day. Saltfish is a centuries old practice of using whitefish, usually snapper or grouper, that has been dried and preserved in salt.
The saltfish is rehydrated overnight in water then shredded and mixed into a batter of flour, onions, tomatoes, scallions, garlic, and scotch bonnet. It's then fried, flipped, and off you go. It is often served for breakfast or as an appetizer.
It's crispy on the outside and bursting with flavor on the inside.
5. Fish Fry
A favorite Sunday activity is seeking out a local fish fry. They seem to pop out of nowhere and groups of friends and families meet up to enjoy catching up with a game of dominos accompanied by some tasty fried fish.
The catch of the day is fried in a light batter until crispy then plated alongside slices of lime, jerk or scotch bonnet sauce, rice 'n' beans, fries and a handful of johnny cakes. Johnny cakes aren't actual cakes, they're a fried sweet and salty bread that makes a fantastic paring at any fish fry.
You can tempt your fate and have a plate of fried barracuda, a local favorite, which could be carrying naturally occurring toxins from the sea if they're over 3 feet long. But no worries, you're in expert hands in Cayman.
6. Lionfish Ceviche
Lionfish is an ocean reefs worst nightmare but makes a great tasting ceviche. Lionfish are the predators of the reef, and have stripes resembling a lion and a venomous spiny mane.
This is to keep its prey away while casually munching on the colorful marine life, so much that some species have become extinct. This being said, the more lionfish you can eat the more the marine life can flourish. The only way to catch these spiky fish is to gather your scuba gear, a spear, and go diving.
Lionfish has extremely sweet meat and is simply marinated in lime juice, red onions, seasoning peppers, fresh cilantro, and sea salt, then scooped up with some crispy plantain chips. It's a unique dish that you can feel good about saving the ocean with every bite.
7. Cayman Lobster
Caribbean or spiny lobsters are in prime season in Cayman for only a few short months from December to February. All the local fishermen go out on the sea in their cat boats and dive through the reefs in search of the season's harvest.
Meanwhile, in the kitchen, folks are cooking up a real treat of Cayman style lobster. Raw lobster is pulled out of the shells and then stewed together with peppers, onions, tomatoes, garlic, pickapeppa sauce, fresh lime juice, seasoning, and scotch bonnet peppers.
Simmered and served with rice 'n' peas, sautéed vegetables or soaked up with crispy bread, this simple yet tasty lobster feast is a real treat.
8. Rundown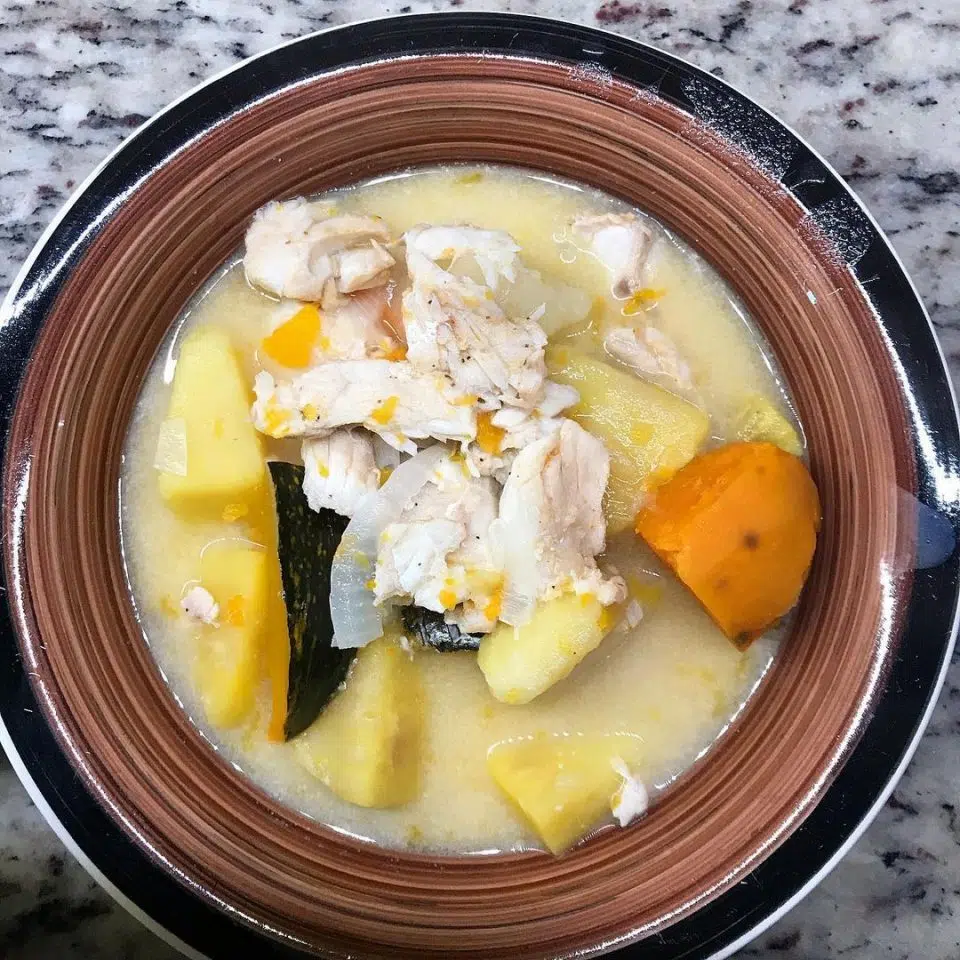 The term "rundown" means "nice and slow", just how this dish is cooked. Rundown is a fragrant soup made with coconut cream and milk, fresh tomatoes, onion, garlic, ginger, thyme, pimentos, scotch bonnets, and local pumpkin slowly cooked down to make a rich and creamy broth.
Fish and plump cornmeal dumplings are typically added to rundown for lunch or dinner and cooked with mackerel and bananas for a hearty breakfast. You can even find some rundown made using local turtle. Adding a touch of rundown to leafy collard greens or callaloo takes your vegetables to a whole other level.
9. Pepper Jelly
Pepper jelly isn't actually a dish but a condiment that can be smeared onto just about anything. The best pepper jelly in Cayman is made by a woman who makes her secret recipe in her home kitchen wearing a snorkel, due to the hot pepper fumes that escape while chopping and cooking the peppers.
Although it's a secret recipe, the ingredients of this highly addictive jelly are scotch bonnet peppers, red bell peppers, seasoning peppers, sugar, vinegar, salt, garlic, onions, pimento, nutmeg, and cloves, cooked and cooled into a sweet, spicy, tart pepper jelly.
The ingredients we know, but the measurements will never be revealed. Spreading it onto a toasted sandwich or sliced pork is heavenly. Best of all, every cheese plate in Cayman comes with a side of pepper jelly.
10. Crab Back
In the spring, when the mango and rainy season begins in Cayman, you'll see a large migration of land crabs crossing the road to lay their eggs for the year.
These crabs are hunted by locals at night, carrying buckets and flashlights, on the side of the road within the mangroves searching for these sought after crabs. Once caught, they're then fed mangos for a few days to flush out their systems and sweeten up the meat.
The crabs are then cooked and cracked to remove all the meat, which is then tossed with a simple mixture of onions, garlic, fresh herbs, scotch bonnets, and scallions. It's then stuffed back into the shell, hence the name, crab back.
Top it off with crunchy breadcrumbs and bake in the oven until golden and delicious.
---
Related: Most Popular Cuban Foods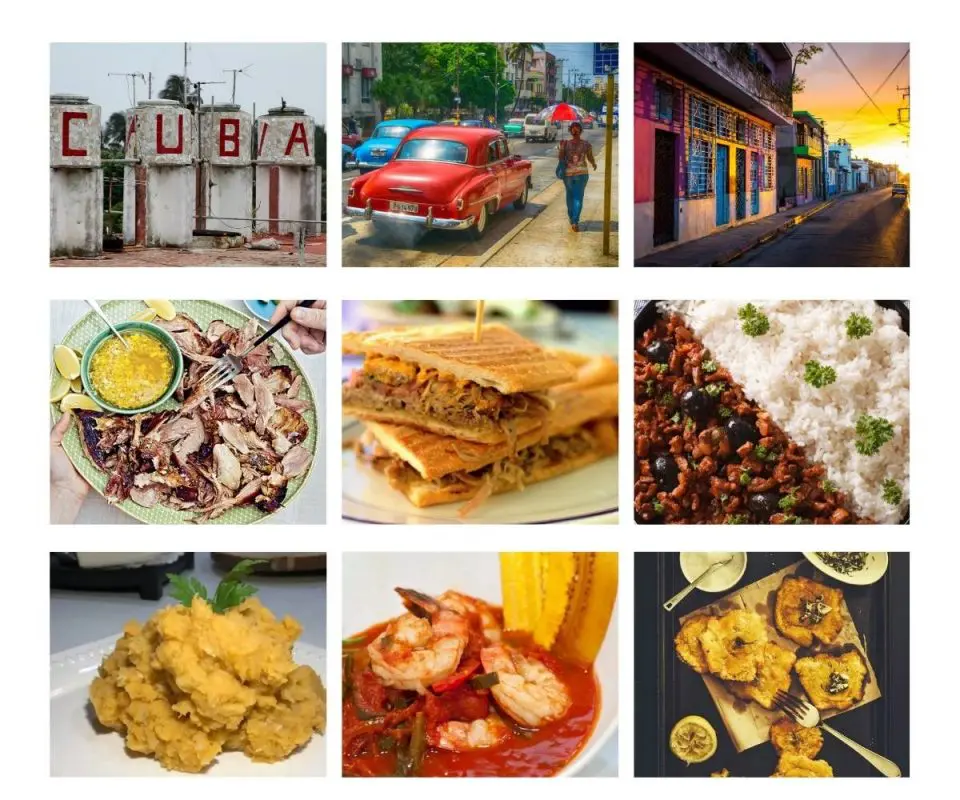 Related: Most Popular Foods in the Bahamas
Related: Most Popular Foods in Belize