Top 11 Traditional Foods in Grenada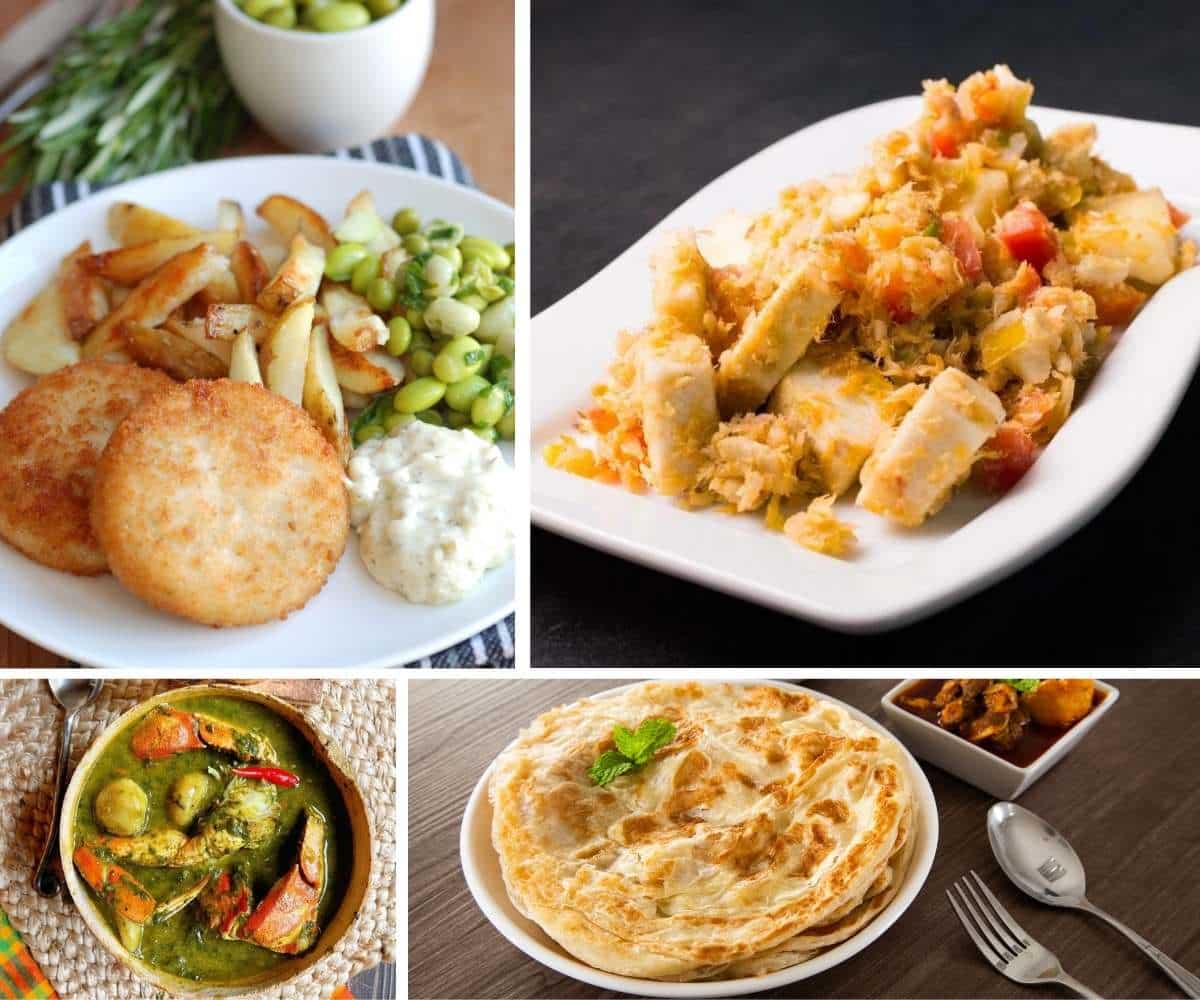 It's always a treat to eat in Grenada. Known as the Spice Isle, this tiny country produces 20 percent of the world's nutmeg and many other spices.
Grenada's fame as a top-tier cocoa bean and chocolate producer is growing, too: another considerable feat for an island with only 133 square miles of land! Many cocoa plantations follow sustainable farming practices and provide exquisite cocoa to create a world-class product. Additionally, the island even has a chocolate festival, a weeklong event held in May.
This Caribbean gem also produces delicious food. The weekly street food session at the True Blue Bay restaurant is a must-try and there are also Fish Fridays in the town of Gouyave. That's where locals and visitors go to sample fresh seafood.
And nothing beats a cookout on the beach. There you'll find huge pots of food slow cooked on wood fires and rum flowing to whet the appetite.
There are plenty of good restaurants too. The swankier establishments are in the south of the island. Most of the eateries are as casual as your own backyard.
Below, we've gathered all the can't-miss foods to ensure you experience the authentic taste of Grenada.
Coconut Milk in Grenadian Cooking
Grenadians cook several of their dishes in coconut milk, including Oil Down, Grenada's national dish, Pelau, a one-pot stew made with chicken and rice, and Coo Coo, a savory polenta. You'll also taste it in crab and callaloo soup, a delicious meal made with land crabs.
The supermarkets in Grenada sell canned and powdered coconut milk. But most people prefer the traditional Grenadian method of making it, which is easy: just add water to blended or grated coconut.
Traditional Grenadian Breakfast
1. Saltfish and Ground Provisions
This high-protein breakfast dish contains salted codfish. It's usually served with steamed root vegetables such as sweet potatoes. Steamed green bananas are also a popular local addition, and many people like to mix in a boiled egg or two.
You can accompany it with delicious cocoa tea from the cocoa balls produced on the island. Cocoa tea is more potent than hot chocolate, and Grenadians usually add spices such as cinnamon and bay leaves.
2. Crab Back
This breakfast dish is made with fresh land crabs, which are plentiful on the island. They offer a taste much like those found in the sea.
The chef seasons the crabs, cooks them, and then removes the meat. Then they mix it with sweet peppers, onions garlic, and breadcrumbs. Next, they stuff it back into the cleaned crab shells (that's how the restaurants in Grenada serve it).
It tastes great when accompanied by Grenada's famed hot chocolate.
3. Bakes and Fishcakes
Breakfast time in Grenada is time for bakes, a type of fried bread. The real experts deep fry the bakes in boiling hot oil, which makes a hollow pocket in the middle. You can choose from an array of side dishes such as sausage or cheese, but fishcakes are the most popular.
Fishcakes are saltfish fritters. The chef adds the saltfish to a batter made with flour, water, and green seasonings. They then drop it by the spoonful into hot oil and deep fry it until golden brown. It's great served with cocoa tea or hot chocolate.
Grenadian Lunch Dishes
4. Oil Down
Oil Down is the national dish of Grenada. Its journey to becoming Grenada's national dish is quite colorful. The breadfruit plants, the main ingredient of the dish, were brought from the South Pacific to the Caribbean on HMS Bounty, a Royal Navy vessel famously known for the Mutiny on the Bounty.
The one-pot meal is made with salted meat, callaloo, and other vegetables steamed in coconut milk. Its yellowish color comes from the turmeric or curry powder that is added.
Oil Down is a meal that locals love to cook on the beach (accompanied by rum, of course). As a matter of fact, many people consider the beach the best place to eat Oil Down. It's even better if there's a fete in full flow and an open fire heating the pot. Enjoy it with rum punch (or, for nondrinkers, a refreshing glass of lime juice).
Editor's Note: Oil Down together with Pelau are also highly popular dishes in nearby Trinidad and Tobago, which shares many cultural influences with Grenada.
5. Pelau
Pelau is another popular one-pot meal enjoyed across the island. It's made by caramelizing brown sugar and adding chicken and rice. You'll also need to add peas, carrots, and coconut milk. Many of the local restaurants serve Pelau almost daily.
6. Callaloo Soup
Soup is a Caribbean favorite. Callaloo is the leaves of the dasheen or taro plant. Callaloo soup needs about a dozen leaves cut up and boiled in a large pot with coconut milk. Add salted meat, sweet potatoes, green bananas, and dumplings, and, with a whole hot pepper, this is a flavor-filled dish.
7. Crab and Callaloo
Crab and callaloo is the national dish of the neighboring Caribbean nation of Trinidad and Tobago and is also popular in Grenada. It's a thick one-pot stew with a soup-like consistency. It contains land crabs, callaloo, and various herbs and spices.
8. Roti
Grenada has a heavy East Indian influence, and roti, a flatbread, comes from that tradition. Grenadians tend to use roti as a wrap.
Popular fillings include curried beef, lambie (conch), chicken or fish. Another well-liked addition is goat curry. You can get roti from small eateries, food trucks, and other vendors throughout the island.
Grenadian Desserts
You will love these traditional Grenadian desserts if you have a sweet tooth.
9. Nutmeg Ice Cream
Any restaurant worth its salt in Grenada will have nutmeg ice cream. Some of them even make their own. The recipe calls for equal parts milk and heavy cream, and it also needs eggs, brown sugar, grated fresh nutmeg, a little salt, and vanilla extract.
You can try making nutmeg ice cream at home if you have an ice cream maker. You won't want vanilla or a strawberry ripple after that!
10. Sweet Potato Pudding
Sweet potato pudding is another delicious Grenadian dessert for those with a sweet tooth. Locals make it with sweet potatoes, milk, salt, ginger, nutmeg, and tannia (American taro).
Additions include cinnamon and grated coconut. The result is a lovely, sticky, delicious pudding that will send your taste buds to heaven: a must-try.
Grenada's Traditional Drink
11. Rum Punch
We had intended for this list to contain only 10 traditional Grenadian foods. But it feels incomplete without rum punch, a Grenadian classic. Rum punch is an import from India, brought to England in the early 17th century. It then made its way to Grenada and has become a local favorite. Rum punch is now available at almost every restaurant across the island.
The recipe is simple: 1 part sour (lime juice) and 1 part sweet (orange or pineapple juice). It also needs Grenadine syrup, Angostura bitters, and a pinch of grated nutmeg. The beauty of rum punch is that you can make it in a large batch instead of having to mix each individual cocktail.
More Traditional Grenadian Foods
Grenada offers many delicious side dishes. These dishes include stewed pigeon peas, fried plantains, and steamed pumpkin. Locals also enjoy mannish waters, which is goat's head soup, which includes various (exotic) parts of the goat, including its testicles.
Everyone headed to Grenada should enjoy some fresh seafood here and there. Spiny lobster is a delicacy on the island, and locals are also fond of conch and octopus. Fresh fish such as snapper, marlin, and jacks are also part of the Grenadian diet.
Most of the meat dishes in Grenada consist of pork, beef, goat, and some sheep. Grenadians love to eat their meat with a plate full of steamed rice. Side dishes include beans, steamed vegetables, or salad.
---
Related: Most Popular Foods in St. Lucia
Related: Most Popular Venezuelan Foods
Related: Most Popular Guyanese Foods
Related: Most Popular Foods in Barbados