Top 20 Most Popular Syrian Foods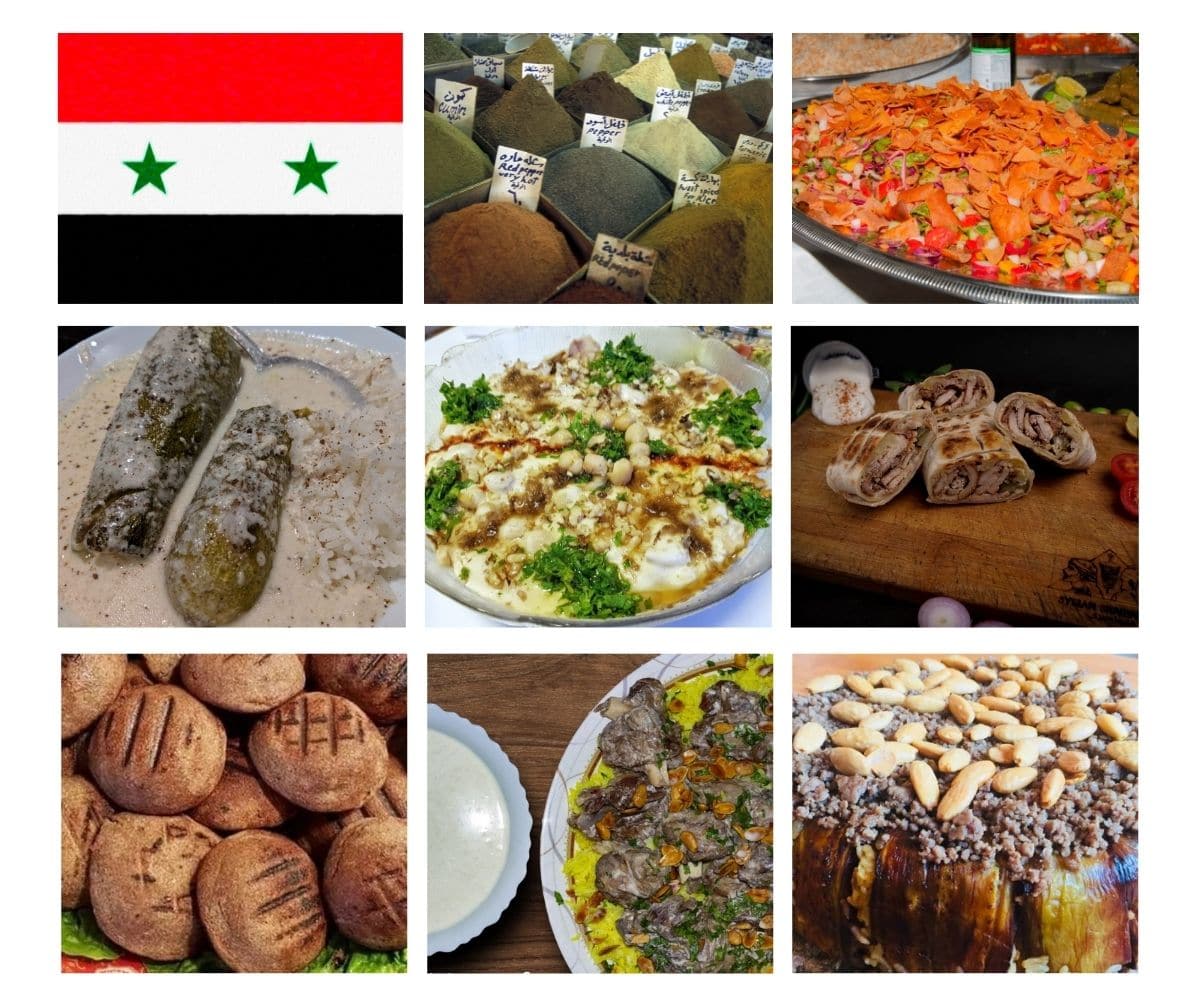 Syrian cuisine is considered one of the most ancient and authentic kitchens in the Arab world. It is characterized by its diversity, due to the different civilizations that flourished in the region—the capital, Damascus, is the oldest continuously inhabited city in the world.
There is no doubt that the Syrian kitchen was influenced by both global and neighboring cuisines since, in the past, Syria came under the control of the Ottoman Empire and a French Mandate.
Each region in Syria has distinct and famous dishes, from Damascus, Aleppo, Horan, and Al-Badia to the coastal cities. This variety is positively reflected in Syrian cuisine, and Syrian chefs have leverage that and improve on it with their exceptional taste and artistic touch. Over time, many more recipes were added to the menu, later to be called oriental foods.
This article introduces you to the most delicious dishes of Syria, including entrees, main courses, and desserts.
Street Food
1. Syrian Shawarma
Shawarma is one of the most famous street foods in the Middle East. The roots of this delicious dish go back to the Levant and the Ottoman Empire, when, in 1906, Sadeeq Khabaz left his restaurant job in Bursa and traveled to Damascus to open a shawarma restaurant. Khabaz adapted the recipe, introducing the distinct taste of the Syrian shawarma.
Shawarma consists of chicken breast and special spices. The meat is placed on a metal skewer and rotates on a vertical grill. As the meat cooks, thin slices are cut from the skewer with a very long, sword-like knife. The chicken slices are then placed on home-made bread, along with pickled cucumber and a special garlic cream.
2. Manakish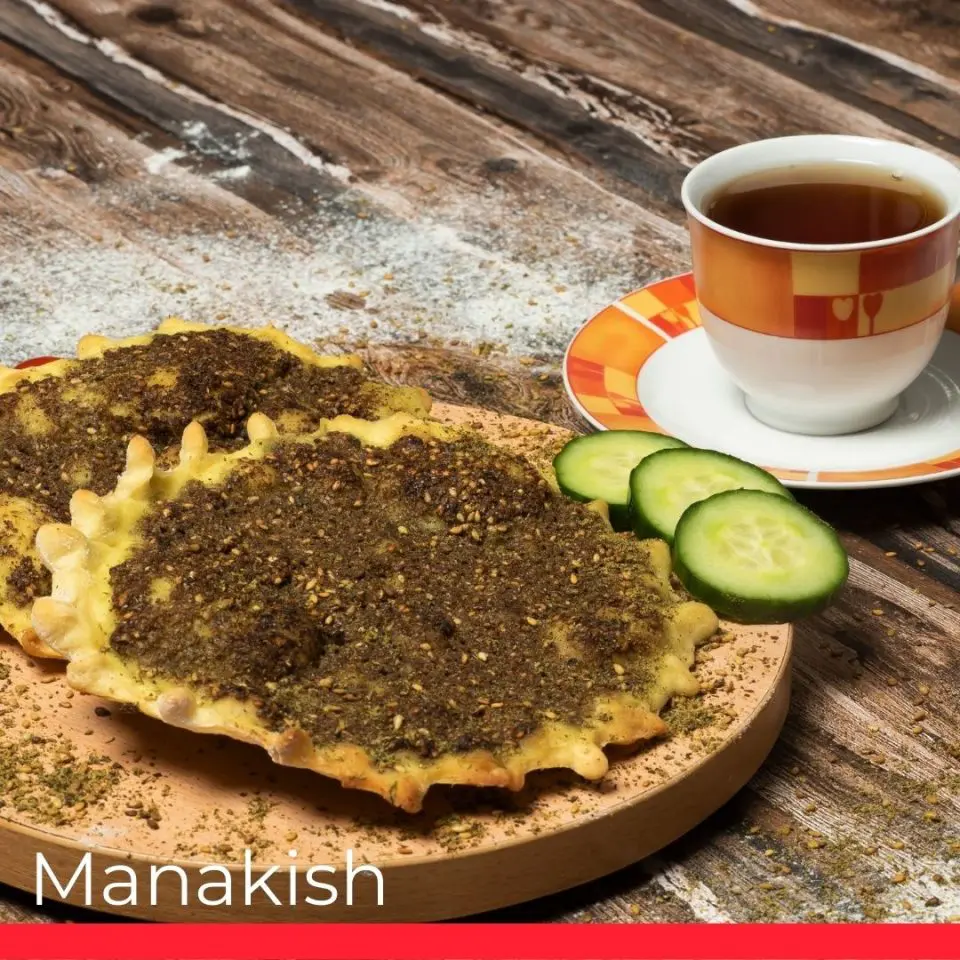 Traditionally, women baked the dough for manakish in the morning for their family's daily bread. The round bread is baked spread with cheese, meat, zaatar, or tomato sauce, looking much like a pizza. It is now one of the world's most popular Syrian foods and is delicious served with a cup of tea.
In Syria, falafel is very famous and you can find specialized falafel shops in any city, town, or village. Syrians often buy falafel ready-made, rather than preparing it at home. However, it is a simple recipe that only takes half an hour to prepare. Or you can buy the ingredients ready mixed for frying in oil. You can enjoy falafel hot and crunchy on its own or in a wrap.
Syrian main meals
4. Yabrak (Stuffed Vine Leaves)
The Syrian yabrak plate goes back to Ottoman times. The name yabrak is Turkish, meaning leaves of the vine. Yabrak became popular in the Levant as an appetizer or a main course. Yabrak leaves stuffed with rice and meat are served hot as a main meal.
Yalanji, on the other hand, are leaves stuffed with rice and vegetables, cooked in a tangy sauce with olive oil, and served cold as an appetizer.
5. Sheikh Al-Mahshi
The main ingredient of Sheikh Al-Mahshi is zucchini, along with ground beef or chicken and yogurt. It has a unique flavor but takes a long time to prepare; you have to scrap out the zucchini first then fill it with meat and pine nuts. While it takes time, the taste makes it worth all the effort!
It is everybody's favorite lunch so you will always find in on the menu, especially in the holy month of Ramadan. Various types of accompaniments are served with it, particularly sour pickles and eggplant dip.
6. Kabab (Kebab)
Syrian kebab is known as the best grilled meat. A favorite in the summer months is a kebab made of lamb mixed with garlic and parsley. There are more than 20 kebab recipes, but the most common is this simple smoky and tasty one. It is usually served with hummus, grilled vegetables, and salad.
7. Mansaf al-Melehi
There are many types of Mansaf but al-Melehi is one of the most famous and the most delicious. This dish comes from the Horan region in the South of Syria.
It is cooked in a pressure cooker and served on huge special plates at weddings, holidays, and other special occasions. It consists of bulgur wheat immersed in ghee with lamb and yogurt. It is served hot with fried kibbeh and vegetables.
8. Al-Maglouba
Maqlouba has been popular in Palestine, Syria, Lebanon, and Jordan for a long time. It is sometimes called Albathengania, due to the main ingredient, eggplant.
The Syrian Maqlouba can be prepared in a couple of different ways. You can add potatoes or eggplant to chicken or lamb placed on the bottom of a big pot. Rice is placed on top of the meat and the whole thing is turned upside down onto a big dish when it is ready. With the vegetables and meat sitting on the top, it looks simply delicious.
You can enjoy it with Arabic salad, cucumber yogurt salad, or Ayran yogurt.
9. Shish Barak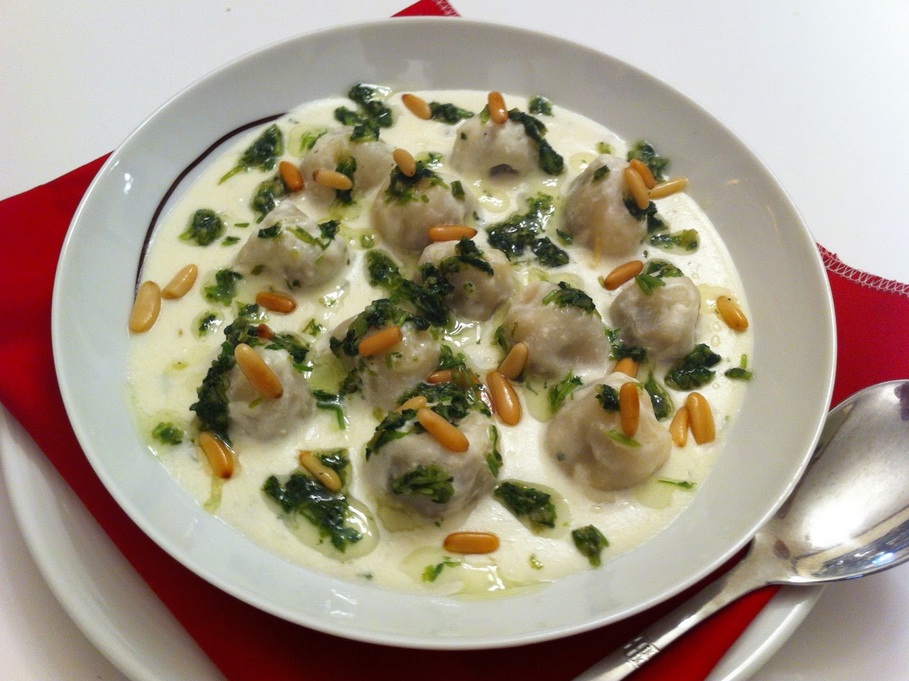 This is a dish of Uzbek origin, but it has been modified according to Syrian ingredients. Shish Barak is famous in the Levant, Saudi Arabia, and the Hijaz.
It consists of dough stuffed with ground lamb and nuts and boiled with yogurt. It's also referred to as Athan Alshaeb, which means the ear of an old man, because of its shape and color.
10. Al-Mujadara
Mujadara is popular in Syria, but also a popular food in neighboring Iraq, Lebanon, Jordan, and Palestine. It is made of brown lentils cooked with rice or bulgur wheat with roasted onions. It is a traditional Arabic light lunch.
There is no clear story about the origin of the name Al-Mujadara, but some think that it comes from the word Mqdara, which means authentic meal. Mqdara turned into Mujadara in the Bedouin dialect!
11. Grilled Kibbeh
The cuisine of Aleppo is rich with all sorts of tasty recipes, and there are dozens of Aleppo kibbeh recipes, including grilled kibbeh. It is slightly difficult to make Aleppo grilled kibbeh, so some people go to restaurants or buy them pre-made, while others prefer to endure long hours of crafting this delicious meal for their family.
Grilled kibbeh is a staple dish in Syrian cuisine and is usually enjoyed with pickles and pomegranate molasses.
Appetizers
12. Tabouli (Tabouleh)
Tabouli or tabbouleh is an Arabic salad that originated in Syria and Lebanon and then became famous all over the world. There is no doubt that tabouli is the most popular of Levantine appetizers.
In any Syrian or Lebanese house you will inevitably find a tabouli plate on the dining table, especially during the holy month of Ramadan. Due to Syrian and Lebanese migrants who traveled to Latin American, tabouli is also popular in Argentina, Brazil, and the Dominican Republic, where it is referred to as Tipili.
Tabouli consists of soaked bulgur wheat with tomatoes, parsley, and onions. These vegetables are finely chopped then mixed with salt, lemon juice, and olive oil. In some areas, cucumber is also added to the mix.
13. Al-Jaz Maz
This saucy Syrian dish is particularly famous along the coast and it's also known as the Syrian Shakshouka. The ingredients include finely minced tomatoes and onions, which are then cooked with ghee or oil. Magic happens when you crack a couple of eggs into the sautéed vegetables and add a pinch of salt and pepper.
This exquisite plate is the best choice for a light and nutritious vegetarian lunch. It is usually eaten with bread for dipping and a garnish of green onions. The name El-Jaz Maz is of Turkish origin, specifically from Iskenderun, but it was adopted by almost all regions of Syria.
14. Kibbeh Kzabah
Kibbeh Kezabah colloquially means 'lying Kibbeh'! It took on this name because it does not contain any meat—the implication being that those who eat it are deceived by its excellent taste.
Adopted from Turkish cuisine, Kibbeh Kezabah is one of the most popular appetizers in the Middle East. It can be eaten with lettuce, lemon, or stuffed in a steaming vine leaf.
15. Harak Osbao
Harak Osbao is a Levantine meal that is characterized by its delicious taste and nutritional value. It is the perfect high protein dish to supplement any vegetarian diet. It is mostly served in the winter because it is consumed hot and warms up the body.
In addition, it is one of the oldest traditional Syrian meals that is easy to prepare and does not require much time and effort.
16. Baterish or Mutabal Hamwi (Three-layer Eggplant Dip)
Baterish Hamawi is one of the most popular appetizers in Hama and the central area in general. It is made of grilled eggplant with a squeeze of lemon and a pinch of salt. It is covered with a layer of minced beef with tomato sauce and garnished with crunchy walnuts and parsley.
17. Al-Fatteh
Syrian Fatteh is one of the most delicious Syrian foods. It is particularly common on the Syrian table in the holy month of Ramadan and is often found at extended family gatherings after Friday prayers.
There is more than one type of Fatteh, so people can choose from the many tasty and filling recipes. It is traditionally prepared with yogurt, garlic, tahini, and chickpeas, which also makes it very rich in nutrients.
17. Muhammara
Muhammara is a delicious red pepper dip that was created in Syria and it's now popular throughout the Middle East.
It is prepared with Aleppo peppers, breadcrumbs, walnuts, lemon juice, pomegranate molasses, olive oil and cumin, though you can find many different muhammara recipe variations.
It can be spread on bread or enjoyed as a side dish to lamb, chicken or seafood.
Desserts and Sweets
19. Halawat al-Jeben
The origin of this famous Syrian dessert goes back to the city of Hama in the central area from which it spread to many other cities. Homs is also famous for Halawat El-Jeben, but Hama remains the first home of this yummy dessert.
It is prepared with cheese, semolina, sugar, and blossom water. It is served in soft slices, plain or stuffed with a cheese filling. You can enjoy this dessert with ice cream and a sprinkle of pistachio nuts.
20. Balah al-Sham
Balah al-Sham is of Syrian origin. However, stories vary about the reason for its name. Some attribute the name to the fact that it looks like dates—Balah means dates in Arabic. Others attribute the name to the story of a Levantine man who worked long hours during the winter, making him very hungry and tired.
So, he started looking everywhere for dates to fill him up and provide him with the energy needed to continue working. Not able to find any dates, he thought of making a date-like snack, which, of course, would need to contain plenty of sugar, hence, Balah al-Sham. This dessert has a delicious taste and a smooth texture. Many people enjoy it all year round, often with the addition of honey, nuts, or powdered sugar.
Balah al-Sham can be made simply at home. Just heat up oil, butter, sugar, and water until boiling, then add flour and mix to make a consistent dough. Leave it to cool, then add eggs and fry it in oil. You can add as much sugar syrup as you desire when it is ready. Bon Appétit!
21. Roz Bhaleeb (Rice Pudding)
Roz Bhaleeb is an easy home-made dessert made with simple and readily available ingredients. As the name implies, Roz Bhaleeb requires rice, milk, and some flavoring such as blossom water.
It is widely known in Syria and Lebanon and is considered a nutritious snack for children. It is served on various occasions with a sprinkle of cinnamon, shredded coconut, or pistachio nuts.
---
Related: 23 Popular Syrian Desserts
Related: Popular Middle Eastern Desserts