Top 20 Most Popular Greek Desserts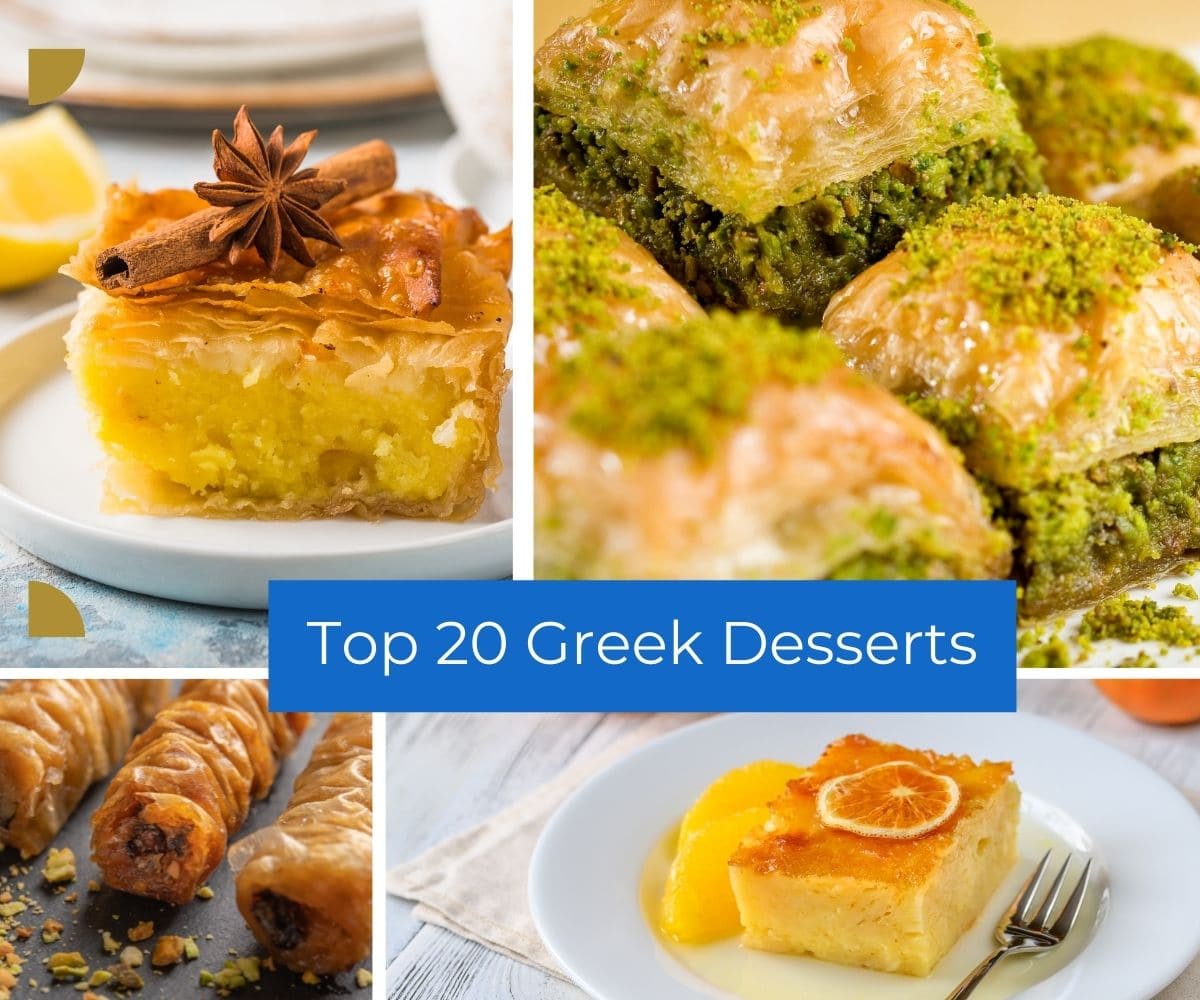 History, season, and place are the defining factors of Greek desserts. All of Greek cuisine is influenced by neighboring countries to the east, such as Turkey, Israel, and Lebanon, making each dish an amalgamation of flavors from places that were once the Ottoman Empire.
Season also plays a great role in the type of dessert that is served. In the summer, lighter desserts such as halva, rizogalo, and spoon sweets paired with Greek yogurt are offered, whereas in winter, you're likely to see baklava and steamy galaktoboureko after traditional family lunches.
Most desserts are made with dough (phyllo), semolina, milk and butter, nuts, sugar in syrup form, and a variety of eastern spices like cinnamon, nutmeg, and cardamom.
Usually, desserts are served right after lunch, both at home and in traditional restaurants. They are almost always accompanied by fresh seasonal fruit, for those who prefer unprocessed sugar.
The most interesting aspect of Greek desserts is that they are prepared differently in every region of the country. For example, in some northeastern parts of Greece, rosewater is added to rizogalo or Greek rice pudding. Little tweaks like that differentiate the original recipes, so it's definitely worth traveling the whole country to taste all the scrumptious variations.
1. Baklava
Baklava is one of the classic Greek renditions of the Turkish dessert. It's made with multiple layers of phyllo pastry, all spread with melted butter and a light layer of nuts, either pistachios or walnuts. The best part of this dessert is the silky cinnamon-orange syrup that is poured over it once it is baked.
In some regions, baklava is cut in rhombus shapes and a single clove is placed on top of each one to further enhance the deep flavors. Being buttery and comforting, it is mostly served in the winter.
2. Galaktoboureko
Galaktoboureko, or Greek custard pie, is another all-time classic dessert enjoyed in Greece. It is made with phyllo pastry and a custard made with semolina. Of course, cold spiced syrup is poured over the dessert once it comes out of the oven.
The difference between baklava and galaktoboureko is that the latter can be served hot in the winter and refreshingly cold in the summer. Both ways of serving are equally delicious and either way highlights different aspects of its flavors.
3. Rizogalo
Rizogalo is the Greek version of rice pudding. It's one of those dishes that has infinite variations around the globe and each one manages to taste completely different. In Greece, rizogalo is prepared by combining glutinous sticky rice, water, heavy cream, cardamom, cinnamon sticks, and sugar.
It's topped with more ground cinnamon and is usually served cold in a glass bowl. In some regions in the northeast, drops of delicate rosewater are poured over the dessert, confirming its Turkish roots. It's considered to be a refreshing summer treat.
4. Halva with Semolina
In most eastern countries, halva is made with tahini. However, the Greeks created a version with two types of semolina and olive oil that is equally delicious. It's spiced with cinnamon, as well as lemon and orange peel, and sometimes contains nuts, such as almonds, and raisins.
In some of its later variations, it contains chocolate combined with orange. It's a dessert that is most commonly served in traditional Greek taverna's during the summer.
Kadaifi is another adaptation of a Turkish dessert and has many variations in Greek cuisine. It's made with shredded phyllo pastry, butter, pistachios and walnuts, cinnamon, and spiced syrup. In other versions, custard replaces the nuts, and sometimes chocolate is used to complement the tastes.
The best part of this dessert is the texture of the phyllo: it's crunchy and slightly soft at the same time, all due to the syrup. In the summer months, the custard version of kadaifi is served cold.
6. Saragli
Saragli is quite similar to baklava in many ways. One can even argue that it is a rolled baklava since it's made out of the exact same ingredients. Phyllo pastry, butter, nuts, cinnamon, and spiced syrup are clearly a recipe for a successful and tasty dessert in Greece.
Saragli is traditionally cut into smaller pieces than baklava and is usually served after lunch with Greek coffee.
7. Bougatsa
Bougatsa is kind of a Greek custard pie. It's made with phyllo pastry filled with custard containing semolina, milk, and sugar. After it's baked and cooled, it is dusted with icing sugar and cinnamon.
It's a dessert that is particularly prevalent in Thessaloniki, the second largest city in Greece. Savory bougatsa can also be found there, varying from cheese-filled to meat-filled. The crunchy dough and fresh filling of the custard make for a simple and tasty breakfast or snack.
8. Portokalopita
Portokalopita, or orange pie, is a very unique Greek dessert. It looks like a moist cake but is made with scrunched up phyllo pastry, orange juice and zest, sugar, eggs, and milk.
Like many Greek desserts, orange flavored syrup is poured on top once the pie is out of the oven. It's usually served with either vanilla or mastic ice cream and orange spoon sweet. Since the pie is quite sweet, the ice cream complements the portokalopita perfectly.
9. Spoon Sweets
Spoon sweets are probably some of the most unique and versatile desserts. They're made with thickly-cut fruit, water, and sugar and are flavored with lemon juice. The fruit is boiled into almost a jam, and the combination of water and sugar turns it into a thin syrup.
It is then stored in jars and is usually eaten directly from there with a spoon—hence the name! However, one can make spoon sweets with much more than fruit: rose petals, tomatoes, and walnuts are a few alternative ingredients that can be used to make spoon sweets. When served in the summer, this dessert is usually accompanied by yogurt.
10. Loukoumades
Loukoumades are the Greek version of fried dough balls; they're a little like the French beignets. They're made with flour, yeast, oil, and a little bit of honey, all combined together, and then fried in some neutral oil.
Then, in their most classic version, they are topped with honey, cinnamon, and walnuts. But there are many combinations worth trying; for example, you can have them topped with cheese or filled with chocolate and topped with pistachios.
11. Melomakarona
Melomakarona are traditional Greek Christmas honey cookies. Usually, people enjoy them throughout December and January, not limiting themselves to just Christmas! They're made with flour, semolina, oil, orange zest, and spices—mostly cinnamon, nutmeg, and cloves.
Once baked, they're soaked in spiced syrup and topped with honey and walnuts. As with almost any Greek dessert, their variations include chocolate and, less commonly, chestnuts.
12. Kourabiedes
Kourabiedes also are a Greek dessert that's made around Christmas time. They could be described as almond snowball cookies since they contain almond slivers, flour, sugar, butter, bitter almond liqueur, and a hint of rosewater.
After being baked, they are topped with icing sugar. They are full of crumbly and crunchy textures and make an overall delectable holiday dessert.
13. Karidopita
Karidopita is a Greek walnut cake. Along with flour, it includes ground walnuts, cinnamon, cloves, eggs, and butter. Of course, it's topped with spiced and lemon-flavored syrup, which makes the cake even more fluffy and moist.
This is a dessert that is usually served right after it's taken out of the oven, topped with either vanilla or mastic ice cream. This dessert can be found in most regions of Greece, although it's more common in the east.
14. Pasteli
Pasteli is considered as one of the most popular and traditional Greek dessert-snacks. It's made with very simple ingredients: sesame seeds, honey, lemon zest, and, sometimes, nuts.
On some Greek islands, instead of cooking the sesame mixture inside, they lay it in the sun to dry. This is one of the oldest and more natural ways drying pasteli, and you'll only see smaller manufacturers of traditional Greek delicacies use this technique.
Editor's Note: Sesame candy is also a popular dessert in Israel and other Mediterranean countries.
15. Ravani
Ravani, or revani, is a Greek sweet cake. Its ingredients include semolina, flour, sugar, eggs, orange zest, and yogurt, to ensure it's sufficiently fluffy. Once the ingredients are mixed and baked, cold orange and cinnamon-spiced syrup is poured over the cake, moistening it to its core.
When its fully cold and ready to serve, it is topped with various ingredients from shaved coconut to chopped pistachios and ice cream. This dessert is served all year round.
16. Panorama Triangles
Panorama triangles are essentially phyllo cones filled with cream. Their name originates from an area of Thessaloniki called Panorama. The phyllo pastry is shaped into triangle cones and filled with a milky, buttery, and yolky vanilla cream. Once removed from the oven, the cones are dipped in a simple syrup.
After assembling all the ingredients and filling the triangles, sometimes pistachios are crushed and sprinkled over the almost overflowing cream. They are most delicious when they are chilled in the fridge for a couple of hours, hence making a phenomenal summer treat!
17. Tsoureki
Tsoureki is a traditional Greek babka-like bread that is enjoyed during the Greek Easter season. Its key ingredients are hard flour, yeast, sugar, and butter.
However, its most unique aspect are the aromatics added: mahlab, cardamom, and mastic give it a flavor only found in eastern cuisines. These spices are a vital and irreplaceable part of making tsoureki, and it is worth getting hold of them to fully enjoy the truly exceptional combination of aromas and flavors.
18. Diples
At first glance, piples look like, and indeed are, deep-fried dough rolls dipped in some sort of syrup and topped with walnuts. It's not a regular syrup, however, since it contains honey and lemon juice to slightly subdue the intense sweetness.
Sometimes, more honey is added on top, which is why in some Greek areas they leave out the syrup altogether. They are the perfect amount of crunchy and sweet and make for the ideal post-lunch sweet snack!
19. Loukoumia
Loukoumia is the Greek name for Turkish delight. While they originally come from Turkey, they are also served on the islands in the eastern part of the Aegean sea, close to Turkish shores.
They are bite-sized chewy desserts made with gelatin, cornstarch, citric acid, icing sugar, rosewater, and food coloring. The rosewater flavor is intensified by the icing sugar that's dusted on top once cooked and cooled. Sometimes nuts are added to the little squares to add a crunchy texture and another layer of complexity to the taste.
20. Galatopita
Galatopita means milk pie. It has a custard-like texture since it's mostly made with milk, butter, semolina, cornstarch, eggs, and sugar. However, there's an overcoat to the cream, made with egg, water, lemon zest, and sugar.
When it's baked, it turns to a deep shade of caramel and becomes slightly crunchy—a little reminiscent of crème brûlée. It is mostly served cold during the summer months and is dusted with cinnamon and a smidge of granulated sugar.
---
If you love Greek cuisine, check out our article on the best 25 Greek foods.
Related: 10 Traditional Greek Cookies