Top 20 Most Popular Foods in Kuwait
Kuwait is a melting pot of people from across the globe and boasts remarkable architecture and historical landmarks, such as the Kuwait Towers and Souq Al-Mubarakiyah (Mubarakiyah Market). Seated on the northeastern boundary of the Arabian Peninsula, it cradles the largest oil reserves in the world.
With authentic traditional food and culinary diversity, the cuisine here is a fusion of local heritage and cross-cultural interaction, with a blend of Najdi, Persian, Mediterranean, and Indian cuisines. Just a quick stroll across the country makes for one complete olfactory tour of diverse aromas.
Two traditional cooking styles that rule the Kuwaiti kitchen are tabeekh and marag. Tabeekh involves stewing, where ingredients are simmered together in a flavorful liquid. On the other hand, marag follows a process where the main ingredients are initially fried and then combined with the rest of the dish. This mixture is then cooked slowly over low heat, infusing the flavors throughout the meal.
Authentic Kuwaiti recipes have endured decades of cultural influences despite fast food chains sprouting up like mushrooms around the country. Here are some of the Kuwait dishes that top the charts.
1. Harees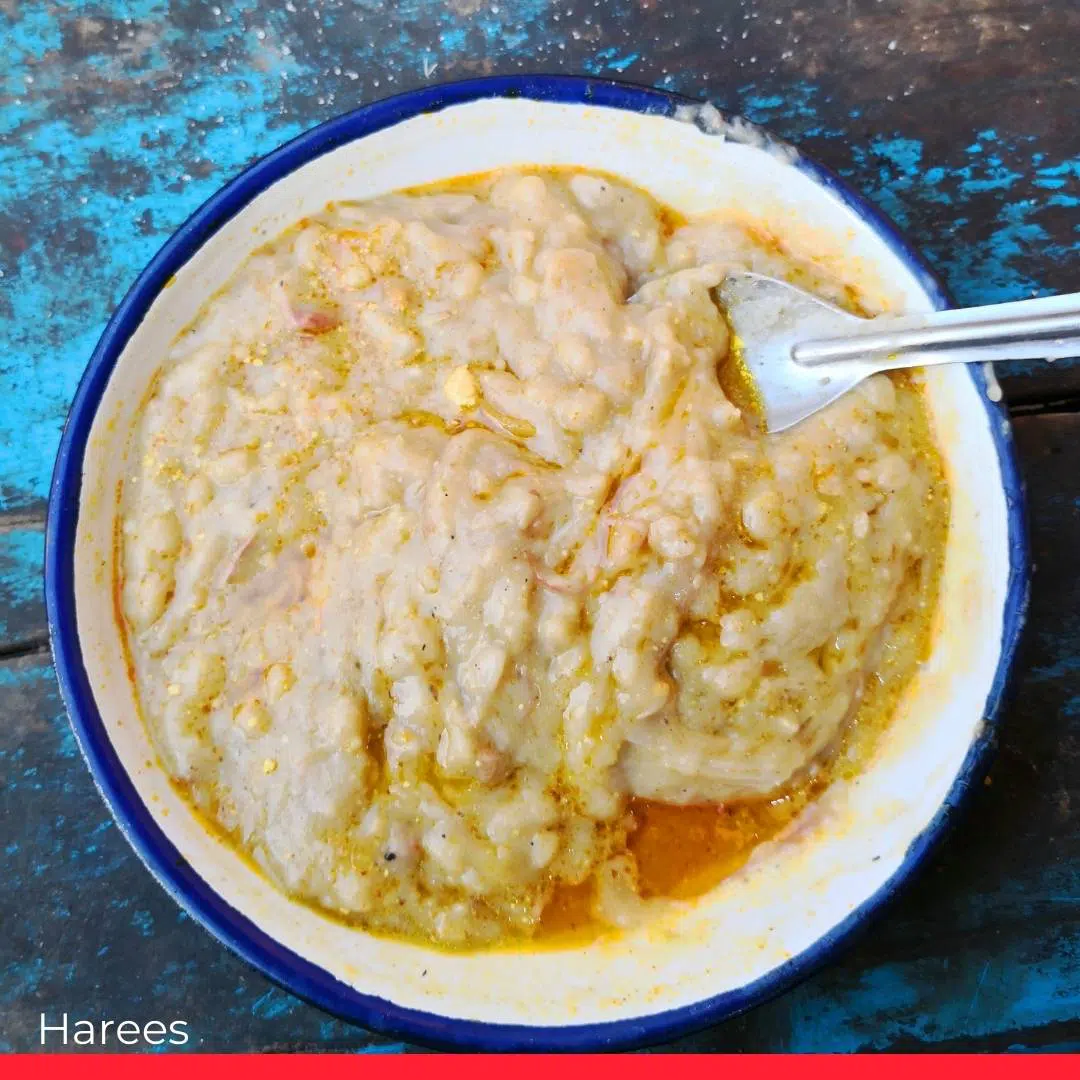 In Kuwaiti homes, it is customary to have many guests over for dinner, which is why food is generally served on large trays with ample proportions to feast on. Harees embellish tables for guests to enjoy particularly during Ramadan, whether for suhoor (pre-dawn meal) or iftar (breaking of the fast in the evening).
It is a thick porridge-like serving of mashed wheat and meat, typically chicken or mutton, garnished with cinnamon sugar and at times cumin and cardamom. The wheat is soaked overnight, boiled on the stove, and then ground up into a soup-like texture. Harees is the go-to comfort food to beat the cold during Kuwait's winters.
2. Jireesh
Often regarded as a close cousin of Harees, this similar recipe uses a different variety of wheat and is cooked in a whole new potpourri of spices. Jireesh made it to Kuwait's Hall of culinary fame as it is a must-dine-on delicacy during Ramadan.
Classic comfort food in the Arabian Gulf, is commonly cooked by first mashing wheat or lentils along with mutton or chicken. It is then topped with a variety of flavors such as bay leaves, cinnamon sticks, and raisins together with dried lemon, onions, and tomatoes.
3. Machboos Laham
Touted as Kuwait's national dish, this flavorful traditional specialty features an orchestra of spices, such as cardamom, cinnamon, turmeric, cloves, pepper, and ginger, as well as mutton or chicken all submerged in a bed of slow-cooked long-grain basmati rice.
An aromatic rice-based delicacy that combines a savory mix of saffron- and rosewater-infused rice and layers of meat, it is often garnished with fried onions, raisins, and split chickpeas. This beloved dish is best served with the famed tomato-based gravy cooked with garlic and cilantro called Dakkus or Dakoos. It is thought that perfectly cooked rice, Nathri, as locals call it, makes up a good Machboos.
4. Mutabbaq Samak: Zubaidi
Kuwait boasts a seafaring past, owing to its rich history of boat building, pearl diving, and fishing trade. In fact, some of its famed traditional foods are seafood or fish-based dishes served with spices and rice. One of the sought-after fish-rice meal combinations is a Kuwaiti specialty featuring its national fish, Zubaidi, which means butter, a silver pomfret that is abundant in this pint-sized country.
The flakey and buttery texture of Zubaidi is coated in seasonings and flour and then fried till golden brown. The rice is boiled in fish stock and then seasoned with turmeric, onions, garlic, sumac, and parsley. A serving is garnished with herbs, nuts, and raisins and paired with mango pickles and a side of onions. It tastes heavenly with a bowl of tomato gravy or dakoos.
5. Gers Ogaily or Qirs Akili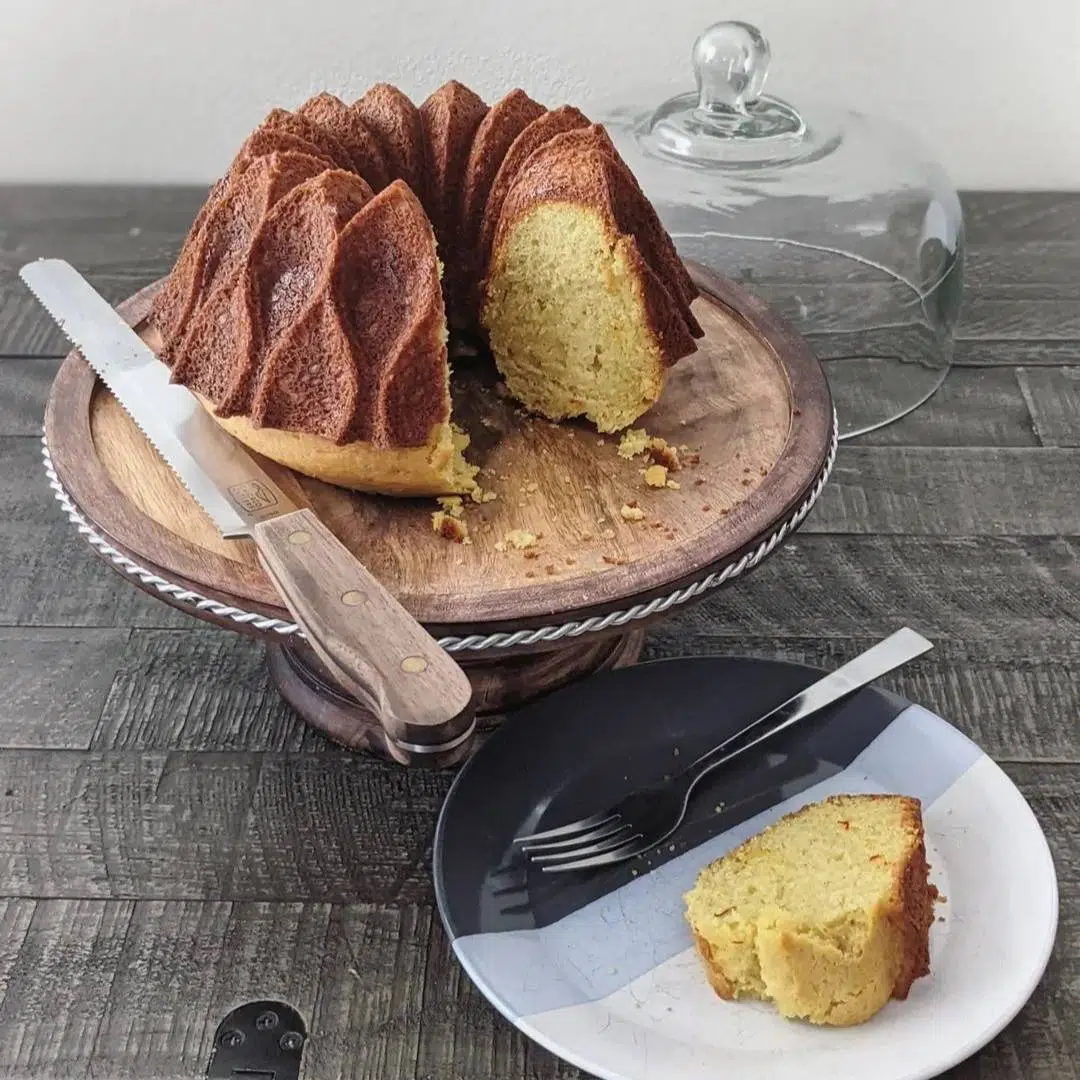 Kuwait is brimming with a variety of sweets that delight locals and visitors alike. Some bestsellers include luqaimat, or sweet dumplings, that are crunchy on the outside and chewy soft on the inside. Also popular for sweet-toothed foodies is Balah el Sham. These are fritters that could pass for the Middle Eastern version of the churros. And who wouldn't drool over Katayef, a pancake pastry with cheese and nut fillings?
Another well-beloved classic dessert, however, is the humble egg batter mixture richly packed with a variety of aromas and flavors. Infused with cardamom, saffron, and rose water, the fluffy Gers Ogaily, the so-called perfume cake, is a spongy dessert that is lightly sprinkled with toasted sesame seeds. The way the cake is prepared varies but it is normally baked in a large bundt cake pan.
Some fun facts: gers means a disc, so called because the cake is baked in a round pan. Ogaily comes from the root word ogal or iqal, which is a traditional accessory or black rope wrapped around the ghithra, a fabric worn on top of the head by the majority of Middle-Eastern men, once used by nomadic Arab tribesmen to shield themselves from the scorching desert sun and dust storms. Diners love devouring this yummy treat with a cup of Qhawa (Arabic coffee) or chai (tea).
6. Quozi
A traditional dish commonly cooked for memorable occasions and ceremonies such as weddings, qouzi, also called Ghozi or Goozi, is another rice-based cuisine that is a must-try for anyone in search of authentic Kuwaiti cuisine. This popular dish consists of a whole lamb stuffed with vegetables and nuts, then dressed with a variety of fresh herbs and aromatic spices.
Once all is prepared, the dish is slowly cooked in a closed oven and then served on a bed of rice packed with spices. Food is often shared with guests at special events or in a regular diwaniya, a common local practice of opening up your home to guests for good food and rigorous discussion.
7. Maglooba
A popular dish served for family occasions and banquets, particularly in Bahrain, Iraq, Jordan, Lebanon, Palestine, and Saudi Arabia, maglooba or maqluba is a traditional rice cake well known for its delectable mixture of rice, meat, and vegetables, all turned upside-down.
In Kuwait, this mouth-watering rice-based delicacy is prepared with meat and fried vegetables slowly cooked in a flat, round pot of rice. Once all is ready to serve, the dish is flipped over, of course, as magluba or maglooba means upside-down in Arabic.
8. Margoog
Kuwait is a land sandwiched between the sea and the desert. Sitting amidst the best of both worlds, it enjoys seafood dishes as much as meat-based ones thanks to its longstanding pastoral and nomadic historical backdrop.
For instance, one sought-after traditional dish, margoog, is a hearty stew cooked with lamb and vegetables. It is prepared with whole rolled-out wheat pasta dough and is usually cooked with eggplant and squash or poured over flatbread. Many Kuwaitis recommend cooking this dish with locally-raised lamb, as this has a distinctly delish aroma and flavor compared to imported meat.
9. Gabout
Food plays a significant role in the fabric of Kuwaiti hospitality. This is evident in the large preparations offered to guests to indulge. A great number of delicacies are filled with spices, and rightfully so, as a gold mine of spice shops thrives around the country.
A variant of meat-based cuisine famous in the country is the delectable stuffed dumpling submerged in meat stew and loaded with a wealth of spices. These delicious dumplings are stuffed with onions and raisins plus chunks of meat. It is also occasionally cooked with chicken. Meals in Kuwaiti homes are always served with a bowl of dates and other sweets.
10. Mandi Laham
Speaking of meat, mandi Laham is another authentic Kuwaiti dish that is a must-have to complete your local dining experience. This dish is traditionally prepared with lamb or chicken in a tandoor or clay oven. The pot must be covered as the steam should not escape in order to keep the meat tender and juicy.
Normally served with basmati rice with spices, or biryani, it is best enjoyed with a side of salad, yogurt, or dakoos. Basmati rice, unlike jasmine rice, involves a different way of cooking.
The rice is first soaked in warm water and then boiled either in a pot full of water seasoned with salt or in a meat broth. Once the water comes to a boil and the rice softens, it is then drained and slowly cooked on low heat.
11. Tashreeb
This famous delicacy is prepared during fall and winter in Kuwait. It is named as such because it literally means "to soak", and tashreeb is bread soaked in meat broth. It is said to have originated from the time when people in rural areas in Iraq used to immerse food in the stew.
It is prepared with chunks of meat, chickpeas, and various spices. The diner places pieces of bread, or khoubz, on a plate and pours the stew over. It is delicious once the stew has soaked through the bread.
12. Mumawash Rubyan or Murabyan
And another rice-based seafood dish, Murabyan, is loaded with locally-sourced shrimp. It features a flavorful entrée of sautéed dried black lime, or loomi, onions, coriander, and turmeric.
Murabyan is a rich seafood dish consisting of either fresh or dried shrimps mashed and cooked with mung beans or lentils, and tomatoes, and seasoned with various spices such as cloves, bay leaves, and cardamom pods.
Generally, this delicious dish is paired with rice and dakoos, making it an authentic Kuwaiti delicacy. It is garnished with fresh herbs, giving it an aromatic fragrance. The process of drying fish and shrimp in Kuwait is an old tradition rooted in the earliest settlers, when what was caught in the season was preserved to last the whole year.
13. Shawarma
In Kuwait, a bowl of hummus and a pizza converge in a single dish. Although shawarma now has international stardom, it is an original Arabic fast food.
Local food outlets serve this delicacy with two types of meat: chicken or lamb. The thinly-sliced meat is wrapped in a large piece of flatbread with turshi, or pickled cucumber, carrot, or turnip, and salad. The meat is grilled vertically on separate rotating skewers. Diners can dive in a plate of shawarma or a wrap coupled with fries, tabouleh, tomatoes, and onions, plus mayonnaise and ketchup.
14. Kebabs
Wherever you dine in Kuwait, kebabs are readily on order. They are basically fresh chicken or mutton seasoned with flavorful spices and grilled. Whether one pairs them with khoubz or potato fries, it is packed with succulent flavors.
Normally, kebabs are prepared with roasted tomatoes, capsicum, and parsley, and, just like shawarma, the meat chunks can be served in a wrap or dipped in hummus. They can be enjoyed with tahini sauce, as well, which is made with puréed sesame seeds and garlic.
15. Fatayer
Whether served as a meal or as a snack, fatayer is an easy-to-bake pie. It is simply Arabic bread, also called Fatayer Fallahi, or villager's pie, stuffed with a variety of fillings and sprinkled with sesame seeds. Similar to a pastry pie shaped into triangles or ovals, fatayer is served with four different fillings, namely Fatayer Lahme, Fatayer Jibna, Fatayer Leban, and Fatayer Za'atar.
Fatayer Lahme is a thick crust topped with minced meat, whereas Fatayer Jibna is wrapped and filled with cheese. Fatayer leban has a cream filling, while fatayer za'atar is spread with heaps of wild thyme, sesame seeds, various herbs, and olive oil.
Fatayer za'atar has a thick crust like pizza and is sometimes garnished with fresh olives. It was originally a staple diet when wild thymes were abundant during the spring. The pie is sometimes filled with spinach or feta cheese.
16. Hummus with Khoubz: Arabic Flatbread
Almost every Kuwaiti table will have Arabic bread or pita made with wheat flour, called Khoubz or Khubooz, dipped in beef stew, cream spread, or any kind of gravy or sauce. It is basically a staple in the local diet.
This scrumptious bread is often paired with hummus, which is a traditional dip in the Middle East. Hummus, often served as a starter or a burger spread, is made from mashed chickpeas. It is a blend of olive oil and a variety of spices garnished with coriander and caramelized onions. With a side of potato fries or wedges, chopped tomatoes, cucumber, and parsley toppings, it is a favorite dip best paired with the well-loved Iranian Khoubz.
Kuwait is an intersection of diverse cultures from across the globe. Local and expatriate communities live side by side, even when heading out to grab a plate of falafel or lounging with a shisha, or hookah, break. This scenery is painted in the daily bustle of some of Kuwait's major trading hubs, namely Maliya, Mirqab, Shuwaikh, and Hawally.
Falafel is an all-star dish that is nothing more than a savory mix of mashed chickpeas and spices. It is literally sold in almost every mat'am (local eatery), and restaurant, in the country.
This chickpea dish is so versatile that it will stand as a tasty snack all by itself or wrapped in pita bread with tahini sauce and some salad.
18. Warak Enab
Warak Enab is a delicious dish consisting of fermented grape leaves stuffed with short-grain rice, tomatoes, onions, parsley, and fresh mint. It is prepared by simmering the rolled pieces in a pool of olive oil and lemon juice. They are served steaming hot.
The stuffed grape leaves can sometimes be cooked alongside meat and lemon broth and then rolled into a perfect wrap. This beloved cuisine can be prepared as a vegetarian meal, as well, and served cold. When eaten cold, it is called Waraq Enab Bi'l-zayt.
19. Kushari
If you are looking for a fusion of Arabic and Egyptian cuisine, then go for Kushari or Koshary, which is a household name in Kuwait. It is said that this dish originated with Egyptian soldiers who attempted to improve their meals by combining two types of dishes.
This rice-based dish is cooked with lentils and macaroni pasta. It is like savoring two worlds in one. This classic meal is steamed and topped with hot sauce and vinegar, with an optional garnish of chickpeas and fried onions.
20. Daqqus
A staple of the Kuwaiti diet, daqqus or dakoos is like the jack-of-all-trades of food because it can literally be paired up with almost any traditional dish. It is cooked with garlic, tomatoes, and spices, with the meat cooked separately.
There are three different sauces: spicy tomato, tangy sebar, and eggplant daqqus. This delicacy can be enjoyed throughout the year, regardless of Kuwait's extreme seasons.
---
Related: Most Popular Foods in Qatar
Related: Most Popular Foods in Dubai