Traditional Turkish Baklava Recipe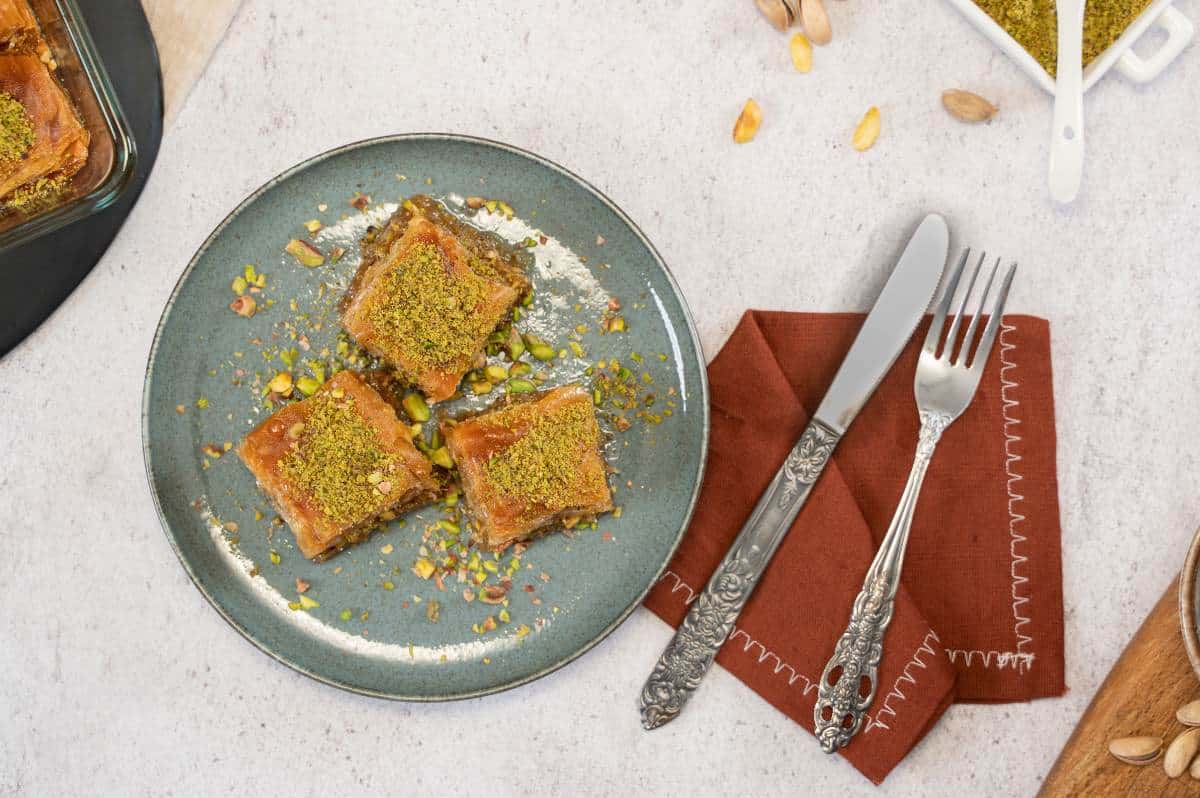 Baklava is a delicious, sweet pastry made with layers of phyllo dough, nuts, and syrup.
It is a popular dessert in many Middle Eastern and Mediterranean countries and has a long history dating back to the Ottoman Empire. Making baklava at home may seem daunting, but with a few tips and tricks, it is actually quite easy!
The most important tip for making perfect baklava is to use very thin sheets of phyllo dough. If the dough is too thick, it will result in a heavy, dense pastry. Look for phyllo dough that is specifically labeled "extra-thin" or "super thin".
Make sure the phyllo dough is well-chilled before using. This will make it much easier to work with and prevent it from tearing. When you are ready to use the dough, simply take it out of the fridge and let it sit at room temperature for about 30 minutes.
To prevent the dough from drying out, work with 1-3 sheets at a time and cover the rest with a damp towel.
Using clarified butter is the most important part of making baklava. If you don't use clarified butter (ghee), the milk particles in the butter will burn, leaving you with burnt bits on your baklava. If you don't have clarified butter available, check out our guide on how to make clarified butter at home.
A fine-nozzled squeezy bottle makes it easier to grease the phyllo dough. If you don't have one of these, apply the clarified butter with a brush.
It is very important to slice the baklava before pouring the remaining butter over it. When you then pour on the remaining clarified, each layer will become well-oiled, creating a crispy, flaky texture.
Rest the sliced and greased baklava for about 20 minutes before cooking, so the butter has time to get between all the layers.
You can use any type of nut you like for the filling. Popular choices include walnuts, pistachios, and almonds, or you can create a mix of you own.
Allow the syrup to cool slightly before pouring it over the baklava. This will ensure that the pastry doesn't get too soggy.
With these tips, you'll be able to make perfect baklava at home that is sure to impress your family and friends!
Turkish Baklava
Ingredients
300

g

phyllo dough

baklava yufka sheets

50

ml

sunflower oil

150

ml

warm clarified butter

⅓

cup

pistachios

chopped

⅓

cup

walnuts

chopped
For Syrup:
1

cup

sugar

¾

cup

water

Few drops of lemon juice
For Serving:
Ground pistachio or walnuts
Instructions
Cut the phyllo dough to the size of the tray you are using. Cover the cut phyllo dough with a damp towel to prevent it from drying out, and let them moisten while you prepare the rest. Set aside.

Mix the sunflower oil and warm clarified butter in a fine-nozzled squeezy bottle so it is easy to pour.

Grease the baking tray with the butter and oil mixture.

Place 2-3 of the phyllo dough sheets into the tray. Squeeze the butter and oil mixture on and place a few more phyllo dough sheets on top. Repeat the process til you have about 15 layers.

Add the chopped pistachios and walnuts, spreading them out over the tray. Cover the nuts with 2-3 sheets of dough, drizzle the butter and oil mixture over the top and repeat this process as you did before until you have another 15 layers.

Cut the baklava into small squares or rectangles, applying light pressure to create a slight dome shape on top. Then pour the remaining butter on top of the baklava.

Bake the baklava for about 35-40 minutes in a preheated oven at 170° C or 340° F.

Bring the sugar, water, and a few drops of lemon juice to a boil in a small saucepan over a medium heat. Once it reaches boiling point, let it boil for about 5 minutes and set aside.

Pour the warm syrup over the hot baklava. Let the baklava rest until it has cooled and absorbed the syrup.

Serve the baklava with ground pistachios or walnuts on top.
Notes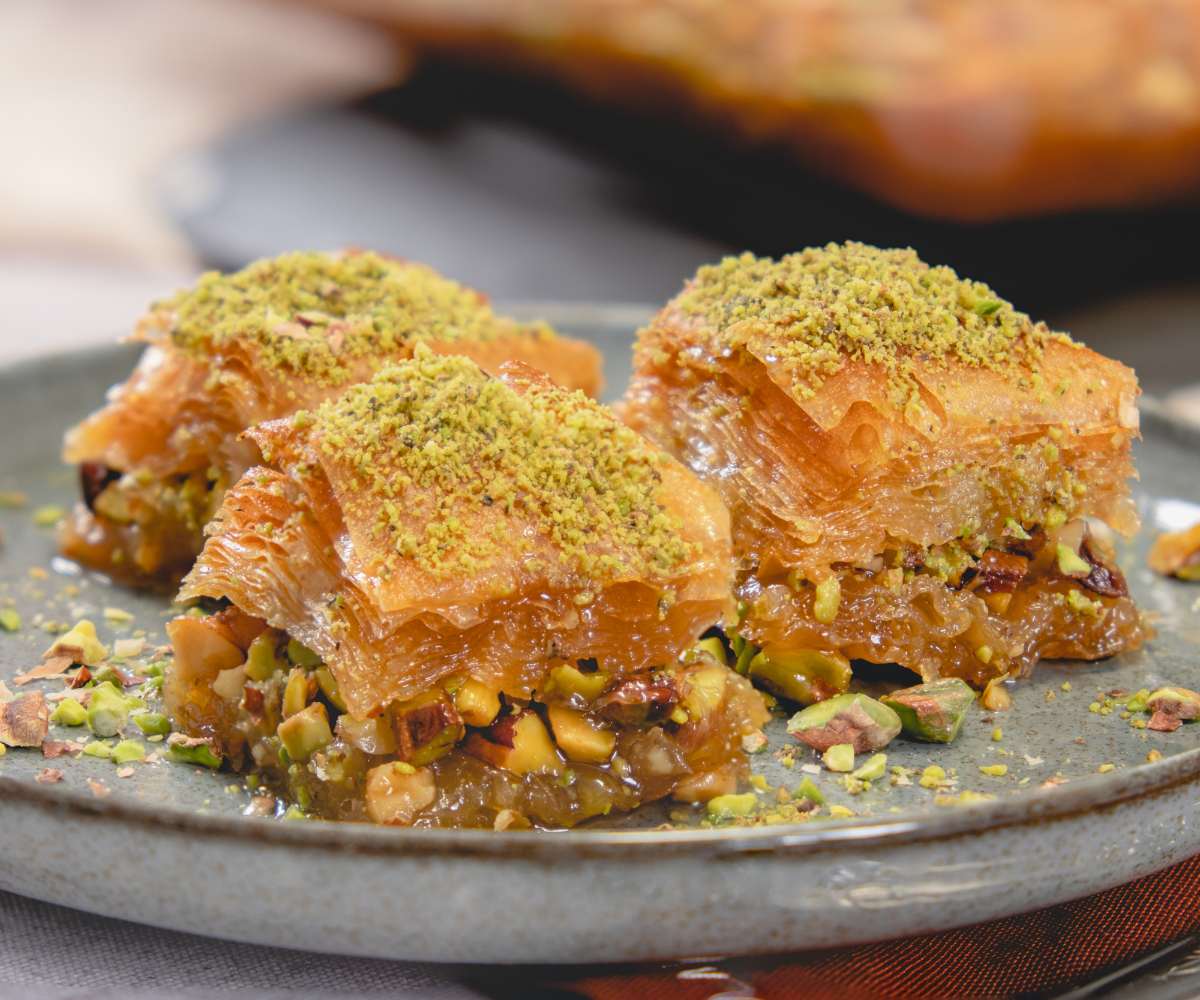 Baklava is the most popular dessert in Turkey. Check out our article for more information about Turkish desserts.
Related: Greek Baklava Recipe
Related: Revani
Related: Turkish Kazandibi Recipe