Top 20 Most Popular Northern Italian Foods
It is a common misconception that Italian cuisine is entirely about pizza, rice, and pasta. Indeed, saying Italian cuisine is all about carb-based dishes is a bit like reading the first chapter of a book and then putting it down thinking you know the entire story.
And the proof of this definitely lies in the wonderfully-rich gastronomic repertoire of the northern Italian regions: Liguria, Emilia-Romagna, Piemonte, Val d'Aosta, Lombardy, Trentino-Alto Adige, Veneto, and Friuli-Venezia Giulia. The French southern perimeter, bordering Switzerland, Austria, and Slovenia, Italy inevitably showcases deep and varied influences from its neighboring countries, as well as the geography that shapes and determines these lands.
Due to the colder and more rigid climate compared to the sun-drenched South, dishes in the northern regions tend to be richer and heartier, privileging slow brazing and stewing techniques over frying and boiling; tomato sauces and olive oil are replaced by stock or wine and butter; and the quintessential Mediterranean herbs such as basil and oregano are replaced by sage and rosemary.
Moreover, the production of high-quality meat and cheeses is primarily due to the excellent cattle breeds largely present in the most northern regions.
But now let's delve into each region and find out what speciality they have to offer!
Liguria
Rolling out in the north-west in a thin half-moon shape, Liguria is the most southern of the northern regions, not only geographically but specifically for its Mediterranean culinary culture.
1. Trofie al Pesto
This is particularly exemplified by the use of pasta, olive oil, and basil in the traditional dish Trofie al Pesto. Trofie is a spiral-shaped type of pasta which is typically cooked al dente and almost exclusively eaten with freshly grounded pesto alla Genovese: a true symbol of Ligurian identity!
For more local delights, check out our story on the most popular Ligurian foods.
Emilia-Romagna
Classed as the second most southern region of Northern Italy for its wide use of Mediterranean ingredients, Emilia-Romagna is possibly the one region in Italy that holds most of the world-renowned Italian foods and dishes.
2. Ragù alla Bolognese
Originally from the town of Bologna, ragù alla Bolognese is a timeless symbol of hearty, nourishing, soul-satisfying cuisine. This slow-cooked meat-based tomato sauce, sometimes flavored with laurel and red wine, can require up to 3 hours of simmering! Ragù is typically savored during long Sunday lunches with tagliatelle or used to make the epic lasagne.
Piemonte
In the north-west of Italy, outlining a large portion of the southern French border, is Piemonte, a rural and industrial region with an authentic alpine identity.
The name of the region derives from the Latin Pedemontium (at the foot of the mountains), referring to its position at the foot of the majestic Alps, which have indeed influenced its cuisine with the large use of butter, lard, mountain-based cheeses, and truffles.
3. Tartufo di Alba
Indeed, Piemonte, and more precisely the town of Alba, is home to the most prestigious type of truffle that exists in Italy. The tuber magnatum pico is a species of white truffle with a pale golden outer layer and a spongy texture which stands out for its distinctively sharp, aromatic and earthy flavor.
Growing up to 9 cms in diameter, these precious culinary gems are a prestigious symbol of Italian haute cuisine. Whether grated over egg tagliatelle or blended into a creamy risotto, they enhance any simple and humble dish with a sophisticated taste.
Editor's Note: The town of Alba is known to the culinary aficionados for Piazza Duomo, one the best, and most expensive restaurants in the world.
4. Bagna Cauda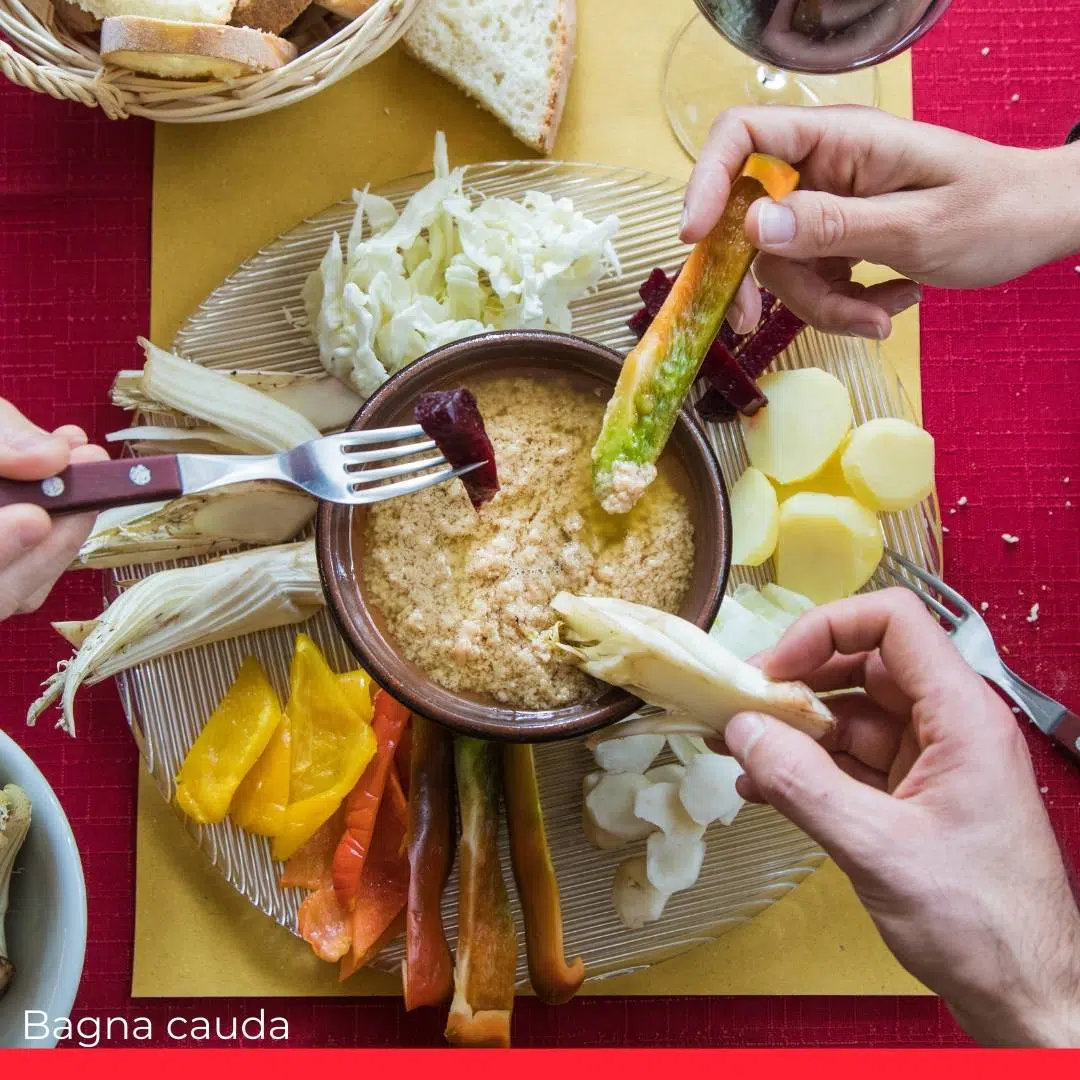 Bagna cauda is a traditional stew from Piemonte made with anchovies, garlic, and fresh seasonal vegetables. Other than being a symbol of traditional peasant food, Bagna cauda proudly symbolizes conviviality and friendship and, in fact, is often eaten with friends.
It is typically placed at the center of the table and served in terracotta pots, called dian, into which everyone dips their own pieces of bread. A delicious ritual to share in front of the fire on a cold winter's night.
5. Panna Cotta
Panna cotta is one of the most renowned desserts in Italy. This simple and delicate pudding is simply made with cream, milk, sugar, and gelatin, which confers its typical wobbly texture.
Panna cotta was said to have been invented by a Hungarian woman in the Langhe area in Piemonte. Its simplicity and tender consistency make it one of the most popular desserts in the country, to be typically served with a raspberry coulis or a caramel sauce.
Valle d'Aosta
Tucked up north and encircled by the Alps is Valle d'Aosta: a tiny region with a strong linguistic and cultural identity that is one of the five autonomous regions in Italy. Due to its particular geomorphologic construction, its culinary culture has little in common with other regions, being rather a perfect symbol of pure Alpine cuisine.
6. Fonduta Valdostana
The first major landmark of its Alpine cuisine is undoubtedly represented by cheese fondue, prepared with the local Fontina cheese. Like many dishes in the Alpine cuisine, fonduta holds an important ritualistic value: it is typically served in a cast iron pot which is warmed by a candle and placed at the center of the table to be shared among friends – again, as a symbol of love and friendship.
7. Mocetta
Mocetta, or motsetta, is a traditional cold cut meat made from the meat from cows' thighs which have been aged and preserved following incredibly ancient techniques.
Mocetta is seasoned with garlic, bay leaves, rosemary, and sage and then salted and left to rest in a cool place for about 90 days. Once ready, mocetta is sliced into very thin, weightless slices, and it's traditionally eaten on black bread with butter and a drizzle of honey. Don't forget to pair it with local red wine to maximize the wonderful outburst of taste!
8. Polenta Concia alla Valdostana
Polenta is a delicious and nourishing staple dish in Valle d'Aosta. Concia means seasoned. Maize flour cooked in milk and water is combined with local cheeses such as Fontina and Toma, which give it a sharp kick and a wonderfully creamy consistency.
Polenta can be savored on its own as a main course, relished as a side together with a hearty meat stew, or even allowed to cool and cut into slices which can then be grilled or fried.
Lombardy
Lombardy is one of the largest and richest regions in Italy. It boasts a wide variety of landscapes and ancient settlements which confer it one of the most heterogeneous cuisines in the country. Lombardy has substantial influences from Swiss and Germanic gastronomy – the early inhabitants of the region were, in fact, a Germanic tribe, the Longobards.
9. Risotto alla Milanese
Risotto alla Milanese is probably the most iconic dish from the city of Milan. This simple and creamy risotto will blow you away with the first forkful; and the secret lies in the perfect combination of a few simple ingredients such as butter, white wine, Parmesan, and saffron, the golden ingredient that makes this dish simply unique!
10. Gorgonzola
With its distinctive blue veins and pungent smell, Gorgonzola is one of the most popular and internationally renowned cheeses, protected by the PDO designation. Gorgonzola can be soft and creamy or more tangy and crumbly if it's more mature.
The cheese originated in the town of Gorgonzola, though its origins are still widely debated. According to folklore, Gorgonzola was invented by mistake by a young cheesemaker who was very much in love with his master's daughter and, distracted by the sight of his loved one, mixed two different curds, thus forming a strange type of cheese. Clearly a serendipitous event!
11. Panettone
Last but not least, Lombardia is home to one of the culinary symbols of Italian Christmas. This dome-shaped sweet bread has a dark golden and slightly harder outer layer and a soft, bready texture inside, deliciously garnished with dried fruits.
From its days of origin during the Renaissance to the present day, panettone keeps tying families together as a timeless symbol of tradition and folklore.
Trentino-Alto Adige
Moving east we come across the Trentino-Alto Adige region, once part of the Austro-Hungarian Empire, of which it still reflects its lasting cultural legacies. The northern half of the region (Alto Adige or Südtirol) is in fact ethnically and linguistically German and as such presents very little, if any, similarities with the Italian way of cooking.
12. Canederli
First there is undoubtedly canederli: large gnocchi made with stale bread soaked in milk, eggs, and smoked bacon which can be savored in a broth or seasoned with butter and cheese.
The term is an Italian adaptation of the German Semmelknödel, which goes to prove how both the etymology and original concept of the dish are rooted in the German culture, while representing at the same time a culinary source of Italian pride.
13. Strudel di Mele
Another typical dish from Trentino, which many will also associate with German-speaking countries, is of course apple strudel. Despite its wide association with countries like Germany and Austria, there is evidence that the origins of this cake are actually Turkish.
The Turks, who ruled Hungary and large parts of the Balkans in the 1600s, prepared a similar cake called baklava, which underwent several transformations to the current form of the apple strudel.
Among Italian regions, apple strudel is most popular in Trentino-Alto Adige, due to the large cultivation of apples.
14. Strauben Tirolesi
Strauben are typical sweet pancakes from the Südtirol area. They are thin and large snail-shaped pancakes, made of a mixture of flour, eggs, milk, sugar, and butter, with the magic addition of a small glass of Grappa to give it that extra boost of flavor.
The term Strauben (from the German straub, meaning twisted) refers to their typical coiled shape and they are usually prepared during local street festivals and traditional village fairs.
Whether sprinkled with a generous amount of icing sugar or topped with delicious berry jam, these pancakes are decidedly unique and incredibly versatile!
Veneto
Curving around the northern part of the Adriatic Sea is the Veneto region, chiefly famous for its large production of wine and delicious, fresh seafood. Veneto was historically dominated by the city of Venezia, establishing solid trades with the Arabs who introduced many foods and spices, such as rice and certain types of fish.
15. Baccalà alla Vicentina
One of the most popular fish dishes is in fact baccalà alla Vicentina, a culinary symbol from the city of Vicenza. Baccalà is essentially cod which has been preserved in salt or left to dry out naturally.
The fish is slow-cooked for hours with the addition of milk, which helps to flatten its strong flavor. Baccalà alla Vicentina is usually served with white polenta, which derives from white cornmeal and tends to be softer and more delicate than the standard yellow one. Alternatively, it can be served as an antipasto and savored on delicious garlic-rubbed croutons.
16. Risi e Bisi
Risi e Bisi is a traditional pea risotto from the cities of Vicenza and Venezia. This incredibly creamy risotto is simply made with peas, butter, Parmesan, and a few cubes of smocked bacon which are sautéed to give an initial burst of flavor.
In the 19th century, people would cry out on the streets "Risi e bisi e fragole" (Rice, peas, and strawberries). These three ingredients, symbolizing the Italian tricolor flag, represented the Venetian equivalent of the "Viva Verdi", shouted in Milan against the Austrian occupiers.
A simple yet delicious dish with a strong historical importance.
17. Tiramisù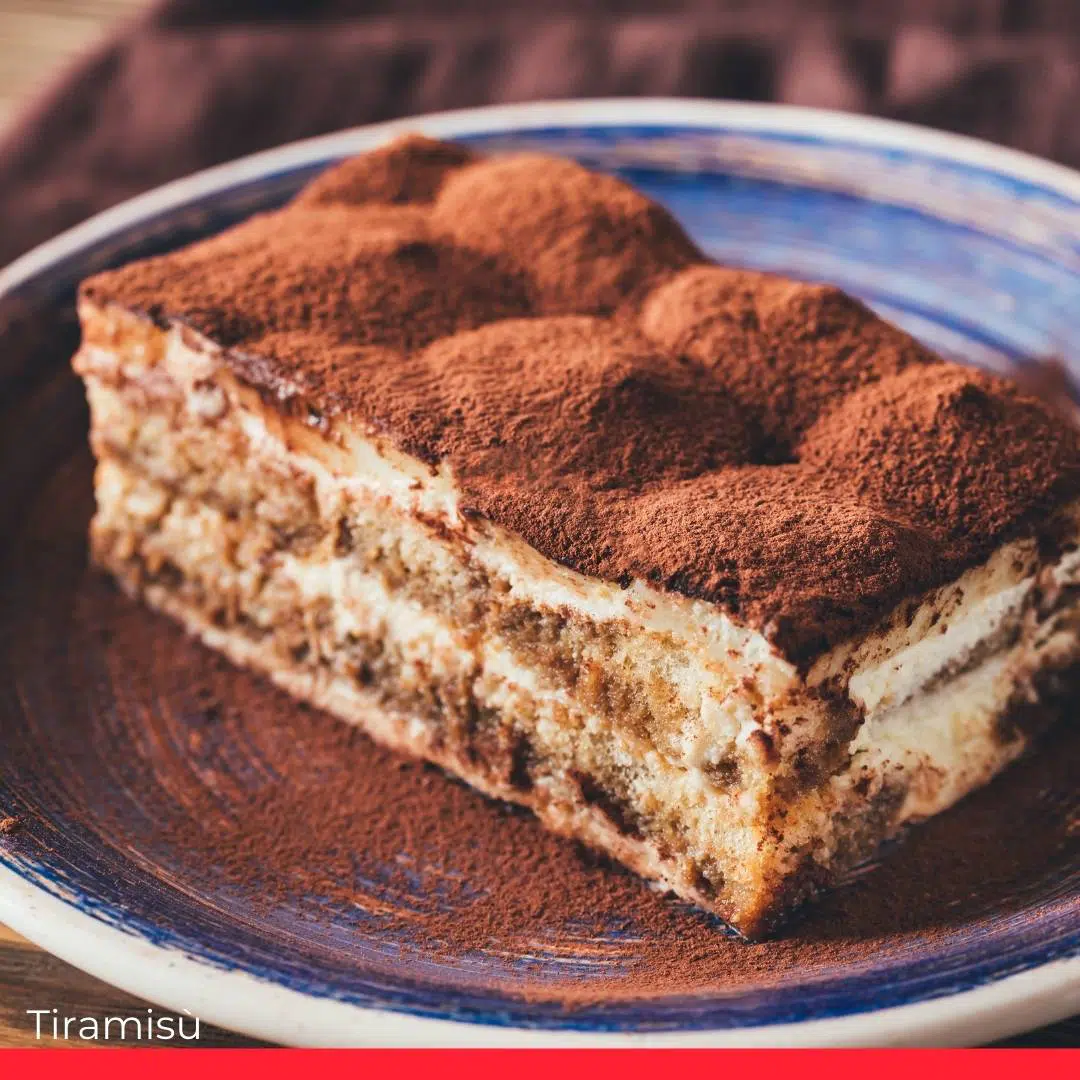 The king of all desserts, tiramisù is the quintessential Italian dessert per eccellenza, despite its origins being very recent. It first appeared in cookbooks, in fact, in the 1960s, and the original recipes accounts for a base of Savoiardi biscuits drenched in coffee and topped by a generous layer of soft mascarpone cream made with egg yolk and sugar. Nothing else!
The original recipe, in fact, does not include liqueur as many believe, although this versatile dessert can be adapted and made in various different ways such as white chocolate and pistachio tiramisù or even with a berry coulis. Simply irresistible!
Friuli-Venezia Giulia
In the far north east of the country, on the border with Slovenia, lies Friuli­-Venezia Giulia, another region which was once part of the Austro-Hungarian Empire and thus showcases strong Germanic and Slavic influences.
18. Frico con le Patate
Frico con le patate is a major landmark of the cuisine from Friuli. It is a potato pie made with local cheese, Montasio, one of the most renowned cheeses in the region. The potatoes are initially cooked with onions; the cheese is then added, when the potatoes are nice and soft, and cooked until a crispy golden crust is formed.
Frico with potatoes can be eaten almost anywhere in Friuli, but especially in the provinces of Pordenone and Udine, and in the Dolomites. Don't forget to accompany it with a glass of red wine!
19. Goulash Triestino
The meeting point between the culinary cultures of Hungary and Friuli-Venezia Giulia lies in the northern Italian reinterpretation of this hearty meat stew.
Goulash was in fact the staple dish of the Gulyás, a nomadic group of Hungarian shepherds who devised a method for preserving and transporting meat by cooking it for hours in a rich sauce made with wine and spices.
The use of paprika, which characterizes this dish, only appeared in the 19th Century, when the recipe began to be widely spread to the surrounding countries, absorbing local culinary customs. Goulash can be eaten by itself or served with polenta or rice.
20. Jota Triestina
Made with traditional capuzi garbi (the local name for pickled cabbage), this simple and humble cabbage and bean soup is a symbol of old gastronomic traditions and a true source of pride for the locals of Trieste.
The garlic is initially sautéed with laurel and a few small cubes of pork, to which the cabbage, beans, and broth are then added, and it is simmered for a few hours until it's ready to eat. Dating back to the 16th Century, this recipe has not changed in 500 years! Which shows how passionate locals are for preserving the authenticity of their cuisine.
---
Related: Most Popular Foods in Emilia-Romagna
Related: Most Popular Foods in Tuscany
Related: Most Popular Sicilian Foods
Related: Most Popular Italian Soups