Most Loved Italian Starters and Appetizers 
If you've ever travelled in Italy, or even had the honor of being invited to Sunday lunch by your Italian neighbors, you will have noticed that a great deal of the gastronomic variety and creativity is present right at the start!
They say that if the first course represents the "wedding", then the starters represent the "engagement", and a strong engagement is vital for a happy and long-lasting union.
Derived from the Latin ante-pastum, antipasto is what comes before the first course, with the purpose of stimulating the appetite and setting up a warm atmosphere of sharing and conviviality for the rest of the meal. And antipasti are not reserved for end-of-weekend get togethers. This fundamental ceremony is truly part of most Italian's daily meals, and this is precisely the beauty of it!
The culinary arts of Italy are visible in the small, day-to-day rituals that make up this wonderful gastronomic culture. And this has been the case since the Romans, who would indulge in colorful platters of vegetable crudité, nuts and spreads.
This social custom died out in the Middle Ages due to poverty, but the culture of antipasto was re-established during the Renaissance, when not only the upper classes but also farmers and peasants would consume cured meats and cheese before their meal.
Whether hot or cold, Italian appetizers include an immense variety of ingredients and styles of cooking, and you can turn pretty much any dish into an antipasto; the secret is in the presentation. Just a tiny portion will suffice and will be enough turn you into a real antipasti expert!
Now let's go and discover Italians' most loved antipasti!
1. Affettati e formaggi
The most iconic and traditional Italian starter is the so-called tagliere di affettati misti e formaggi, a wide variety of Italian cured cold meats and cheeses typically served on a wooden board.
The assortment includes all possible types of meats, from the peppery Prosciutto di Parma to the deliciously sweet and fatty Mortadella, or strong-flavored salami such as Soppressata and Finocchiona.
It is traditionally accompanied by a wonderful selection of hard cheeses, typically including the widely loved Pecorino Toscano and Pecorino Romano.
2. Bruschetta
Bruschetta is probably one of the most quintessential Italian appetizers, boasting Italy's iconic colors and flavors in a simple, yet irresistible recipe.
Bruschetta is nothing more than a slice of toasted bread, called crostino, topped with diced tomatoes seasoned with olive oil, salt, pepper, oregano and a leaf of fresh basil.
The absence of a real traditional recipe meant the various regional cultures devised their own and many people make it with additional ingredients such as onions, capers, and garlic, which is usually delicately rubbed on the bread before garnishing it.
3. Crostino con il Fegatino
This classic Tuscan starter originates from the old peasant's cuisine (Cucina povera) in which farmers, in order to avoid waste, would roast old bread, soak it with broth or wine and then cover it with minced meat from the poorest parts of the animal.
The recipe then evolved and turned into what is today widely consumed as a chicken liver paté, slow cooked in olive oil, onion, wine, rosemary, and sage and served on a bread crouton.
4. Scarpaccia
Literally meaning "ugly shoe", this soft and creamy courgette tart is definitely far better tasting than its name suggests, and will definitely not leave you disappointed!
Simply made with courgettes, eggs, flour, and olive oil, scarpaccia has century-old roots. It is thought to have originated during the Renaissance, under the reign of the Duke of Lucca, Castruccio Castracani.
5. Polenta Fritta con Funghi
These fried squares of solid polenta topped with garlic and sage mushrooms, are the ultimate addiction-inducing starter that will undoubtedly get you asking for more!
Traditionally prepared during the autumn when mushrooms are readily available, these tasty starters are typically made using leftover hardened polenta, which is lightly roasted again, making the inside irresistibly creamy.
6. Torta di Pepe
The so-called pepper cake is a mouth-watering delicacy consisting of a short-crust pastry tart filled with rice, spinach, parmesan, and, of course, a generous sprinkle of pepper decorated with triangle shapes on top.
Produced uniquely in Camaiore, this delicious starter is truly the culinary pride of this Tuscan hillside town; a gastronomic symbol of great religious importance as it was historically made during the Easter period.
As an old man from Camaiore fondly recollects: "I remember when I was young, going to my grandma's house, and everywhere, on the tables, on the sofas, there would be hundreds of these cakes flooding the entire house with their smell. It was one of those warm and comforting smells that persisted for days, even when Easter was over…".
7. Verdure in Pinzimonio
Could you think of anything more simple, tasty, and nutritious than a colorful bowl of thinly cut fresh vegetables dipped in a fragrant sauce made with olive oil, salt, pepper, and a dash of balsamic vinegar? Probably not, and rightly so!
Typically including raw fennel, red peppers, carrots, celery, and tomatoes, pinzimonio is an incredibly simple starter, ideal for a last-minute dinner improvisation, which will load you up with all the necessary vitamins and fibers.
8. Baccalà Mantecato
Baccalà mantecato is an incredibly tasty cod-based spread typically served on a crunchy bread crouton. Baccalà is nothing more than the name they give to cod that has been kept in salt as a way of preserving it.
After boiling it in garlic, lemon, and laurel-soaked water, the fish is then whisked until the texture is perfectly creamy and ready to be savored!
9. Fiori di Zucca Fritti
Literally called pumpkin flowers, fiori di zucca fritti is nothing more than the flowers of the common green courgette, lightly battered and fried for a deliciously tasty and crunchy result! Their hollow inside and friable thin layer literally give you the impression of biting into a crispy soft cloud.
Boasting a low caloric content and high concentration of calcium and antioxidant properties, these beautifully shaped flowers are the perfect ally to a healthy and delicious diet.
10. Pomodori Ripieni
Pomodori ripieni is a wonderful and simple vegetarian-friendly starter made with cheese and breadcrumb-stuffed tomatoes.
The stuffing is simply created by mixing the breadcrumbs with Parmigiano cheese, garlic, and basil, although alternative recipes also use risotto rice to fill big and round oven-roasted tomatoes.
This fresh and healthy summery recipe perfectly lends itself to a hot mid-summer's dinner party as they're easy to make and fun to eat!
11. Melone e Crudo
Deliciously combining sweet and savory, smoked ham and melon is the ultimate proof of the winning marriage of contrasting flavors! Though it may sound too daring for many, you will not believe the unimaginable pleasure of tastes until you try it!
Typically paired with the slightly sweeter Prosciutto Crudo di San Daniele, this delicious summery starter is ever-present on the dinner table during the hot summer months.
12. Carpaccio di Bresaola
Carpaccio di Bresaola is another staple starter of the Italian culinary repertoire. It is simply made by laying a base of thinly cut Bresaola topped with peppery rucola, thin flakes of Parmigiano and a squeeze of fresh lemon, creating a wonderfully spicy aftertaste that's hard to resist!
Consisting of salted, dried, and smoked ox fillets, Bresaola is a type of cured meat from the northern area of Valtellina, in the region of Lombardy, and is marked with the PGI label. The curing process is the result of centuries-old traditions that enable the preservation of the authenticity and freshness of the product, keeping its unmistakable flavor and organoleptic properties.
Bresaola is the ideal low-fat meat that will fulfil your daily nutritional needs as it is rich in protein, low in fat, and is a big source of potassium and vitamins.
13. Alici Marinate al Limone
Lemon-marinated anchovies is a delicious and fresh appetizer typical of the coastal towns of southern Italy.
Marinating in lemon is a very ancient technique for preserving food, which was already known to the Greeks, which, in combination with a dash of vinegar, makes the anchovies incredibly tender and tasty. This recipe is a true ode to the Mediterranean and to the simplicity of its cuisine.
14. Arancini
Arancini are a world renowned specialty from Sicily. Round balls of deep-fried rice traditionally stuffed with ragù sauce, peas, and caciocavallo cheese from the southern regions.
The name, meaning "little oranges", indicates their evocative shape and color, though in eastern Sicily they tend to have more of a triangular shape, proudly symbolizing the shape of Mount Etna.
15. Mare Caldo
Literally translated as "warm sea", mare caldo is a typical starter of the Tyrrhenian coastal towns of Italy, including all sorts of fish and shellfish like prawns, mussels, and tiny octopus, which are lightly steamed and deliciously seasoned with olive oil, lemon, and pepper. An impressive restaurant staple!
---
Related: Most Famous Italian Foods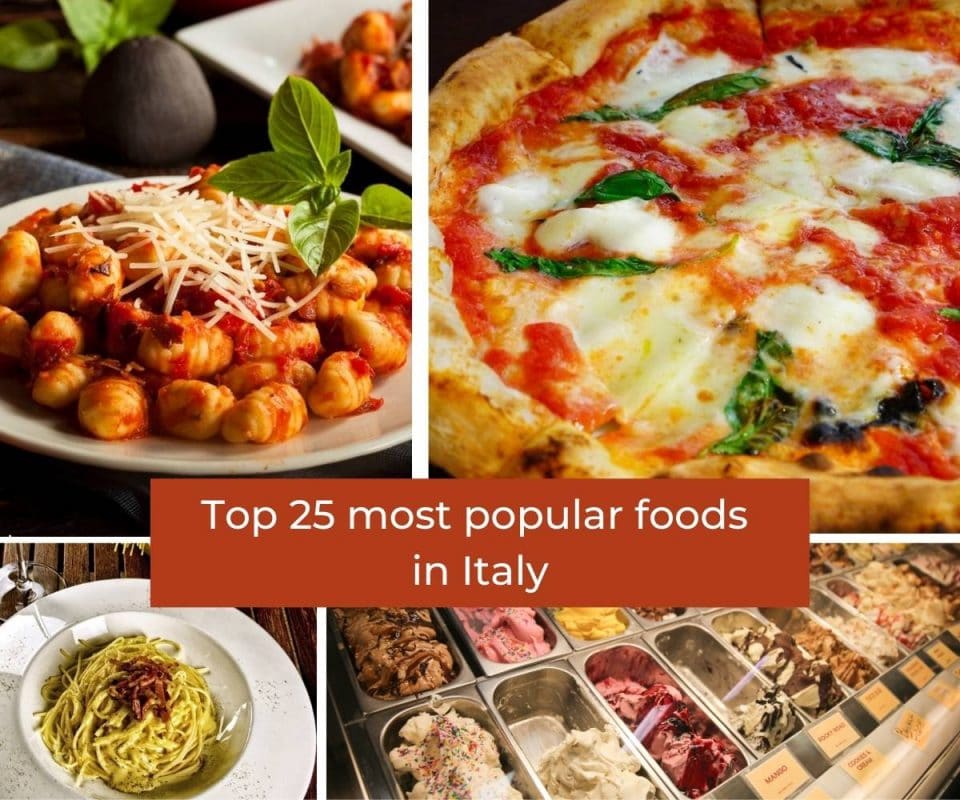 Related: Most Popular Italian Christmas Foods & Desserts
Related: Most Popular Italian Sauces