Ligurian Food: 10 Traditional Dishes You Cannot Miss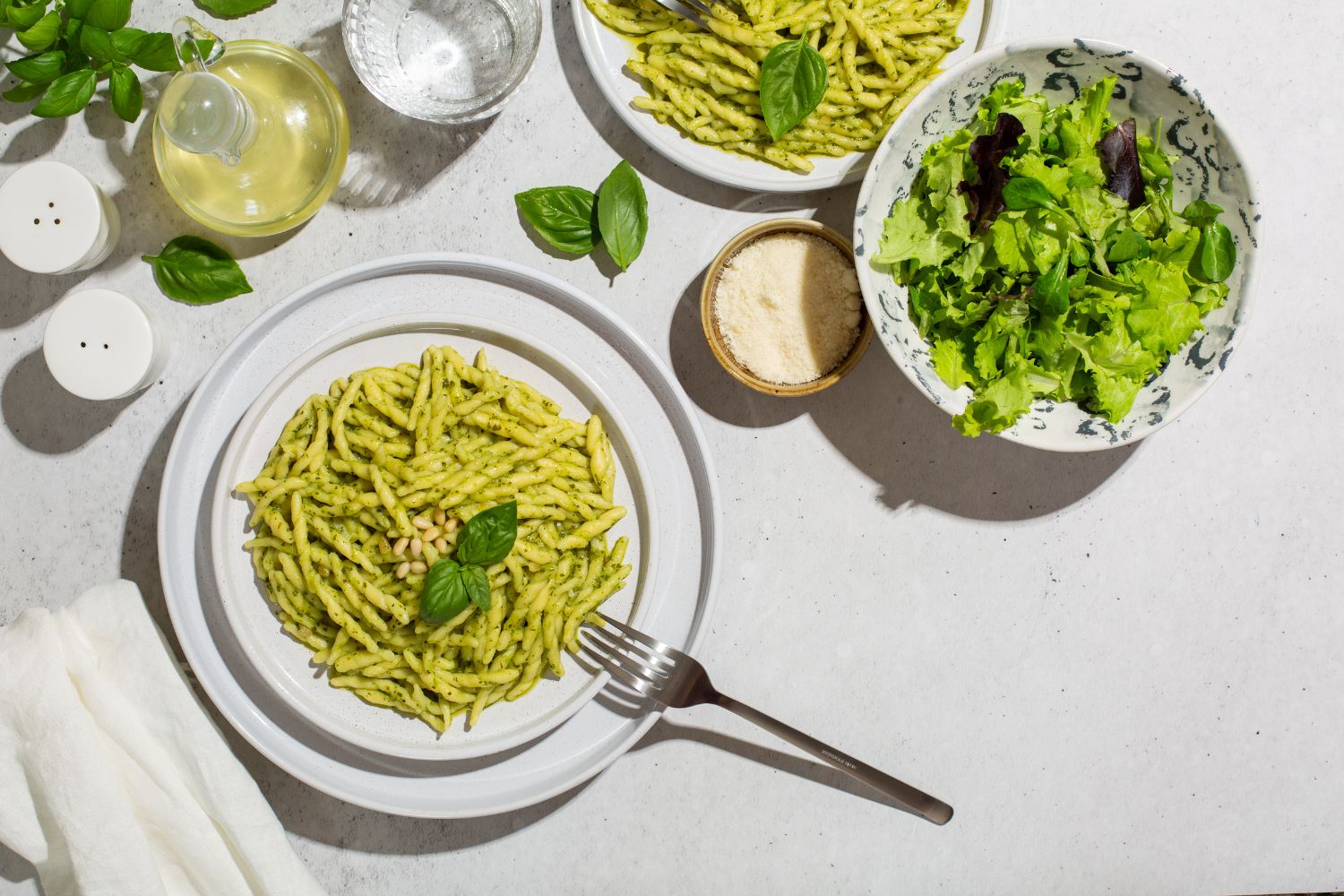 Liguria, a crescent-shaped strip of land, is a small gem set between the Maritime Alps and the Mediterranean Sea. From its rugged coastline to its picturesque mountains and fertile hills, Liguria's landscape is as diverse as the range of ingredients that have shaped its culinary traditions.
Historically one of the greatest maritime powers, Liguria is the motherland to high sea captains, merchants, and explorers such as the legendary Cristopher Columbus.
Given the region's proximity to the sea, it is not surprising that seafood has always been a staple in Ligurians' diet. However, Ligurian cuisine is especially known for the simple flavors of its fresh produce such as basil and olive oil that, blended with pine nuts, garlic, and Parmigiano Reggiano, give rise to the delicious Pesto alla Genovese.
Ligurian cuisine is a rich source of remarkable culinary delights that showcase the abundance of high-quality ingredients from the region. Ligurian dishes embody the natural flavors and essence of the land, making the region a true treasure trove of gastronomic excellence. Let's round up some of the most popular Ligurian foods.
1. Trofie al pesto
Trofie al Pesto is a traditional pasta dish from Genoa that perfectly embodies the essence of Liguria.
According to the original recipe, the perfect pesto sauce is made by grinding seven ingredients: fresh basil leaves (possibly the most notable PDO Pra' basil), extra virgin olive oil, parmesan, pecorino romano, pine nuts, garlic, and rock salt.
The secret to making a fragrant pesto alla Genovese does not only lie in its ingredients but also in using the right instruments. As the term itself suggests – as pestare means to crush, to press – the key is to use a marble mortar and a wooden pestle.
Why is this? Not only does it allow the ingredients to not overheat but it's the most effective way to release the flavors. Once the pesto sauce is ready, all you need to do is pour it on a dish of trofie, thin twirls of pasta typical of Liguria – no need to cook the pesto sauce! Trofie and pesto are truly a match made in heaven.
2. Focaccia alla Genovese
Focaccia alla Genovese, known in Genoese dialect as fügassa, is a typical Ligurian delicacy deeply rooted in the Genoese tradition. Italy is famous for its variety of focaccias, but the one from Genova is certainly one of the most unique recipes in the country, distinguished by the brine and olive oil that are added just before baking.
This type of focaccia is made using low hydration and white flours, resulting in a soft and fluffy interior. Its crust is crispy, golden, and flavorsome, with characteristic creamy white holes on its surface. The tradition has it that the focaccia must be two centimeters thick.
The classic recipe is made from white flour, water, malt extract, yeast, salt, and extra virgin olive oil. It can then be garnished with fresh olives, rosemary, or finely-chopped white onions.
Try it and be ready for a burst of flavor with every bite. Traditionally, Ligurians eat focaccia with their cappuccino for breakfast, but it is also the perfect snack for aperitivo, antipasto (starter) before dinner, or filled with cold meats or tomato and mozzarella for lunch.
3. Farinata
Legend has it that farinata originated in 1284 when some Genoese sailors were caught in a storm at sea which caused barrels of oil and sacks of chickpeas to topple over and get soaked with saltwater.
While short of provisions, some sailors refused to eat the moist mixture, and instead dried it in the sun until a kind of fritter was obtained. And what a fritter it was! On land, the Genoese perfected the recipe, creating the farinata we know and love today, which, to mock the defeated Pisans, they called "the gold of Pisa".
Made from simple ingredients such as water and chickpea flour, the dish is a staple in Ligurian cuisine and is baked in a wood-fired oven until it forms a delicious golden crust. While variations of the dish are found throughout Italy, it remains a beloved Italian street food that is easy to make at home.
4. Focaccia di Recco
Focaccia di Recco might sound similar to the classic focaccia Genovese, but it's actually entirely different. It does not require any leavening, which is why it is deliciously crispy on the outside while its cheesy core remains wonderfully soft.
Also, the uniqueness of the focaccia di Recco lies not only in the presence of cheese, but in the absence of yeast. The dough contains no brewer's yeast, an ingredient that is normally considered fundamental in bread-making.
The only ingredients here are flour, olive oil, water, salt, and a fresh cheese filling. For the cheese filling you may use the classic Prescinsêua or others such as crescenza, stracchino or squacquerone.
5. Torta Pasqualina
Torta Pasqualina (literally Easter pie) is a traditional Italian Easter dish with ancient roots in Ligurian cuisine. It is a delicious and hearty savory pie that consists of a double layer of thin pastry made with flour, water, and olive oil.
The pie is garnished with a mixture of creamy chard or spinach, cheese, and eggs, which are broken on the filling just before the top layer of pastry is applied. Once the pie is baked, the eggs become firm and visible, creating a beautiful mouth-watering presentation when the pie is sliced.
In the past, as not everyone owned an oven at home, it was common for families to bring their torta Pasqualina to a local baker to be baked. In order to recognize one's cake, families would engrave their anagram on the edge of the cake with a knife.
Torta Pasqualina is full of Christian symbolism. Traditionally it was made with 33 thin pastry layers representing the years of Jesus, and the hard-boiled eggs in the filling symbolized new life. Prescinsêua, a sour milk curd, is traditionally used but it can be substituted with ricotta cheese. Like any traditional recipe, there are many versions and regional variants, such as the Ventimiglia recipe using wild herbs instead of chard, or the more modern take on Torta Pasqualina with artichokes.
6. Cappon Magro
Cappon magro is undoubtedly the most sophisticated dish in Genoese cuisine. It is visually stunning and requires a very elaborate preparation, which is why it is reserved for special occasions. Its origins, however, were much more modest.
Initially, it was a humble seafood salad made with sailor's galettes soaked in water and vinegar, combined with leftover fish and vegetables in a somewhat improvised manner, reminiscent of the tumultuous sea. Over time, the dish made its way to the tables of the nobility, evolving with more refined ingredients and extravagant presentations. Boiled vegetables, prawns and/or lobster, and a special green sauce were introduced to create a harmonious blend of flavors.
Nowadays, many local chefs offer whimsical and innovative variations of the dish in their restaurants. Cappon magro truly represents the essence of Ligurian cuisine and it's one of the traditional dishes enjoyed at Christmas time!
7. Mesciua
A poor dish of Ligurian tradition, mesciua originated from the custom of mixing pulses and grains collected on the docks by the wives of workers unloading ships at the port of La Spezia. Chickpeas, beans, and grains of wheat which escaped from the cracks in the sacks were transformed into nutritious soups. In the Ligurian dialect, the name indicates just that – a medley.
The mixture of boiled and seasoned grains with good extra virgin olive oil, salt, and pepper is a symbol of the art of making do – and, above all, of enjoying the simple flavors that characterize Ligurian cuisine.
8. Panissa
Made from chickpea flour, panissa is a typical Ligurian snack for nibbling as an aperitif. Incredibly tasty, Ligurian panissa has a similar flavor to chickpea farinata.
The dough is prepared with chickpea flour, water, and no added oil. It can be eaten cold or fried and – as all the regional street food such as focaccia, focaccia di recco, etc. – it's even tastier if enjoyed while strolling through the characteristic Ligurian alleyways.
Like many traditional dishes, panissa originated as a frugal but hearty meal and has become today a mouth-watering delicacy. Traditionally a poor dish, panissa's simple taste and unmistakable aroma will simply make your mouth water.
9. Cima alla Genovese
Cima alla Genovese, known as çimma in Ligurian dialect, is a traditional Ligurian main course, particularly popular in the city of Genoa. The dish is made from veal belly meat, which is carefully sliced to create a pocket filled with various ingredients such as vegetables, cheese, and meat. Once filled, the pocket is then meticulously closed and sewn by hand to ensure that the stuffing remains intact.
Cima is a time-consuming and intricate dish to prepare. It is boiled in broth with vegetables for several hours, wrapped in a linen cloth, and then left to rest under a weight.
Originally, Cima was a humble dish that emerged from the use of leftover ingredients. Over time, thanks to the efforts of dedicated housewives, it evolved into a delicious and nutritious meal. Cima alla Genovese is an excellent choice for special occasions. Served in slices, it will undoubtedly be the highlight of the table.
10. Baci di Alassio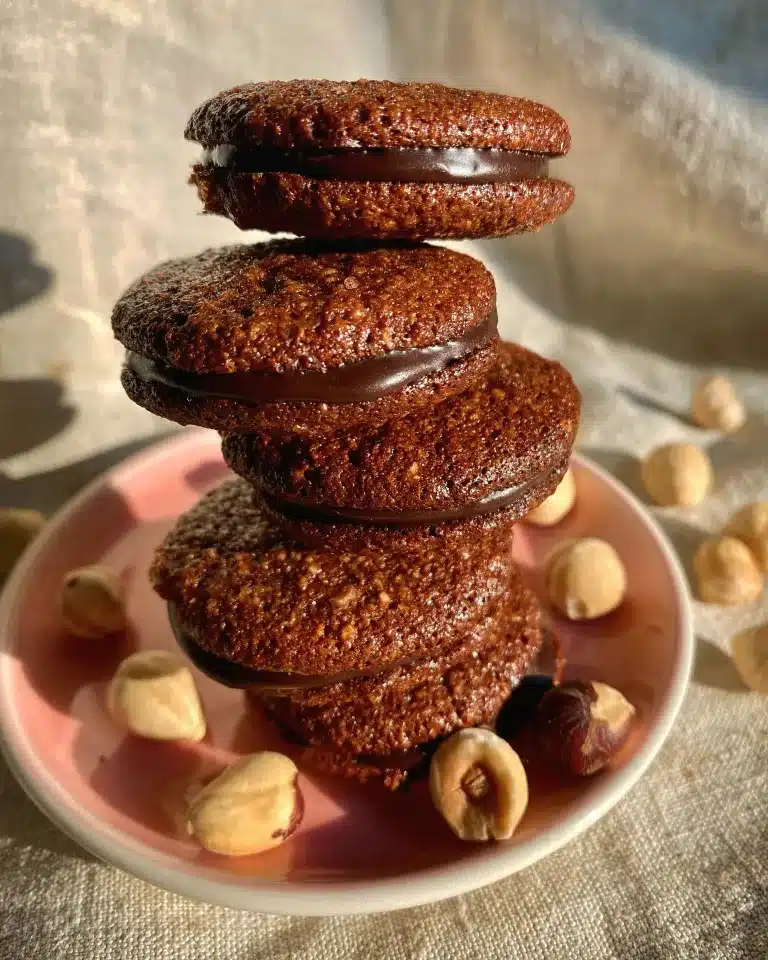 Named after the small Ligurian town from which they originate, Baci di Alassio are delicacies you will find in all local pastry shops along with other regional specialties such as gobeletti and pandolce. Alassio is a coastal town known as the city of lovers (baci meaning kisses).
These delectable biscuits are prepared with two fragrant half-moons made of hazelnuts and cocoa and then paired together with a velvety chocolate ganache. It was in the early 1900s that Rinaldo Balzola, the pastry chef of the House of Savoy, created these sweets in order to offer a gastronomical souvenir to the tourists visiting Alassio.
Indeed, the beauty of these biscuits is just that – you can enjoy them anywhere and anytime! Even Gabriele D'Annunzio, a notable Italian writer and poet, fell in love with the Baci, naming them "the sweets of kindness". The recipe for the Baci della riviera still remains a secret and each master pastry chef in Alassio jealously guards their own version.
---
Related: Popular North Italian Foods & Dishes
Related: Famous Italian Foods & Dishes