Top 20 Most Popular Italian Desserts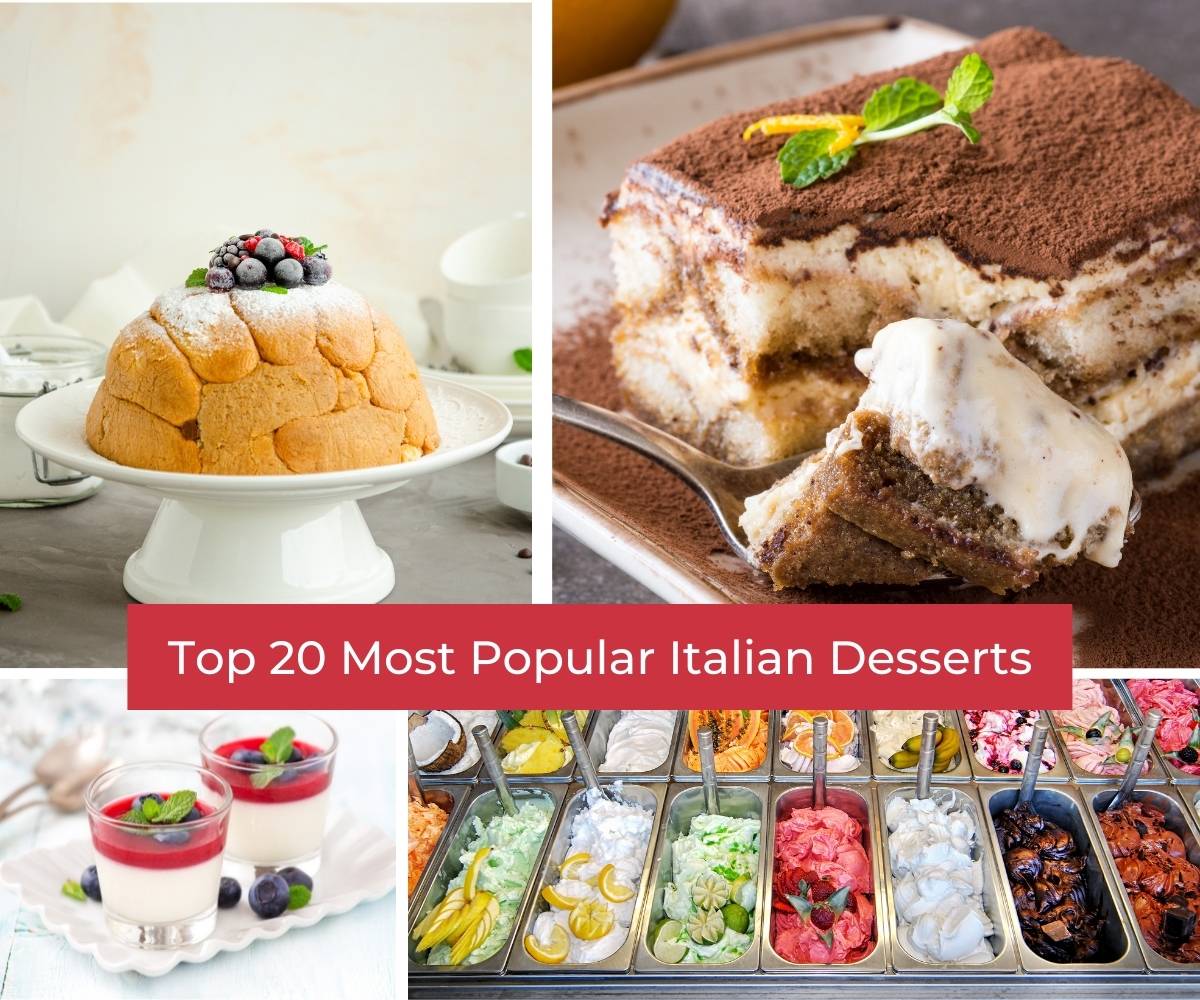 Italian culinary art is known and appreciated all the world over, though less so for its pastry making. Yet, all the regions of the Peninsula, from north to south, boast the prestige of small confectionery masterpieces.
Are you curious and craving something sweet?
Follow us as we take you on an irresistible journey through the nation's confectionery tradition and history, discovering the 20 most popular and appetizing Italian desserts you absolutely have to get to know and taste.
1. Tiramisù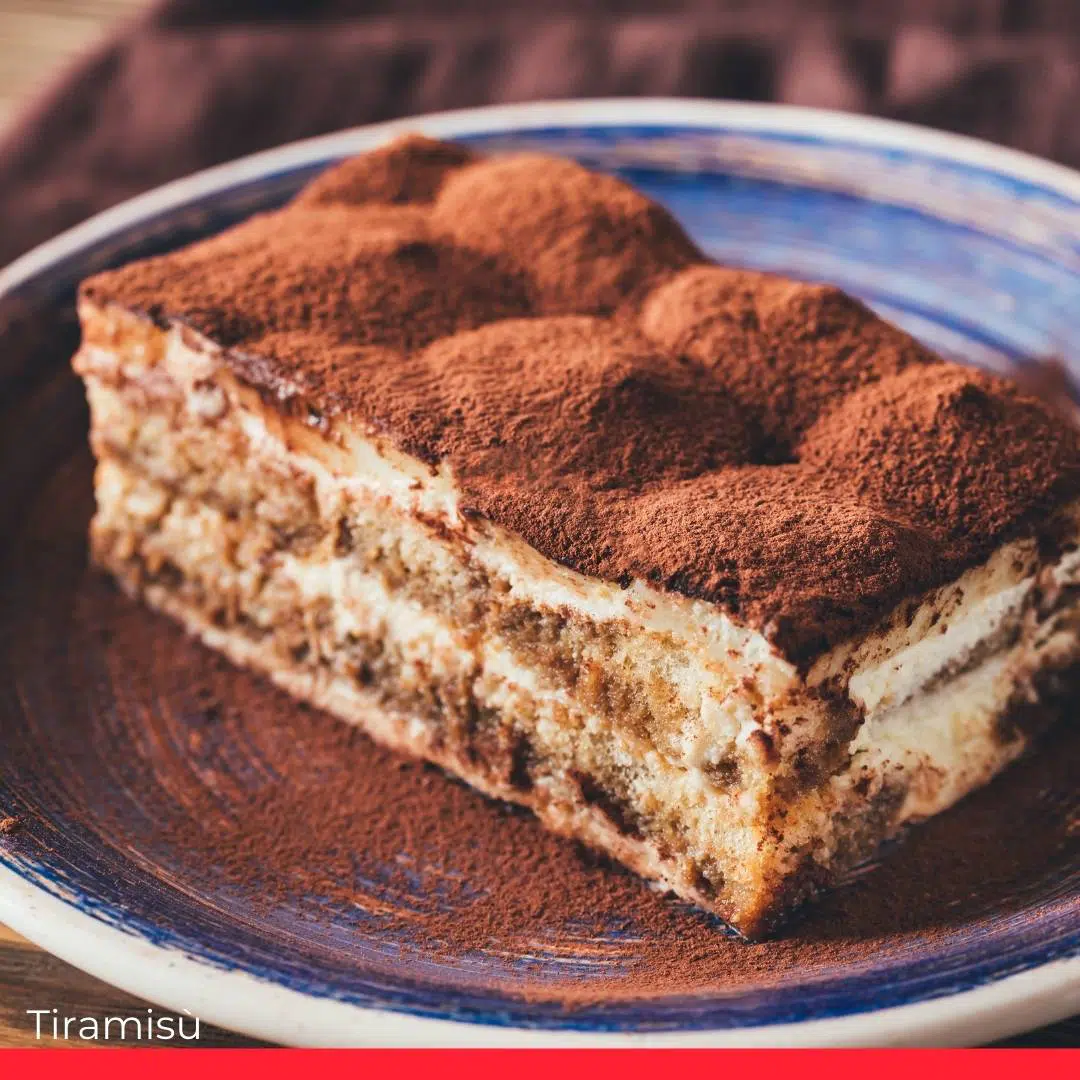 Among the most popular and appreciated desserts all over Italy, and the rest of the world, it has a unique and characteristic name: tiramisù. The symbol of Italian pastry, with origins from Veneto, is a delicious restorative made of egg yolk, sugar, and coffee, and with possible aphrodisiac qualities.
The recipe includes a layer of biscuits, Savoiardi (typical of the area and with a crumbly consistency), soaked in coffee and Marsala (liqueur wine) and covered with a cream of mascarpone, egg yolks, and sugar, completed with a sprinkling of cocoa.
The original recipe comes in a round shape although it is easier to find it in a rectangular or square version because it follows the line of the cookies better, or in a glass.
2. Panettone
And now I present to you the king of leavened doughs: panettone. The typical dessert of Milan was born from Christmas gastronomic traditions, and now widely spread throughout Italy and exported to many other countries in the world.
It is obtained by a leavened dough made of water, flour, butter, and egg yolks, to which are added candied fruit and raisins. It has a difficult preparation to make and requires a lot of manual ability and patience because of the long leavening time.
Until 1900 there were many bakers and pastry chefs who made panettone, but today industrial production has established itself, while in Milan, there are still many artisans who produce this cake according to the traditional recipe. Its origins are legend and are lost in different versions. It seems certain, however, that the name is linked to its inventor, Toni (Panettone, Pan del Toni – Bread of the Toni).
3. Cannoli Siciliani
A real celebrity among the most renowned specialties of Italian regional pastry and Sicilian cuisine is cannoli. These desserts are not only the most appreciated and popular traditional Sicilian dessert in Italy, but also all over the world.
They are crispy waffles of fried pasta, called scorcia, shaped like a tube, filled with soft cream of fresh sheep ricotta cheese. The final decoration in addition to powdered sugar, varies, you can find pieces of candied fruit or dried, such as pistachio, or chocolate drops.
Some sources report that the dessert was invented by the cloistered nuns of a convent in Caltanissetta. However, cannoli owe part of their fame to the pastry chefs from Palermo who perfected the recipe.
4. Torrone (Nougat)
From ancient and mysterious origins, the legend attributes the birthplace of the first traditional torrone to Cremona. The dessert, typical of the Christmas period, based on almonds and honey, was prepared by the court cooks for the wedding between Bianca Maria Visconti and Francesco Sforza in 1441. The name was a reference to the city tower, the Torrazzo.
Nowadays there are all kinds of nougat: hard, soft, with hazelnuts, pistachios, or covered with chocolate and it is present in the Italian culinary tradition of almost all regions. Not only that, torrone has also traveled around the world, although in variants often different from the original recipe, and has managed to unite traditions, sometimes very different from each other, everywhere around the globe.
5. Crostata
The typical Italian tart, a national pride, the classic timeless grandmother's cake, very ancient but timeless, truly known by everyone. Its origins are lost in the myth and are intertwined with the figure of the siren Partenope.
A delight composed of a shortcrust pastry base that can be stuffed with jam, custard, chocolate or fresh fruit and finished with the addition of thin strips of crisscrossed shortcrust pastry.
6. Torta Caprese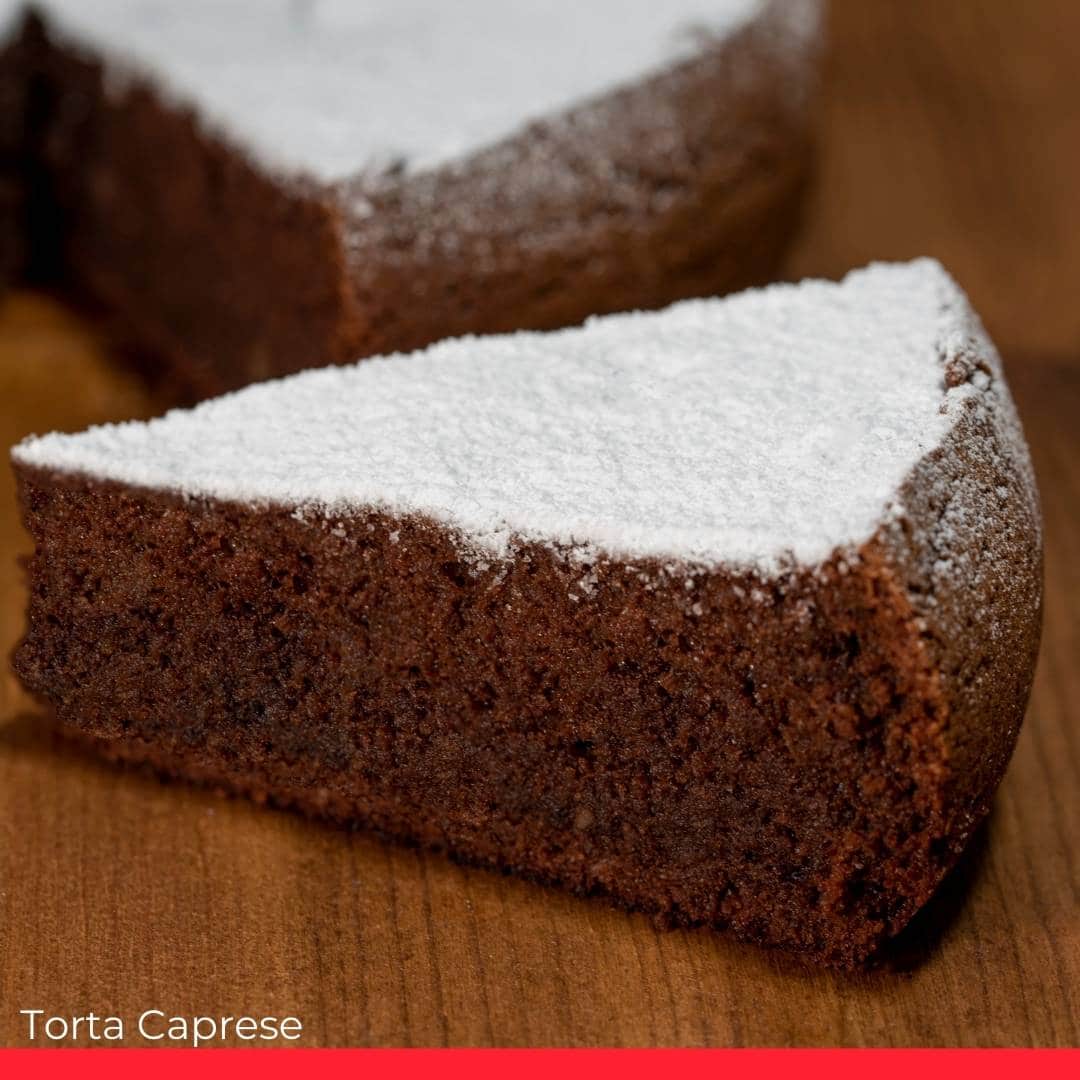 Soft and crispy at the same time, this cake was born on the island of Capri, as its name reminds us. It was invented more than a hundred years ago, in error, and immediately became famous throughout Campania and then in the entire nation.
The recipe is very simple and consists of four ingredients: almonds, cocoa, eggs, butter, and sugar. It is one of the few classic Italian cakes without flour, which according to legend, was the mistake.
7. Cantucci
Cantucci are almond cookies with a dry consistency and an elongated shape, obtained from the oblique slices of a loaf of dough cut while still warm. They are among the most typical desserts of Tuscan gastronomy.
---
Related: Best Italian Christmas Cookies
---
The classic recipe comes from the hands of the pastry chef of the city of Prato, Antonio Mattei, even if their oldest origin belongs to the custom of the poorest peasant families. It matches perfectly with vin Santo (typical Tuscan liqueur wine), in which they can also be immersed to soften them.
8. Pastiera Napoletana
The Pastiera napoletana has always been the traditional dessert of Naples. Known all over the world, it is made with a pastry shell filled with creamy sheep's ricotta, sugar, eggs, cooked wheat, candied fruit, and spices.
The origins of this dessert are very ancient and are linked to spring and rebirth. Legend has it that the wives of some Neapolitan fishermen left the necessary ingredients for the pastiera as an offering to the Gulf to return their husbands alive. The next morning, back on the beach, they noticed that during the night the ingredients had been mixed and in their baskets they found the pastiera, and their men returning from the sea.
9. Bonèt
Bonèt is a traditional spoon dessert from the Langhe of Piedmont. It has very ancient origins, being consumed at noble banquest back in the 13th century. This dessert, prepared with the same technique as crème caramel, is made with amaretti, eggs, sugar, and, in its original version, cocoa and rum. Today there are many variants with hazelnuts, cognac, and coffee.
Bonèt in Piedmontese dialect means hat. The name derives from the copper mold in which it was cooked, or from the chef's hat. The peculiarity of this recipe is that it is cooked in a bain-marie oven, a traditional, slow, and natural cooking technique that makes the bonèt soft and delicious.
10. Babà
The babà recipe dates back to the 1700s and King Stanislaus of Poland, who, exiled to France, delighted in pastry cooking out of boredom. He was fascinated by the protagonist of the story The Thousand and One Nights, Ali Babà, and dedicated his culinary experiment to him.
It is a slightly sweet dough leavened twice and cooked in molds. It was then worked with raisins and spices and dipped in rum and a lemon syrup to make it less dry, by the French court pastry chef Sthorer, who distributed it to all Parisian pastry shops.
Finally, it was perfected as a dessert in the city of Naples. The spices disappeared and the raisins were given the typical shape, reminiscent of a mushroom. It was such a huge success that it became the symbol of Neapolitan pastry all over the world. The size of the babàs varies from seven to fifteen centimeters; they are usually served with whipped cream, custard or fresh fruit.
11. Torta Barozzi
This dessert typical of Emilian cuisine is Torta Barozzi (Barozzi cake). It was conceived in Vignola, in the province of Modena, by Eugenio Gollini, a local pastry chef, at the end of 1800, calling it black cake. In a short time the cake became a symbol of Vignola and, in 1907, for the anniversary of the death of Jacopo Barozzi (one of the major exponents of Mannerism, citizen of Vignola), it was renamed Torta Barozzi.
It's a dessert made of dark chocolate and butter, roasted peanuts, sugar, eggs, coffee, and rum. Simple ingredients and a preparation that creates a unique combination.
12. Panna Cotta
Originally from Piedmont, panna cotta was born at the beginning of the 1900s. The story goes that it is a work by the hands of chef Ettore Songia, from Cuneo, but this is not a definite fact.
It is a delectable pudding obtained from the union of cream and sugar, flavored with vanilla, hardened with isinglass, and placed in the refrigerator to firm up. Widespread throughout Italy, it has a delicate and refined taste and is served with different sauces: chocolate, berries, or caramel.
13. Canestrelli
Canestrelli are simple, crumbly cookies, shaped like a flower and covered with vanilla sugar. Originating from Liguria, they are delicious popular sweets, made with short pastry, which date back to the Middle Ages with the name of nebule. They were prepared for ceremonies and celebrations, such as weddings and religious feasts.
14. Torta Sbrisolona
This cake is originally from the city of Mantua, is linked to peasant traditions, and whose recipe dates back to before the 1600s, when it arrived at the court of the Gonzaga. The name derives from brìsa, which in Mantua means crumb, the crumb obtained from the dough of corn flour, butter, lard, and almonds.
---
Related: Most Popular Italian Pies & Cakes
---
An unmistakable characteristic of this dessert is its consistency, dry and crunchy, and it differs from other preparations in how it is prepared and how it is served. This cake is not cut but is broken by hand. Moreover, it is a tradition to eat the cake by bathing it with grappa, or accompanied by a liqueur wine such as Malvasia, Vin Santo or Passito di Pantelleria.
15. Seadas
Let's go to Sardinia to taste the delicious seadas. The recipe for these sweets, the best known and loved of the pastoral tradition of the region, is linked to the harsh and internal areas of Barbagia, Ogliastra, Gallura, and Logudoro.
It seems that the seadas were prepared during festivities when the shepherds, upon returning with their flocks, were preparing to make fresh cheese, which was then used for the filling.
In fact, these are fritters made with wheat semolina and lard stuffed with fresh Sardinian pecorino cheese and lemon zest. As soon as they are cooked, they are sprinkled with sugar. But the best thing to do is to dip them in liquid honey. The contrast between the sweetness of honey and the saltiness of the pecorino cheese makes seadas a very special tasting dessert.
16. Zuccotto
Its helmet shape is as unmistakable as its taste and fame: zuccotto is a typical Florentine dessert. It is a semifreddo, a dome of sponge cake soaked in Alchermes and filled with a creamy filling of ricotta and cream, cocoa, chocolate drops, and candied fruit.
A dessert invented by the architect Bernardo Buontalenti, who was passionate about cooking, for a Medici family banquet, one of the most famous and important dynasties in the history of Italy.
17. Maritozzo
The maritozzi are leavened sweet sandwiches typical of Roman pastry. They are eaten mainly at breakfast, with a good coffee.
They are a dough leavened with flour, eggs, honey, butter, and salt, enriched with raisins, pine nuts, and candied orange peel. Freshly baked, they are glazed with a syrup of water and sugar and, once cooled, they are cut in half and stuffed with whipped cream or ice cream.
The name is a derogatory derivation of marito (husband).
18. Baci di Dama
The most romantic dessert in the whole country, i baci di dama (the kisses of ladies) is two small spherical cookies joined in the middle by a thin layer of chocolate, like two mouths touching.
It is a product of the best pastry shops in Piedmont that represent an excellence of the territory. An ancient recipe, dating back to the 1800s, in which the protagonists are hazelnuts (a product excellence of the region) or almonds, butter, sugar, egg yolk, flour, and dark chocolate, skilfully mixed together.
19. Pasticciotto
Pride of Salento, the pasticciotto is a very soft dessert of shortcrust pastry, prepared with lard, very soft, filled with custard, and baked in the oven. It was born in Galatina in 1745 by Andrea Ascalone, a pastry chef from Salento and was destined to enter the top list of delicacies of the Puglia region.
The story goes that Ascalone spent his days experimenting with new recipes. Once he decided to mix the dough and cream left over from a cake to make a much smaller one. The result, however, was a very improvised cake, a mess. He decided to give it as a present, still warm, to a passer-by, who was amazed by so such goodness.
20. Gelato (Ice Cream)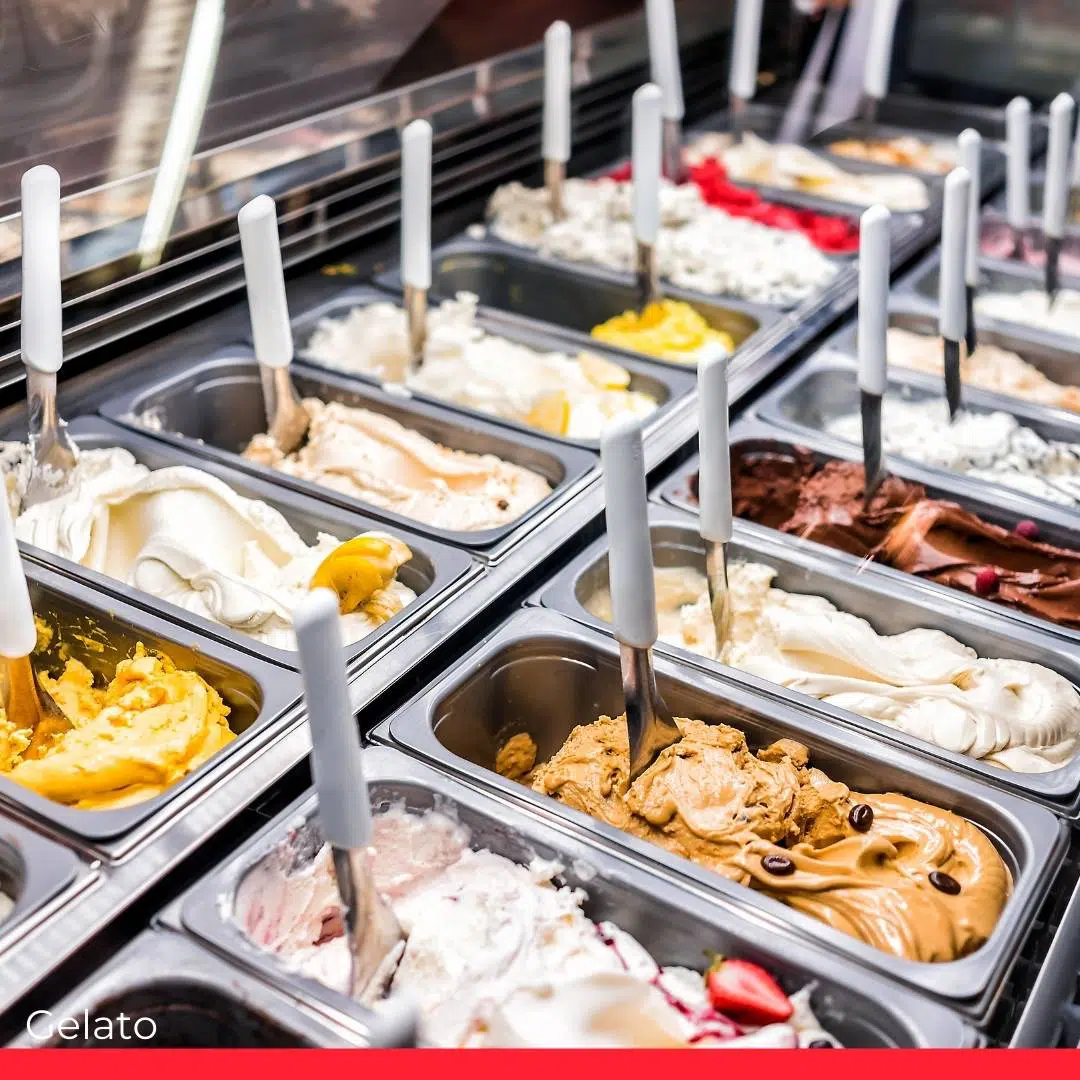 Let's finish this mouth-watering sweet journey with gelato, the most famous and loved Italian dessert in the world. A specialty born in Florence in 1500 by the wise hands of the previously mentioned Bernardo Buontalenti, who created a preparation made of milk, sugar, eggs, and honey.
The presence of whole egg created a creamy and consistent mixture, which is the origin of ice cream. To be tasted in its infinite flavors while walking, as a fresh snack, or at the end of a meal, it is a rich goodness that is more than a tradition – it is has become an art.
---
Related: 25 Most Popular Italian Foods
Related: Most Popular French Desserts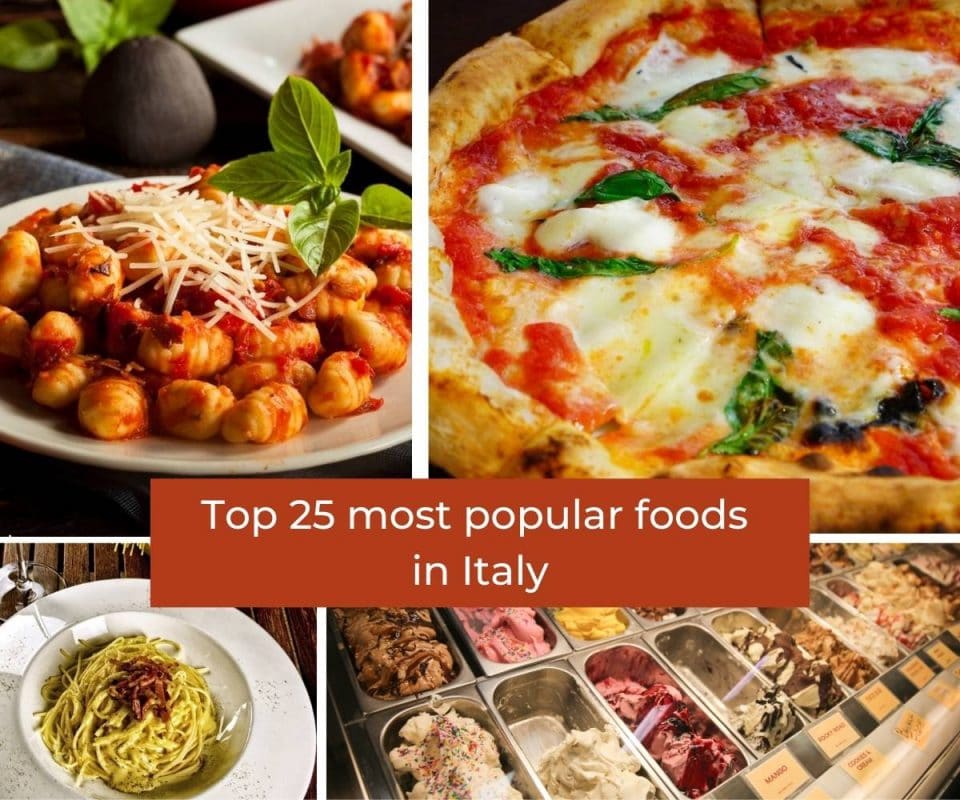 Related: Most Popular Italian Easter Foods