Top 15 Sicilian Foods To Die For
Sicily is considered one of the most beautiful regions in Italy; a colorful mosaic of tantalizing landscapes full of vivid historic legacies from the past, which attract millions and millions of tourists each year. But this is not the only reason why people keep falling in love with this incredible region: its multicultural flavor-filled cuisine is a perfect example of cultural art, and indeed, a true voyage through history.
Its strategic geographical position, with its temperate climate and fertile lands, has made this region repeatedly subject to domination by multiple ethnic groups, such as the Arabs, Greeks, the Ostrogoths, the Normans and, later on, the Spanish.
Above all others, the Arab domination was particularly impactful as they imported the use of apricots, sugar, citrus fruits, and spices such as saffron and nutmeg; while the Spanish introduced ingredients from the New World that were previously unheard of, such as cocoa, maize, and tomatoes.
The Greeks, which first settled in the city of Catania, introduced foods such as olives and pistachios, which are now widely used.
Moreover the following trading routes of the Silk Road, connecting the Mediterranean to Asia, allowed for the introduction of eggplants, which today represent one of the key ingredients of Sicilian gastronomy, much like in Middle Eastern cuisine, together with the widespread use of aromatic herbs which the prosperous land naturally provided.
Clearly Sicilian cuisine has truly become a multicultural fusion, perfectly blending flavors and spices from several different culture, and combining the distinctive methods of preparation and cooking with the simplicity and authenticity that's so unique to the country.
Here you will find listed the top delicacies you must try at least once when visiting Sicily.
15. Cannolo Siciliano
The first thing to come to mind when considering Sicilian specialties is surely Cannolo Siciliano, and in fact, who says you're not allowed to start your meal with a delicious dessert first? These tube-shaped shells of fried dough, filled with ricotta cheese and garnished with pistachio or slices of bitter orange are truly impossible to resist!
Cannoli hold major historical and religious importance as they are thought to symbolize the union between Islam and Christianity. The earliest recipes are in fact believed to have originated during the Arab domination of the city of Caltanissetta by Muslim women who then passed it down to Christian nuns.
14. Arancino
Arancino may well be the second major culinary symbol of Sicilian cuisine. This breaded and deep-fried ball of creamy risotto, typically filled with ragù sauce, is an exceptional specialty. Funnily enough, over the decades, it has created an ongoing debate, dividing the population over those who call it "arancino" in Catania, and those who call it "arancina", usually in the area around Palermo.
The origin of this dish is grounded in the Arab domination, between the 9th and 11th century, when Arabs would typically roll a little ball of saffron rice in the palm of their hands and then season it with lamb. The Arabs had the habit of naming their dishes with fruit names; in fact given that "arancina" literally means "little orange", this would technically be the more correct term to use.
13. Pane con Panelle
Following arancini, panelle are probably the second most popular street food specialty of Sicily. These delicious chickpea pancakes served in a soft bread bun originated in the city of Palermo, and they represent again another culinary legacy of the ancient Arab domination.
According to the traditional process, the panelle were shaped on carved wooden boards and then fried in the same oil used to fry fish, making it look and taste exactly the same! This soon became an excellent solution for very poor families who could not afford to buy fresh seafood every day but who were not willing to give up its delicious taste.
12. Pasta alla Norma
If eggplants are the building bricks of Sicilian gastronomy, then Pasta alla Norma may well be its highest and most exquisite culinary expression.
Simply made by cooking eggplants in a rich tomato sauce and garnishing with fresh flakes of salty ricotta cheese, this humble and unpretentious dish holds truely honorable origins. The pasta dish was in fact named in honour of Norma, the famous lyrical composition by Vincenzo Bellini, the celebrated 19th Century composer from Catania.
11. Caponata
Another irresistible delicacy made with eggplants is of course caponata. It is arguably considered the Italian version of the French ratatouille, although caponata has a unique sweet and sour taste conferred by the addition of sugar, vinegar, basil, and pine nuts.
The etymology of the name is still largely debated: according to some, the term derives from "capone", a term used in the Sicilian dialect to refer to a rare and prestigious type of fish eaten by aristocrats served with the same sweet and sour sauce. The poor peasants and farmers would then replace it by using big chunks of aubergine, thus creating this wonderful dish.
10. Parmigiana di Melanzane
Coronating the "Holy Eggplant Trinity" is undoubtedly Parmigiana di Melanzane, a rich and succulent lasagna made with layers of fried eggplants drenched in a flavorful tomato sauce and generously garnished with Mozzarella and Parmigiano.
Despite the name recalling the traditional cheese from Parma, the term "Parmigiana" is actually thought to derive from "Parmiciana", which in Sicilian dialect refers to the wooden tiles of the shutters. This is due to the way the long slices of aubergine are neatly layered next to one another. This easy and delicious dish is a daily staple for many Sicilian families.
9. Busiate al Pesto Trapanese
Conveying all the flavours of the Mediterranean, this fresh and tasty pasta dish is the ultimate Sicilian reinterpretation of the original Ligurian pesto, probably stemming from the ancient trading routes between the port of Genoa and the one of Trapani.
The process is the same as the original: basil is initially ground with a pestle and mortar and then combined with red garlic, almonds, and tomatoes. Pesto Trapanese is traditionally savored with a type of pasta similar to maccheroni, called busiate, named after busi, the stems of the plants used to give the pasta their distinctive twisted shaped.
8. Pasta con le Sarde
Pasta con le Sarde is by far the most popular seafood pasta dish in Sicily, made with sautéed sardines, garlic, fennel, saffron, and sultanas, a decidedly unusual yet winning combination of flavors!
According to tradition, this dish was invented during the Arab military campaign in Syracuse, when General Euphemius of Messina, commander of the Byzantine fleet, who found himself shipwrecked and without provisions on his way to Sicily, ordered an Arab chef to come up with a dish using the ingredients he could find.
A really refined delicacy for true seafood lovers!
7. Sardine alla Beccafico
Another delicious way of tasting local sardines is rolling them in a mixture of breadcrumbs, raisins, and pine nuts before baking them. It is once again a popular dish which is actually a humble reinterpretation of a more elaborate and sophisticated recipe.
In fact, the term "beccafico" refers to a type of bird which was once commonly eaten by aristocrats and noblemen and which peasants replaced with sardines, which were of course more affordable and easy to catch. The reinterpreted dish became so popular in time that aristocrats stopped requesting the original recipe!
6. Cous Cous di Pesce
The true essence of a multicultural cuisine is undoubtedly embodied by this simple couscous dish with seafood, perfectly fusing fresh local seafood with ancient staple foods used by the Berbers in Maghreb.
It was the most popular dish among fishermen for centuries as they would use the fish that was unsold during the day with the addition of readily available ingredients such as garlic, bay leaves, onion, and olive oil.
This dish has today become one of the symbols of local Sicilian cuisine, especially in the areas around Trapani and San Vito lo Capo, where the Arab influence is visibly echoed in the architecture and walls of the city.
5. Agnello alla Saracena
As you might have gathered by now, the major gastronomic landmarks of Sicily are clearly not meat-based dishes. But don't you lose hope, dear meat lovers; there is a whole repertoire of undiscovered recipes which will absolutely blow your mind! Agnello alla Saracena is definitely one of them.
This delicious dish is nothing more than a simple lamb stew slow-cooked with seasoned onions, garlic, celery, and carrots, dispersing all the flavor and authenticity of a hearty and rustic culinary culture.
4. Panino ca Meusa
Another meat-based speciality is the typical Panino ca Meusa, literally meaning "sandwich with spleen", mievusa meaning "spleen" in the Sicilian dialect.
The name in fact refers to the main part used, in addition to other less noble parts of the calf or ox. It may not sound too appealing, but the taste will most surely leave you asking for more! No wonder it has become one of the most popular street foods of Palermo.
3. Cassata Siciliana
They say you "have not been to Sicily if you haven't tried Cassata", and after all, why risk it? Made with sponge cake soaked in liqueur, almond, and pistachio paste and filled with ricotta and chocolate chips, this delicious cake is truly impossible to resist!
Cassata is typically covered in icing sugar and candied fruits perfectly arranged in geometric and floral shapes, creating a wonderful culinary and artistic masterpiece.
2. Granita e Brioche
Granita e Brioche is the quintessential Sicilian breakfast. The tenderness of the brioche and the refreshing fruity icy drink is the perfect combination on a hot summer day. Its origins date back to 2000 BC, and it was traditionally made by farmers in the snowfields of the Hindu Kush, a mountain range overlooking Afghanistan and Pakistan.
The recipe then gradually made its way to Andalusia and Sicily, thanks to the Arabs who would consume ice drinks flavored with rosewater, called sherbet. When the recipe reached the shores of Sicily, granita was made by mixing the snow from Mount Etna and assembling it with local fruits. Today it is typically accompanied with a brioscia, a delicious Sicilian version of the classic croissant.
1. Gelato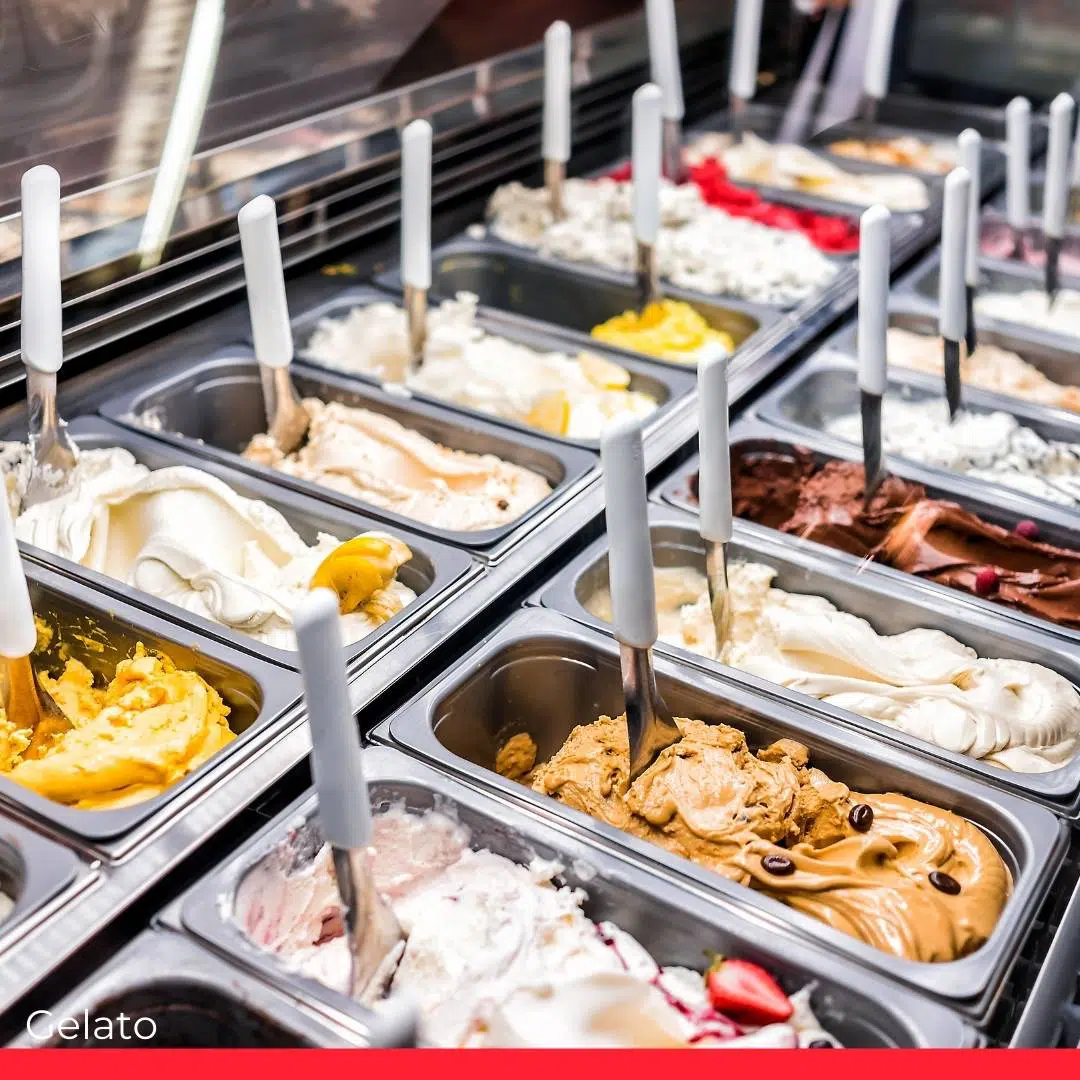 Another thing you might have noticed during this culinary journey around Sicily is that Sicilians do have a very sweet tooth; it is no coincidence, in fact, that they are credited with some of the greatest desserts worldwide! Ice-cream is probably the single greatest culinary invention originated in Sicily, although its origins are largely debated.
There is evidence of its early existence in the Bible, when Isaac offers a mixture of milk and snow to his father Abraham. Even Alexander the Great was believed to indulge in a dish made of snow, honey, and fruit. And there is additional evidence from the times of the Romans and Normans up to today, with the creation of more than 200 different flavors, from fruity blends to creamy, chocolatey ones.
Shifting timelessly from era to era, ice-cream has become today an iconic symbol of priceless happiness and simplicity.
---
Related: Most Popular Foods in Emilia-Romagna
Related: Most Popular Foods in Tuscany
Related: Most Popular Italian Foods
Related: Most Popular Italian Soups