Top 25 Most Popular Foods in Dubai (With Pictures!)
The Emiratis have a huge respect for their past and food is considered an important part of their heritage. Although Dubai is now one of the most modern and cosmopolitan places in the world, many of its people are still connected to their traditional food and values.
Here are the top 25 most popular foods in Dubai that you must try if you visit the country. Some of the dishes are traditional and some are very modern.
First on our menu, the breakfast list
1. Barata and Shai Karak
You can't go to Dubai without stopping for a Shai Karak and Barata in a cafe. Shai karak is tea, but with a twist. Originally from India, where it's called Masala Chai, karak is famous for its unique and strong flavor. It differs from Masala Chai in that it has fewer spices and uses strong black tea with milk and sugar. It is so popular, you wont have missed karak if you've traveled anywhere around the Gulf.
It is part of the region's daily routine. Rather than stop at a Starbucks or Costa for coffee, people prefer to stop at a cafe for a karak. It is cheap too, and for a little more, you can get a barata, giving you the full breakfast experience. Barata is a tasty Indian bread which is delicious enough on its own. But for a more special experience, try it with cream cheese and chips.
2. Emirati Dessert Lgeimat
Lgeimat is a very common dessert throughout the Middle East, and plays a huge part in Dubaian culture, being found at weddings and tea parties, and it is eaten for breakfast served with tea.
It is also worthy of offering to guests and is an essential part of Fuwala – the special dishes offered to guests. Lgeimat is basically a mini donut – it has the same texture and taste – that's dipped in saffron.
3. Balaleet

Another special breakfast dish, Balaleet is a mix of sweet and sour. This is a traditional dish consisting of vermicelli sweetened with sugar, cardamom, rose water, and saffron, served with an omelet on top. It's well known throughout the Gulf but especially in UAE.
It differs from country to country, but only by the amount of omelet that covers the plate. While usually a breakfast dish, it is also served as a dessert during Ramadan, or as a light dinner.
4. Manakish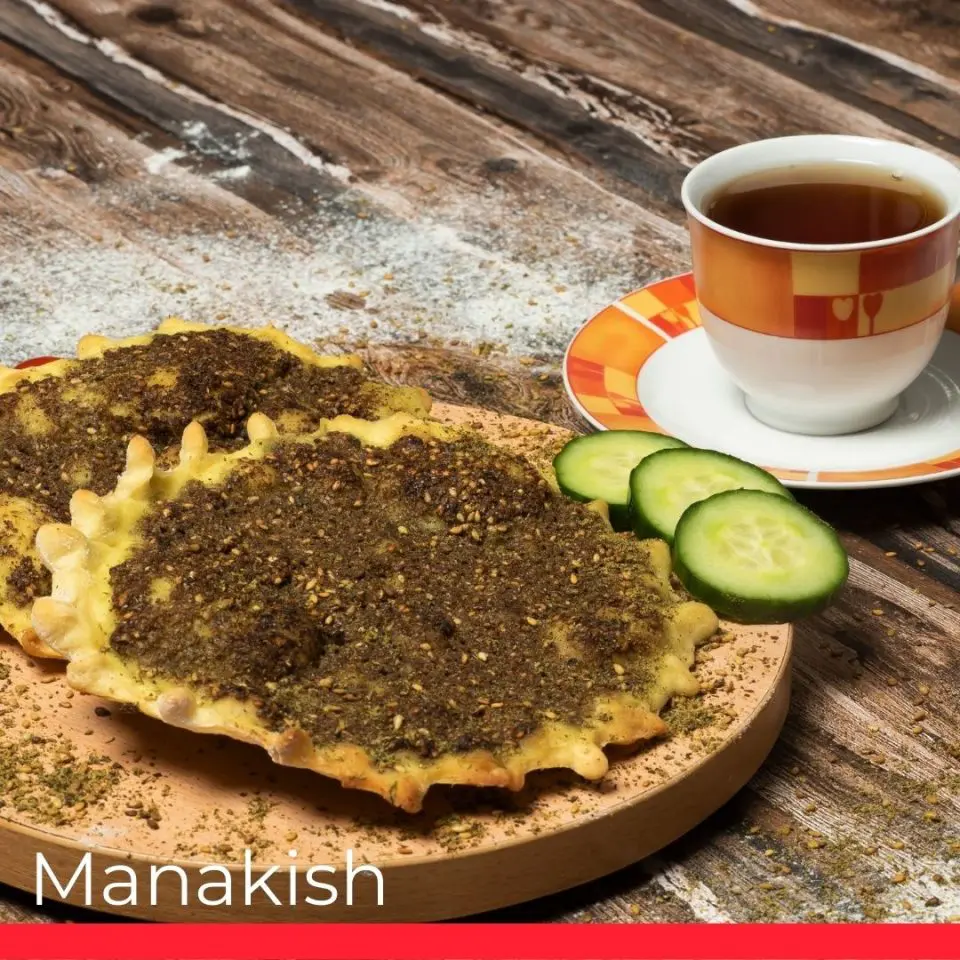 This is a Lebanese snack enjoyed throughout the Middle East. It's a flat bread filled with cheese and cooked in a huge oven. It can also be served with cheese on top and thyme, or thyme and olive oil, meat and hot sauce. It's a delightful breakfast dish and goes well with karak.
Coming up next, lunch
You may have trouble making up your mind what to have for lunch in Dubai because of the diversity of the food and the number of options available. You can go fully traditional or very modern.
5. Majboos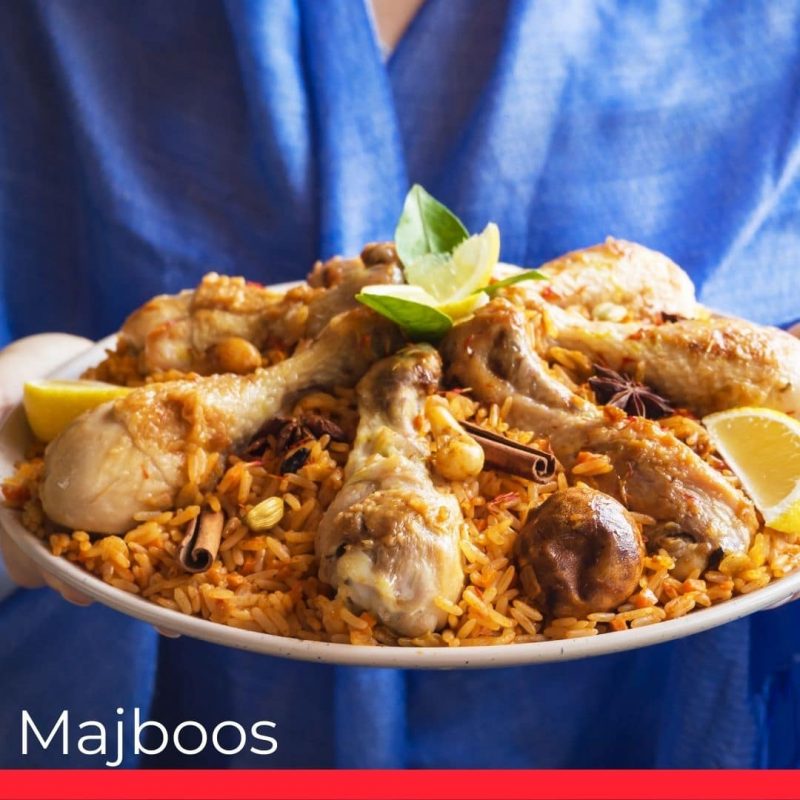 The Gulf region as a whole is famous for its rice-based meals. Majboos is a mixed rice dish made with rice and meat, but can also be served with fish or chicken and even shrimp.
The name comes from the process of putting all the ingredients in one pot and pressing it down with another pot. It's also famous for all the spices and flavorings that go in, such as onions, pine nuts, peanuts, and almonds.
6. Harees or Jarees
This is a dish of boiled or cracked wheat mixed with seasoned meat or chicken, depending on your preference. It's a very popular dish, especially during Ramadan, at weddings, and Big Eids, basically, on any special occasion. It's a meal with a heavy consistency.
In fact, the name of the meal, harees, comes from the Arabic word hars, which means mash. So harees is a smooth mash. In some regions, it is also called "Master of the Table" because it's considered a main course.
7. Margoogah
This is a well known khaleeji dish known by different names and can be cooked by various method. It's a very traditional dish and every part of the UAE cooks it differently.
Basically, its chicken broth or meat with vegetables and cooked with a thin bread. It's very suitable for vegetarians when the chicken is replaced with vegetables.
8. Shawarma
Shawarma is favorite street food in the Middle East. But (arguably) the best shawarma is in Dubai. It is by far the best Shawarma you will ever taste.
9. Thereed
This is a very slowly cooked stew. The stew, consisting of chicken, beef, lamb, or goat, and roasted vegetables and potatoes, is served on top of an Emirati salted bread called Rigag.
10. Jabab
Another bread, but this one is a pancake-like bread and is often made at home. Its known for its delicious taste and is easy to make with simple ingredients: eggs, flour, and saffron. Also, it has good nutritional value. It is often eaten with butter or honey and sometimes with cream cheese, too.
11. Saloona
This is prepared with pieces of chicken, turmeric, olive oil, ginger, garlic, onion, chili, many other spices, and, of course, rice on the side. You can't actually miss saloona if you've ever been to Dubai.
I like to call it a carnival for the taste buds. The dish can be found at any meal, though it's a favorite for Friday lunch, and it's rich in vitamins and protein, too.
12. Oman Chip Rolls
You can't come to Dubai and not try Oman Chips. Yes, they are normal chips, but the locals absolutely love them and consider them a part of their heritage.
They are found in hypermarkets, supermarkets, and local groceries. The Oman chip roll is simply a plain roll with a thick layer of cheese spread and, of course, smashed Oman Chips.
13. Samboosa
This is a famous Indian snack. It consists of layers of thin pastry filled with different type of meat, vegetables, and exotic spices. It's a very popular street food in Dubai and throughout Asia.
14. Falafel
Falafel is a deep-fried chickpea patty. You will never get bored with falalel as it's so versatile, but it usually comes with hummus and vegetables wrapped in thin flat bread. A light snack and it's suitable for vegetarians.
15. Madrooba
A popular choice during Ramadan and various other special events is Madrooba. The name was inspired by the large wooden spoon used to beat the batter to give it its very thick consistency.
16. Grilled Corn
Dubai has magical grilled corn, which everyone just loves. You'll find corn at any camp fire party, it's part of the experience of course, and on food stalls all round Dubai's streets. Grilled corn with mozzarella cheese and grilled corn with BBQ sauce are the best.
17. Five Guys
Yes, the famous Five Guys opened in Dubai a few years back. And it went straight to the people's hearts. Their fries are everyone's favorite, dipped in Cajun oil for an extremely amazing experience.
18. Dynamite Shrimp
As soon as P. F. Chang introduced this plate to the public, the people took it to their hearts. You can find it on street food stalls and in fancy restaurants.
It's a Japanese invention consisting of a spicy, dynamite mixture of mayonnaise and siracha sauce. It is often added to traditional dishes, and to side and main dishes.
19. Quzi
Also called qoozi or ghozi, this is a rice-based dish with long, slow cooked lamb with eggs, potatoes, almonds, raisins, and roasted nuts.
20. Stuffed Camel
Everyone knows camels were used for transportation in the old days. But not everyone knows they were also the center pieces of special feasts, for example, at weddings. Stuffed camel, as the name might suggest, is a huge meal. It is cooked on a spit over an open fire and is filled with chicken, eggs, fish, sheep, and spices. As I said, a huge meal.
21. Shish Tawook
You simply can't miss out on Shish Tawook, marinated grilled chicken spread out on a flat bread with pickles and chilis and hummus.
To end your meal, something sweet
No meal is complete without something sweet, so here are the most popular sweet dishes in Dubai.
22. Mohala
Emirati Mohala bread is a crispy, thin bread with a light texture. The batter-like dough is poured into a pan with a scoop. It's a sweet traditional dish and can be sweetened up even more with sugar or honey.
23. Knafeh
It's not just the UAE that loves knafeh; it's a very popular dessert in the Middle East and beyond. You will never forget the first time you taste this sweet. It is a sticky pastry with sweet gooey cheese, baked in the oven and then soaked with syrup. Oh!
24. Mehalabiya
Mehalabiya is considered the go-to healthy dessert. It's not too sweet and is refreshing and light on the stomach. It is also very popular with children. It's basically a milk pudding consisting of rice, sugar, rice flour, and milk.
25. Um Ali
This is often found at weddings. It is a beautiful milk dessert consisting of pastry, milk, cream, and nuts served warm. Originally, it's from Egypt, but it's very famous around Dubai, especially in winter and on cold evenings.
---
Related: Most Popular Foods in Qatar
Related: Most Popular Foods in Saudi Arabia