Top 20 Most Popular Yemeni Foods & Dishes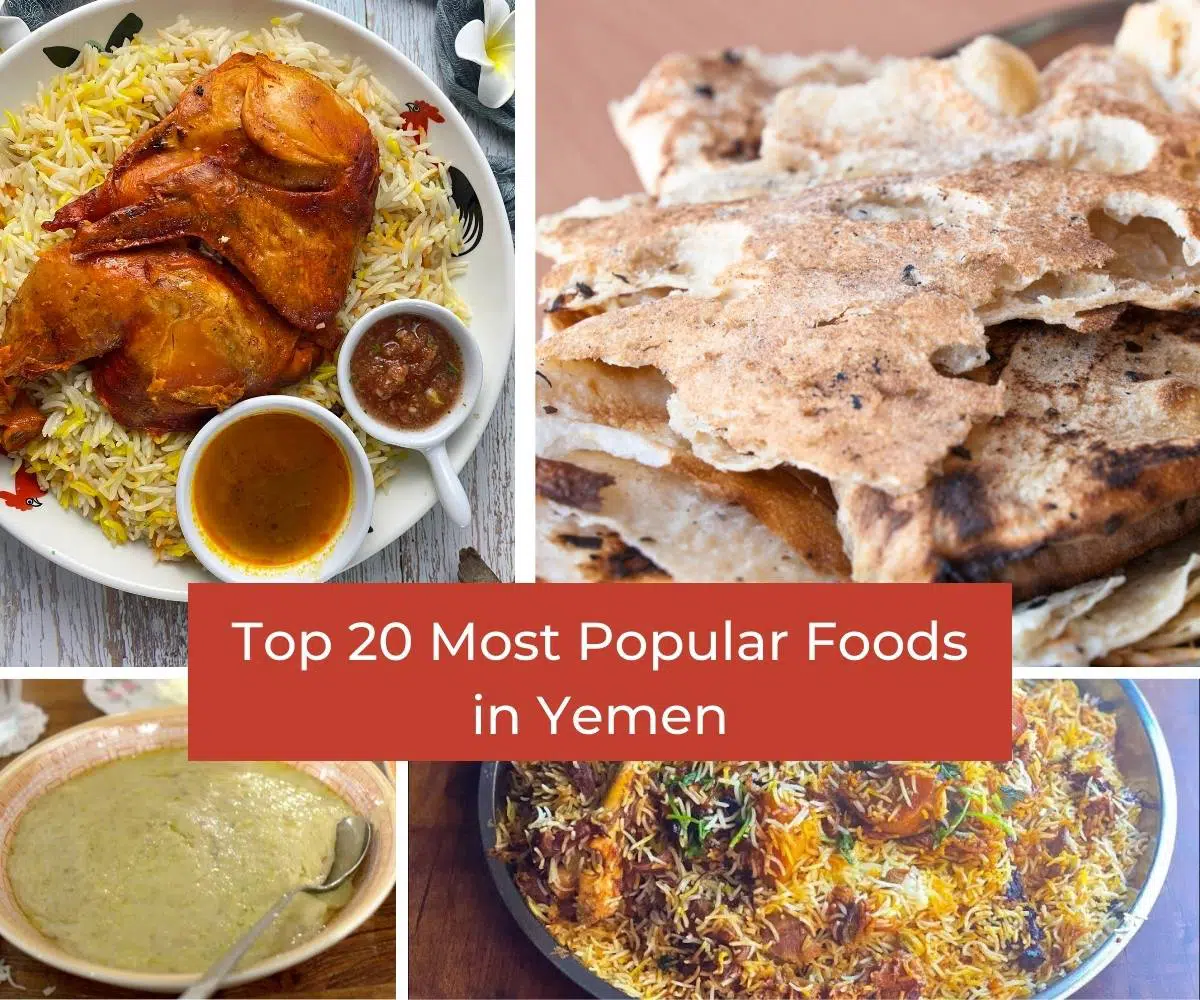 Yemeni cuisine is one of the most important, richest and diverse Arab cuisines, as it combines a large number of foods and meals that represent the cultural heritage of this ancient country and the land of successive civilizations, and these customs differ from one region or city to another.
These foods have become famous in most Arab countries and all countries of the world because these dishes are distinguished by a distinctive flavor and aroma that gives them a prominent place on international food menus, and no country is devoid of a restaurant that offers distinctive Yemeni food.
From the wide diversity of this country in terms of food, it is difficult for a few words to express or describe it. The popular foods are many and served hot or cold. In the following lines, we will cover the most important food customs and the most famous main dishes.
1. Fahsa
Fahsa is one of the most popular dishes in Yemen, particularly in Sana'a city and the northern regions. It is a main course served with Yemeni bread and special hot sauce (Sahawiq).
It is a stew of veal or lamb cooked on a high heat in a stone pot to keep the heat lasting for longer. It is served literally boiling. Broth and fenugreek dip are added to the stew. The tenderness of the meat and the delicious spice mixture, along with the dip and broth, make every bite tempting and irresistible.
2. Sahawiq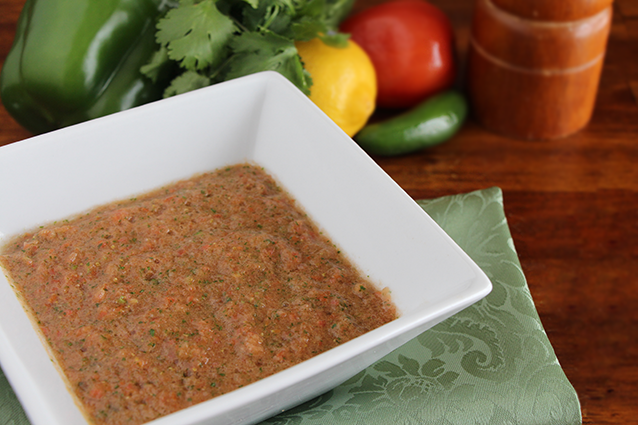 Sahawiq is a spicy Middle Eastern sauce. It originates from Yemeni cuisine and is a staple in all meals. It is prepared from fresh hot peppers seasoned with garlic, coriander and various spices.
There is red Sahawiq, prepared from red peppers, and green Sahawiq, prepared from green peppers. Brown Sahawiq is made mainly from tomatoes, with a reasonable amount of hot green pepper added. Some Yemenis eat Sahawiq with bread as a complete meal, and it can be mixed with yogurt and tuna flakes.
3. Saltah
Saltah is by far the foremost national food of Yemen. It relies mainly on the broth, which can be made from meat like chicken or lamb, and the dish can be served with fenugreek ground with coriander, leek, Sahawiq sauce, or other additions such as potatoes, rice, eggs, and other vegetables.
This dish is served hot with bread alongside other dishes for lunch. There are restaurants specializing in serving this meal, and they are considered to be the most visited restaurants in Yemen. It is also a popular dish in the northern regions of the country, especially in Sana'a.
4. Sayadiah
Whenever Aden City is mentioned, Sayadiah immediately pops into one's mind. The word Sayadiah is derived from the Arabic word "Sayd" which means seafood. This dish is popular in Aden City and coastal regions, and it is a dish consisting of rice and fish.
What distinguishes Sayadiah from other fish-and-rice meals is the unique flavor of a special fusion of spices. People tend to have Sayadiah at the weekend, during family gatherings, or on holidays. However, it is not customary to have it on these days only. In fact, you will not get bored of it even if you have it every day.
5. Bint Asahn
Looking for an extraordinary dessert? Bint Asahn is your best option. It is one of the most common sweet dishes across Yemen. It is a multi-layered and flaky pastry covered with honey and ghee and a sprinkle of sesame and black cumin. Once taken out of the oven, honey and ghee are added and the dessert is best served hot.
The texture of the pastry combined with the topping creates a delightful taste that will definitely cheer you up. Sometimes Bint Asahn is served as a main course, and some families start their day with Bint Asahn and a cup of tea.
6. Asida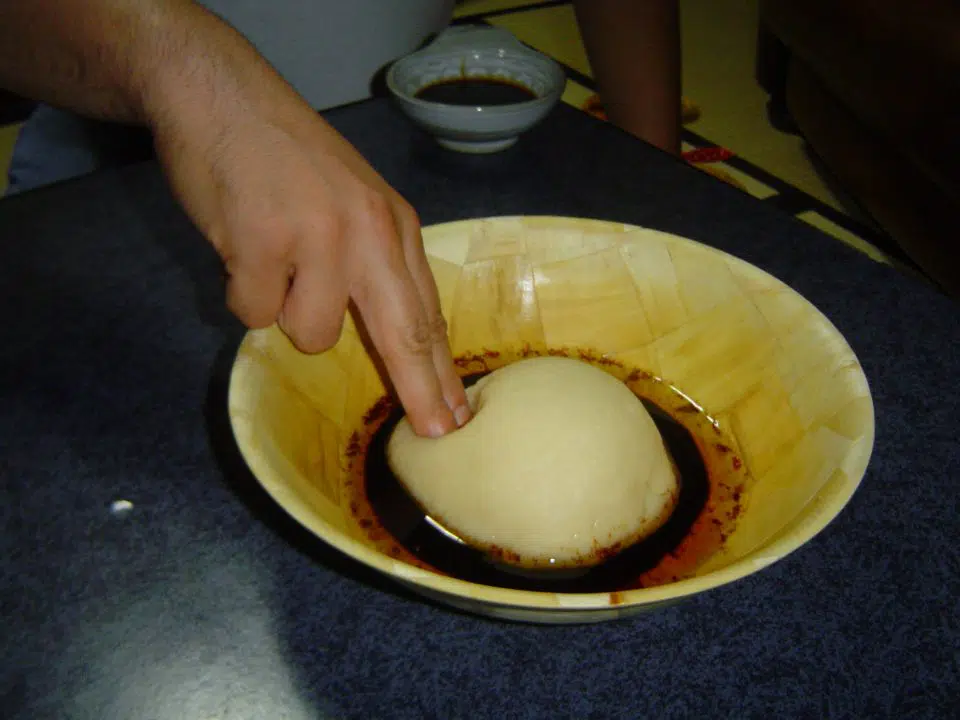 Everyone in Yemen knows what Asida is. This dish is not exclusive to Yemeni cuisine; it is found in various Arab cultures and societies and is usually considered a sacred appetizer, despite the fact that each region has its own and special touch in making Asida.
Even in Yemen, there are several types of Asida depending on the region, such as Sana'a-Asida and Ibb-Asida.
The core ingredients of Asida, mostly in all of its types, are flour, water and laban. It is round-shaped and has a smooth and consistent texture. It is served hot with broth poured into it. Do not eat Asida with a spoon, but scoop it up with your fingers, as locals believe it tastes much better this way!
7. Zurbian
Zurbian is a Yemeni dish similar to the Indian Biryani. It is believed that this recipe originated in Aden City, which is famous for its distinctive Zurbian. The ingredients are colorful rice, seasoned lamb or chicken, and potato.
This dish is topped with thin slices of fried onions, nuts such as almonds, peanuts, and raisins. Zurbian is considered a delicacy and is served on important social occasions, including weddings and feasts, as it is a fancy and delicious dish.
8. Shafout
Are you into sour appetizers? Shafout is definitely your best choice. It is considered the most traditional and well-known food in all of Yemen. What is interesting about Shafout is that it is a simple dish, yet admired by almost all Yemenis.
It is prepared by layering slices of Lahuh, which is a special Yemeni home-made type of thin bread, and soaking them in Shafout syrup (a mixture of buttermilk, salt, black pepper, and coriander) and topping them with shredded vegetables such as carrot, cucumber, and onion.
9. Mutabaq
Mutabaq is an old dish of Yemeni origin. It is a dough that is laid out in the form of a square, stuffed, and closed in the shape of an envelope.
It can be filled with multiple options, so the filling can be cream with fruits or nuts, for example, or scrambled egg with cheese, chicken chops, ground meat or vegetables.
10. Mandi
Mandi is a traditional dish that was well-known to the people of the city of Hadramout in Yemen, but it has now spread throughout the Arabian Peninsula and to various Arab countries.
Mandi is a dish consisting of rice and red meat or chicken. The red meat or chicken is seasoned with Arabian spices and cooked in special ovens below ground using the heat from hot embers.
The juice formed from the smoke is used to boil the rice, which is placed underneath the red meat or chicken inside the oven, adding a unique taste with smoky flavor to the rice.
11. Fattout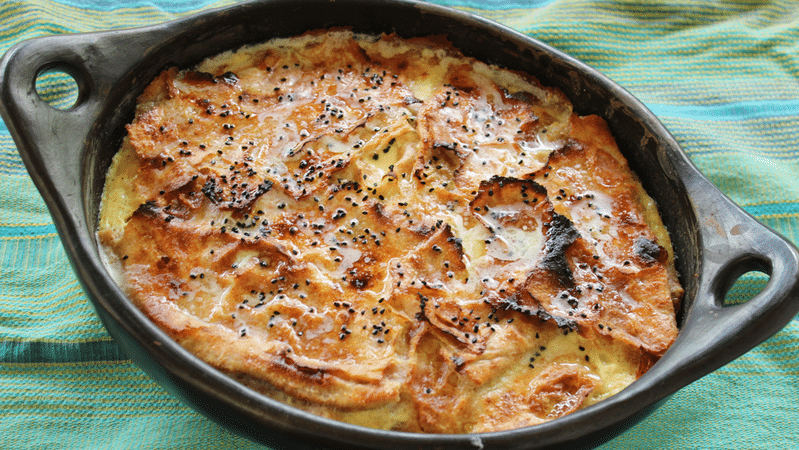 Fattout, or fatta, is an Arabian dish whose preparation varies in each country. The Yemeni Fattout dish is brown or white bread prepared in the oven.
The bread is cut into very small pieces, with chicken broth or meat broth and ghee or butter added to it and must be eaten hot. Some people prefer to eat it with hot milk with butter or ghee, some eat it with boiled meat or hot boiled chicken, and some eat it with Sahawiq sauce. Fattout is very healthy and provides the body with energy.
12. Lahoh
Lahoh is a Yemeni bread that is light, easy to digest, and has a very pleasant taste. It is prepared by dissolving white flour or maize flour with water until the dough becomes thin and light in consistency.
Flavors are then added to it, such as a little of well-mashed onion, a little finely ground fennel, and salt, and then the ingredients are all mixed by hand, yeast is added, and the mixture is left for an hour or two depending on the air temperature.
If the weather is cold, it is left for a longer period of time, because hot weather contributes to the acceleration of the fermentation process. After that, it is spread out and cooked on one side in a flat pot, which has first been cooled down by running water over the back of the pot, and then flipped and cooked for another minute.
13. Masoub
Masoub is a brown bread prepared with oil. The bread is finely chopped, bananas and cream are added in proportional amounts, and then honey is added if desired. It is served cold and fresh, because a delay in eating it turns it black, and the taste changes because of the bananas. It is a very sugary and fatty dish.
14. Arikah
Arikah is a popular and widespread food in Yemen, where it is mainly prepared from brown flour or white flour or a mixture of both types, in addition to local ghee, honey, boiled date water or plain water, and it can also be decorated with dates, grains, nuts or cream. Honey is served as a dip on a plate next to Arikah.
Despite the different methods of preparing Arikah from one region to another, they consistently have the same delicious taste and high nutritional value that make them suitable for the cold of the winter season, especially when prepared using wheat flour.
15. Zawm
Yemeni Zawm is a popular Yemeni dish. It is a soup, but it is also considered to be a sauce to be eaten with bread, and it can be served over Yemeni porridge (Asida) or with Yemeni brown sauce (Sahwiq). The method of preparing it is very easy and does not require effort. It mainly consists of yogurt, garlic, salt and spices.
16. Aqdah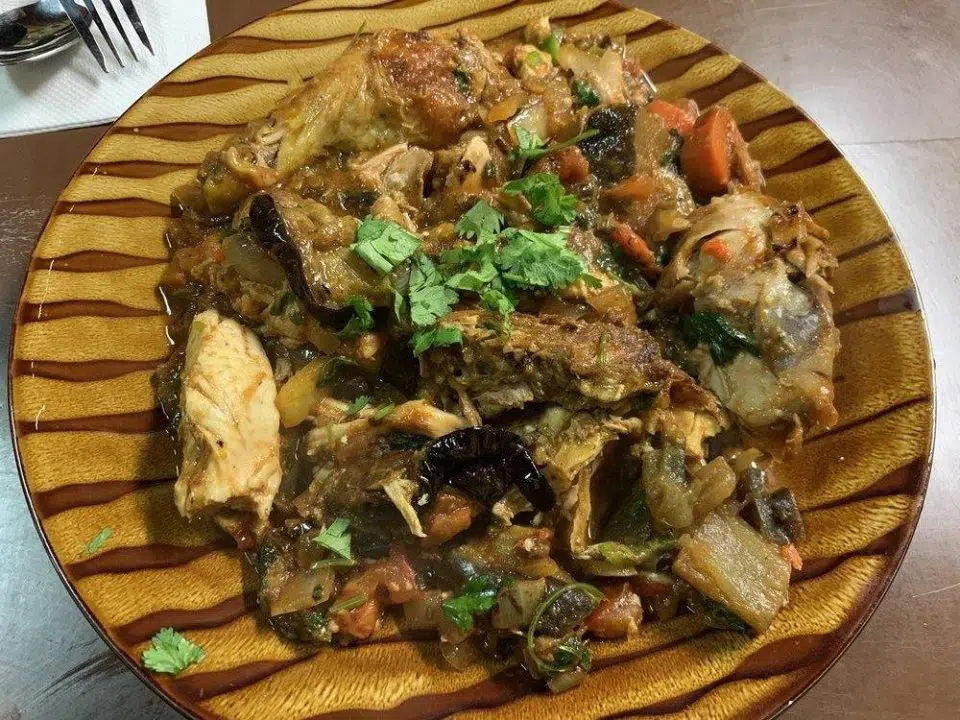 Aqdah (meaning "knot" in Arabic) is a stew made from tying and mixing all the ingredients together. There are many types of Aqdah. It can be made with small pieces of lamb, chicken, or fish that is mixed and cooked together with vegetables, including tomatoes, potatoes, carrots, onions, and zucchini.
Yemeni Aqdah with chicken has become one of the most popular Yemeni foods in the Gulf. Some prefer to prepare Aqdah without the stew so its texture becomes solid.
17. Harees
Harees is a thick dish made from wheat that is usually eaten on cold winter mornings, and, because of perceived health benefits, is given to women during the first few weeks after childbirth and to the infirm, the weak and the frail.
There are three main versions of Harees, which is also called Jireesh. All three versions are thick dishes made of wheat. One is a sweet version, which is made of cracked wheat. Some people add samneh (clarified butter), honey, cinnamon, or sugar to it.
The second version is a savory dish made with broken wheat, rice, and lentils or beans that have been pre-cooked in water with a fatty portion of meat or bone marrow. It is served with vegetables such as spring onions (scallions), garlic, and tomatoes. The third version is also meat-based, but this recipe calls for a different spice mix.
18. Haneedh
Haneedh is a slow roasted lamb dish from Yemen. It is very popular in Yemeni restaurants around the world. It is very similar to Mandi, but Haneedh is cooked in an oven and has a different spice rub.
Haneedh is usually served on a plate of rice. Haneedh is prepared by dry rubbing chunks of bone-in lamb with a spice rub, which is then cooked in a tannour oven for 6 hours at a very low temperature. This ensures that the meat is succulent and tender.
19. Zalabia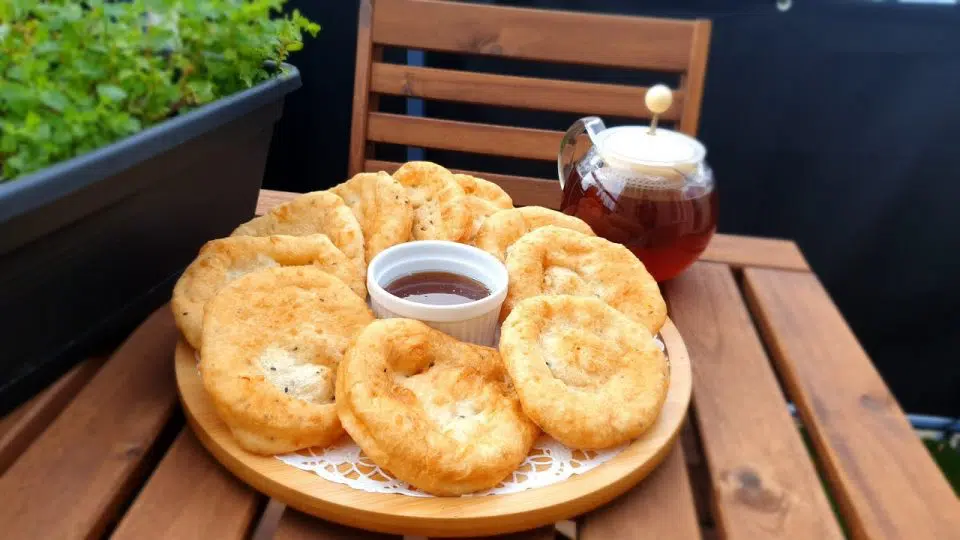 Zalabia is a delicious Yemeni pastry that is eaten early in the morning to start a day full of vitality. Its preparation differs from one region to another.
Usually, Zalabia is prepared in two different ways. One is by using slightly wet and thin dough that is shaped into a reticulated shape, while the second way is to use slightly thicker dough that is shaped into loaf-sized rolls. The first way is considered the most popular in Yemeni restaurants. Zalabia is very delicious to eat with Borai (cowpea), fava beans, or beans. It is also delicious with honey or even with just tea.
20. Date Fattah
The Yemeni Date Fattah is one of the most popular dishes in Yemen. It is characterized by its delicious taste and high nutritional value, and it can easily be prepared in less than 45 minutes. It is eaten at any time—we can have it as a main meal for breakfast, or as a side dish for lunch, or for dinner. It is a tasty dessert with the addition of cream or honey.
The Date Fattah is prepared by mashing pieces of bread with dates, then placing the mixture in a saucepan over a fire, adding ghee or sesame oil to it, and stirring it until it becomes a single mass. Nuts are sprinkled on top of it just before serving.
---
If you love Arabic food, check out a review of the most popular foods in the region: