8 Famous Desserts of Arabic Cuisine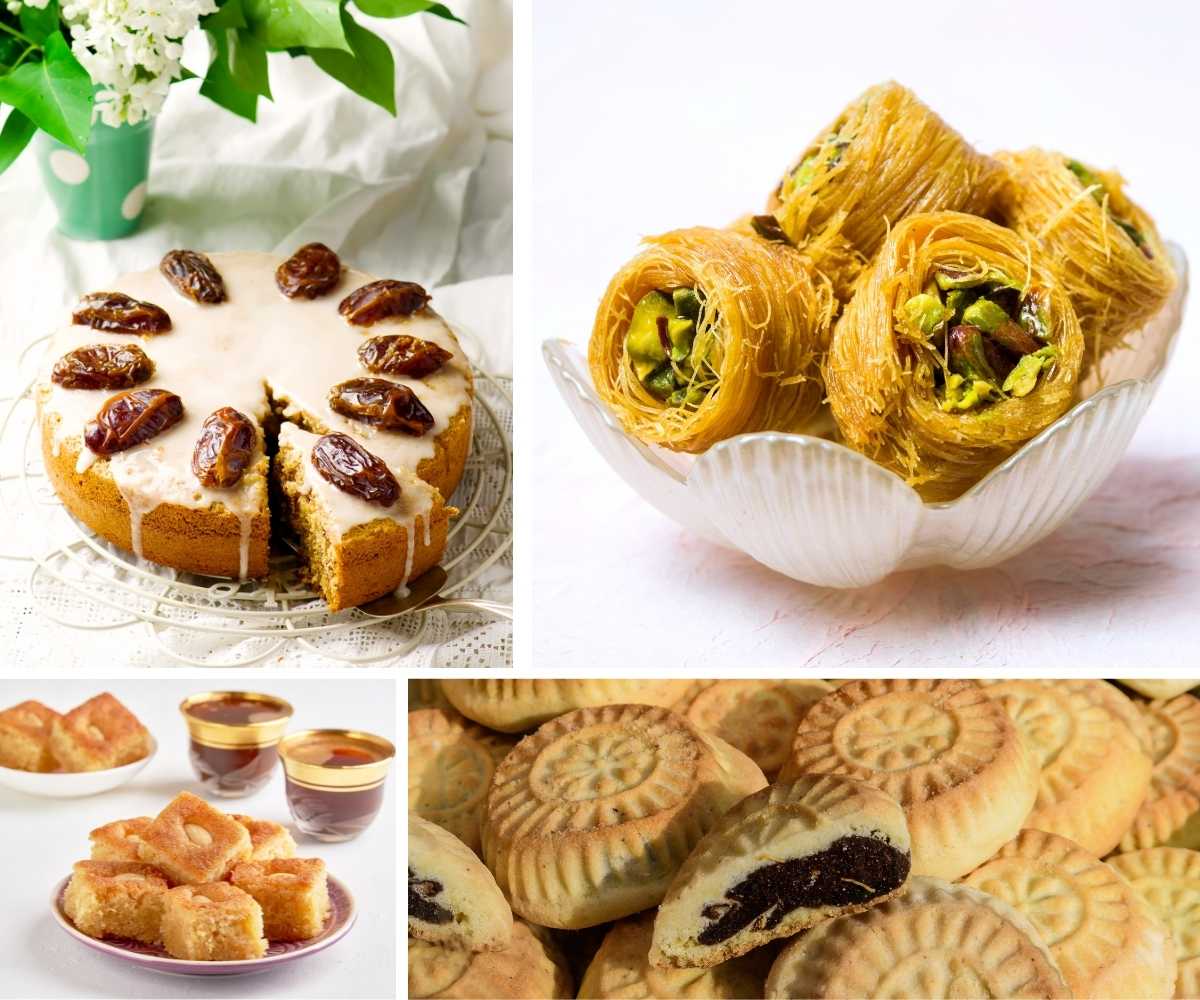 The history of desserts in Arabic culinary culture goes back hundreds of years, before Islam to nomadic tribes. However, the faith of Islam has had an undeniable influence on Arabic cuisine and, therefore, its desserts.
An excellent place to start would be with the words of the Prophet Muhammad, "Loving sweets is from faith." These words are hung on the walls of sweet and halva shops, forming a sacred bond by loving something in common with the Prophet.
Arabic desserts reflect the characteristics of Arabic cuisine as well as the main dishes. There are so many unique flavors and aromas specific to Arabic desserts that identify them as Arabic as soon as you taste them. The ingredients used gives us lots of clues about the Arabic dessert culture.
One of these ingredients is undoubtedly dates. We can even call them the origin of Arabic sweets.
Before Islam, nomadic tribes consumed dates as a dessert on their own and made desserts with dates. Dates are the most valuable fruit of the Arabian Peninsula, Mesopotamia, and North Africa. Of course, the widespread belief that it is a fruit that came from heaven increased its importance among Arabic peoples. There are dozens of different recipes made from dates in Arabic cuisine.
With the conquests that came after the foundation of Islam, Arabic cuisine gained new techniques and culinary tools, all applied to dates. New recipes were created with hundreds of combinations, such as date syrup custards, date rolls, crispy donuts with date syrup, and pastry with date purée.
It is still quite common to consume dates alone as a dessert. People commonly choose sweets to break the fast during Ramadan, and, of course, the easiest option is dates. And this is not just because dates are readily available and require minimal effort; dates and water are a unique and holy pairing during Ramadan.
1. Moroccan Date Cake
This dessert, containing Morocco's unique flavors, is a must-have for afternoon tea times. This fruity moist cake is one of the most popular daily desserts in Morocco.
Although it is commonly served with double cream, ice cream, or yogurt, it goes just as well with a simple cup of tea. The soft, moist texture of the date is balanced by the crunchiness of the walnut.
2. Mamoul
This filled shortbread native to the Middle East is a dessert found in almost all Arab countries. It is generally made with nuts such as pistachio, walnut, and almond, but it gained its fame in the Arab world from being made with dates.
The date version can now be found everywhere, especially during religious holidays.
3. Khoshaf bil Mishmish: Khoshaf al Yameesh
Apart from dates, a wide variety of fruits are used in Arabic desserts. Fruit-based puddings, pastries with fruit purée, or fruit simply simmered in syrup are all desserts that take pride of place on the table.
Prepared with dried or fresh fruit slices, khoshaf has a special place in Arabic cuisine. Its liquid ratio is much higher than a classic dessert.
A hosaf, prepared with chilled, dried figs, apricots, and raisins, is consumed with great pleasure in all Arabic regions, especially during Ramadan. It both quenches the thirst and the replenishes energy after a long day of fasting.
Sherbet desserts made with deep fried choux dough can be found in many cultures. However, the vest variety of this dessert in each Arab country testifies to how much Arabic peoples love this dessert.
You will find it with many names: sfenj, khfaf, lugaymat, and awamat. Balah al-Sham is another, and means Dates of Damascus.
It does not, in fact, contain dates. But so loved is this fruit, this dessert was named after it. It is just as popular as dates in Syria. If you get the chance to taste this one just as it is made, go for it! Only then will you taste the authentic flavor and characteristic crunchiness, which it loses if you wait too long.
Of course, the fundamentals of Arabic cuisine are precious spices and distilled aromatic flower extracts. We often come across spices such as saffron, turmeric, cinnamon, and cardamom in desserts.
Mahleb spice, used primarily in pastries, adds a unique bitterness. Precious aromatics such as rose water and orange blossom water are a part of almost every Arabic dessert.
Apart from the floral aroma they give, the natural light color it adds to the dessert is eye-catching. These aromatics, which can be found in all kinds of desserts, from ice cream to pastries, are the signature of Arabic cuisine.
4. Khaabes
Prepared with saffron and cardamom, this custard-like dessert is widely consumed around the Arabian peninsula. It is a kind of halva, the essential ingredients being flour and oil.
The aroma of this delicious treat are even more intense when it is cooked over a low heat. Traditionally served at breakfast, it is a special must-have for the holidays.
Almost all dairy-based desserts in Arabic cuisine are prepared with intense aromatics. Desserts such as custard made with flour or rice flour and milk, roz bil-laban, a kind of rice pudding, riz bi haleeb, another rice pudding sometimes with added mastic, and zarda wa haleeb with date syrup are found in almost all Arabic cuisines.
Arabic desserts are sometimes very complex to make and contain many ingredients. Nuts are one of the most crucial ingredients and, in my opinion, one of the successes of Arabic cuisine is how well they incorporate nuts into almost any dessert. So important are they, if you're making an Arabic dessert and the recipe doesn't call for nuts, sprinkle some over the top.
Pistachio, pine nuts, and almonds are the most prevalent ingredients in Arabic desserts. Almonds can sometimes be a layer of a dessert as a paste or the dessert itself. Pine nuts find a special place in halvah. Pistachios wink at us from dairy-based desserts and sometimes baklavas. But all of them can be sprinkled whole or broken on desserts to enrich the taste.
A tasty example is Egypt's national dessert om ali. A sweet, syrup-soaked bread dessert, this is almost a showcase of the harmony of nuts. It's one of the most memorable desserts in Arabic cuisine.
Baklava is actually a generic name. There are dozens of types of baklava prepared in different ways. Nut-filled baklavas prepared with multi-layered filo dough, which varies from country to country and from region to region, can take different unique names. This difference is usually related to the way it is made.
Baklava is sometimes sliced into a rhombus shape, sometimes twisted into a spiral, and sometimes presented as a bundle. When we think of baklava, pistachios come to mind, but walnuts are also used. What distinguishes Arabic baklava from those of other countries is the use of orange blossom water or rose water in the sherbet.
5. Moroccan Baklawa
A baklava unique to Arabic cuisine, Moroccan baklawa is a dough that includes semolina and orange blossom water and is filled with almonds. Of course, such a fantastic dessert cannot be passed over with a simple syrup. The syrup also includes orange blossom water and, thus, offers one of the most distinctive versions of baklava.
Another type of dessert as common as baklava is the kadayif-based ones. Kadayif is an essential ingredient obtained by quickly cooking a kind of filo dough in thin threads at a high-temperature.
Kunefe, a sherbet dessert that has gained popularity all over the world, is filled with its own unique cheese, flavored with pistachios, and is prepared with kadayif.
6. Osh-el Bulbul
Osh-el bulbul is a dessert that balances the crunchiness of buttery "angel hair" with the softness of sherbet. The crunch is so delightful, not just because the angel hair is enriched with butter but also because of the delicious whole pistachios.
This dessert, which takes its name from its appearance, can be translated as "bird's nest". The angel hair represents a nest, while the pistachios represent eggs. The nightingale, one of the most iconic birds of the Middle East, finds its place in the names of desserts as well as in Arabic literature.
Semolina is made from durum wheat and is one of the most important grains of Arabic cuisine, particularly in North African dishes and in desserts in other Arab countries. Semolina cakes and halvah, which are available with or without sherbet, are a type of dessert found throughout Arabian geography.
When cooked with milk, semolina has a custard-like texture. It creates a creamy texture with a unique flavor and is used to fill baklavas or pastries and cookies.
7. Basbousa
A kind of semolina cake, basbousa is traditionally sliced in the shape of a diamond and a nut is placed on top. Basbousa is found in all Arab countries but with different names.
Although syrup-soaked semolina cake is also found in the Balkans and non-Arab countries of the Middle East, Arabic basbousa differs with the addition of rose water or orange blossom water.
The original basbousa is made with eggs, but a vegan version, pastusha, has become popular in Kuwait in recent years, prepared with fruit purée in place of eggs.
There is also a very unique meringue that does not contain eggs, unique to Arabic cuisine, natef. This meringue, which is boiled after being soaked in water for a while and then whipped with simple syrup after cooling, is a must for some semolina pastries such as karabij and halvah.
8. Karabij
A semolina cookie filled with a different variety of nuts, karabij is usually served with cinnamon sprinkled on top and accompanied by natef. Every bite is infused with orange blossom or rose water. Unfortunately, this is a special dessert unique to Syria so you won't find it everywhere.
---
Related: Most Popular Middle Eastern Desserts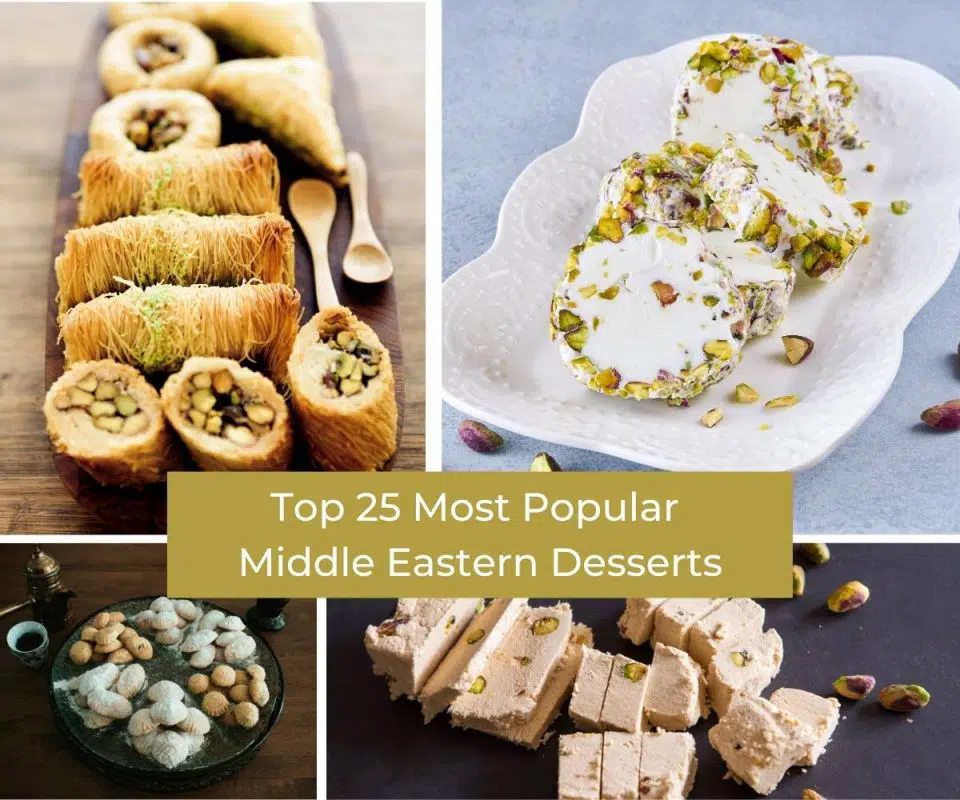 Related: Most Popular Arab Foods