Top 20 Most Popular Foods in Tanzania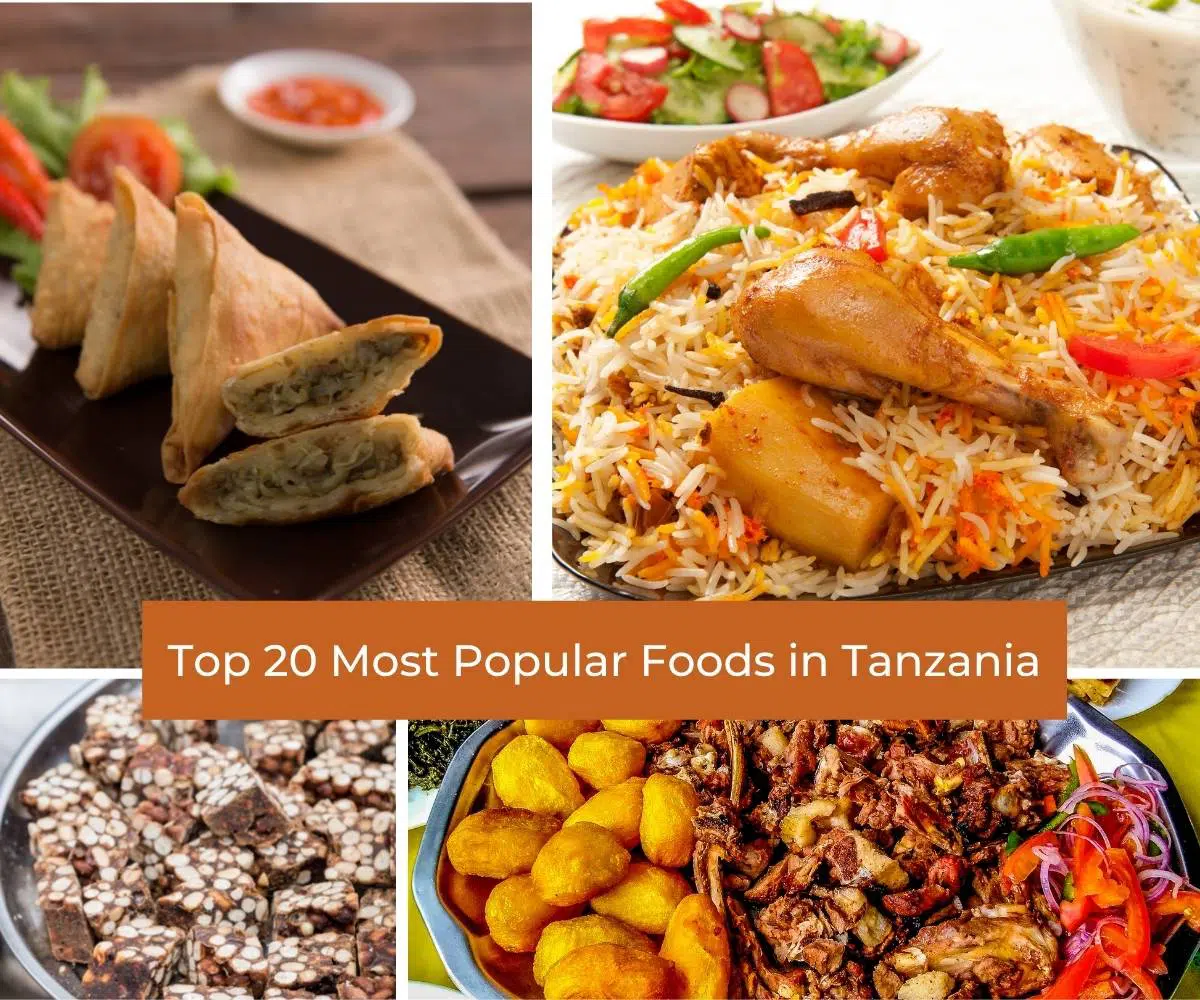 Nestled on the East African coast, Tanzania offers a glorious mix of different cultures and people. This melting pot gives rise to a delicious, varied cuisine you will struggle to find elsewhere.
Exploring Tanzania Cuisine: 20 of Its Most Famous Dishes
Tanzania covers a relatively extensive area of nearly 950,000 square kilometers divided in 31 regions. What you find in the coastal regions isn't necessarily what you will find in the western ones. Yet, the one thing Tanzanians share is their love of tea and coffee. This doesn't come with much surprise since Tanzania is amongst the major growers of Arabica, Robusta, and Peaberry coffee.
The popularity of coffee dates back to the early trade era (and subsequent infamous slave trade era), when there was great interaction between traders. Coffee was, and is, a large part of Swahili culture, one of Tanzania's biggest ethnic group.
Moving on to food, coastal regions and the semi-autonomous island of Zanzibar offer a wide range of mouthwatering flavors influenced by Bantu, Persian, and Indian cuisines.
Spices such as turmeric, cumin, cardamom, cinnamon, cloves, saffron, black pepper, and nutmeg as well as coconut, herbs such as cilantro, lemongrass, and ginger, and stews are the standard – whether you want to enjoy an afternoon Biryani lunch or want to snack on coffee with Kashata – the options are endless. With its proximity to the Indian Ocean, covering over 1,400 kilometers of the coast, Tanzania is never short of exotic and innovative seafood dishes.
Tanzania is bordered by five different water bodies, with dozens more in the interior. In the north, Lake Victoria offers a selection of tilapia and Nile perch dishes, and other smaller fish such as sardines. In the west, Lake Tanganyika is known for mgebuka, and Tanganyika sardines (much leaner) compared to their Lake Victoria counterparts, which are very popular and tend to sell at a relatively higher price.
Tanzania has its fair share of exotic foods as well. Walking the streets of commercial port Dar es Salaam in the evening, you can opt for any setting whether it's an upscale restaurant, open-air Indian-style restaurants, or street vendors. In the latter, you will find a plethora of food and snack dishes amongst these sellers including octopus, beef hump skewers, mud creepers, prawns, Zanzibar pizza, and many more. If you want the best prices, you want to shop locally in markets (sokoni) and local neighborhood shops (Duka).
Let's jump in now and explore the 20 most popular Tanzanian dishes.
Soups
1. Mtori (Banana Soup)
A staple of the Chagga tribe of the Kilimanjaro region, this soup is a source of starch. Consumed in the morning, mtori is meant to energize the body for the day's work in the fields as well as to give much-needed nutrients for nursing mothers.
It is traditionally made with Kilimanjaro green bananas (ndizi mshale), which are arrow-shaped and not as flavorful as those from the northern region of Kagera and southern highlands of Mbeya. The other ingredients here are Irish potatoes, short beef ribs with bones removed, vegetables, and salt. Mtori is boiled then pureed for a soft creamy and hearty texture.
2. Mchemsho
Mchemsho is a broth found in any household across Tanzania. Not only is it packed with protein, it is also a powerful hangover cure. On weekend mornings, you will find many people recovering from the previous day's drinking affairs with a hot bowl of mchemsho. This revitalising food is also commonly drunk by pregnant women, nursing mothers, and hospital patients.
Meats are simmered for hours, then fresh vegetables are added. Ingredients typically include a choice of beef, tripe, local free-range chicken or goat, potatoes, green bananas, carrots, onions, and green peppers. Add slices of fresh green scotch bonnet chillies, and squeeze in some lime or lemon juice for an explosive and mouthwatering flavor.
Seafood Dishes
When you are in the coastal side of Tanzania, whether it's Dar es Salaam, Zanzibar, Mtwara, or even Bagamoyo, seafood should definitely be on the list of foods to try out. You will notice the rich coastal cultural significance of seafood from the large restaurants in upscale areas to the small vendor tables lining up the streets.
Fresh seafood is also readily available. You can be jogging in the nearby beaches and come across fishermen selling their fresh catch at extremely low prices.
3. Samaki wa Kupaka (Grilled Fish in Coconut Sauce)
Nothing screams coastal cuisine like this dish, incorporating a host of local spices, and lashings of coconut milk. A specialty from Zanzibar, Samaki wa Kupaka has been adopted in other coastal areas of Tanzania.
First, prepare the sauce – spicy tamarind and coconut milk zested up with some lemon juice. Grill the fish (typically snapper), coat it with the sauce, then broil it for a few minutes. Serve with more sauce and Tanzanian flatbread (chapati) or a rice dish. Samaki wa Kupaka delivers a burst of flavors – smoky, rich, thick, and creamy.
4. Samaki na Viazi Vitamu (Fish and Sweet Potatoes)
If you are in the Northern Lake Zone, Samaki na Viazi Vitamu is a true jewel. Larger tilapia fish are cut horizontally into three pieces and boiled with sweet potatoes, onions, tomatoes, carrots, pepper, salt, and cooking oil.
What distinguishes the inner regions from coastal Tanzania is the absence of spice; all this dish uses is a little chilli. Inland flavors are normally smoky and earthy. In this case, the sweet potatoes mixed with the tilapia fish provide a mouthwatering sweet and savory meal.
This dish has also been adopted in coastal Tanzania, particularly in Dar es salaam and Zanzibar. In these regions, tilapia is substituted with saltwater fish such as snapper and kingfisher, which are cooked separatley, with coconut milk and spices such as turmeric and cumin later added.
5. Ugali Dagaa (Porridge and Sardines)
Misleadingly translated as "porridge" in English, ugali is a solid carb meal made with coarsely grounded corn or a mix of corn and cassava flour. It is eaten throughout Tanzania, with different regions incorporating sardines, as available. Southerners get theirs from Lake Nyasa, whilst westerners get theirs from Lake Tanganyika.
In Dar es Salaam, you can even find sardines (Dagaa mchele) from the Indian ocean, although, these are generally fried rather than stewed. In Dar es Salaam and Arusha freshwater sardines are sun-dried or smoked, then dry stewed with onion, tomatoes, lime juice, scotch bonnet chilies, stock powder, spices, and salt.
Meat Dishes
As one might expect, the cuisine of inland Tanzania features more meat than that of coastal regions. Today, beef, lamb, and goat feature in many dishes, even in Swahili cuisine. What makes the meats in Tanzania particularly flavorful is they are from free-range livestock, which feed on natural grass fields near their dwellings.
6. Pilau Nyama na Kachumbari (Spiced Rice with Beef served with Salad)
Pilau is made using aromatic spices such as cardamom, cinnamon, cloves, and cumin, rice, and beef chunks – the result is an intoxicatingly fragrant rice dish. It is commonly served with local Tanzanian salad (Kachumbari), made from tomatoes, onions, green peppers, lime juice, and scotch bonnet chilies.
Pilau traces its roots from the Indian subcontinent, however, it is now considered part of the Swahili cuisine. These days Tanzanian pilau is quite distinctive from the Indian version, both flavor-wise and in appearance, thanks to the spices from Zanzibar it uses. This inexpensive and time-consuming dish is traditionally prepared during festive seasons.
7. Biriyani ya Kuku (Tanzanian Chicken Biryani)
Similar to pilau, biryani traces its roots from India and is traditionally prepared during festive seasons – particularly the Muslim Eid al-Fitr. Traditionally, biriyani is prepared with lamb, but can easily be prepared with chicken, beef, lamb, goat, or seafood.
Long grain rice (with half of it stained with yellow food coloring) is mixed with a thick, hearty sauce made with vegetables, and numerous aromatic spices such as cumin, turmeric, and yogurt. Biryani truly is one of the most revered meals in coastal Tanzania.
8. Matoke/Ndizi Bukoba (Green Bananas and Beef)
Matoke is prepared by steaming or boiling the green bananas with beef, tripe, or smoked fish, vegetables, and beans or ground nuts, creating a hearty, savory, and extremely filling meal. It's a staple of the Haya tribe in the Kagera region of Tanzania, by Lake Victoria.
Green bananas from Kagera are more distinctively yellow in color and packed with more flavor than the Kilimanjaro variant. They are grown especially for this delicious dish.
9. Wali Maini Rosti (Rice and Liver Stew)
Wali maini is a mainstream Tanzanian dish you will find at any restaurant, local café, or street food stall (mama ntilie). Cubed liver chunks are stewed with carrots, onions, garlic, tomatoes, chilies, and peppers with oil and very little water for an aromatic and filling meal. The maini rosti is then, served with white rice or chapatti.
Vegetarian Dishes
If you are a vegetarian, you needn't worry about finding good meat-free options in Tanzania, with plenty of fresh produce allowing for some truly special vegetarian dishes.
10. Wali na Maharage ya Nazi na Mchicha (Rice with Coconut Beans and Amaranth Leaves)
Rice and beans with greens are a staple of every Tanzanian home. Typically, soy or kidney beans are boiled until soft, but, not gooey. They are then stewed with cooking oil, onions, tomatoes, tomato paste, spices such as turmeric and cumin, and coconut milk. Amaranth leaves are cooked with very little oil, onions, spices, and chilies – water is never added because the leaves are highly absorbent. Amaranth leaves can also be substituted with spinach or sweet potato leaves (Matembele). Healthy and delicious.
11. Ugali Kisamvu (Porridge with Cassava Leaves)
In this tasty dish, cassava leaves leaves are pounded with garlic, green scotch bonnet chili, onions, and ginger. Then, they are simmered for a few hours and finally, cooked with oil, chopped carrots, onions, spices, and coconut milk.
The result is a creamy yet chunky melt-in-your-mouth texture; you will forget that you are simply eating greens! Resembling a pesto sauce, the coconut leaves are an excellent complement to the soft ugali.
12. Makande Ya Nazi (Boiled Beans and Corn)
Makande ya Nazi (meaning "beans and corn") is a very popular dish in Tanzania, especially amongst younger kids. It's prepared by first soaking kidney beans in water overnight then boiling them with corn for a couple of hours.
Coconut milk is then added to the mixture and simmered for about 30 minutes until the coconut milk is dissolved, leaving behind a thick sweet and savory mixture. Some cooks add sugar whilst others add onions and garlic.
Tanzanian Street Food
Tanzania can definitely be considered as one of Africa's snack heavens. With its mix of Swahili, Persian, and Indian influences, the country has a wide selection of bites to offer, particularly along the coast. Let's have a look at some of the best there is in terms of street food.
13. Chipsi Mayai (Chips & Eggs)
Also known as zege, chipsi mayai couldn't be simpler: French fries and beaten eggs in a pan with very little oil, made to order at your favourite street stall.
To ensure both sides are cooked through, the chef will flip the Spanish tortilla-like Zege from its distinctively tiny pan – an artistic spectacle you will enjoy witnessing. Some chefs add extra ingredients to the mixture such as onions, bell peppers, and fresh cilantro. Zege is typically served with kachumbari (Tanzanian salad) and chachandu (locally made hot sauce).
14. Nyama Choma (Barbecue Meat)
You haven't truly experienced Tanzania without trying nyama choma, the local grilled meat. Nyama choma simply translates as "barbecue meat", frequently beef, goat, or chicken (Kuku Choma).
The meat is simply seasoned with salt and pepper or marinated with a mix of lime juice, ginger, salt, pepper, and garlic. Normally eaten by hand, nyama choma is sold in local bars or roadside stands and served with French fries, ndizi choma (grilled plantain), or ugali with kachumbari.
15. Urojo (Zanzibar Mix)
Locally known as urojo, Zanzibar mix is a popular food in Zanzibar and Dar es Salaam, popularly sold on street stands and the famous Forodhani night market. The base is a delicious thick soup made from sorghum flour, finished off with a vast selection of toppings, including, but not limited to, the following:
Deep-fried cassava shavings, tiny beef skewers with rich marbling (mishkaki ya sururu), battered potato balls (kachori), pakora (bajia), chickpeas, potato wedges, fresh chopped cilantro, coconut chutney, tamarind sauce, local hot sauce (chachandu), and mango sauce. Yum!
16. Mishkaki ya Nundu (Beef Hump Skewers)
Beef hump skewers are commonly sold in local bars and Indian-style outdoor BBQ restaurants. The boneless beef hump steak is coated with a selection of house-mixed spices, and grilled on a charcoal grill.
The meat is tender and full of marbling due to its generous fat, giving it incredible flavor. The hot fatty beef blended with the spices creates an explosion of flavors in your mouth. To protect your health, however, you might want to limit your intake to minimal servings!
17. Sambusa na Kababu (Samosa and Kebab)
Originating from coastal regions with an Indian influence, samosas and kebabs are popular snacks across Tanzania. Samosas are fried pastry parcels filled with minced beef, chicken, lamb, mutton, or vegetables, while kebabs are made using minced beef, lamb, or chicken rolled into balls along with onions, garlic, ginger, fresh cilantro, and spices.
Generally eaten with tea or coffee as breakfast or evening snacks, you can easily find freshly made samosas and kebabs at a selection of food outlets including restaurants and street vendors.
18. Chapati (Flatbread)
Eaten as regular bread for breakfast or as a snack, chapati is one of the most versatile street foods in Tanzania. Also great as a side with stews and curries, unleavened bread is made by kneading wheat flour and water and then rolling it out flat and round then, grilled with very little oil on a griddle or flat pan. The bread is soft, chewy, filling, and tastes great.
Tanzanian Desserts
Tanzania has its fair share of flavorful desserts too, such as maandazi (Tanzanian style donuts), or vitumbua (sweet rice cakes). In contrast to the sweet and creamy western desserts, Tanzanians use local flavors to create their own unique after dinner delights. Here are a couple that are definitely worth trying.
19. Chai ya Maziwa (Spicy Milk Tea)
Chai ya maziwa is a very popular breakfast and snack beverage prepared by boiling loose leaves with a mix of spices such as ginger, cinnamon, cloves, or tea masala blend, and fresh cow milk. The result is a creamy, frothy, and delicious tea with a spicy kick to it.
20. Kashata (Tanzanian Style Peanut Brittle)
After a hard day's work, it is not uncommon to see a group of people – particularly men – blowing off steam playing a game of bao (Tanzanian board game) in the streets whilst drinking coffee and eating kashata. Influenced by the Persians during the trade era, coffee and kashata have become a firm fixture on the Tanzanian coast.
Kashata is a delicious mix of milk, peanuts, sugar, cinnamon and nutmeg, and is served with unsweetened black coffee in espresso-style Persian cups. The Kashata acts as a sweetener, you drink the coffee and take a tiny bite after each sip.
That brings us to the end of our journey. As we have seen, this expansive multicultural nation in East Africa is certainly a food paradise, catering perfectly to all tastes. Whether you want spicy foods from the coast, or more subtle and earthy flavors of inland regions, Tanzania has it all.
---
Related: Most Popular Foods in Kenya
Related: Most Popular Foods in Ethiopia