20 Must-Try West African Foods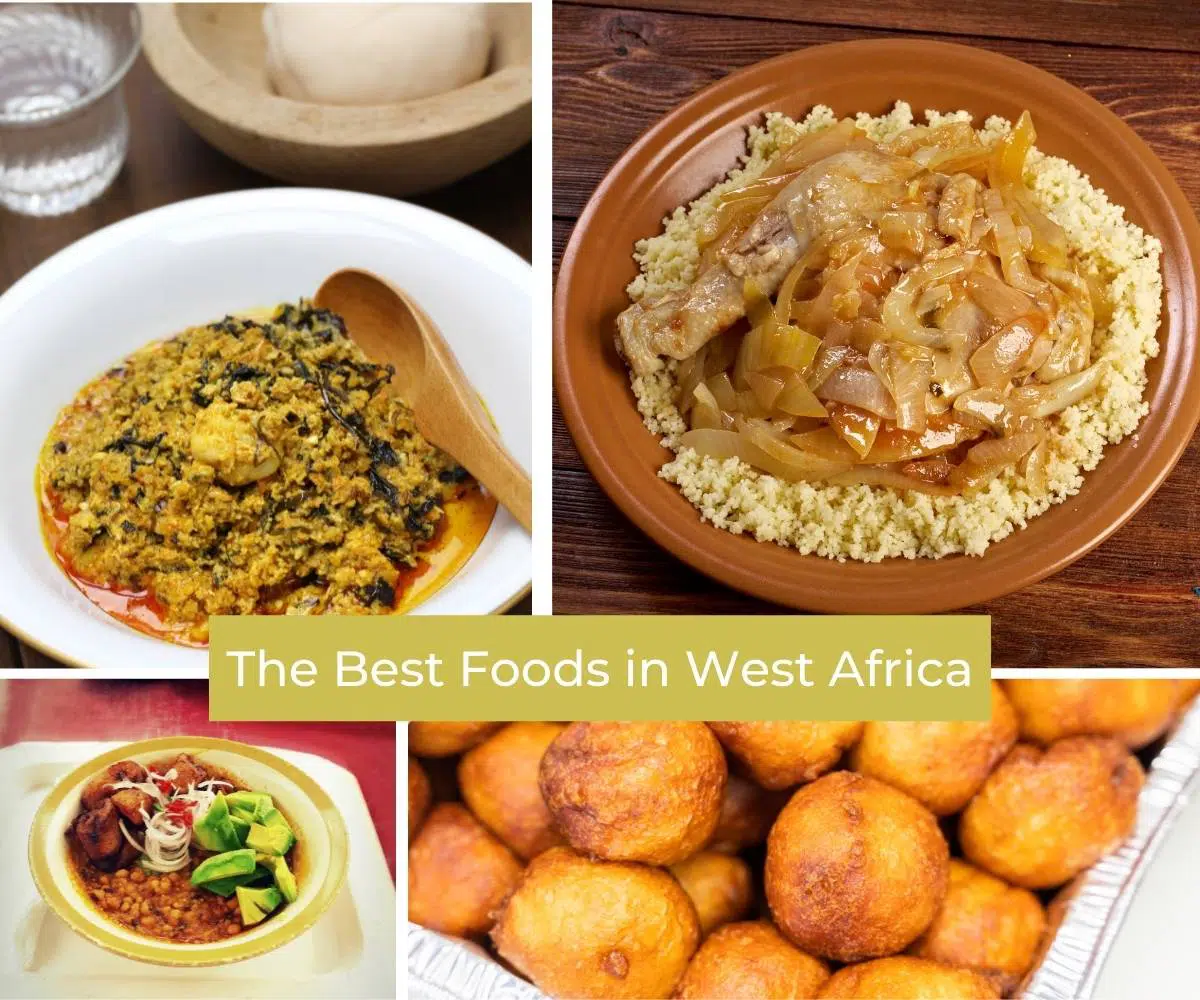 Welcome aboard this culinary cruise ship, where we will sail along the beautiful coast of Western Africa and consume the flavors of this region rich in history and culture.
Food tells a story, from the early days of indigenous foods to the discovery of new worlds and the integration of foods from lands far away. We will explore delicious indigenous foods such as beans, leafy greens, plantain and cassava, and discover indelible culinary influences from the Americas, Asia and Europe. All aboard!
1. Yassa
If you ever travel to West Africa, this is a must-try. From Senegal, it is so good it has become popular throughout West Africa, and there is no doubt why.
Chicken is marinated in mustard and lemon, then slowly grilled for a smoky flavor in a base of caramelized onions, garlic and chilis. You can also find Yassa made with fish, and the results are equally delicious.
2. Thieboudienne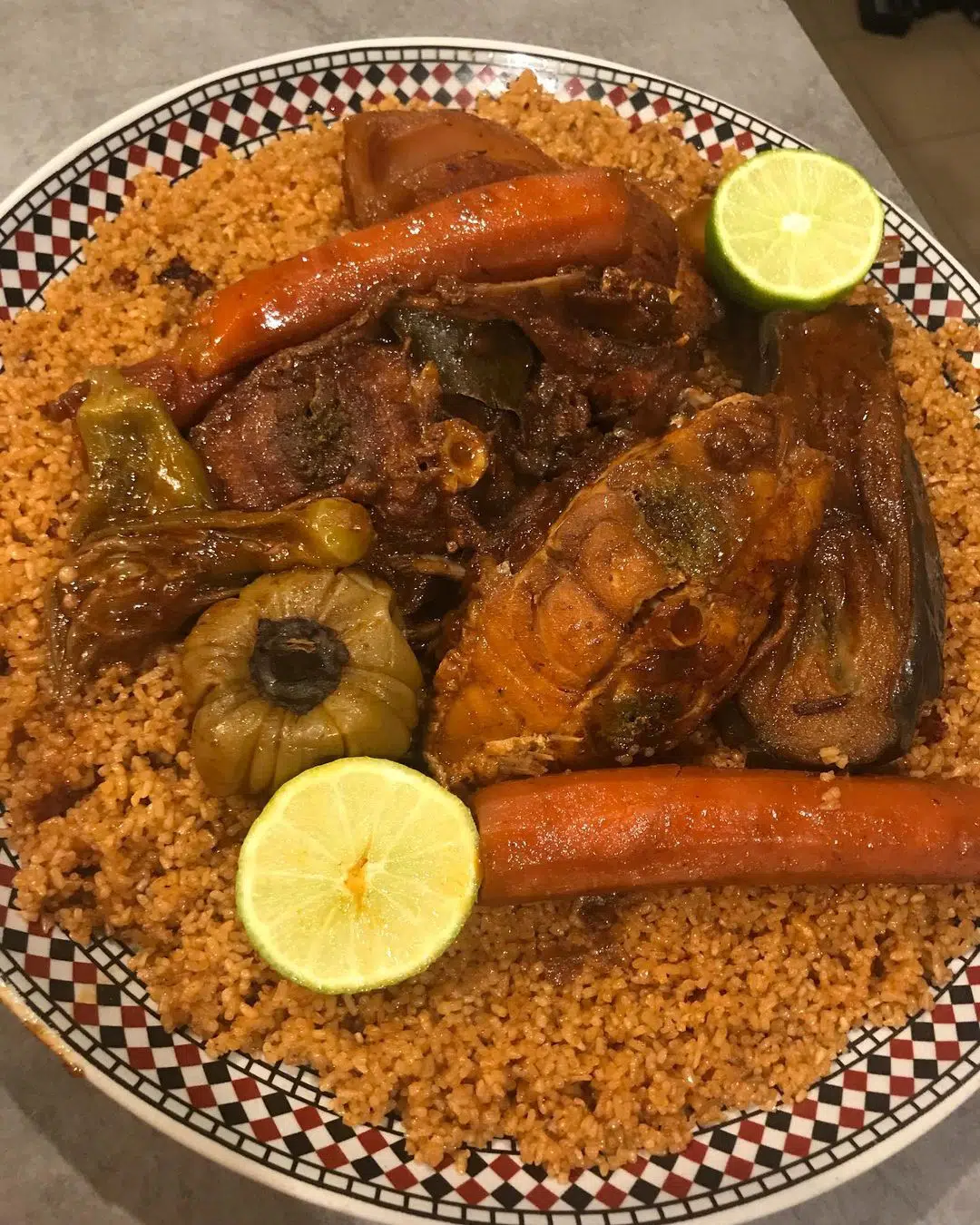 The national dish of Senegal, it is also found in Guinea Bissau, Guinea Conakry, Mali, Mauritania and the Gambia. Typically made using a firm whitefish either smoked or fresh, Thieb, or Tiep, can also be made with meat (tiep yappa) or chicken (tiep ganaar).
What distinguishes Thieb is the delicious garlic parsley marinade/stuffing and a spice called netetou, which adds a delicious umami flavor to the tomato, garlic and onion sauce. Other ingredients include vegetables such as okra, eggplant and sweet potato, and, usually, broken rice, as it is cheaper than first grade rice.
It is served in a large dish with rice on the bottom and the fish stew on top, and eaten communally with the hands, or with a spoon in the case of visiting guests or friends. Divine!
3. Ndole
One of the national dishes of Cameroon, ndole is a beautiful blend of bitter leaf greens, spices, a lot of oil and protein through groundnuts, as well as the optional addition of meat or fish. A rich and calorie-dense dish, it is always found at parties and festivities in Cameroon. Oh Ndole!
4. Kedjenou
From the Ivory Coast, Kedjenou is a deliciously spicy meat and vegetable stew often made with guinea fowl or chicken. Slow-cooked in a sealed clay pot with little or no liquid, the resulting dish is juicy, flavorful and tender.
It is surprisingly easy to make, and well worth the wait! Served with attieke, a side made from ground cassava with a texture similar to couscous, this is a wholesome dish with the taste of fine dining.
5. Jollof
There are (sometimes heated) debates about the origins of jollof, but it is generally known as a Nigerian creation, with variations around Western Africa. To say it is a simple tomato rice dish is to undersell this delicious one pot wonder.
With a range of delicious spices, vegetables and even meat if you wish, this dish can rival any other tomato rice found around the world. There's even a song (Cuppy – Jollof On The Jet Ft. Rema & Rayvanny (Animation Video) – YouTube) with the lyrics "Pass the jollof, the party jollof; I can't get enough…" It's true!
6. Fufu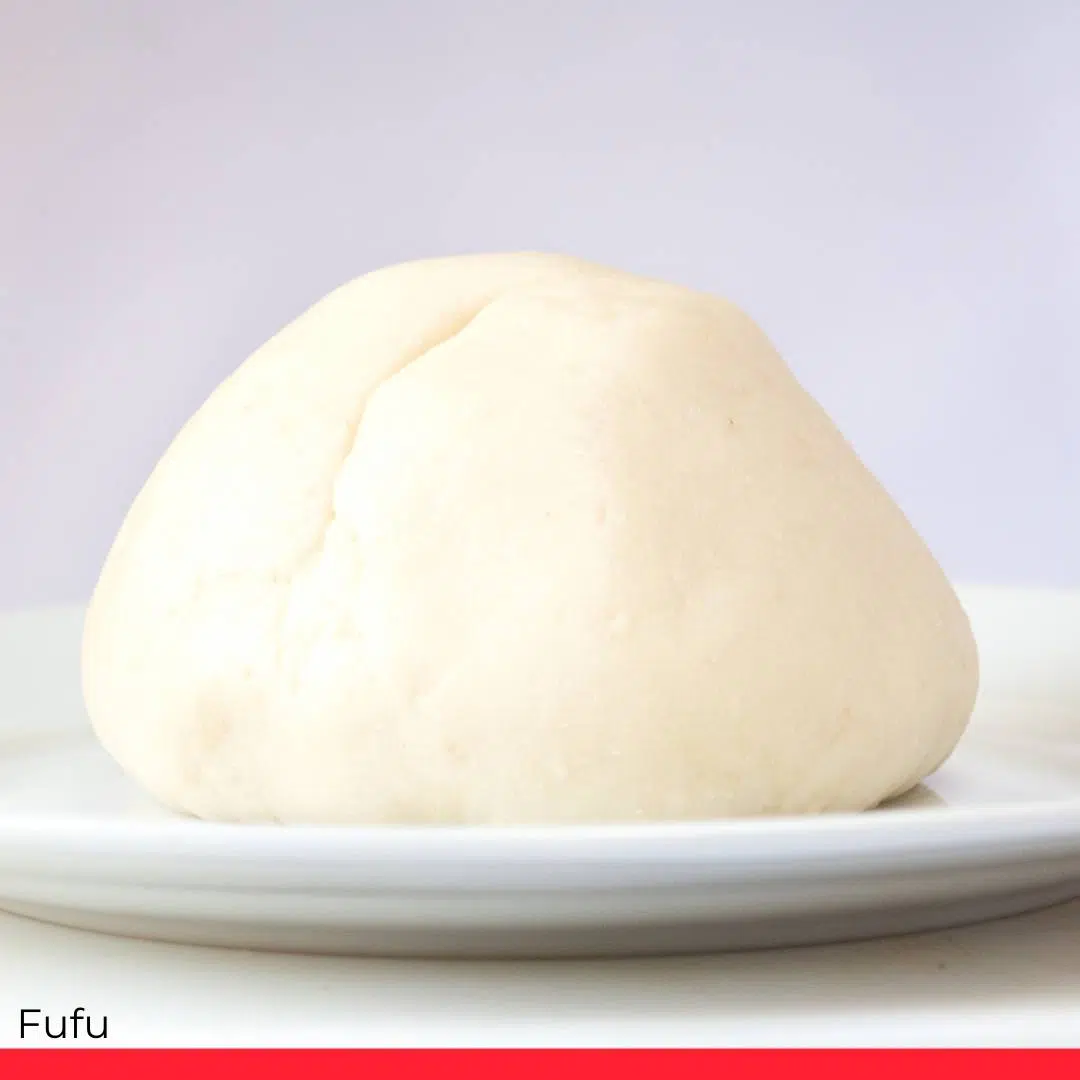 Fufu is a food made from fresh or fermented cassava, a staple in the region. The cassava is pounded into flour, then mixed with water and cooked over heat into a paste of varying textures depending on the meal you are serving it with or your preference.
You can find versions of fufu all over Africa, of course with the ensuing arguments about whose is better. But in general, any version of this hot, starchy paste eaten with your hands and dipped into your favorite sauce or stew is a delight that everyone should try.
7. Alloco | Kelewele
A popular street food, alloco, as it is called in the Ivory Coast, is very simply fried plantains. But serve it with a meal and it becomes a tasty side with a deliciously spicy chili sauce that brings all the flavors on the plate to life. Plantains are another staple food around the region (so lucky!), with neighboring countries having their own names and variations for the fried treat.
Benin and Nigeria have dodo, Ghana has kelewele, Togo has amadan and Congo has makemba.
8. Maafe (West African Peanut Stew)
Meaning 'sauce' in the Fula language, this delicious dish is hugely popular across West Africa with regional variations of course, but always containing a tasty peanut sauce (Peanut allergies? Sorry!) and some kind of meat, although it can also be made vegan.
With layers of rich flavors from tomatoes, onions, garlic, ginger, herbs, vegetables, chilis, meat and peanuts, this iconic dish can be served with rice, couscous, fufu or my favorites, sweet potatoes or yams. The mix of sweet, savory and spicy is fire!
9. Egusi Soup
Variations of this delicious soup can be found all over West Africa, but it is hugely popular in Nigeria. What makes it unique is the use of protein- and fat-rich melon seeds (egusi) from specific plants, which are then dried and ground up and used as a thickener.
Besides the seeds, water and oil, egusi soup typically contains leafy greens such as bitter leaf or pumpkin leaf, palm oil, other vegetables like tomatoes and okra, seasonings and meat.
In Nigeria, being a coastal country, you often find egusi made with a selection of fresh stockfish or catfish, with ground crayfish for extra flavor. If you make it with meat, you can add cow offal for extra flavor and texture. Whichever way you prefer it, always enjoy your egusi with starch-like pounded yam or garri/eba (below). And if you eat it with your hands, it will taste even better!
10. Okra Soup/Stew
Indigenous to West Africa, okra can be found in a wide variety of dishes. This underestimated and misjudged mallow plant packs antioxidants, vitamins, minerals and fiber into its gooey little body.
Mixed with meat and fish and/or seafood and then with beans, vegetables and spices, this is a satisfying dish regardless of your feelings about okra.
11. Akara/Koose (Bean Fritter)
Oh, yes, meals are great, but we can't forget snacks. And who doesn't love a fritter? Introduced to the rest of West Africa from Nigeria, cowpeas are ground into flour, mixed with oil, water and spices, especially chili, and deep-fried to a deep brown.
These light and fluffy chili bombs are a common fast food and breakfast throughout West Africa, and even as far afield as Brazil and Cuba. Who says you can't have snacks for breakfast?
12. Banga Soup
Palm-nut/fruit appears on this list with banga soup, or ofe akwu. The recipe calls for a rich assortment of fish, seafood, meat, leafy greens, vegetables, spices and seasonings. Served with any type of fufu or starch, the mix of flavors will make you go nutty for palm fruit.
13. Garri
Known for its health benefits, garri is the flour made from the cassava tuber. Popular in Nigeria and throughout West Africa, garri (also known as eba) is widely consumed because it is widely available and affordable, and it can be consumed in a variety of ways.
Mixed with other nuts, the grains can be eaten as a snack. Mixed with water or milk and sugar, it becomes a drink or porridge. Cooked with hot water, it is your favorite fufu or dumpling with any kind of soup or stew. A versatile staple that you can add your own pizzazz to!
14. Cachupa
The national dish of Cape Verde, cachupa is the delicious mélange of West African, Portuguese, Asian and South American influences. It is a hearty, protein-filled slow-cooked stew made from hominy, beans, staple starches, vegetables, spices and meat such as pork, sausage or fish or seafood.
It is so ubiquitous that each of the nine islands has its own version, there are "rich (with meat)" and "poor (vegetables only)" versions, and you can even turn leftovers into a delicious reheated breakfast called Cachupa refogada with added eggs and sausage. A very good morning!
Related: 20 Popular Foods in Cape Verde
15. Calulu
While this dish originated in Brazil as caruru, calulu is one of the most popular dishes in Angola and San Tome & Principe.
A tasty fish stew, it uses several indigenous ingredients, such as dried whitefish (although you can use fresh fish or even dried meat), leaves from local plants such as sweet potato or cassava, okra and a very healthy dose of red palm oil. FYI, palm oil is cholesterol free, so indulge!
16. Stewed Greens
All across Africa, you will find a wide variety of delicious leafy greens growing in the wild that are used in cooking, and West Africa is no different.
Leaves from cassava, pumpkin, taro, sweet potato, jute mallow, amaranth and others are used in a variety of soups, stews and other delicious and healthy fiber-rich dishes.
17. West African Sweet Potato Stew
This delicious vegan stew with sweet potato and greens is one-pot simplicity and goodness. Loaded with the warming flavors of coriander, cumin and scotch bonnet chilis, you'll make this your go-to recipe for a cozy night in or when you want to impress your friends.
18. Superkanja
Known as Gambia's super soup, this tasty bowl of deliciousness is found in various countries. Its name comes from the Portuguese word for soup (sopa), and a West African word for okra (kanja), which gives the dish its distinct texture.
Packed with the nutrients of various leafy greens, meat and vegetables, this is heartiness in a bowl. Whether you want to eat it as soup or serve it with rice as a stew, Superkanja is super!
19. Red Red
One of the best bean dishes you will have in West Africa (and possibly the world!) comes out of Ghana, and uses indigenous cowpeas, also known as black eyed peas. They say the name comes from the rich red color the meal takes on from the red palm oil and tomatoes.
It is often made with fish, either tinned or fresh, and loads of spices, and it is served with fried plantains and rice, quinoa or kenkey, a traditional staple food similar to fufu but made with corn. The combination makes for a savory, sweet, saucy and spicy goodness.
20. Puff puff
To round off this culinary journey, let's satisfy our sweet tooth with the simple, light and fluffy puff puff. One can never turn down a good doughnut, and this is just that. A simple dough rolled into small balls, fried to golden brown, then rolled in sugar or spices, and popped endlessly in the mouth with no shame at all. Many West African countries have their own names for them: micate/bolinho (Angola and Cabo Verde), ligemat (Sudan), boflot (Ghana), bofloto (Ivory Coast), kala (Liberia), etc.
And there you have this abridged, but highly incomplete, list of the best foods in West Africa. I hope the thought of these meals tantalizing your taste buds every day will make you want to visit. I know I can't wait to go back and get me some!
---
Related: Most Popular Foods in Nigeria
Related: Most Popular Foods in Ghana
Related: Popular East African Foods